How to make grape juice the way your grandma made it
I was the happy recipient this week of many things, but most notably of a lovely largess of ripe Concord grapes. Somebody dear to me who owns a vineyard had a lot of Concord grapes that were going to waste: did I want to pick?
Did I! My mom and my sister Anne and Amalia and little Mack and I spent a happy hour picking grapes (and eating grapes, let's be honest) and then when I got home with what  Mack hadn't eaten (they are very tasty) I looked at the flats of tomatoes on the back porch, waiting patiently to be made into sauce, and I glanced guiltily out at the garden, with the carrots that are still waiting to be dug and the peppers that are tagged to pickled and made into hot sauce, and the rows of basil that I intend to clip and make into pesto and I wondered (only briefly) at this inability of mine to say "no" to free food. Especially free awesome and not-easy-to-come-by food like these Concord grapes. I mean, take a look at these. Would you have been able to say no?
Of course you wouldn't have. . . right?
In any case, as you can see, I didn't–I don't–have time for introspection. I have too much food to put up! Come winter (and I hear that it's supposed to be an especially cold and wet one this year) I'll be so grateful that I had all these tomatoes and grapes and carrots and peppers and cabbage and whatnot to put into the freezer and pantry. Also, I know that if I don't want to endure the shame and the sorrow of throwing these grapes that we picked to the chickens in a few weeks, shriveled and moldy and unused, that I'd have to come up with a very quick and easy way to process them. . .
Then it hit me. (Boom.) Aunt Maria. I remember my mom a couple of years ago, waxing on dreamily about some grape juice that her sister had made that was so delicious and had the whole grapes themselves in the jars and was super-easy to make, it tasted so fresh . . . perfect.
I grabbed the 'phone. But Mom was way ahead of me. She had already made a call to Aunt Maria and had the directions for us. (Boom.) Within the hour, I had grape juice on the counter. Lovely. Easy. Sweet. Boom.
Hooray! Here's the juice that I made. It's so beautiful, I can't stop taking pictures of it. Isn't it just lovely? And Gentle Readers, it is simplicity in a jar. The ingredients? Grapes, honey (or sugar), and water. No artificial colorings, no artificial flavorings. No guar gum or synthetic sweeteners or propylene glycolishness or whattheheckisthat? I'll feel pretty smug this winter cracking open jars of this and watching the kids drink it. Not to mention drinking it myself. (I wonder what it would look like in a wine glass?) And mom says the grapes taste really good at the bottom of the glass, too. I can't wait to try it!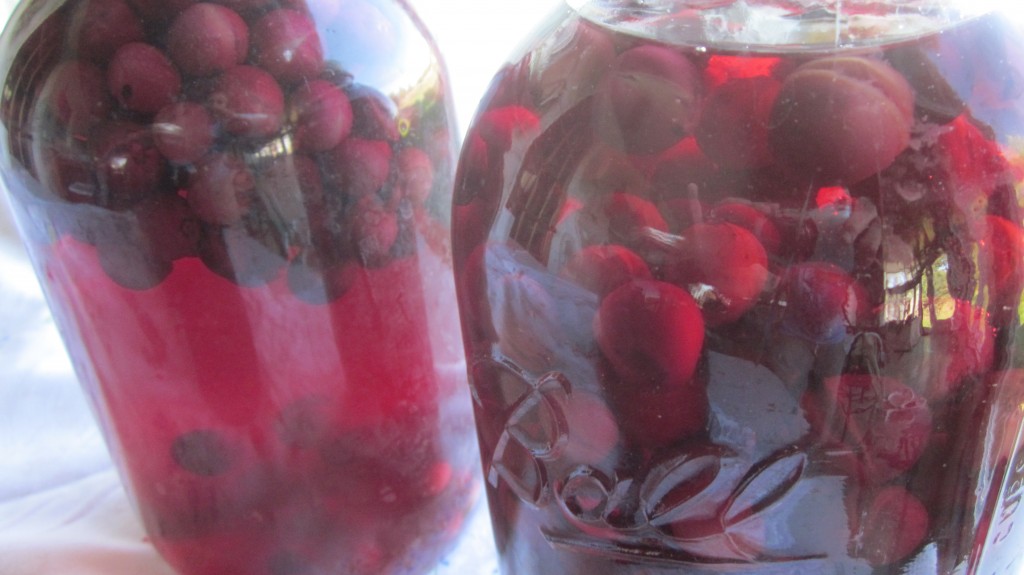 After making a couple of batches of this juice, I can honestly say that of all the food that I've preserved so far this season, this was the easiest. Not to mention the prettiest. It definitely wins a popularity contest in my pantry. Homemade Grape juice for President, say I! (Just joking.)
Well, if it can't be President, then it certainly can be my BFF. And it can be yours, too. Do you have a few handfuls (or a few buckets?) or homegrown grapes that you're not sure what to do with, and are you not a grape jelly fan? Here are the instructions for how to put up this juice.
First, wash grapes and pull them carefully from their stems and toss any that are underripe or gross. (Throw them to the chickens, and then watch them scrabble after them! Fun!)
Wash quart or 2-quart jars and put in big pot of water on stovetop, also lids and rings, and heat until simmering. (Of course they'll have to take their turns, if you're making more than just a few. And you probably should. Tell them to play nice in there.)
Also heat on your stovetop your water bath canner half-full, and another big pot of water.
When the water with the jars has come to a simmer, pull the jars out one by one. In a hot quart jar, put 1.5 cups of grapes and 1/2 cup of sugar (scant) or 1/4 cup of honey and fill with the boiling water, leaving 1″ headspace. Be careful! Don't burn yourself!
Put on hot lid and ring and tighten.
When you have enough jars to fill the canner and the water in the canner is simmering gently, (this all takes some real coordination and timing, but if I can do it, you can do it) lower the hot jars into the simmering water, cover, and turn off the stove. Let sit for 20 minutes.
Take jars out of the canner and place on a clean towel on the countertop. Let sit in a prominent place (this will bring you, the juicemaker, lots of positive strokes) for 24 hours before putting into your pantry or cabinet.
Check to make sure each jar is sealed (it will ring out nicely when you tap the lid lightly, if it's not sealed there will be a dull thud–don't worry, you'll know it if you hear it) and then put away in a cool, dark place. If a jar doesn't seal, refrigerate and/or consume immediately!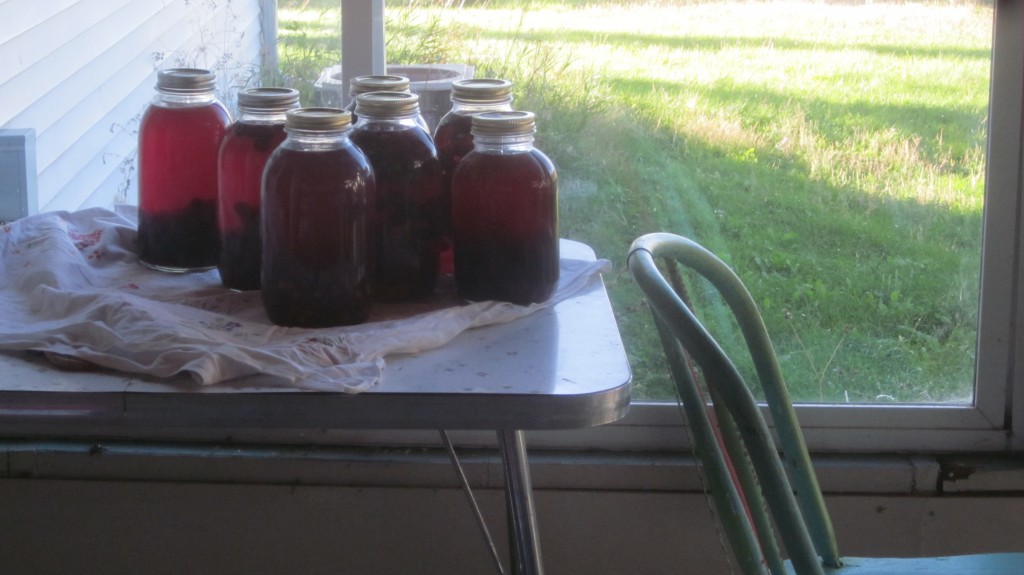 That's it! See how easy it is to make this grape juice like your grandma might have made it? I'd better go get busy, now. I have another bucket o'grapes to process on the back porch. And some tomatoes to make into one more batch of salsa . . and some extra jalapenos peppers to make into escabeche . . . and . . . oiy . . . !
Cheers, Gentle Readers!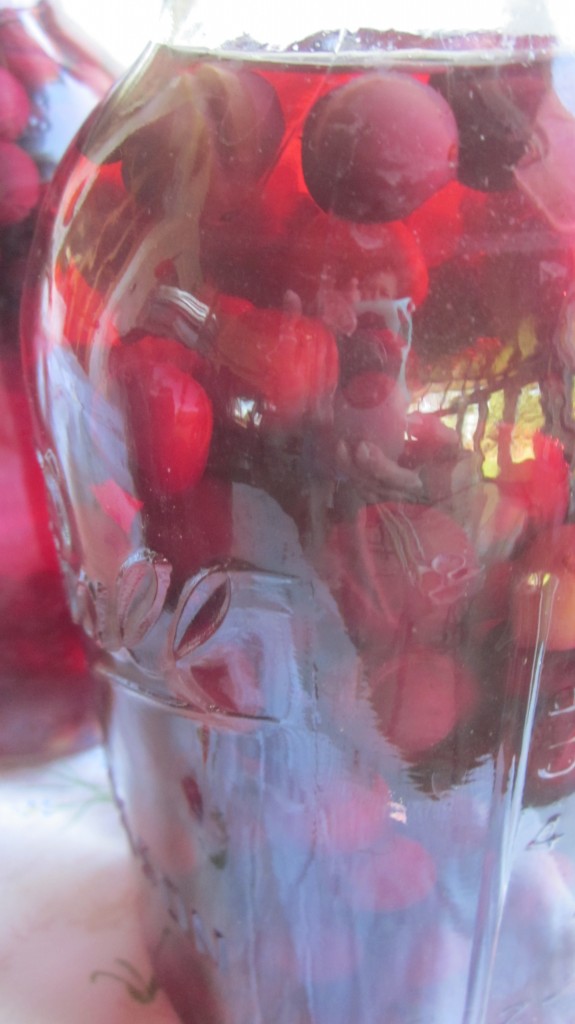 Here's the link, by the way, if you're still thinking about purchasing that Harvest Your Health Bundle. . . only two more days until the sale is over!