How to grow blueberries even when they don't like your soil
Years ago I had a dream of growing my own blueberries.  It is common knowledge that blueberries aren't easy to grow here in our part of the Midwest, since our soil tends to be alkaline, and blueberries are a bit on the fussy side, desiring an acid soil. They grow wonderfully, I hear, in Michigan, and they grow wild in Maine . . . and I'm sure there are other parts of the world where growing them is easy as falling off the proverbial log.
Gooseberry bushes grow wild here; raspberry brambles grow like weeds; blackberry brambles are no trick to grow, either,  but I don't know a single person here in our area who has succeeded at growing blueberry bushes. Not one person.
Well, not until (ahem) now.  Our blueberry bushes are thriving.  Not that it has been an easy thing to figure out how to get them to that point, oh no.
When we were in New Zealand a couple of years ago, we picked blueberries at a blueberry farm where the bushes were nearly as tall as me, and the blueberries fell off the bushes by the handful when we touched them, almost like magic. Of course New Zealand is a magical and wondrous gardener's dream land, so that's not surprising. It was heavenly.  Heaven will be full of berries, I'm sure of it, of all colours and textures.  And there will be large white pitchers of cream, and you'll be able to slosh the cream on your bowl of berries any time, day or night, with scant regard to calorie or fat content. Sigh.
"This is what I want," I said to my husband through blue-stained lips and teeth, once I could catch my breath.  "Let's move to New Zealand, or else please help me grow a blueberry patch like this one."
"We can't move to New Zealand," my husband said.
Well, he was right.  We couldn't then, and we certainly can't now, because we now have two adorable grandchildren here in the states to love on. Not to mention a job. And a bajillion critters to take care of.
"So that means you'll help me with the blueberries?" I asked, pushing my advantage.
My good husband knows that my list of wants is a very long one.  He turned to look at me. The love light was not in his eyes, Gentle Reader.  "Thirty plants ought to be enough to keep you in blueberries in a few years," he said dryly, reaching down to rub an imaginary ache in his lower back, and giving me the look.  At least I think it was an imaginary ache.
You know that look.  The "Don't ask me to dig more holes for blueberry bushes ever again" look.  The "For Pete's sake, woman, thirty blueberry plants is quite enough" look.  Yeah, that one.  (Whatever.)
The farm where we were standing had several hundred blueberry bushes, and the six of us picked and picked until our buckets were full, and we ate quite a few of those warm berries, too, and the entire time I was just imagining being able to do this in our own yard, in a few years. I was in a dizzy fog of longing and blueberry-infused delight. You know that place, don't you?
When I was a little girl, my dad planted a couple of blueberry bushes next to our house.  I had a second story bedroom, and I could see them from my window. When I could see that those berries were starting to turn blue, I'd slip down ever so quietly, and . . . . well, I won't tell you what I did. You can imagine it. It was a selfish thing to do, but little girls can be selfish, can they not?
The songbirds got blamed, in any case, and songbirds are forgiven of anything.
My dad always puzzled aloud about how the birds knew just the moment when the berries were ripe.  Did he suspect that it wasn't the birds, but . . . little me . . . who was harvesting the few berries that those bushes produced?
Probably. I don't know. Maybe not.  Possibly. I never said a word about it, obviously.  But I also never forgot the taste of those few berries I ate every summer.
Which is probably why I've worked so hard to grow my own. Also, perhaps, because so many people have told me that it can't be done.  I don't know why they sets me off so much, but it does. If somebody tells me that I can't do something, I feel my eyes–automatically– narrowing, and my shoulders squaring and my fists clenching with resolve.  And then I go prove that person wrong. Or at least, I try my best to do so. Silly.
So I did a little studying, and a little research, and a little experimentation, and a bit of praying (doesn't hurt to have The Big Guy on your side) and I planted my blueberry plants accordingly. My good (aforementioned) husband and son Timothy helped me by digging the holes, and daughter Amalia has been a willing helper in watering and fertilizing them.  That was three years ago. Guess what, Gentle Readers?
We had a bumper crop of blueberries this year.  Take a gander.
So I've put together my (humble, yet curiously effective) recommendations of how to grow blueberry bushes.
The first thing you must know is that blueberry bushes prefer acid soil, and our soil here in Nebraska is alkaline. Yours may be, too. So the trick is to change your soil, and that takes a bit of effort.  Initially I found this information from a blueberry farm in Kansas that I bought my first shipment of bushes from. With the purchase of a few bushes, they'd send you their growing instructions, which (of course) I've misplaced.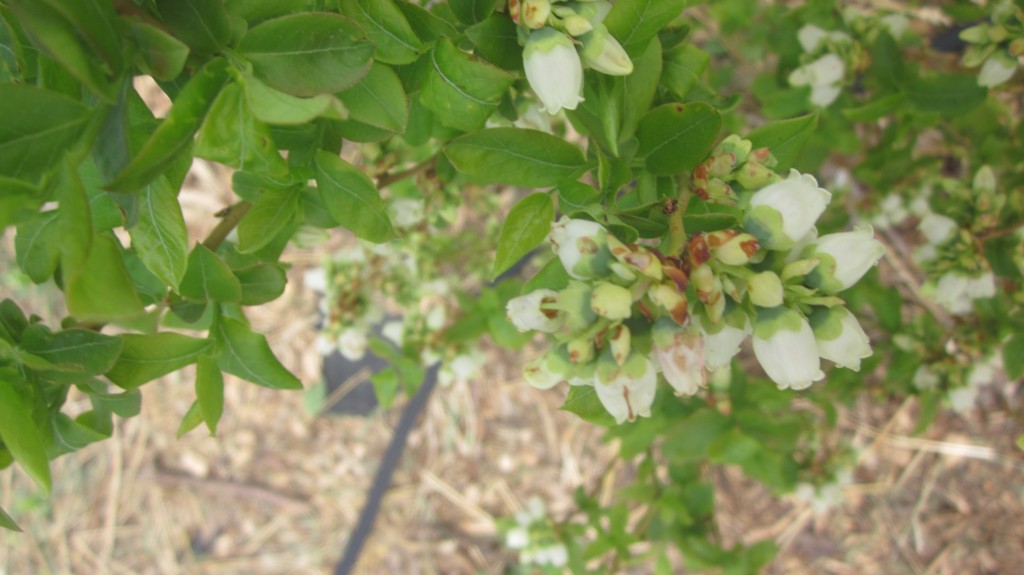 This blueberry bush is loaded with blossoms. In a few weeks, they'll be berries and ready to pick!
Good thing I remember them clearly.  But, no worries, I've put together a compilation of everything I've learned about growing blueberries successfully in Nebraska, or any area where the soil is alkaline, rather than acid.
First, you need to buy bales of peat moss (we figured that it took one bale of peat moss to plant two bushes, with a little left over) and some fertilizer for acid-loving plants. You can buy both those things from your local farm store.
Here's how to plant your blueberry bushes:
Order blueberry bushes suited for your area (we bought several high bush varieties, and they came bare-root and dormant).
Dig a hole for each one, approximately 2′ deep and 2′ wide, about 5′ apart and in rows 8′ apart.  (This spacing will allow for plenty of growth of the bushes, and for mowing between the rows).
Empty the peat moss into a deep wheelbarrow, or a very large bin or container.  Add water and stir until the peat moss is a thick, wet slurry.  Fill each hole with the now-sloppy peat moss. (Hint: do not attempt this on a windy day. The dry peat moss is very light and it will blow in your face and your nose and over to your neighbor's place where it will do no good to anybody, and it may even annoy your neighbor).
Plant the bushes in the peat moss, spreading the roots out as much as possible.
Water each bush thoroughly.
Put down several inches of mulch in a ring of at least 3 feet in diameter around each bush.  We have used many things for mulch–pine needles (helps encourage an acid soil), wood chips, straw, or whatever has been available.
That's the hard part.  Now you have a few orderly rows, or if you're just putting in a few bushes, you have a few lovely bushes planted.  Now comes the maintenance phase.  If you neglect this basic maintenance, your bushes won't fare so well, and you won't be eating fistfuls of blueberries in a few years, so don't neglect it!
Here's how you maintain your blueberry bushes:
Water:  Give your bushes one to two inches of water once (or even twice) a week during the growing season.  It is nearly impossible to over-water blueberry bushes, as they are very thirsty plants. Drip tape is an ideal thing to use here, especially if you put down landscape cloth for mulch.
Fertilizer: Once a month during the growing season, apply fertilizer for acid-loving plants at the rate of 1 Tablespoon dissolved in a gallon of water.  If the leaves seem to be extra small or the plant appears less than thrifty (you'll soon note when the plants seem to be thriving, and when they look like they need a little extra care) do a second application of fertilizer that month.
Weeds: Keep the area within 3 feet of your blueberry bushes free of weeds, so there is absolutely no competition for nutrients and water.  I tired of weeding and after a couple of years wised up and put landscape fabric down and have never looked back.
So there you go!
Yes, Virginia, you CAN grow blueberry bushes, even if your soil is less than ideal for them, and even if you've tried and have failed in years past.  And in just a few years, you can enjoy blueberries in your pancakes and your muffins and in your bread and by the handful and in your fruit smoothies and in your granola and then–oh boy–you're gonna thank me . . .

I'm participating today in The Prairie Homestead's weekly Homestead Barn Hop, so be sure to pop over there for lots more great homesteading tips!