Inwhich I learn how to make Greek style yogurt
This post contains affiliate links, which might just result in a bit of income for yours truly, which will then result in more blogging activities. Thank you, in advance, for clicking on any links contained in this post!
And no, we don't have our own milk cow. But, in the funny way that circumstances in life sometimes twist and loop . . . I have a supply of raw milk for the next few weeks, and I'm learning how to make cool things like Greek style yogurt with it! . . . because of (you guessed it) . . . heirloom tomatoes!
Didn't expect that, didja??
You've possibly heard that I planted lots of tomato plants, a whole bunch of them–early–in the hoop house, and (just in case the hoop house ones weren't happy) another whole bunch in the garden outside, later. I wanted to can lots of tomatoes, to make a goodly supply of salsa and tomato soup and pizza sauce, and I knew that I'd also be able to sell a few of them at farmer's market. But, Gentle Reader. By all accounts, it's a wondrous tomato year here in our neck o'the woods. The long, cool, wet spring combined with timely rains this summer and now a bit of heat is just bringing the tomatoes on like crazy!
It's Crazy Tomato Affluence Time, chickie!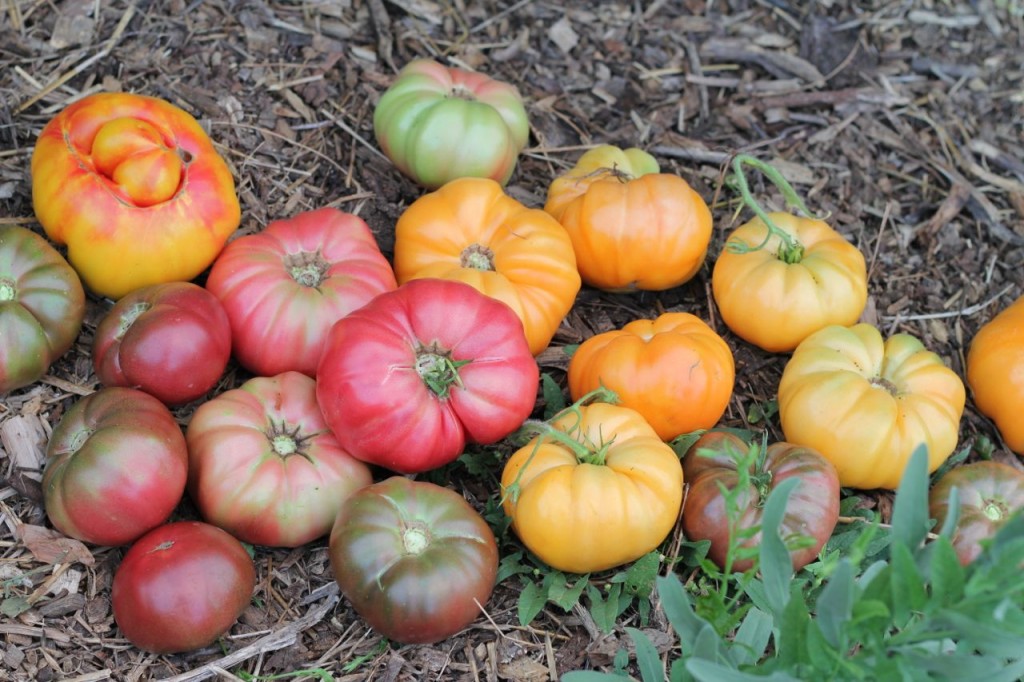 And I'm crazy about taking pictures of the "jewels of my garden," i.e. these gorgeous heirlooms that come in all the pretty colors–yellow and pink and purple and striped and blue and green and yellow striped–and I've been posting pictures on Facebook in a very tomato-affluent and braggadocios way (no, no . . . don't defend me . . . it's true. I'm proud and it shows. I'll own it.) and then a friend one day sent me a message, asking, innocently, if I had any tomatoes to spare. My friend Maria. She's on Facebook. Her tomatoes didn't do so well this year, sadly. And her family loves tomatoes.
Perhaps they beat her with sticks for running out of tomatoes, like mine did when we ran out of salsa mid-winter last year. 🙁
By the way . . . have you read the poem "Television" by Roald Dahl? It makes me laugh to think of it, and it is where I get the "hitting you with sticks," er, schtick. Here's just an excerpt from it:
"So please, oh please, we beg, we pray,
Go throw your TV set away,
And in its place you can install
A lovely bookshelf on the wall.
Then fill the shelves with lots of books,
Ignoring all the dirty looks,
The screams and yells, the bites and kicks,
And children hitting you with sticks-
Fear not, because we promise you
That, in about a week or two
Of having nothing else to do,
They'll now begin to feel the need
Of having something to read.
And once they start — oh boy, oh boy!
You watch the slowly growing joy
That fills their hearts." –from "Television" by Roald Dahl
But back to the tomatoes . . . hmmm . . . I had to think for a moment. Any to spare. That was a toughie. . . of course I had some to spare! And then this friend said . . . how much? I would like lots. To can. I'll pay you for them. And I recoiled. I don't like taking money from friends. Or family. It's taken me some time (ask anyone) to not feel guilty about taking it from my market customers, who have become my friends. Awkward. I squirmed. I hedged. I stuttered. I blanched. And then she tipped the scales with her words "I've got raw milk and frozen hamburger that I'd trade . . . "
Whoa Nelly. Now that was a fish of another color, entirely. Trading tomatoes to a friend for money makes me uncomfortable. But trading tomatoes to a friend for goodies like raw milk and hamburger feels smart and savvy and symbiotic, and locavorish, if you will. Serendipitous, also. The pressure to use all these glorious tomatoes would be lessened, I knew, if some of them went to my friend's house, and I would make my friend smile, and I'd get to have raw milk and good grass-fed hamburger for the freezer. Perfect. Definitely a win-win.
So. The deal with set. And I have a few weeks to play with raw milk . . . the first thing I did was to make Greek-style yogurt, from my friend Maria's easy directions, and it worked like a charm. And it was easy. So easy. And good!
Here's how I did it (from Maria's instructions, natch'):
Gather together the following: a half gallon jar of milk (it doesn't have to be raw), a candy thermometer, a cooler slightly bigger than the jar of milk, 1 Tb yogurt starter or culture, a strainer, a custard cup (you'll see, be patient!) and a big bowl. And here's what you do:
Pre-step which you don't have to do, but we did: take the cream off the top of your raw milk and put it in a special jar for your morning coffee. 🙂 Yum. Smile. Smugly. With anticipation.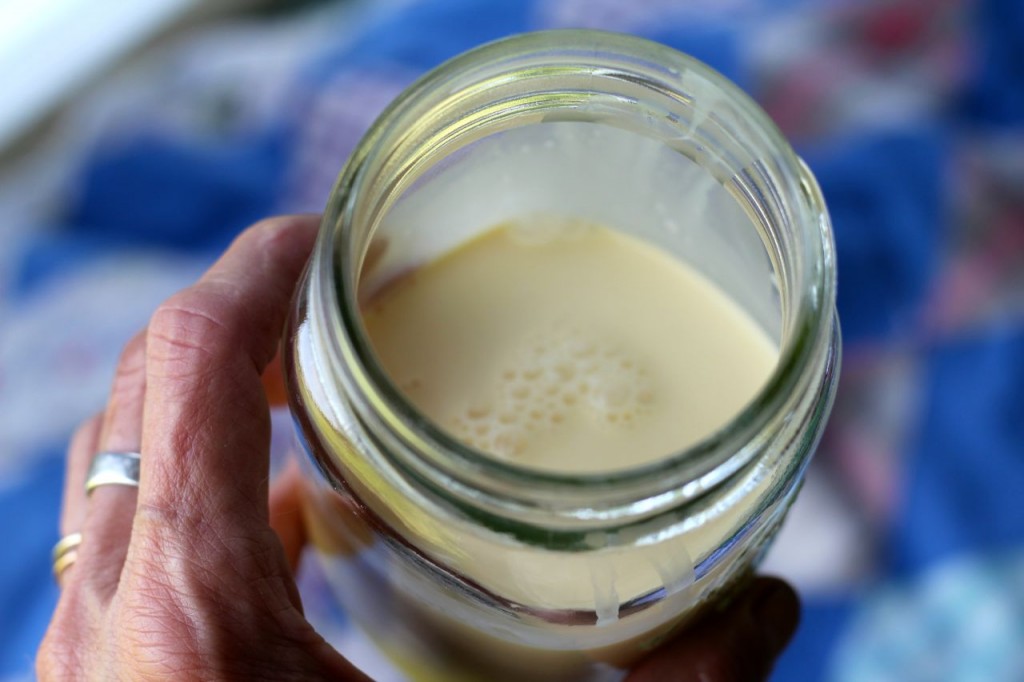 Now, on to the yogurt-making process:
1. Heat a half gallon of milk to 180° in one pot, while heating water in another pot. I'm assuming you have at least two burners on your stove, right?
2. Once the water boils, pour it into the cooler. Run several inches of cool water into your clean sink. Carefully pour the hot milk, once it reaches temperature, into a clean half gallon mason jar, and move it to your cool-water-filled-sink. I'm assuming you have a jar lifter. If not, buy one, baby! They are essential in any prairie woman's kitchen! Nothing else will do!
Put the thermometer into the milk, and let the milk sit in the sink (or, if you want to hurry it up a bit–and who wouldn't–swish it around in the cool water) until the temperature goes down to 110°.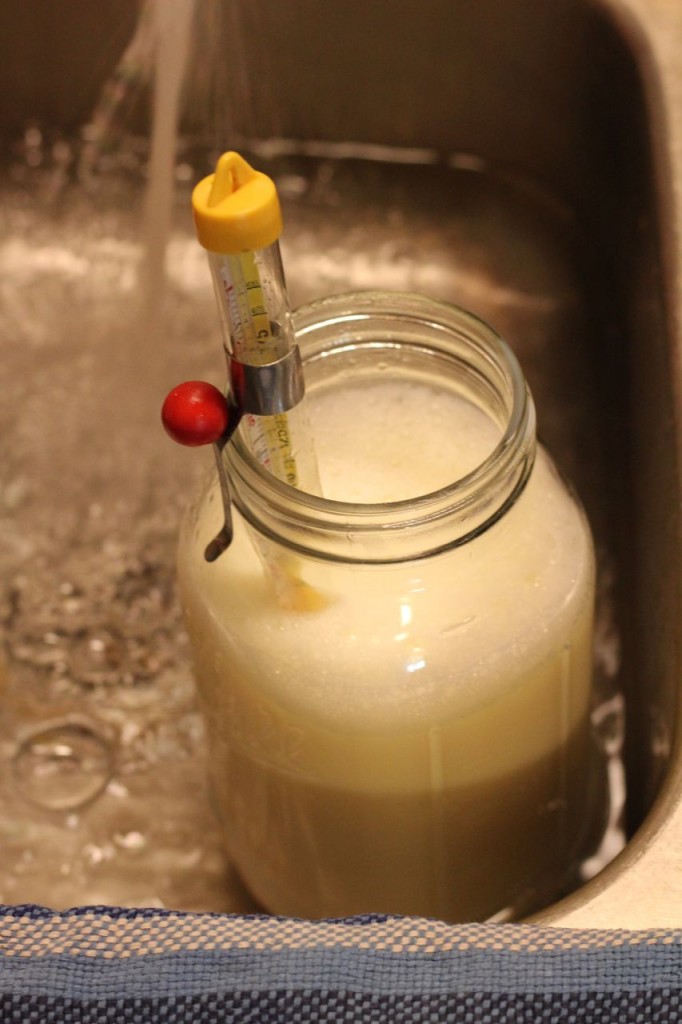 3. Pour the hot water out of your cooler, and then carefully lift the jar of cooled milk out of the sink (use your new jar lifter!) and place in cooler*. I put the cooler into the sink, so the warm water that came out ended up in the sink and not the floor or countertop, but you can do what you like. 🙂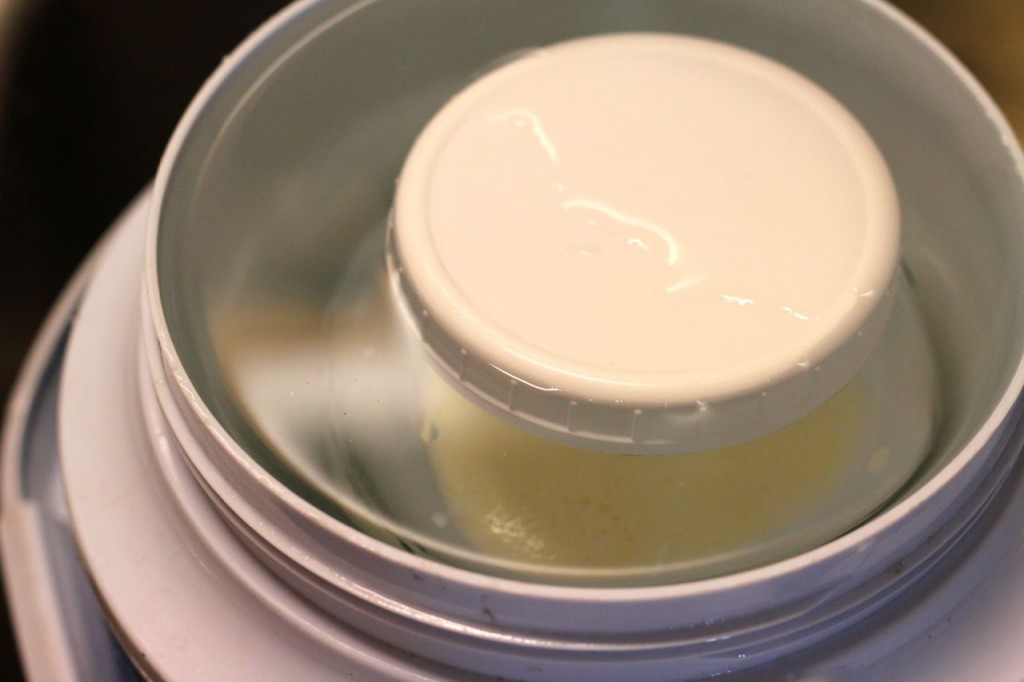 4. Stir in the culture with a wire whisk. Cover cooler and let sit for 6 hours. Run your errands, gad about, watch a movie, weed your garden, take a nap–whatever you like–knowing that your yogurt is making itself without you.
5. Set up your straining station. Place a custard cup or similar doodad upside down in a big shallow bowl, and put a strainer on top. Maria lent me her cool little cheese strainer, but I think you could use a colander with smallish holes, too. If you don't have a Maria in your life. But hopefully, you do.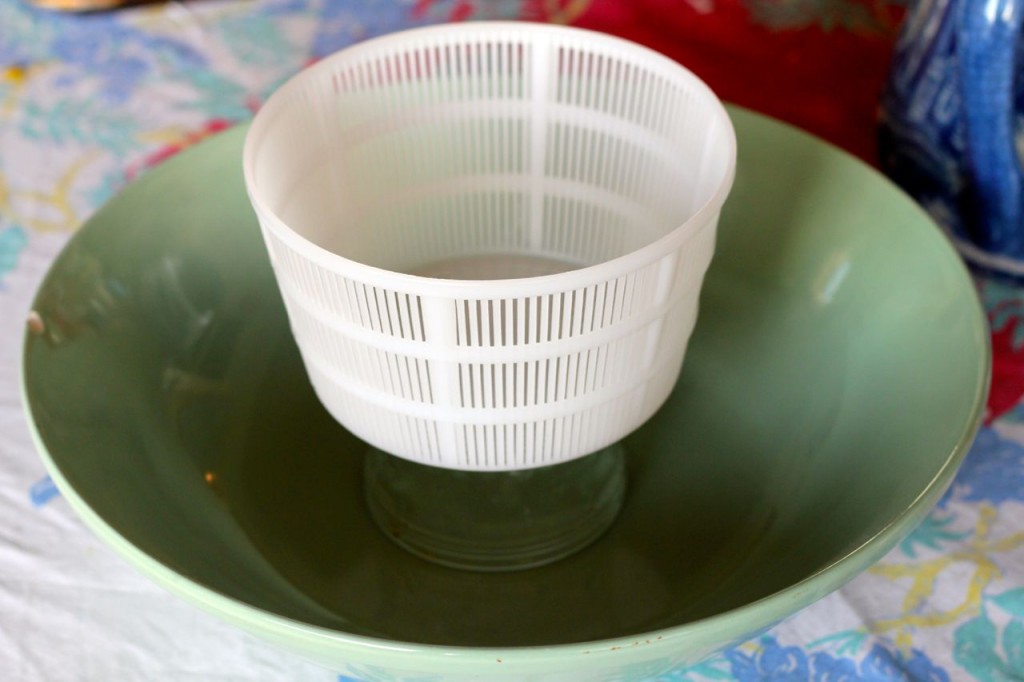 If everything has gone well, in 6 hours your milk will be a nice thick yogurt. Now to make it into Greek-style yogurt, you're going to strain off the whey.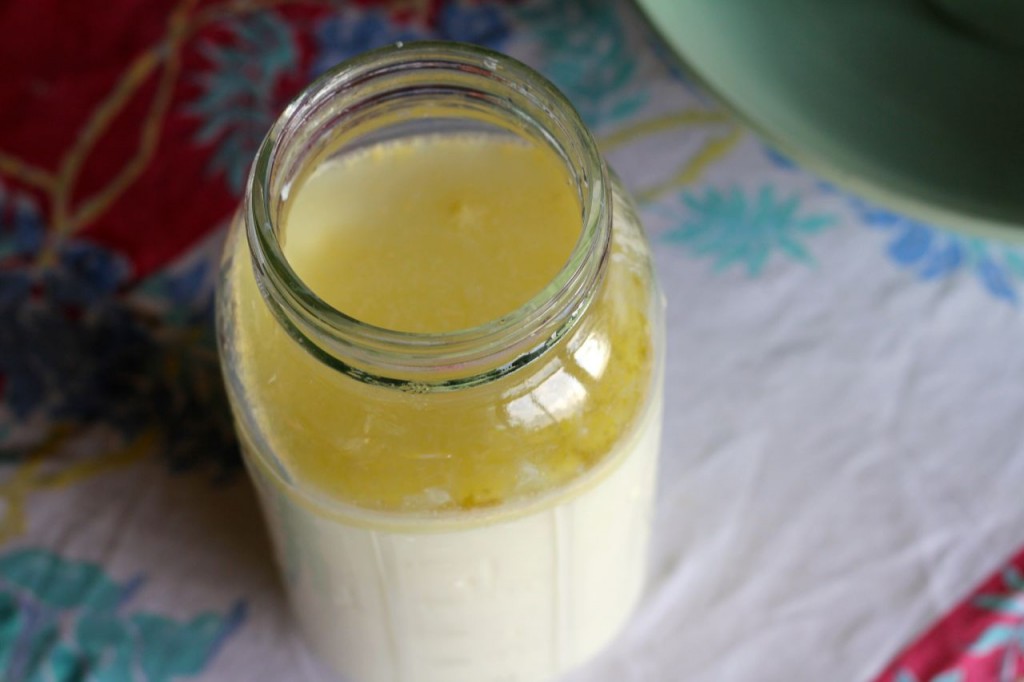 6. Pour the yogurt into the strainer. You'll see the whey begin to separate right away, and seep out of the strainer.
7. Let strain for 30 minutes on countertop, and then move to the 'fridge to finish draining overnight.
8. Remove your yogurt from the strainer, and put into a suitable lidded container. Or . . . eat it!
9. Reserve whey (I put mine in a mason jar, natch') in the 'fridge for more fun raw milk projects (stay tuned . . . ).

I love this yogurt with fruit on top, or just a drizzle of honey . . . . ! Yum!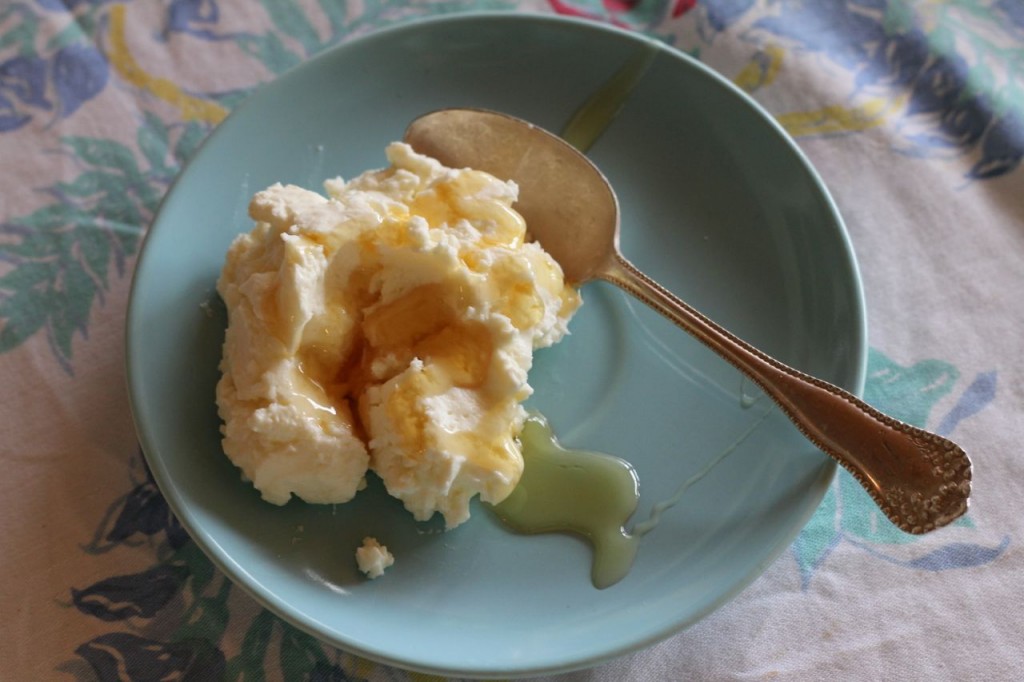 When Bryan and I were still very young and footloose, we spent a bit of time in Greece. We went into a cafe and ordered yogurt, and we were served a large saucer of creamy deliciousness, our first taste of "Greek yogurt" to be sure, made right there in the restaurant, probably, served with a drizzle of honey on top. It was utterly delicious, and a delight to us American students who had only experienced yogurt in its oversweetened state, with a bit of jam to mix in it, in little plastic containers at home. I've never forgotten it. This was pretty close to that yogurt.
One, no two–disclaimers. I think I probably overstrained this, my first attempt to make yogurt, and as you can see from the last picture, it's not as creamy as you might want. I think taking it out of the strainer sooner would have resulted in a creamier yogurt. I'll do that with the next batch. Also, originally I misunderstood Maria's instructions* and I left the hot water in the cooler, rather than draining it out, before placing the jar of milk in there to stay warm. So I probably incubated it at a higher temperature than optimal (which is 110°), although it still worked, so no harm, apparently, was done.
By the way . . . I'm having all kids of fun and learning all kinds of new things over at the weekly Barn Hop over at The Prairie Homestead. Join me! ALSO . . . I'm linking up with the fun Home Matters Linky Party right here. Come see!