How to make Scrumptious Radish Sliders: addictive as all get-out!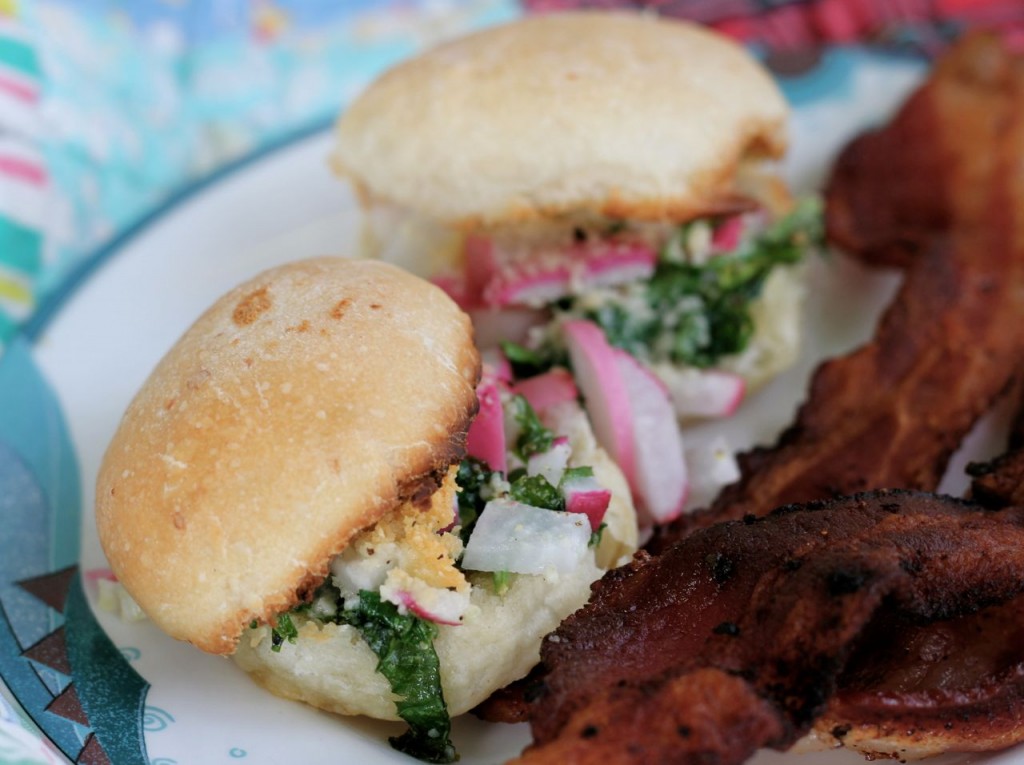 Radishes are one of those crops that I plant, harvest, and crunch down with joy like a hungry pig, for several weeks in the spring, and then forget. At that point, other garden crops take precedence, not to mention time and energy. Until now, that is. Until I discovered how addictive and delicious a good radish sandwich filling is. Let me share with you how this all came about, and then I'll share my new favorite lunch recipe with you, because I love you all so much. You're gonna love me for this, too, I can just taste it. 🙂
Taste the love: scrumptious radish sliders. Oh my goodness, I love these things so much.
Isn't it amusing how sometimes several random and unrelated forces will converge to change your life–wellll, at least your lunch choices-–in a meaningful way? That's how it is with this slider recipe.
This is how it came about. Four forces came together within a few hours of each other, and they determined the course of one day's lunch. And my life? Changed. Forever.(To be completely and bone-tired honest, since we usually spend mornings outside working in the garden and yard, we usually drag in ravenous for lunch, and too spent to make anything fancier than a jaggedly-cut piece of toast with some limp cheese tiredly flopped on top. Seriously. Pitiful.)
Here were the forces:
1. I saw a post recently on soulemama about making a radish spread for toast, and it appealed to me in a big way. I craved it completely and fully after I saw that post. Imagine. Chopped up radishes and soft butter and a bit of lemon–eaten on bread? Yum.
2. I had a big pile of radishes in the 'fridge to use up, and more in the hoop house that needed pulling, ah, right away. That's the thing about radishes: they grow very quickly, are ready to eat all at once, and then overnight they turn into little round blocks of wood. Bitter wood. Bitter wood that even the chickens won't eat. Truth.
3. Little Mack wanted bacon for lunch. Sheesh. Boys and bacon. What's the deal? I had a pound of bacon in the freezer, so I stuck it in the 'fridge and promised my little boy bacon. But for lunch, not for breakfast, because by the time he had his bacony thoughts, it was well past time for breakfast. But what goes with bacon? Well, okay, everything goes with bacon. Almost everything.
4. Mom gave me some delightful little buns that she had made, the day before, that were the perfect shape and size for some dainty little sliders. And everybody knows how delightful Mom's buns are. 🙂 (Sorry, Mom, but you know it's true!)
So, this thought permeated my brain: radish sliders with hot strips of bacon on the side. Oh yes. I thought about it all morning, as I slogged about, doing chores: Chopped radishes. Lots of butter. Add a few leaves, chopped up fine. Little buns with a tasty radish filling inside—toasted open-faced with parmesan cheese on top–broiled for a couple of minutes–oh, yess—maybe just a skiff of dijon mustard? Bacon on the side.) (That's how my mind races when I'm hungry. And tired. And hungry. And indulging my little boy's bacon longings.) So when lunchtime came, I trudged in from the garden, dumped another armload (yes, armload, you know that I garden big) of radishes into the sink and started washing and trimming them right away.
Then I put Mack's bacon on to fry, mixed up the radish filling that I had been craving for so long–at least two days– spread it on Mom's beautiful little buns, broiled them briefly (oh, so briefly), just long enough to toast the buns a bit and melt the parm, and then we ate them with the hot strips of bacon.
They were everything I had hoped for. Actually, even more. Delicious!
So easy, too! Check it out for yourself.
Just mash together:
6-8 large radishes, roughly chopped
3-4 radishes leaves, ditto on the chopping
1 T lemon juice and zest from one lemon
2 smashed and diced cloves of garlic (optional)
4 T soft butter
salt and pepper to taste
Reserve for later:
2-3 T grated Parmesan cheese (also optional, but very nice)
Spread this on your toast or buns, while your oven is heating to broil. Then sprinkle the parmesan cheese over all if you like (we liked it that way) and broil for a couple minutes until everything is lovely and golden and toasty. We all decided that a skiff of dijon mustard did not, after all, go amiss.
Lunch is ready!
Now before you pad out to the kitchen to whip these up . . . one more thing . . . actually, two more things:
Thing One: Here's a guest blog post that I wrote about how to make buns out of artisan "bucket dough," if you want to make some little buns like the ones in the photos. They're easy. Quick. And reliably yummy.
That's all for now, Gentle Reader. Always, I appreciate you. I love it that you check in on my shenanigans and give a hoot, at that. Have a good day. Take care of each other. Count your blessings. Floss your teeth. Hug your kiddos and pet your dog even though he may be driving you crazy today.
After all, we're all in this together. Even the dog.
*hugs*