Wood chips are hot! Spreading the news with the Back to Eden film
Hi guys. I usually don't do much blogging on the weekends because there's too much other stuff going on (mostly outside) but I'm going to make an exception today because I have something pretty cool that I want to share with you. It'll only take a moment. Or two. I promise. Then you can get back out to your garden. 🙂
But first (hehee) a short anecdote from my own garden. During a lull in the weather this winter, I noticed that the town chip pile had been refreshed and I had an itch to haul wood chips home to my garden. I had an afternoon open. So I grabbed the kids and a couple of cob forks, little Mack helped me hook up the trailer, and we went to town. Literally. We hauled a couple of loads, until our muscles were screaming, our afternoon was gone, and my joy was complete.
Not actually complete. I would have liked to haul much more. I have a dream of covering all my garden spaces with a very thick layer of wood chips, after all. I am such a fan of using thick mulch in the garden. It smothers the weeds and keeps moisture into the soil. It saves time and energy and water. It's just smart, especially if you tend to put in too much garden.
I had long ago watched the Back to Eden film, been bowled over by Paul Gautschi's success with thick wood chip mulch, and ever since have tried to gather enough mulch to cover all my garden spaces with it. The film, made in 2011, shares the story of Paul Gautschi's lifelong journey, walking with God and learning how to get back to the simple growing methods that were given to man in the garden of Eden. The award- winning film continues to receive critical acclaim and has been viewed by over 2.5 million viewers in 220 countries!
Back to Eden gardening, in a nutshell, is a no-till, 90% no irrigation, no chemical fertilizers, no chemical pesticides, completely organic growing system that is capable of being implemented in diverse climates and soil conditions around the world. Check out the film or this website to learn more. It's inspiring!
Paul's belief is that by mimicking the self-sustaining design of nature, Back to Eden gardening reduces watering and increases your harvest while requiring minimal labor. The Back to Eden gardening method has been endorsed by the National Gardening Association, Organic Consumers Association, Rodale Institute, Mother Earth News, Dr. Mercola and was featured on FOX News.
"It's powerful and dramatic how God is moving Back to Eden Film and gardening method all around the world because it works, He is in it, and this is His timing. People are so spiritually and physically hungry and this film ministers to their hunger." –Paul Gautschi
Maybe you remember when I wrote about my friend Anne's garden and the remarkable success that she has had with Back to Eden gardening. Anne and I have something in common: we plant too much, and then we have trouble keeping the weeds out. Only now that Anne has got her garden covered with a thick layer of woodchips, she doesn't. *pout*
But back to that winter lull in the weather: In the Back to Eden style, Amalia and I laid out cardboard, thick layers of newspaper, and thick paper feed bags, and then covered them with a thick (6 to 8 inches, probably) layer of the fresh wood chips from the town chip pile. We mulched about half of one of my garden areas, the one that runs next to the hoop house. It was a good winter afternoon's work. Winter weather returned the next day, and we never did return to the chip pile. It did take time to haul chips, after all, and time is always in short supply.
Enter our wet, cool spring. I planted other garden areas, but this area next to the hoop house was the last one I got to. The half that was mulched? Only a few wispy stragglers of bindweed had gotten through the thick wood chip mulch. I pulled the few weeds, took out my packets of seeds, cleared the wood chips away from where I wanted to plant, and planted squash and melons. Time to do this: 15 minutes.
The other half of the garden space? Oh, Gentle Reader. Even with little Mack's reluctant untiring weed-jerking help, it probably took us three hours to clear away the waist-high weeds that had sprouted up out of that garden space. I thought dark thoughts the whole time, about how I could have avoided this, had I hauled just one or two more loads of chips . . . finally we got it weeded, heavily mulched with hay, and planted–mostly in onions and more melons. Time to do this: 4 hours, at least. 🙁

I entertained my morose shoulder angel by thinking about how much effort and time we could have saved by just hauling another load or two of mulch that day. 🙁 But I'm over it now. No looking back–!!
Ever onward!
In my garden, the number one factor that will determine success or failure, for me, is adequate supplies of mulch. I use wood chips, hay, straw, grass clippings, whatever I can get my anxious, grubby hands on. In years when I just can't accumulate or haul enough mulch to cover my garden spaces, my garden–or at least vast swaths of it–are lost to weeds, and I have to put much more water on it. I simply don't have the time to pull weeds out of all the garden spaces that I plant.
So Paul Gautschi's Back to Eden film, and his spreading the gentle, simple, scripture-laced message of how to garden successfully with a heavy wood chip mulch, has made a big difference in my gardening life.
Did you know this: that According to World Vision, "One in eight people in the world do not have enough to eat." Paul's Back to Eden Film addresses the root causes of hunger by teaching people an organic growing method. I'm happy to see that he is embarking on a campaign to make his film into a multi-language DVD to share with other cultures. Teaching people who don't have enough food how to grow their own could make a life-saving difference between hunger or having full tummies.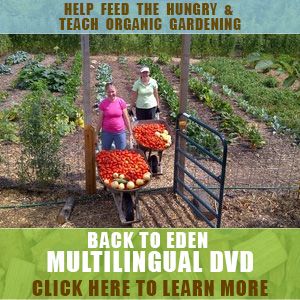 (By the way, if you decide to donate*, there are several attractive perks for you to choose from, if you'd like.)
And that's why I'm writing a blog post early this Saturday morning.
Paul has invited me to be an affiliate of this effort to help feed the hungry and teach organic gardening around the world by translating the Back to Eden Film into 18 languages. He has set up a crowd-funding effort at indiegogo, and I'm honored to be a part of this!
So if you'd like to learn more about Paul and his Back to Eden Film, go here. If you'd like to contribute to the effort to translate his DVD into 18 languages, click over here. Donate today and you can be part of a very cool thing, teaching others around the world how to improve their lives by gardening organically with thick mulch.
And it would be awesome if you could simply share this post with your friends, by tweeting, sharing on Facebook, emailing it, or whatever you do. Thanks for helping me spread the wood chip mulch word!
Thanks for checking in with me this weekend. I hope you have a lovely one, Gentle Reader!
*hugs*
*Oh, and all donations are tax-deductible!