How to Store your Potato Crop so it Will Last the Longest!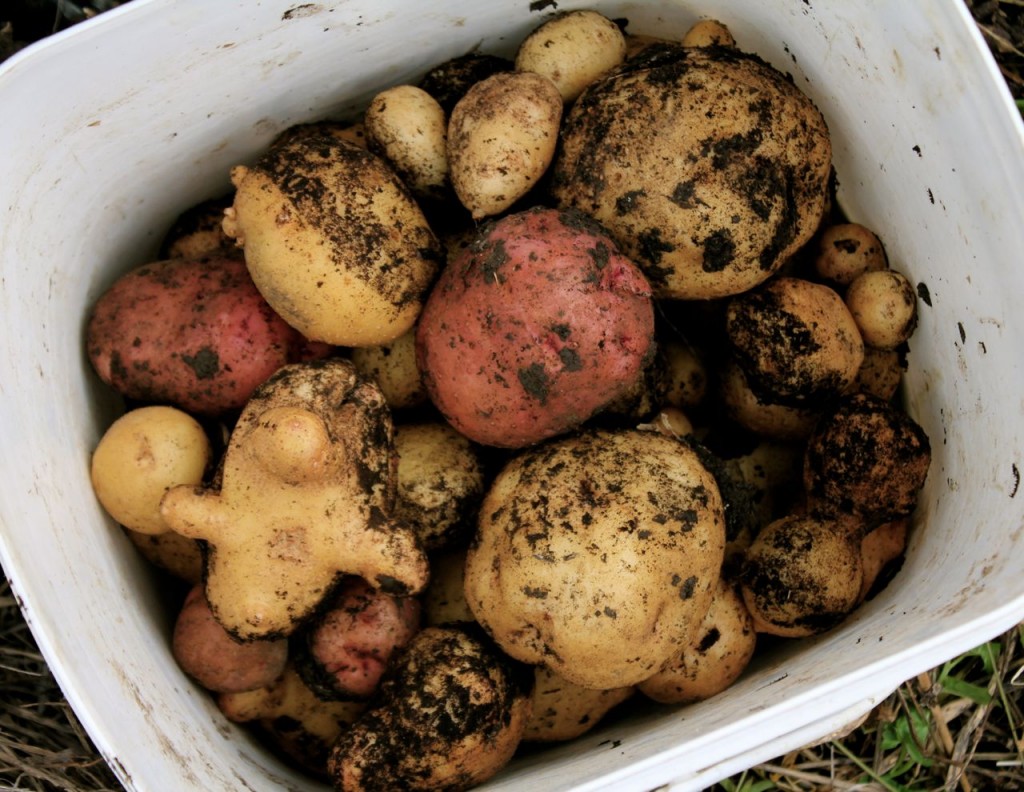 Growing plenty of potatoes for winter meals is a smart and relatively easy thing to do. If you harvest and store your crop correctly, you can serve your own potatoes–mashed with butter and cream, tra-laaa–with your Easter dinner. But if you don't take the proper steps to cure your precious crop, you might be left with a stinky awful mess (nothing stinks like a rotten potato!) and no potatoes left even to serve with the Christmas goose.
Does this sound like the voice of experience, Gentle Readers? That's because . . . it is the voice of experience: that painful, humiliating voice of experience.
Did you know that you need to cure your potato crop before you sock it away in your storage boxes or bins? Well, now you do.
Did you know that it's easy and quick to do so? Well, now you know that too. *curtsy* You're welcome, I'm sure.
But I'm not going to leave you hanging with only partial information. I'll reveal all, in moments. Little Mack and I still have a few days of digging potatoes, as a matter of fact, and we dig a bit more furiously as we get closer and closer to our first frost date. Last year I planted no potatoes (how did this happen? Probably because I was so busy planting four kinds of basil and four varieties of kale and sixteenhundred tomato plants, maybe?) and I missed them so sorely in my root cellar all winter long, that this year I planted lots and lots and lots of potatoes: nine rows!
Nine rows of potatoes. That's a lot of potatoes, at our place, at least twice as many as I usually plant. I took good care of the vines, too, patrolling them daily for potato bugs and schussing up (please, can't I use this word this way, just this once?) the woodchips and straw to cover the vines as they grew. I did everything right by my potato crop this year, for a change.
Hard truth: my potato patch is usually an area of neglect. But not this year! My tender care was not lost on the potato plants, either. They were beautiful and strong and grew in stature and beauty unlike anything else. I'd never seen such lovely and strong plants! I knew that I was going to end up with the most amazing potato harvest, ever! 
I was so happy. It's such a pleasant thing to have something go right in the garden, isn't it?
And then. Gentle Readers. That week happened. That week in July when my second grandson (Wesley) was born, and my heart flew out the roof in ecstatic cartwheels when my sweet son called and asked "Mom, can you come?*" and all practical matters about keeping a garden and potato bug removal and lovely harvests and so forth were instantaneously forgotten (you understand, you grandmas). I packed up a few things, told Amalia and little Mack to pack their bags, and we drove to St. Louis.
On. A. Dime.
*There was no such call when the first grandson was born, since apparently there is a more urgent sort of need for Grandmas with a second baby, than with a first. I understand this now.

As we drove down the driveway, the grasshoppers (I'm pretty certain about this) promptly set up their luncheon buffet in the potato patch (this was before the Icelandics were big enough to clean the 'hoppers up for me) and by the time we returned, the plants were nothing but sad-looking, leaf-bare stems, sticking out of the straw. Bewildered. Naked. Defeated.
I was so astonished. I stood in my potato patch with my mouth open for so long, staring at the devastation, that a garden spider contemplated making a nest in my gaping maw. Where did my lovely potato plants go? How could this have happened in such a short time? We were only gone for–what–six days? It. Was. Unbelievable.
Of course, every grandma worth her salt knows that seeing baby Wesley so fresh and new, and accompanying the displaced Prince, Emmett, the tippy-toeing, truck-clutching, belly-laughing older brother, to the zoo and to the park and to the other fun places so Mama and Wesley could rest In Peace And Quiet, was worth buying potatoes for this year. Really, no comparison. None.
But still. With that disappointing grasshopper coup, I wasn't so hopeful about the potato crop. The plants were, after all, cut down in their prime. It could have been a massive and noteworthy harvest, I just knew it. But it was not to be. Not this year.
I knew there had to be potatoes under there, and after I got over the bitter lump of resentment against those grasshoppers, I dragged my reluctant Little Mack out there and we started digging. And we found potatoes. Sure, they're not as big or as plentiful as one might hope, but we'll still have plenty for the winter. As long as we cure them correctly.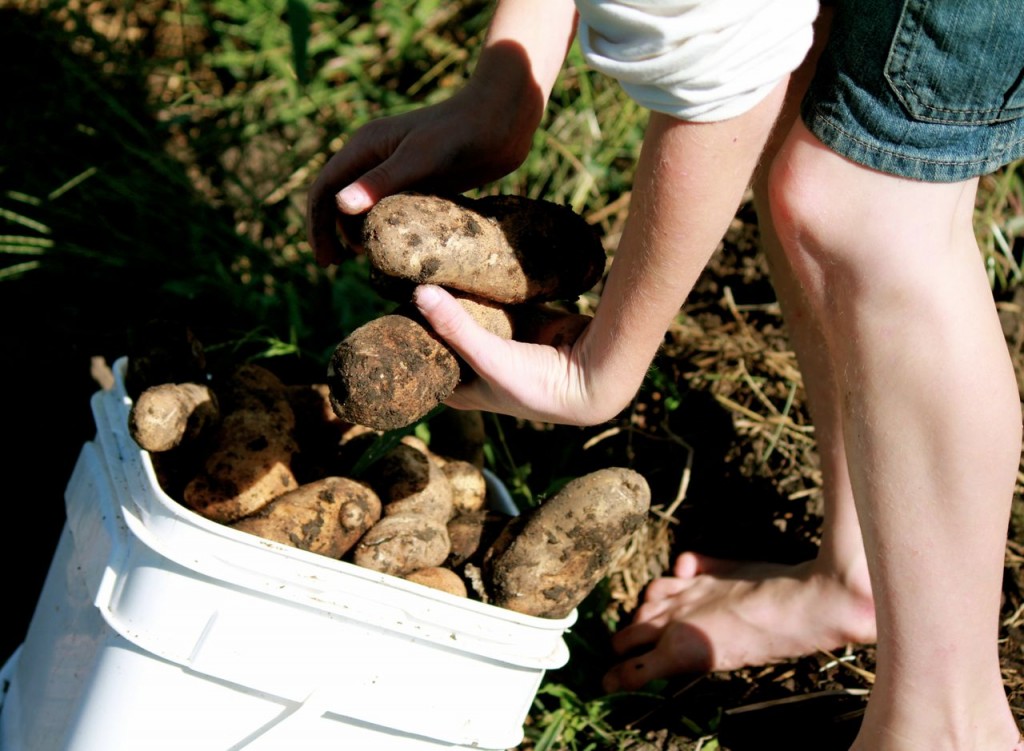 So little Mack and I have been digging our potato crop, row by row. Every day after school, we grab a 5-gallon bucket and a potato fork, and we go out to the garden and I dig while my son talksandthrowspotatoesoverthehoophouse picks up the purloined treasure and drops it into a bucket. When the bucket is full, we stop, and we bring the potatoes in and do the magical curing thing that will mean the difference between our potatoes staying in great shape all winter long, or rotting in sorry disgrace.
Then we watch Gilligan's Island together. Hey. It's his favorite. It's his "carrot on a stick." But back to the potatoes. "But Skipperrrr!"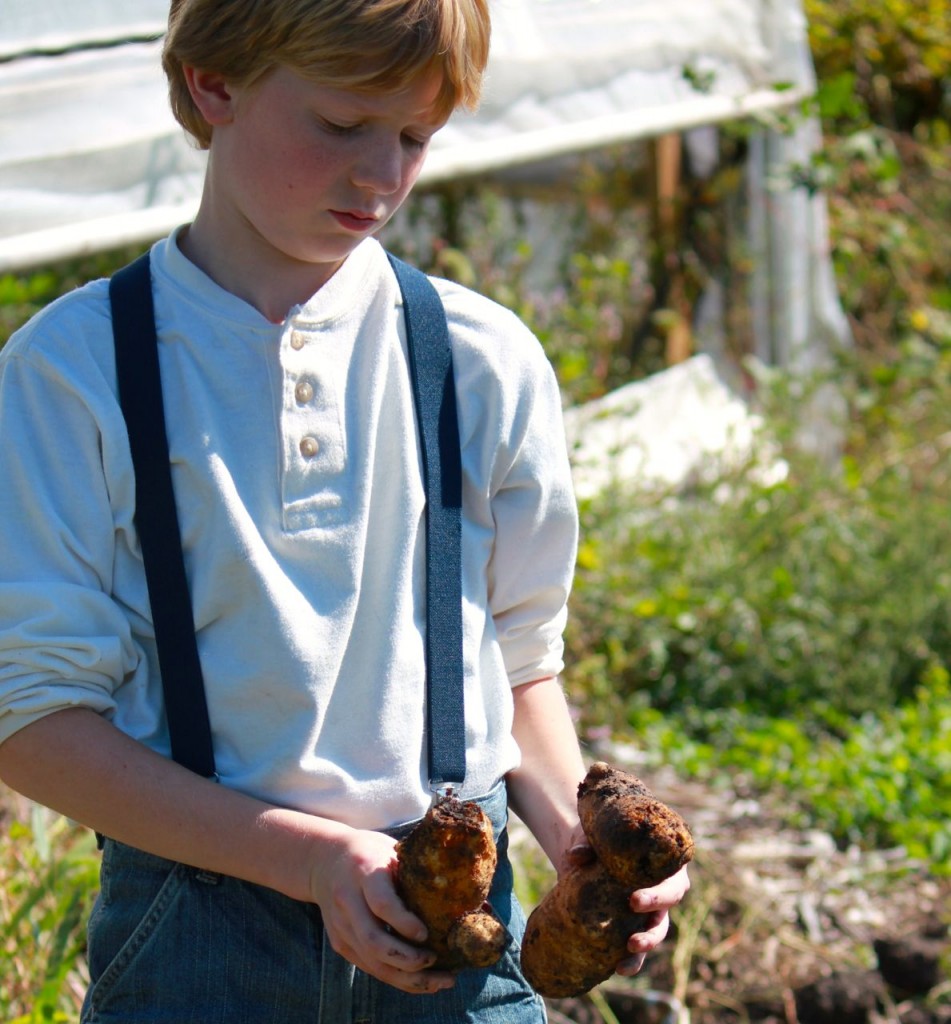 Now we'll get to the information that you clicked on this link to find (sorry for the rabbit-trail). And I'll try to make it short. For a change. 😉
After you dig your potatoes, this is what you must do to store them for a longer bit of time than, say, the trip from the garden to the kitchen. And just fancy how easy it all is:
Find a dark, cool, dry spot (we chose the basement ping-pong table) and lay out newspapers and/or cardboard.
Carefully sort the potatoes that have scuffs or holes or damage (from the fork) and take them straight to the kitchen for eating. Mashed potatoes are always a big hit at our place, for example.
Lay out, in a single layer, the potatoes that are unblemished. Stand back and admire your work.
Cover with old sheets or newspapers against the light, if there is light in your dark corner.
Leave for about 2 weeks, until the skin is dry and tough. Check now and then.
Brush off larger clumps of dirt (do not wash) and store.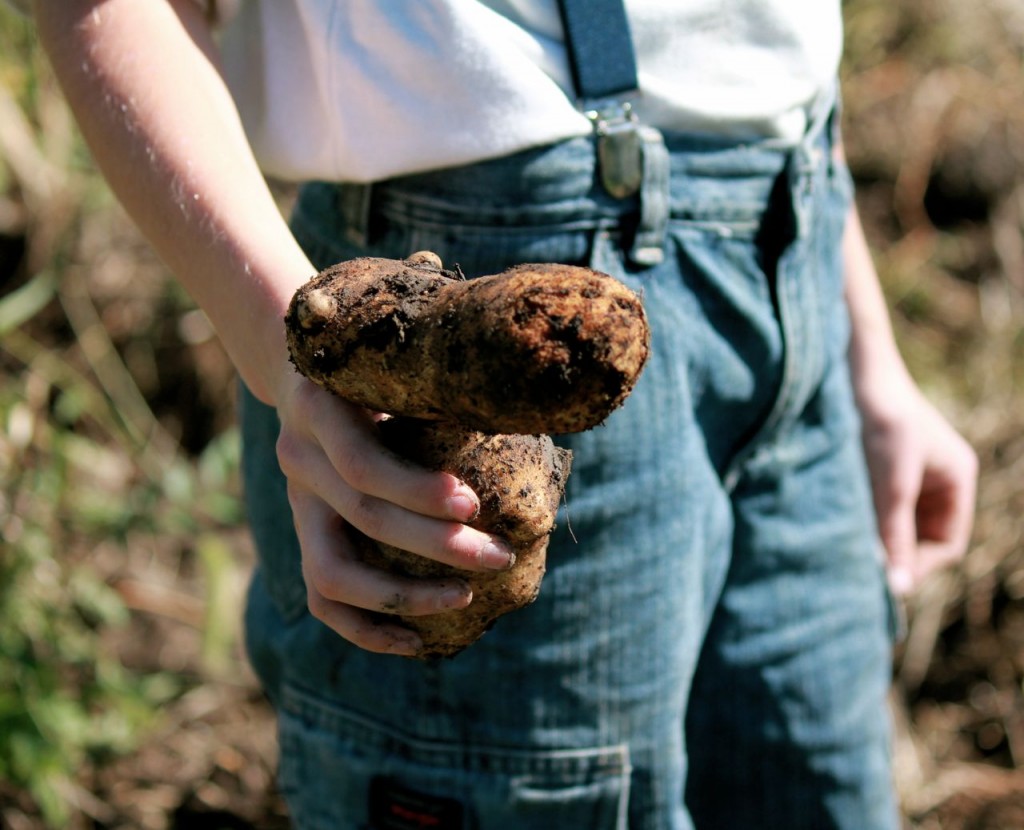 Potatoes cured this way will last for months. In fact, if I have any left in the spring, I use them for seed potatoes. (Tightwad tip!)
I use cardboard boxes with lids for my potato storage, because they are so handy to stack. And they are free from our nice pizza man, Roger. Bushel baskets are nice, too, as are these. Which I'd love for an anniversary present, sure, honey, I'd take a few! 😉

That's it, Gentle Reader and fellow potato-grower. Did you harvest enough potatoes this year to store some for winter use? I'd love to hear about your gardening adventures in the comments.
*hugs*