Iced Bulletproof Coffee: Bliss in a Mason Jar
I look forward each morning to drinking my first cup of Bulletproof(ish) Coffee, steaming hot and laced with healthy fats and sprinkled with cinnamon. Sometimes I treat myself to a cup in the afternoon, too, but when the weather heats up, I really prefer to drink something cold.
I crave something cold, refreshing, and icy. And (truth to tell) caffeinated. 🙂

Iced Bulletproof(ish) Coffee to the rescue!
Here's my original post about how to make my version of bulletproof coffee. (I say "my version" because the original Bulletproof® coffee is the brainchild of Dave Asprey, who writes an amazing blog called "The Bulletproof Executive.")
Dave is a biohacker. A modern example of a biohacker, of course, is Ironman, who is cool by any generation's reckoning. "Biohacking," I guess, could be described as do-it-yourself fiddling with your own body's systems, to help your body operate better and healthier. A very simple step, for example, would be to cut out sugar from your diet (it is more addictive than morphine, did you know it?) and see what happens. I like this post about biohacking for beginners on Dave's website.
Dave Asprey makes his cup of coffee with added butter from grass-fed cows, and a special oil that he has developed, a mix of palm and coconut oils. He claims that his health and life are enhanced by drinking this special brew every morning. I believe him. He also appears to make his living from selling these products on his website. I applaud him. He sounds like an amazing guy!
I, too, feel sharper and more energetic and smarter when I'm drinking a cup of bulletproof coffee every morning, even though it's my version, not his. Here's how I refer to my version: "bulletproof(ish) coffee." Here's Dave's version: "Bulletproof® Coffee." See the difference? In my original post, I called it "Joy in a Cup." I stand by that claim.
But back to the summertime: when it's hot in the afternoon, I don't want to drink something steaming hot, even if it does have a delicious foamy froth on the top and gives me lots of energy. So I discovered how to make iced bulletproof coffee, and it really tastes amazing on a hot day. It's easy to make, but you do have to know a couple of tricks to get it right.
Aren't you lucky, Gentle Reader, because I'm going to share those tricks with you. I call my bulletproof coffee "Joy in a Cup," and this iced bulletproof coffee I'll call "Bliss in a Mason Jar." Clever, eh?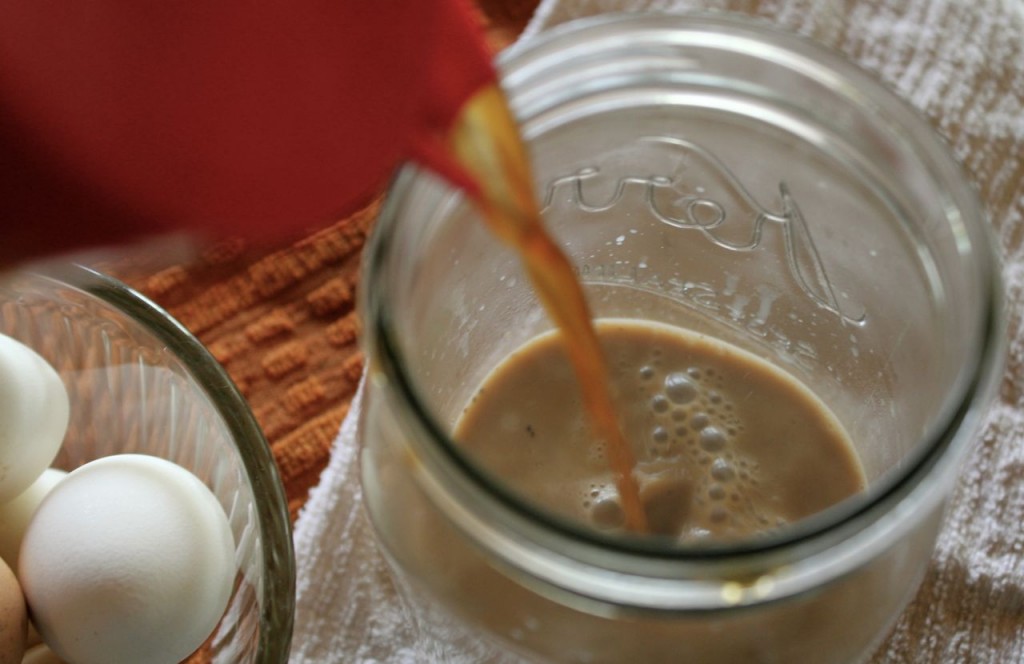 Here's how I make it:
First, make a large mug of bulletproof coffee per my instructions, including dumping it all into your blender and whipping it all up nicely, so it has that delicious froth on the top, and the fats are nicely emulsified with the coffee. Then, instead of slurping it all down (though you will be tempted!) put it into a mason jar with a lid and stick it into the freezer.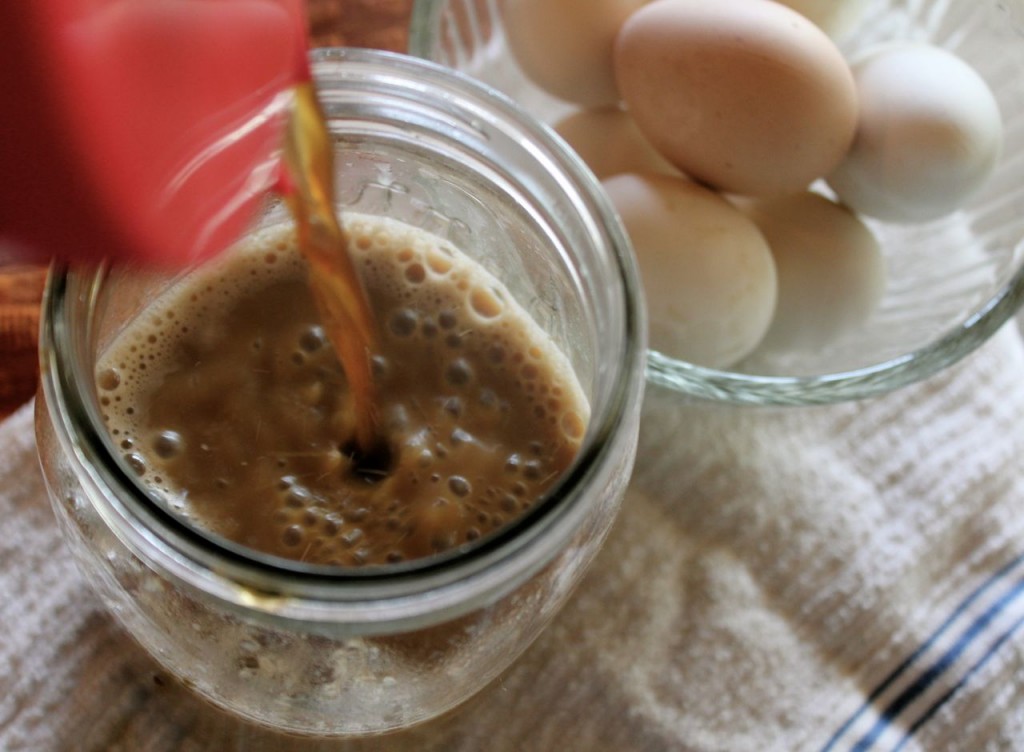 This is important! If you let it sit on the countertop, or stick it in the refrigerator, the fats will separate and you won't have this beautiful iced beverage to look forward to, just when you need it.
Your iced coffee will stay nicely in the freezer for several hours, just getting icier and icier. WWTW: Don't leave it there overnight, or it may freeze solid and explode in your freezer, which wouldn't be nice at all. But 3 or 4 hours is about perfect.
You may want to label it as being yours. Again, word to the wise. 😉
After the chilling, (which for me coincides with my afternoon schlump!), pour the iced coffee over a big glass of crushed ice and enjoy! That's it!
I'd put my Iced Bulletproof(ish) Coffee up against any overpriced, over-sweetened iced coffee you might buy while you're out. It's really good! And there are no questionable, hard-to-pronounce ingredients in it, either, depending on what you put in it. I put Virgin Coconut Oil, a touch of cream, a bit of honey, and some cinnamon.
By the way . . .

Have you discovered these handy plastic mason jar lids yet? I use a lot of mason jars in my kitchen–I store leftovers in them, I freeze stuff in them, I transport soup in them. These plastic lids are great! They are perfect for popping on the top of your iced bulletproof coffee, too, before you pop it into the freezer. And they come in both widths.
Now when they come out with different colors, I'll be really tickled!
By the way . . . Tropical Traditions doesn't pay me anything to endorse their products, although if you click on the link below and make a first-time purchase from them, you'll get a free book on Virgin Coconut Oil (yay!) and I'll get a merchandise credit of some sort, which is kinda sweet. Check it out! Their Gold Medal Virgin Coconut Oil is the best, in my opinion!