Make your own version of "bulletproof coffee" and rock your world
Are you a coffee devotee? Have you heard the term "bulletproof coffee" yet? A friend of mine on Facebook several weeks ago mentioned that she was getting her day started with a good hot cup of "bulletproof coffee." I was curious. I love a good cup of coffee, and I was wondering what made hers "bulletproof." And what, exactly, did that mean?
I was a bit surprised when she told me that she put a little bit of butter and a lot of Virgin Coconut Oil in her coffee. At first, I thought, (and I quote myself) "Gak."
Butter and oil in coffee? First of all, why? Second of all, "Gak."
But I got over my initial Gak-reaction and I did a little more reading and I decided to try my friend's recipe for myself. I love a good cup of coffee, and . . . Gentle Readers! My recipe below makes a good cup of coffee. I'm, in fact, spoiled for other coffee, now that I've become addicted to a big steaming cup of this brew every morning. I realize that this is all anecdotal (that is to say, based on personal accounts rather than facts or research, so there's your disclaimer!) but this is what I've noticed in my own humble self since I've started drinking a big mug of this deliciously augmented coffee every morning:
In a month I've lost 5 pounds (hey, it's something) without changing my diet or activity at all.
Sometimes I forget to eat breakfast, as this coffee fills me up so much.
I experience very few sugar and carb cravings now, and will sail through the entire morning without needing a snack. This is something, really, since I used to get to mid-morning and need a second breakfast (Hobbit-like) to make it to lunch.
I've noticed more energy and my mind is sharper.
I don't seem to need as much sleep as I used to.
I promise I'm not making this up.
Do you remember when FAT was a dirty word? Everybody was on low-fat or no-fat diets, and everybody was hungry all the time. I still see lowfat cheeses and no-fat products in the grocery store and I think (you've guessed it) "Gak." I followed my mom's advice during the low-fat craze: I just ignored the trend, and ate the fat that was closest to being natural: butter. I left the margarine at the store (I avoid anything that's filled with mysterious ingredients that I can't pronounce) and avoided the Crisco (scary stuff). I'm glad that we've come back to the realization that not all fats are bad, but there are fats (such as olive oil, and now coconut oil, and butter, in the proper amounts, natch) which are actually beneficial to our bodies.
Newsflash: our bodies need some fats to operate best, as fat in the diet is essential for proper brain function, healthy hormone development, and energy production, among other things. The trick seems to be picking out the best fats for our bodies, with the dizzying array of fat choices available to us today.
This coffee has a big dose of healthy fat in it. Has it changed my life? Well, it has enhanced it a great deal, and that's why I want to share it with you, my Gentle Readers. Maybe you will try it and it will enhance your life, too. That's why I made it for my team who came to help us pull the poly over our hoophouse last week. It made a great accompaniment to the honey-cinnamon rolls that I made that morning. They all smacked their lips over it, too.
Here's what I look forward to each morning:
I'll share my recipe with you in just a second, but first, in the Credit-Where-Credit-is-Due Department, I'll give a hat-tip to Dave Asprey, who writes an amazing blog called "The Bulletproof Executive." He's the guy who coined the term "Bulletproof Coffee" and is a very active guy who has developed his own brand of coffee beans which are supposed to be lower in toxins and thus much better for you. He makes his cup of coffee with lots of added butter from grass-fed cows, and a special oil that he has developed that is a mix of palm and coconut oils. He claims that his health and his life is enhanced by drinking this special brew every morning. I believe him. He also appears to make his living from selling these products on his website. I applaud him. He sounds like an amazing guy!
Dave's high-end coffee beans and special oil and butter is a little out of my budget, though, so I did a search for other versions of this coffee, and I found plenty of sources online who write about the wonders of their own versions of bulletproof coffee, which are made with ingredients (good strong coffee, grass-fed butter, and virgin coconut oil) that I can find in my area. And hey, I can still pay the mortgage after I buy them, too. Score!
Are you ready to try this version of bulletproof coffee? You may even want to click over to Dave's site and read all about his products, and give them a try. I would like to do that myself, someday! His blog is very interesting reading, too.
In the meantime, I'll be sipping this, and you can be, too. Here's how you make it. Mix in your blender the following:
one cup of your favorite coffee, brewed very strong 🙂
1 tsp butter, preferably grass-fed
1 Tb (or more!) Virgin Coconut Oil
your sweetener of choice (I use a little sugar)
your creaming agent of choice (it's hard to beat good ole' half and half, in my book)
The blender will emulsify the fats nicely, just making you a nice, rich, creamy cup of coffee which will fill you up and give you all kinds of energy. I like a light dusting of cinnamon on top, too.
I'm working on another post about all the wonderful ways that you can use Virgin Coconut Oil, and why it's the darling of the health food set now, after being the villain for so many years, and how it made its remarkable turn-around. It's a pretty fascinating story, actually, if you enjoy food-related reading. Which I definitely do.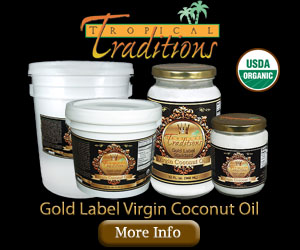 Click on the photo above to see where I like to buy my coconut oil, and lots more great stuff!
But that'll be coming sometime next week, so check in again! Thanks for stopping by, Gentle Reader, you are too, too good to me. If you enjoyed this post, I would appreciate a "share" or  "like" or somesuch thing. Again, thank you. 🙂
p.s. Here's the post where you can learn more about Virgin Coconut Oil!