Well, Gentle Reader, since I started my Daily Lenten 20-Minute Challenges, I've cleaned up and de-cluttered the following: my desktop (just the top, not the rest, not yet, but soon), the medicine cabinet, the junk drawer, and little Mack's bed (and part of his room, too).
Why would anybody's BED need de-cluttering, you may ask. Don't people usually keep their beds clear, so they can sleep in them?

And that is a very good question! I won't answer it, to preserve the dignity of my little boy. And his mama, I guess.
We don't exactly live like pigs, but I've learned two important things from these last few days:
We have WAY too much STUFF.
We aren't real keen on putting our STUFF away, not a blessed one of us.
There is real power in constancy. I'm going to accomplish a lot in 20-minute bits, if I stick with it. I know this, and I also know that it's not easy to keep at it.
I get a flush of pleasure every time I look at those few clean and shining spots. Every stinkin' time. It makes me feel a little silly, to go into the bathroom just to open the medicine cabinet and gaze inside at those clean, empty shelves that I made. I've led my children in there, one by one, to show them the empty shelves, too. It's an accomplishment.
Okay, now I need to tell you something very personal, Gentle Reader. And I'm sorry if I'm over-sharing here. Well, you could just skip this paragraph if you're alarmed by my over-vulnerability. Ready? Here goes: I'm kind of a slob. I bring too many things home, and there aren't enough spaces in my home for all the things I'd like to bring home. I have too many collections. I treasure too many doo-dads and whatnots and thingamajiggers. The predisposition to treasure little THINGS goes way, way back to my earliest recollection.
Back in Nelson, where I grew up, for example, I began this lifelong fascination with neat little bits of stuff. For example: when I was a little girl, my folks bought an old deserted house across the street from our house, and proceeded to tear it down in order to use the land that it was sitting on for a bigger and grander garden than we had room for in our own corner lot (see, I come upon the gardening craziness entirely honestly). My big brother Mark and I helped, by picking up refuse and pulling nails from boards and I don't know what else, but in the process I found several treasures which (here is the point) I still have: little pieces of china and a couple of tiny broken porcelain dollies that fit into my hand even back then, an old skeleton key. They are all squirreled away in a trunk or my whatnot shelf, along with dozens (hundreds?) of other little tiny treasures.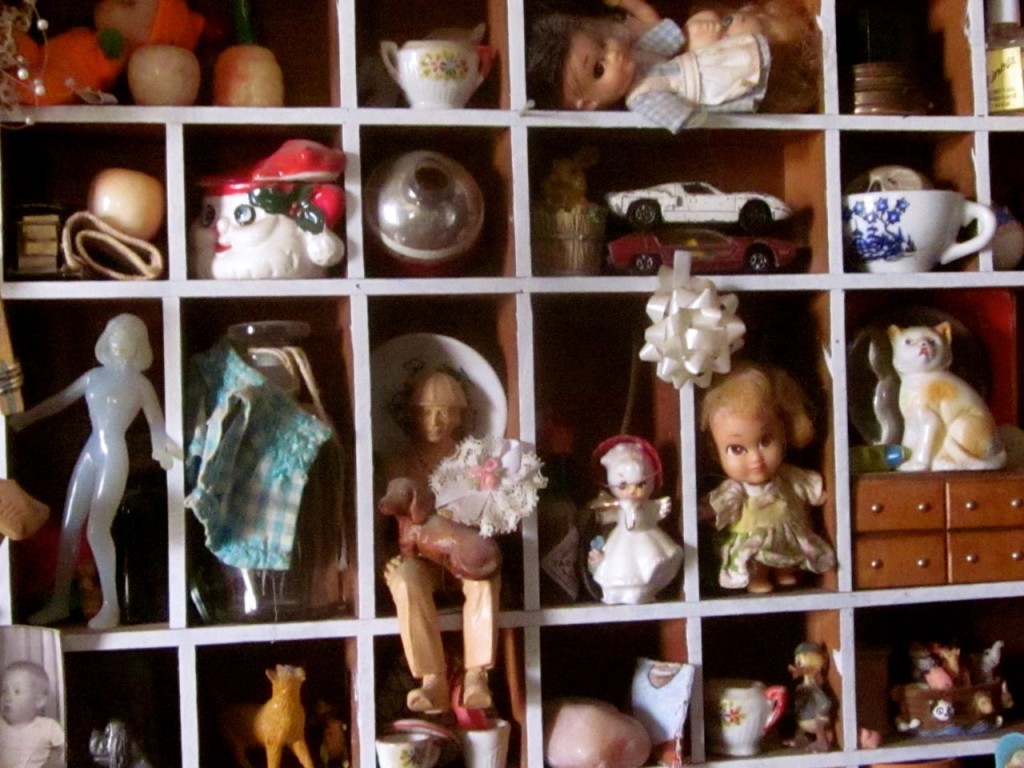 I love all these little things, and I could tell you stories about each and every one. Am I nuts, Gentle Reader?
Treasure. I've collected little things like these all my life. It is very, very hard for me to let these little bits go. Although I know in my heart and my mind that my treasure is not to be on this earth, I still hang on.
But. BUT. There comes a time, especially when a person reaches A Certain Age, when you realize that for your own good (and the good of those around you!) some of these things must be let go. I think, for me, this is the time. My treasures and my predilection for collecting pretties and my delight in beautiful little things is a good thing, I guess, but it certainly has added up to TOO MUCH STUFF, which can be a Very Bad Thing, indeed.
One more anecdote, and then we'll go on to today's challenge. When we lived in Story City, Iowa, we had an elderly lady as our neighbor, and her name was Audree. Because of a lifelong smoking habit, she was in failing health the entire time we lived there, and she died at last, but not before we became very attached to her. She was a dear, dear friend. She also was a collector, and a bit of a slob, like me. She had collections all over her house: she collected Santas, and decorative dolls, and candy dishes, and lots and lots of other things.
After her death, her kids came to her house and they picked out the few things that they wanted, they gave away a few other things, and then they trashed the rest. We shared a driveway with Audree, so from our second story windows we could watch the entire ghastly parade of STUFF that went into dumpsters and trash cans, and how much work it took for the kids to take care of all of it. Nearly all of Audree's treasures went to the dump. I couldn't help but wonder, as I watched that procession, how much richer her life might have been without all those dusty bits and pieces surrounding her.
It broke my heart to watch it, knowing how Audree treasured all those things, but the kids weren't going to let all that stuff take any more time from their lives than it already had, so they just trashed it all. What could you do with hundreds of old dusty dolls? Or a lifetime's collection of Santa Claus figures?
So back to today. I think that as I do a 20-minute challenge every day, I'm letting go of lots of STUFF and hopefully making my footprint here on the earth a bit smaller, my childrens' obligation (God bless them) to clean up after me a bit easier (sorry, kids) and to remind myself that my treasure is not in tiny porcelain dollies or little bits and pieces of whatever, but is in heaven where someday I aspire to spend eternity. Our span on earth is just really not very long at all. The Bible says that our lives are merely a mist. Do I really want to waste even an hour of my life dusting earthly treasures that aren't even things that I need? Not really.
So back to my challenge: On Day 4, I issued a challenge to clean up an area of a child's room, but to do it with lightness and humor (trust me, this is important). You can see the "before" picture right here, of little Mack's bed (I didn't attempt his entire room, for reasons which you'd understand if you saw it, alas). Here's the "after" picture: there's lots more room for happy grins and a great big black dog, after the bed is cleared. And I found 3 library books in that mess, and several outgrown shirts to give away, and little Mack was delighted by some special Lego pieces that he discovered.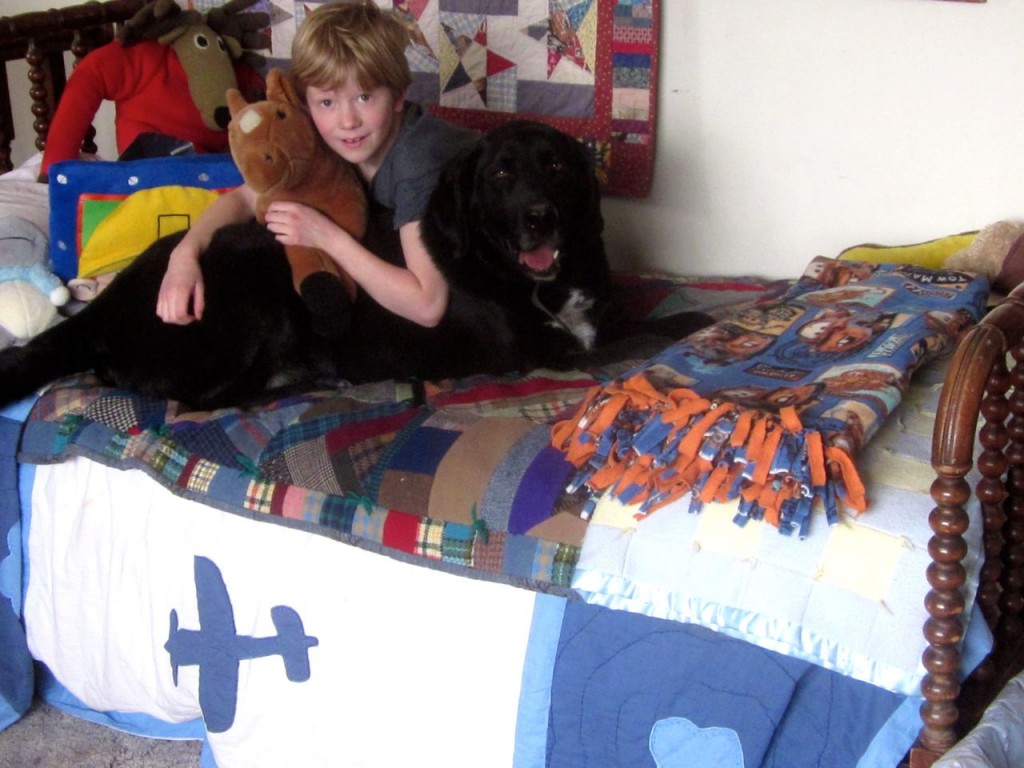 One more thing: I've done other 20-minute stints in little Mack's room, because he has just gotten out of control in there, and my goodness, it needed to be cleaned up. And it's funny how much he enjoys being in his room, when it is clean. He spreads out his Legos on the floor and just plays and plays. He sings. He chatters. He creates. He's happy. He experiences delight in his room, though it is not a very nice room, all things considered.
It's not so when the room is a cluttered mess, with dirty dishes and dirty undies and all the rest, spread out on the floor. He feels uneasy and unhappy, and acts it. Hmm. Here is something worth chewing on.
Today's Challenge: Clean up an Entranceway Eyesore. Here's mine. Oiy. These shelves started out as a tidy and convenient way to keep shoes, hats, mittens, and the like all corralled in our big back porch/mudroom. Now it's a catchall of fireworks (fireworks??) gardening tools, automotive supplies, cats (yup, our cat Mary snuggles in among those hats at night) and about a hundred pairs of never-worn shoes. I'm looking forward to setting my timer, grabbing a trash can, and digging in to this eyesore. Oiy.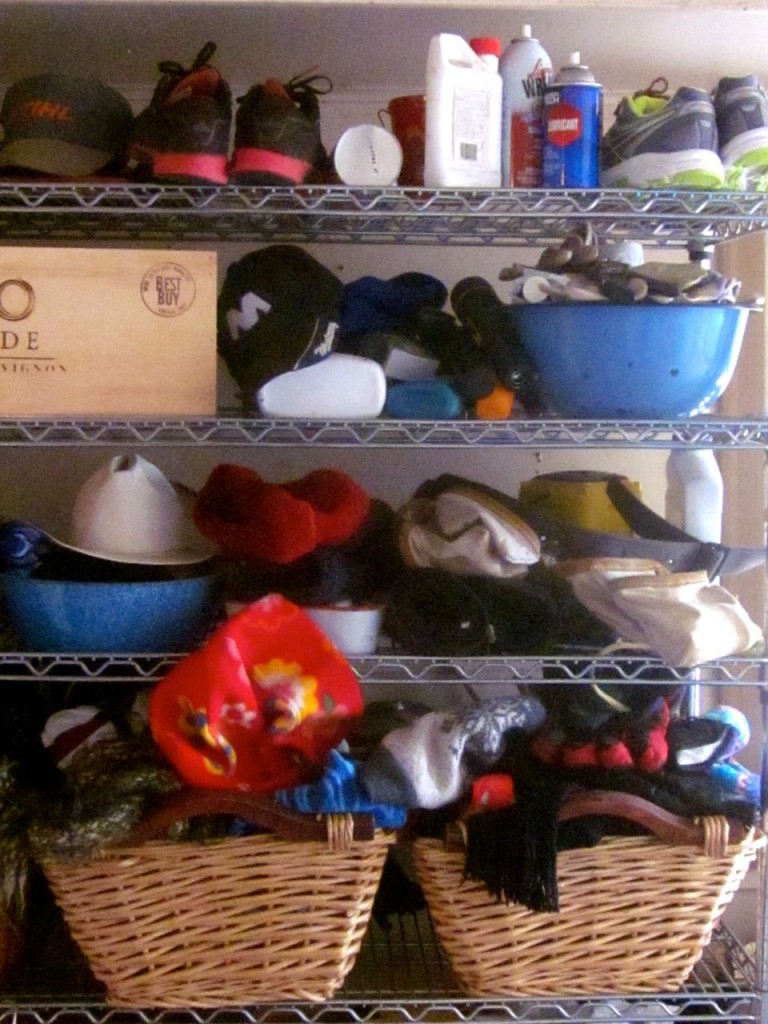 And Because I'm Still A Day Behind, I'm also going to clean up a kitchen cabinet. My entire kitchen gets quite a workout, every single day, with lots of snacks and three meals and even more food than that prepared some days. I really need to do an entire kitchen clean-up, but 20 minutes in one cabinet will have to do for today.
Are you going to jump in with me today? You'll amaze yourself, on how much you can accomplish in 20 minutes.

OH, one more thing. I'd like to invite any of you Gentle Readers who may be doing these challenges with me, to e-mail me "before" and "after" photos and a short description of what you've accomplished. I'd love to share in your successes, and I'll pick one now and then to publish on my blog. We're all in this together, right? Here's my e-mail address: [email protected]. Oh, okay, one more thing: I'll be posting some of these de-cluttering challenges on my Facebook page only, just because I've got some other bloggy things I need to post during this Lenten season, also, so be sure to "like" my Facebook page, if you haven't already, so you don't miss a thing! Just CLICK HERE to do that. And thank you!
Until tomorrow!
And by the way, here I am at The Prairie Homestead Blog Hop again. Join me!