Indian Summer at our place: fam and farm updates
It's November, folks, as I write this. Gosh! Didn't the summer go fast? Yeah, my head is still reeling over that one. Summer basically ended over two months ago. I'm still in denial.
Somebody help me. 🙁
In putting "Indian Summer" in the title of this post, I went digging around for a proper definition. We bloggers must be careful to use proper phraseology, after all, right?
In my cursory internet research, I found this startling fact: according to the Old Farmer's Almanac, unless you are describing the conditions of weather between November 11 and November 20 as Indian Summer weather, you are using the phrase (wait for it) . . . incorrectly. (I know. It floored me, too.) Also, to be properly defined, the air must be "hazy and smoky." Goodness, I had no idea the definition was so limited! There's more here, if you're so inclined*.
Well, then! Since it's not yet November 11, I guess I ought to just call this weather "Beautifully Warm and Unseasonal" then, and wait until later to begin bandying about the phrase "Indian Summer," correct? Accurate weather-related communication was easier before I knew this. Life was easier before I knew this. The internet makes everything so complicated, does it not?
According to our long-range weather forecast, it looks like cool nights and warm days for the foreseeable future, and that's great fall gardening weather. Also great prep-and-clean-up-for-winter weather. Also terrific firewood-splitting and hauling weather. Now whether the air will be hazy and/or smoky, come November 11, so I can properly (once again) refer to our Indian Summer, time will only tell. *pout*
Many years Nebraska weather rolls this way: it's warm and sunny one day, and we are enjoying the falling leaves and the balmy breezes and our short-sleeved shirts and then the next (literally) the temperature plummets, and it is snowing and blowing, and all the fall clean-up and winter prep comes to an icy halt. Ergo, we have to stare at half-done chores out our windows for the rest of the winter. Unless a thick, merciful blanket of snow covers it all (which it often does). Or until a nice sunny (but cold) weekend in December, or during a welcome January thaw.
We (me, the mouse in my pocket, and my farmer friends) have been reveling in this year's long warm fall.
That's the perfect window during which to sow lettuce into cold frames, or a few crops of radishes, or a row of turnips or watermelon radishes in the hoop house. And the garden just keeps going and going. Just think: I've already ordered a few packets of seeds for next year–the massive Carolina Cross watermelon that Mack likes to grow, and some gomphrena seeds (I love those flowers!) that were on sale–and I've still got a couple of months of daily harvests to go! My edible flowers in the hoop house just keep getting prettier and more vibrant. It's just not that hard to extend the season, especially if you have a hoop house or cold frames. Or both.
No hoop house? You can buy small kits and make your own mini hoop house in your garden in an hour or two. They aren't expensive. And you can grow a wealth of veg in one.
It has been a long while since I've written an update post, so let's get this party started! Let's start with them that make the most noise . . . that is to say . . .
Mack and Scout
First: if you follow my Instagram and/or my Facebook pages, you'll know that Mack and Scout are on Week 4 of doggy obedience class. Gentle readers. Watching this hour-long class, this clench-jawed-tussle between man and hapless beast, is my Favorite Thing To Do right now. Mondays are busy–it's back to school for us, for starters (after a busy weekend), but also my heaviest harvest day (more about this later). Adding this to the Monday mix–getting boy and doggy fed and out the door so they can be at class before 7:00, in another town, at that–makes the day a bit of a scramble.
But then . . . but then! . . . I can actually pull out a metal folding chair and sit for the better part of an hour and watch and grin and giggle. All of us watchers (there are usually two or three others) have the selfsame look on our faces: utter and complete amusement. (And certainly gratitude that we are the watchers, and not the strugglers in the ring.)
If you're having a rotten day, or a blasé week, are depressed by the news or just bored with Facebook (raising hand), go watch a doggy obedience class. Such emotions run over the faces of the handlers and the doggies alike. Oh my. You never can predict what will happen next! It is such fun.
More important than the obvious entertainment value of the class is the fact that both Mack and Scout are learning a thing or two about obedience. And persistence. And putting aside their own desires for the greater good. Being nice to people that–perhaps–you might not especially feel like being nice to. It's pretty great. Scout should graduate in three week's time, but I'll probably keep Mack in there for another session. 😉
Or two. *sigh*
Amalia
My goodness, will you look at this girl of mine?
Amalia had definite ideas of where she wanted me to take her senior photos (no surprise!). No ordinary setting for this creative girl. When I took the kiddos on a tour of my old hometown, Nelson, three years ago, she fell in love with a few spots there, and she announced happily "Mom, this is where I want you to take my senior pictures!" Knowing my lovely daught as I do, being full aware of her confident and determined demeanor (not to mention her excellent memory), I filed it away in my mama brain, because I knew that if she wanted it badly enough, it would happen. And so it did. She, Mack and I spent a really sweet fall afternoon in Nelson, and left with plans to return as soon as possible.
I ponder over why we all love to go there so much. The town gets smaller every time we go. The houses that I remember from my girlhood days seem smaller, too. I marvel every time I'm there at how tiny the high school is. I remember it as being so much bigger. But there is real charm in a small town where folks still know their neighbors so well, and notice when there is a stranger in their midst. There's an attractive quality about the quiet, as well. We drove and walked around for most of the afternoon and saw only a few people moving about on the streets. Three farmers on big tractors drove by us, at different times. No street in Nelson is more than just a few blocks away from farmland.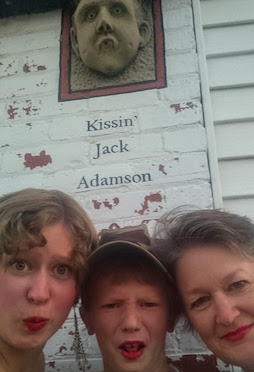 Perhaps part of what the kids love about going there is that when we step back into the town where I grew up, my memory banks are unlocked and the stories begin to flow. "See that house? The lady who lived there used to have an after-school Bible study class for kids, on her front porch, and she gave out oranges and packs of gum on Halloween . . . The lady who lived there (the house across from our house) would bake cookies and candies for days before every holiday. Then, before we were awake in the morning, she would totter precariously across the street (she was very old, even when we first moved there) and scoot a huge platter of her homemade goodies inside our front door. She also bribed me with two dollars to get back up on my little bike and learn how to ride it, after a particularly disastrous bike wreck soured me on ever learning to ride it." And so on.
I owe our little neighbor Mrs. Stowers a lot of gratitude for my love of bike-riding today.
It can be so healthy and refreshing to go home, when your upbringing was a happy one. I'm so grateful that mine was. Thanks, Mom and Dad. And thank you, Nelson.
Piggies and Chooks . . .
. . . chooks and piggies.
I have something rather sad to report on the chook front. I lost a lot of small chicks this summer. And by a lot, I mean maybe a dozen. Of course, having a busy and full chicken coop and yard, you may not notice right away when chicks begin to disappear. When there are lots of other chickens about–most of them large and noisy–the littler ones tend to scatter and hide, anyway. But when all three of Maybelle's chicks disappeared overnight, and then when poor little Butterscotch's little black Icelandic chick that she hatched just disappeared, I felt like a real failure.
What was happening? What was I missing?
Then one day, when the flock was out in the yard, I heard a big ruckus and I ran to see . . . and there was a prairie falcon on the roof of the chicken coop, scanning the flock. I'm assuming he was searching for a chick to grab for his breakfast. Ever since, Mack and I have been ultra-diligent to race out to the yard any time we hear the chooks getting upset. We have a couple of other anti-hawk tricks up our sleeves, too, actually ideas that we gleaned from you gentle readers. Mack's working on a particularly noisy scarecrow, for example. (More on that later.)
I've put out rat poison near the yard, also (this is a tricky thing to do: you don't want to poison your cats, or any of your chickens, either, so it has to be carefully put out in a box that is taped thoroughly, but has a hole just big enough for the rodent you're trying to get rid of) just in case there are rats that could be grabbing chicks and dragging them down to their holes. I haven't seen any, but since we live across the road from a landfill (sad fact), it's always a possibility. A third possibility could be one of our cats, but I don't see any little chick bodies around, which would be the case if the cats were killing them for fun. And our cats are all too well-fed and complacent to go to the trouble to kill for food.
When you keep chickens, you've got to keep a watchful eye, always, for predators. Chooks–all sizes–are just so edible to other critters, and they aren't discreet, either, about their existence. My roosters are noisy. "Here we ARE! We are ROOSTERS! Hear us! Heed us! Fear usss a doodle dooooo!" You can hear these fellows for a good mile away, at least, on a clear day. And here's the thing: they don't have any natural defenses. All they can really do is make noise. Or look indignant.
You know, I don't think it's ever occurred to them that if they were just quiet the predators wouldn't be making a bee line to our farm. Or maybe they just don't care. What do roosters value most: safety or ego? Definitely a question worth pondering. I think I know the answer.
Beacan and Chinwigchinpig are doing quite well (I think.) My pig consultants check in every now and then and look them over for me, which gives me some peace of mind. They seem to agree that they have grown their frames well, now all they need to do is bulk up. I am really enjoying keeping these piggies. They come to me when I call them. I bring them snacks when they call me. It's really a symbiotic relationship, of sorts. The symbiotic nature of our relationship will have to end in a couple of months, though *gulp*.
I would really like them to lead me to some truffles but–so far, at least–no dice on that one. They haven't gotten out even once, either *knock on wood please*. Maybe if they got out, they would find truffles?
I just started writing about my fall garden, and what's growing in my hoop house, and realized that it would be much better to give it an entire post. I have so much to share!
So here's a teaser photo:
So you'll have to come back, chickie, if you wanna know the details about my fall garden! (And you do.)
It'll be worth coming back, I promise!
Thanks for popping in!
*hugs*
Save
Save
Save
Save
Save
Save
Save