My goodness, as I looked through the photos on my camera to pick out a few for this post, one thought kept coming to mind:
"No WONDER there are so many weeds in my garden!" July has been a busy month at our place, and it's amazing that I haven't just given up on the garden entirely. But I haven't. Because: Tomatoes.

If a comet suddenly hit our house and everything was in disarray and we had to clean it all up and rebuild, using sticks and stones and raggedy pieces of tin from the fields surrounding our place, I'd still find the time to go out and water and weed my absurd number of heirloom tomato plants. Because: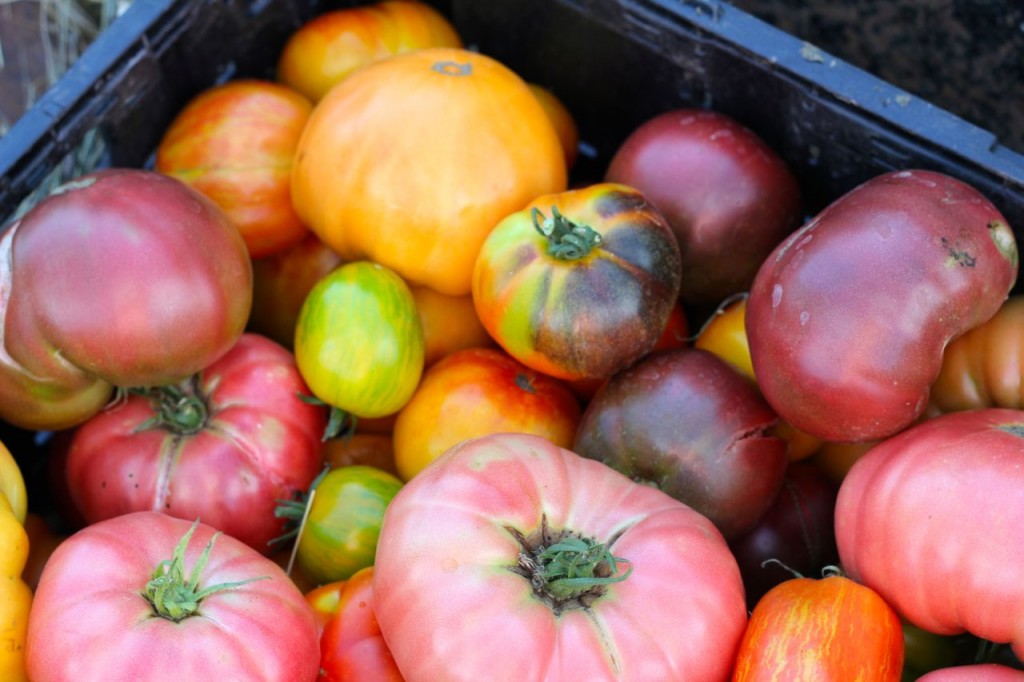 So, besides the tomato patch(es) producing nicely, what else is going on around here? Let's see:
1. My son Timothy's work: Did you realize that every 3 minutes a child is diagnosed with cancer? That stinks, doesn't it? Poor little shavers. My son Timothy is raising money for childhood cancer research, through St. Baldrick's Foundation, and this fall he'll shave his head (if he raises enough support, and I know he will) to raise cash that will go toward this research. If you would like to read more about the foundation, Timothy's plans, and/or to donate, just click right here.
2. You may assume that we country folk are all about work, but no. We do know how to play, too, although (honestly) sometimes we have to remind ourselves to do so. Over the Fourth of July weekend, Bethie and Saia came home to play for a few days. One hot evening, we headed in to the town pool, only to be disappointed that it was closing early that day. So we came home and made a quick water slide out of tarps and a couple of hoses. It wasn't the same as being in the pool, but we did at least get cooled off.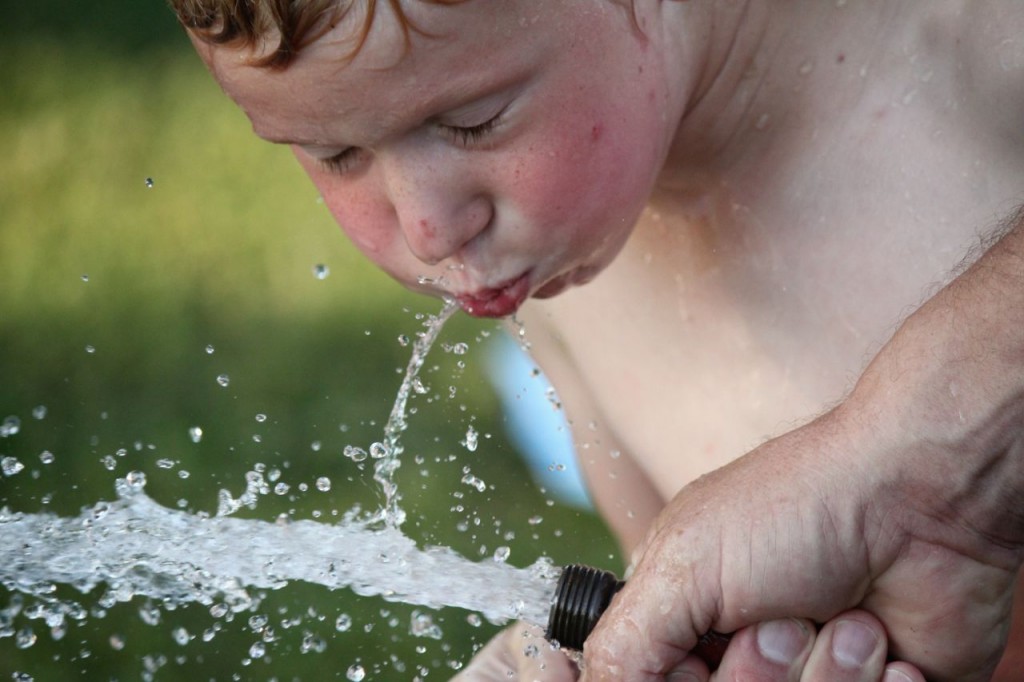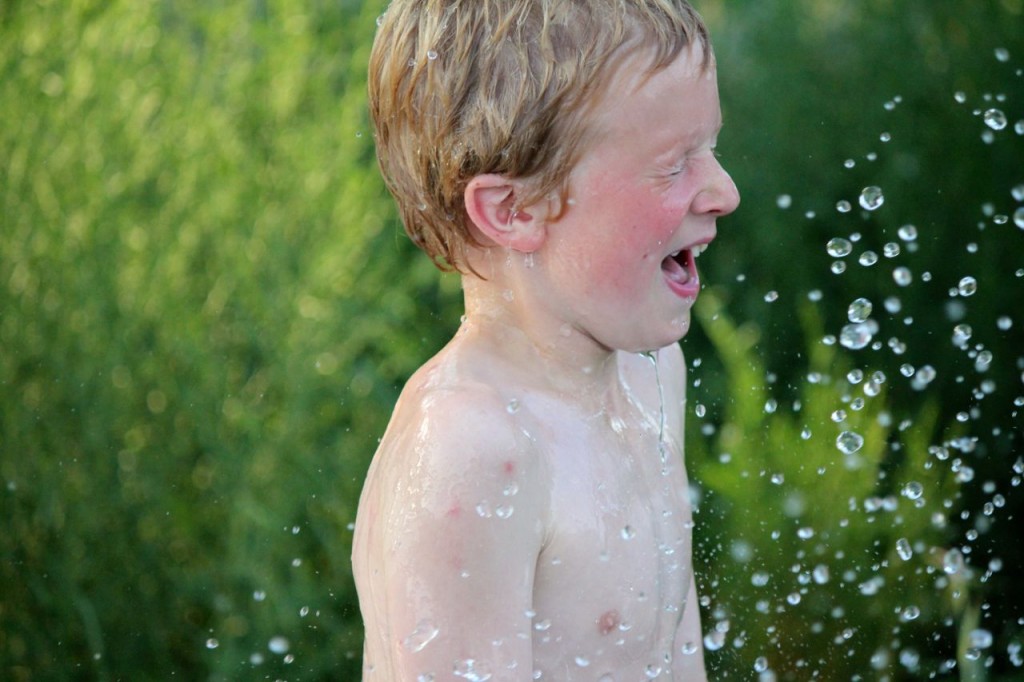 3. We went to visit our kids Matthew and Rachel and our adorable grandson, Emmett, who live in Missouri, for a long weekend. Delights upon delights, Andrew and Sonia and Anya went with us. I've got to point this out: all of her mama and papa's worries about Princess Anee being happy in the car for that long of a drive were unfounded. With little Mack and Amalia and Timothy to entertain, there was not a dull moment for the Princess (who might have been longing for one, by the time we got there) nor for any of the rest of us, either.
We stopped at a park near Hannibal, Missouri, which was the boyhood home town of Mark Twain. Every time we drive past this picturesque little town, we say "Next time we'll stop and see all the attractions . . . " but we haven't yet. The home that Mark Twain grew up in is there, and is open to the public. Also the house that the little girl who inspired the character of Becky Thatcher is there. The real-life cave that inspired Twain's tale of lost Tom & Becky is there, and there's also a memorial lighthouse that you can climb, next to the Mississippi River, which is also there. And not likely to go anywhere. Next time–next time, we'll stop!
We did make a quick stop at a pretty park overlooking the river, to eat a picnic lunch (a good one, too) and we discovered this awesome statue of Mark Twain. Of course Timothy had to climb it.
Andrew had to join him, natch'.
And you-know-who, of course, followed them, though he needed a bit of help to get up there.
4. My sister Anne is moving her family from our little town to an acreage about an hour from us, in about a month, so she is serious about de-cluttering and packing up and cleaning out. It has been inspiring to watch her, and I've caught the de-cluttering bug, too. After all, winter–with its cozy enforced insideness–is coming, and frankly, being inside our house the way it is right now? . . . not pleasant. We've let the clutter pile up as we've kept busy with more fun pursuits. But de-cluttering can be fun, too, especially if you join up with some other fun folks, so you're not toiling away at it all by your lonesome. Here's my sister's De-cluttering group on Facebook, which is pure fun to read, whether you're de-cluttering or not. Honest. The title of the group is inspiring in itself: Clear the Clutter 2014 Challenge Group. Isn't it inspiring to think about being clutter-free at the end of this year? (It does seem like an impossible dream to me, but with enough 15 minute sessions, it could happen!)
5. More summertime fun: instead of putting up our own little (convenient, but high-maintenance) pool this year, I bought a pool pass and so we've enjoyed the pleasures of swimming in the town pool all summer. Little Mack, with his fearless nature, is a natural swimmer, and passed out of two levels in swimming lessons, and nearly learned how to dive without slapping his tummy on the water. I've made it a point to run to town every day that I can, at noon for the Adult Lap Swim time. I'm nearly always the only lap-swimmer there, and I remember now why I love swimming laps so much: it's great non-impact exercise (for those of us whose joints weren't made yesterday) and also wildly refreshing.
Little Mack and I have also been taking bike rides in the evenings, whenever we have an evening free. I love, love, love to tool down the farm access roads with my son. They are private, and just a tiny bit (potentially!) dangerous, and we are completely alone, which for some reason delights us both.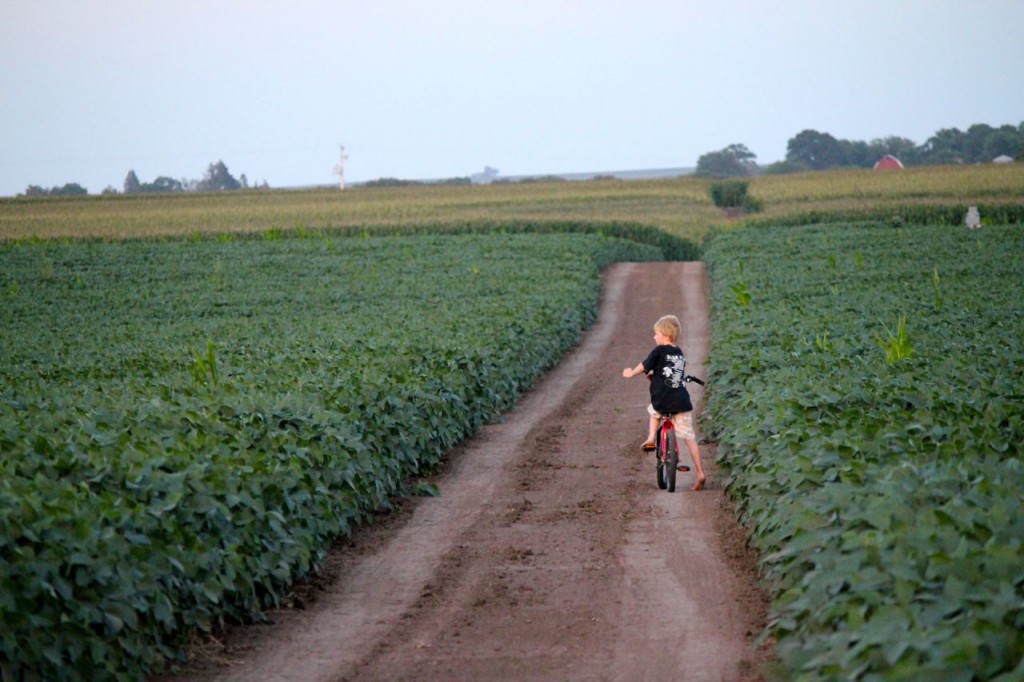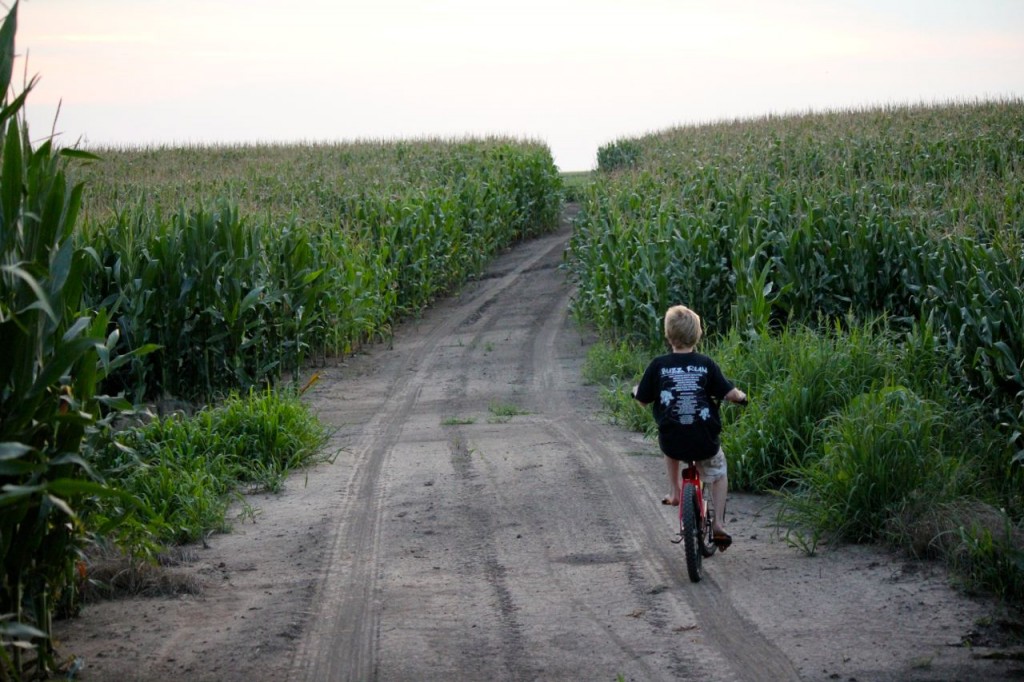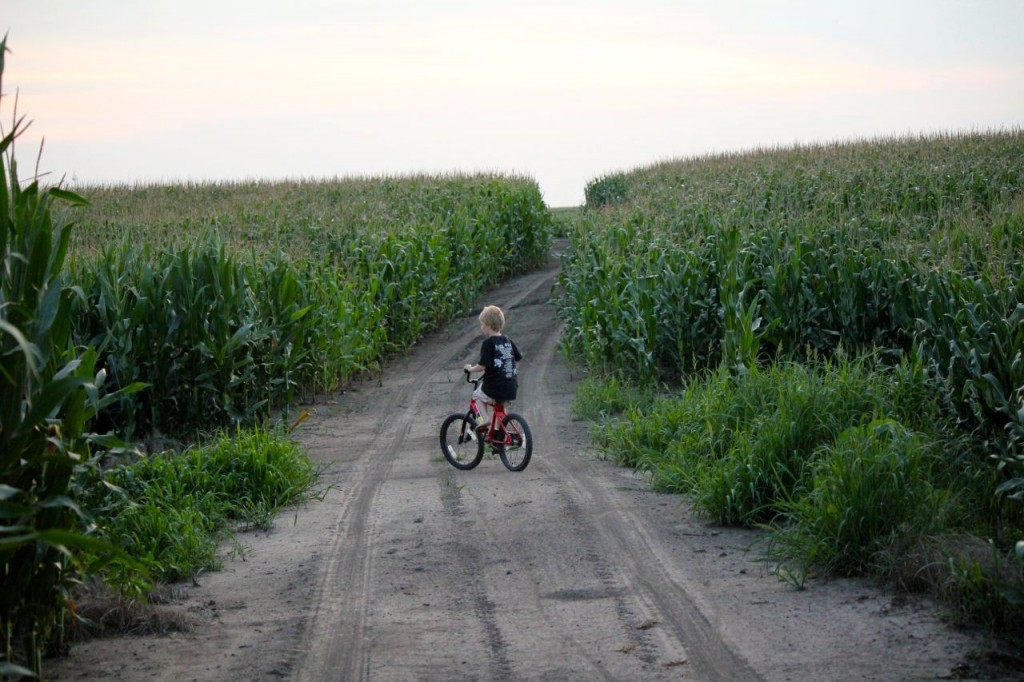 Why potentially dangerous? you might ask, Gentle Reader, and well that you do. There are many possible perils out on these access roads, and the reason that I don't allow little Mack to go by himself: spray planes spraying the crops with chemicals is one thing (you can hear them coming a mile off, they are very noisy), mountain lions hanging out in the cornfields is of course another thing bikers need to think about (but we've not seen one yet), and if the farmer took a wild hair and decided to harvest the corn suddenly, before it's ready, we'd, of course, be toast. But that wouldn't happen when the corn is still lush and green, naturally.
Another peril: aliens, natch. Because: Signs.
"It's happening."
And oh, I know, I know: Aliens able to build spaceships which turn invisible can't get through a pantry door and attack our planet, really? Despite the fact that they aren't even wearing any protection from their weakness? Despite its quirks, it's one of my favorite scary movies. Have you seen it? I've not looked at a corn field the same way, ever since I saw it the first time.
6. And that leads us to a well-placed word or two about change. We've dealt with lots of changes in the past few months. My Bosch Universal Mixer died and I had to order a shiny new one. My dishwasher followed the Bosch's bad example and died too, and I had to buy a shiny new one of them, too. I am grateful that I could do this. My cute little coffee percolator that I bought from the Etcetera shop died, too, and so I had to start using our French press. So Many Changes. But we're just getting started here.
My brother and his wife moved to Wyoming. Bethie and Saia found summer jobs out there, and they moved out for the summer, too. Timothy found an apartment in town, within walking distance to his workplace, and he moved out, too. My sister Anne and her family found an acreage (as I mentioned) an hour away, and they are moving there soon.
I am so happy about all these changes. I am happy that my loved ones are moving away. I am happy for the new opportunities for growth and adventure and so forth.
No, no, actually I'm not. When I think of their exciting new lives, I'm happy for them. But I'm not happy for myself. I'm not happy that I miss them all, and don't see them as often.
And that's not all, actually. Andrew and Sonia are taking a position that they are very excited about in Ohio, so they are moving away, too. And the worst of it is: they are taking Princess Anee with them. Oh, Gentle Reader.
You've heard the scripture: "Greater love hath no man than this, that a man lay down his life for his friends." –John 15:13. Well, I'll tell you this: Greater love hath no parents than this, that they would help their children pack up and move away. From them. That's what we've been doing. And that's another big change for us this month. I am happy for them, and I'm trying to learn how to be unselfish (admittedly, I'm a slow learner in that department, ask anybody) and I am excited to hear about their adventures in their new situation.
There's that.
 6. And now, this rodent-related note: one of our younger baby gerbils escaped from its cage, somehow, and is running loose somewhere in our house. Young Gerbil at Large! This situation has caused lots of tears and anguish among the younger set of our home. Is he still alive? Is he in danger? When will he return to the safety of his cage? These topics have been thoroughly discussed and re-discussed in the past couple of days. Happily, I spotted the errant youngster this morning, and even as I type, he is chewing away at something on the floor near my desk. I haven't been able to catch him yet because young gerbils are notoriously speedy, and also because: clutter in the vicinity. 🙁
But now I see that little Mack is wandering around with a butterfly net, so I have no doubt that he has a plan and will catch the little guy very soon. I'll keep you posted, alright?
Thank you so much for reading through my silly recap, Gentle Readers. Thanks for letting me share my heart with you, as selfish and as confused as it is. And hey–please don't forget to enter my giveaway for a whole gallon of coconut oil (I wish I could enter it, I'm getting low!) because it only has a few days to go.
And hey–have a great day, you!
I'm linking this post up to The Prairie Homestead's Barn Hop this week. C'mon over!