And believe me, Gentle Reader, once you taste it, you'll be in love with it, too.
I think I've mentioned in this space that I went a bit overboard in planting basil this year. I devoted several flats to basil seedings in the wintertime, so hungry was I for fresh basil. They have it at the Wal-Mart near us, I think, sporadically, during the winter months, but it's a few leaves in a plastic package about the size of a cell phone, for $3.00 or more. And you know me. I'm way too cheap sensible to buy it. So around here, if you want to have armloads of basil, for cooking or for pesto-making, or for (happy sigh) pistou making, you really need to visit your local farmer's market (if you're lucky enough to have a grower who grows lots and lots of basil 🙂 ) or grow it yourself.
In my typical clearlyoverthetop enthusiastic gardening manner, I planted four kinds of basil this year: a dark purple (Ararat), a standard sweet basil (Emily), licorice basil (because I love licorice . . . what??!) and a fourth type that I don't remember (I'm always honest with you, Gentle Reader) what it is.
Here's a guilty confession: though I had also planted a nice bed of basil last summer, I never did get around to making pesto or pistou for the freezer, and that still haunts me. I sold plenty of bunches at the farmer's market, I used lots in my summer meals, but I didn't freeze a single leaf or a single cube of pesto. Bad. Bad, bad, bad. I'll not make that mistake this year. I missed basil all–winter–long.
How could I not have made time to preserve some of that goodness? Eating fresh basil is like tasting summertime itself. Soft warm breezes, evenings with fireflies, golden sunsets, croaking frogs and buzzing cicadas, all of these are in a bite of fresh basil. Figuratively speaking. It really is a treat reserved (at least to us smalltowners) for the summer gardener. It makes the perpetually dirty knees and scratched up legs and chigger-bitten, er . . . areas . . . worth it all. More or less.
Please let's not discuss (scratch) chiggers right now. It's kind of a (rubbing back against the chair) sore subject. Let's just stay on the topic (wiggle, itch) of fresh basil, 'k?
And basil is not hard to grow, although I've found that I really need to plant it in flats in the house around the time I plant tomato seeds. In the past, when I've just planted a bed of basil outside in May, the germination is hit or miss, and I usually end up with just a few straggly plants at summer's end. If you plant basil seeds in flats in the house, you'll likely get a plant from nearly every seed, and you'll have plenty–plenty!--of basil to cook with, to share with your lucky friends and family, and to make into sauces for the freezer.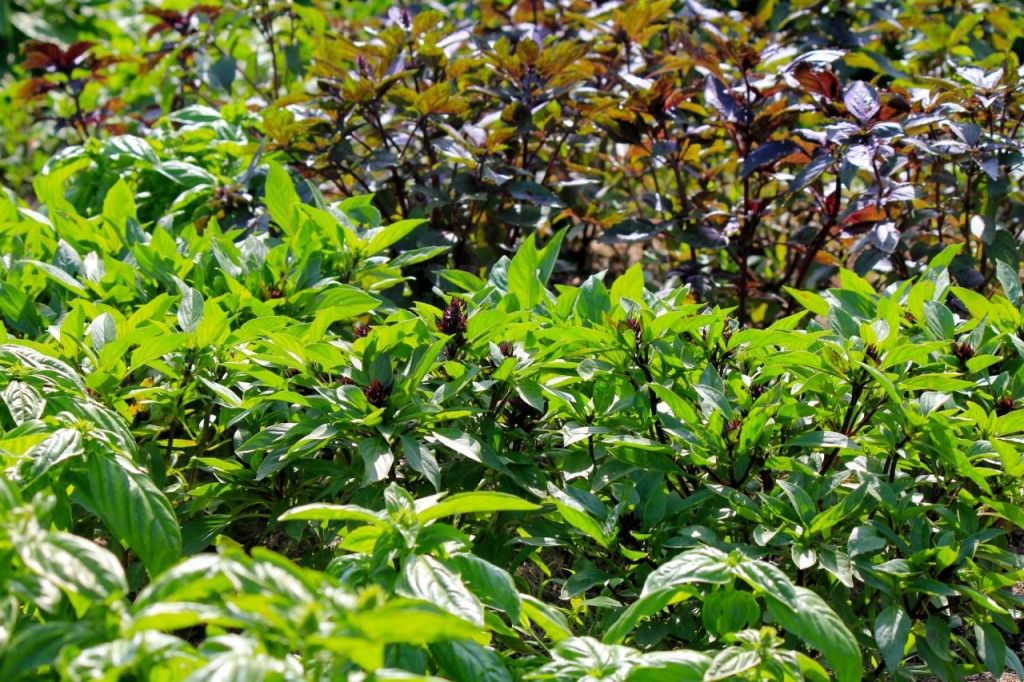 And once the basil is ready, here's my advice: start with pistou. I love pesto, too, but pistou is even easier to make, and since it doesn't contain nuts (or pine nuts or whatever) it's got even fewer ingredients to gather. Really, the most time-consuming thing about making pistou is plucking the leaves off the stems, and that can be done with one eye on your favorite guilty television pleasure of the moment. Amalia and I just finished watching The Paradise, which is a BBC series that we really enjoyed, but which only lasted two seasons, sadly. You'll probably want to check it out if you adore those BBC dramas that include wonderful sets and costumes and wonderfully impossible plot lines and tragically star-crossed lovers. Sigh.
Back to pistou–it's so easy to make that you can toss it together as you're boiling the pasta for dinner, and you'll have something lovely for dinner in just a few minutes. Something very fresh. And summery.
Do you know, I felt my very spirit go into a tailspin a few days ago when I heard "Back to school sales at . . " on the radio. Back to school sales? It's still summer, right? So who is thinking about school in the very middle of summer? Not me, that's who. Not–time–for–school–yet. No!!

NO. It's high summer, the garden is exploding with goodness and for pete's sake, it's time to make pistou. snif.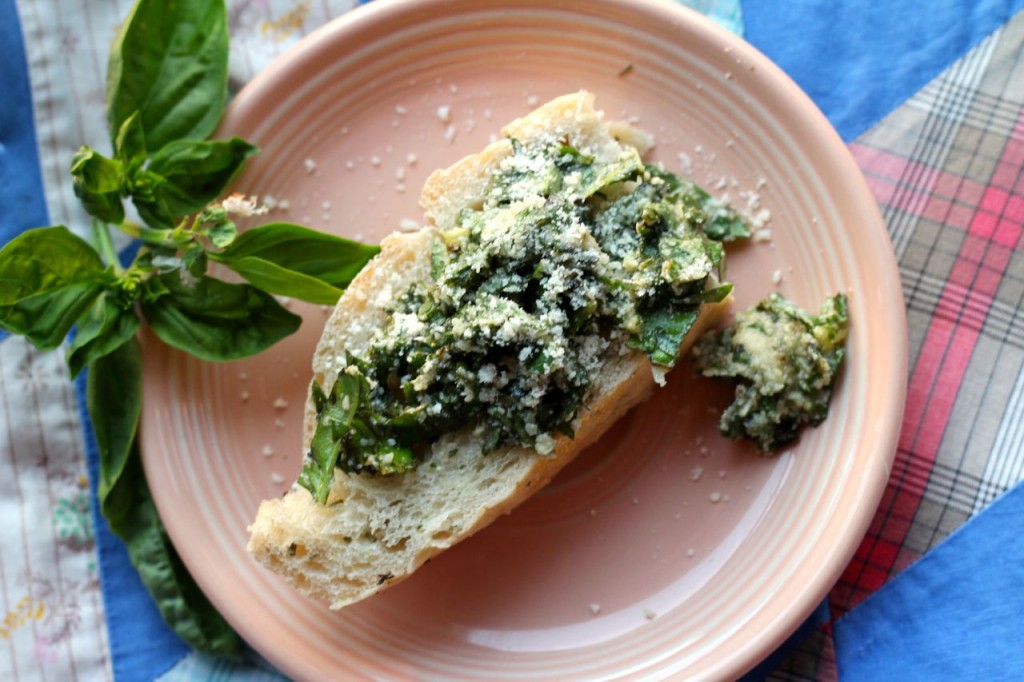 No more of this nonsense about summer ending. It makes me tear up, it really does. Here's the recipe. (pout.)
I'm in love with pistou
Author:
Prep time:
Total time:
Serves:
only a few hungry maws
Pistou–a garlic and basil sauce–is a close cousin of pesto, and is a wondrous combination of flavors which will make your tastebuds sing. Literally. You'll hear them burst into song. You'll love it.
Ingredients
3 garlic cloves
3 cups (packed) fresh basil leaves, shredded
1/2 teaspoon salt
6 tablespoons olive oil
3/4 cup grated Parmesan cheese
freshly-ground pepper
Instructions
Smash garlic, and then finely chop in processor or blender.
Add basil and salt. Process until basil is finely chopped, scraping down sides of bowl occasionally. With machine running, gradually blend in oil.
Add cheese; process to blend well.
Season with pepper. Transfer to bowl. (You can make it up to 2 days ahead. Place plastic wrap directly onto surface of Pistou; refrigerate.)
Now the fun begins: you can 1. eat it off the spoon, or 2. smear it on good bread, or 3. stir it into hot pasta, or 4. slather it on broiled tomatoes, or 5. add it to soup, or 6. use your imagination!
There it is, Gentle Reader, and now I hope that you have some basil in hand and can make some pistou today. You'll love it!