Layered Green Vintage Salad for Winners!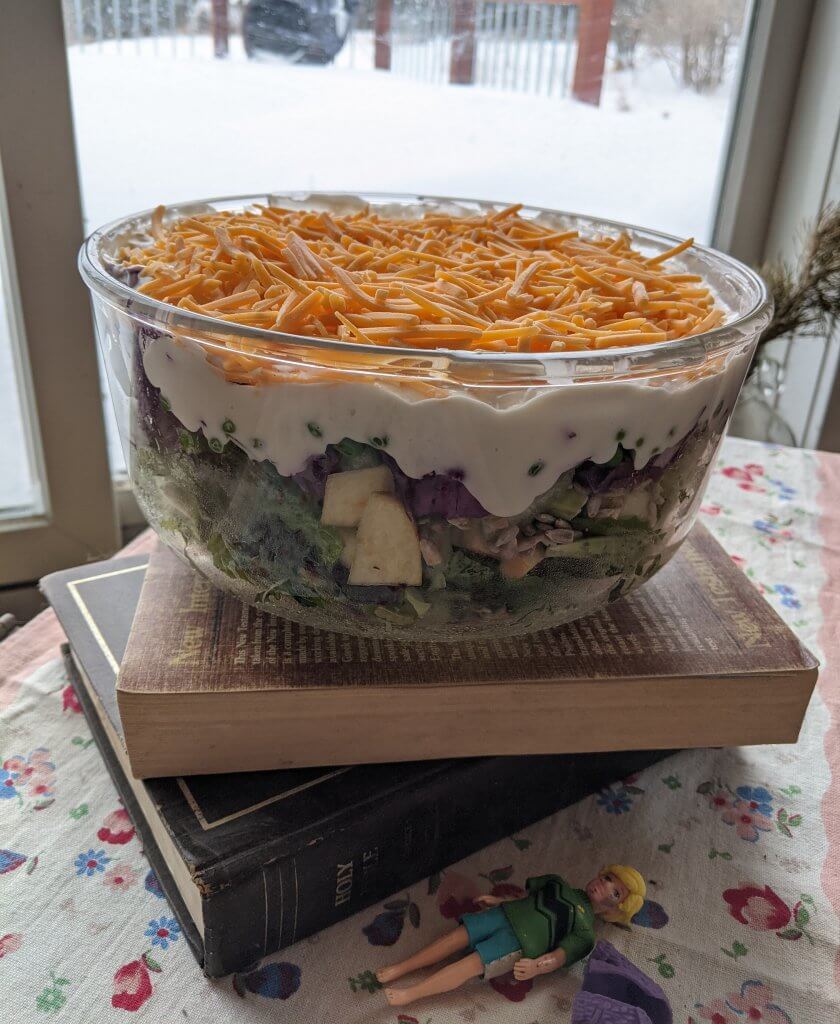 Are you winning at salads, gentle reader?
Me? Why, thank you for asking. Actually, I travel in fits and starts, where salad-making and eating is concerned. Intellectually? I know that eating several crunchy, nutritious green salads every week is the key to the fountain of youth, vitality, and le bonheur. But emotionally . . . some days the energy it takes to stand 15 minutes longer at the kitchen island, at the end of the day, is more than I can muster. And (before you suggest it, and you're so nice, I'm quite sure that you will) I am generally loathe to buy the pre-packaged bags at the grocery store (hello, e coli). So. I'm stuck, where salad-making (and eating) is concerned.
Stuck. *sigh*

Anybody with me?

I wish I had a nickel (or a dime, or a dollar) for every time I had planned (yes, yes a dollar would be best) to make a salad to go with the main course at dinner, and just fizzled out and opted for frozen peas (one action, and approximately half a second's prep time: dump frozen peas into boiling water) or carrot sticks (leftover ones, that is) or even cut-up apples (get a knife: chunk, chunk, chunk, boom, DONE).

Is this a sorry confession, or what? After all, shoot: I grow salad for a living and many tasty things that go into the best of salads, as well. That may have something to do with the fact that I'm often too tired to do what needs to be done to get it out of the hoophouse and into the tummies of my fam and myself.

So that's the problem. It's a mild one, relatively speaking. All things considered. But . . . still.
That said. I've been trying to psych myself into EATING MORE SALAD, doggonit. It's better for you then, say, big handfuls of dill pickle potato chips (as I slaver like my dog Capone at the thought) or bags of jelly beans or even mounds of whipped cream (and yes, those were the first three foods I thought of). We all probably need to eat more salad, and I'm not talking about those whipped confections you find at potlucks (remember potlucks?), containing whipped cream (back to the whipped cream again, Amy, what gives??) a few tiny flaccid orange slices, and jello. ("Salad." Ha! I laugh.)
This recipe–this salad recipe, my darling gentle reader–has done just all the psyching-up that is called for. I'm psyched about it. Probably you will be, too. I loove this recipe and what it has done for my salad-eating acumen.

In other words, and this is the entire point of this particular ramble–when I make it, I can't wait to eat it. When I think about it–I can't wait to make it. AND: this is a recipe you make early in the day, or the night before, as it needs a few hours to blossom into its best salady self. ERGO. If you find yourself too lazy busy in an important way to make a salad, most nights, you–like me–might actually make this one. Win-win-win.
See? It's not so hard to win at salads!
By the way: if you're wondering . . . I call it a Vintage salad, because for as long as I can remember, I've seen this particular salad–or one of its ilk–at every potluck I've ever attended. That's a lot of potlucks, too, by the way. I wish I had a dollar for every potluck I've ever been to.
And I'm getting up into that vintage age bracket. *sigh*
It's a potluck winner, as well, since no housewife worth her proverbial salt takes anything but a "glory" dish to a potluck, where everybody knows her. This salad reflects well on the maker. If I may say so, myself.
So here we go. Without any further ado, let's get to this fabulous salad recipe. And you can thank me, when you are so full of pep because you've been eating more nutrient-dense salads. When your confidence knows no bounds because you know you're doing the best for yourself and your family. When your cheeks are so rosy, your friends' jaws drop in envy at the sight of you. Your joints are so bouncy, you can move with ease. Trust me. It'll happen.
And all because of this recipe. (You can thank me with small–or large–gifts sent to my place.)
Winter Vintage Layered Salad for Winners!
Recipe Type
:
extravagant salad
Author:
Prep time:
Total time:
This scrumptious salad is customizable, and you can layer any number of goodies into it: nuts, fruit, dried fruit, fresh herbs, and of course greens and veg. The following ingredients are just a guideline. The frozen peas, however, are a must! Have fun!
Ingredients
Mixed lettuces–the more colorful, the better!–one large or two small bunches, washed and dried
Purple cabbage, 1/2 small head, chopped fine
1 cup celery, thinly sliced and the diagonal
8 green onions (or 1/2 red or yellow onion), finely sliced
1 8-oz can sliced water chestnuts, drained (optional)
1 large apple, cored, chopped fine, tossed with lemon juice
1 large sweet bell pepper, diced
1/2 cup chopped walnuts or sunflower seeds
1 10-oz package frozen peas
fresh herbs (dill, parsley, cilantro are all good)
1-1.5 cups mayonnaise
1/4 cup whole milk
2 tsp apple cider vinegar, more to taste
1 T maple syrup
salt and pepper, to taste
Finely grated cheddar or Parmesan cheese
2 tomatoes, cut into wedges, or cherry tomatoes, halved
2 sliced hard-boiled eggs
Instructions
In a large clear glass serving bowl, layer salad greens, veg, apple, nuts, and frozen peas.
For dressing: mix mayo, milk, vinegar, maple syrup, salt and pepper. Taste. If it's bland, add more vinegar. Taste again. Season to your preferences, baby!
Spread dressing evenly over the top of the salad, scootching it to the very edges of the bowl. Sprinkle cheese over all, and fresh herbs over the cheese.
Cover and refrigerate at least 8 hours or overnight.
Before serving, garnish with tomatoes and boiled eggs.
To serve: scoop to bottom of the salad bowl and lift out a portion of all layers. Yum! Eat your greens. Be well!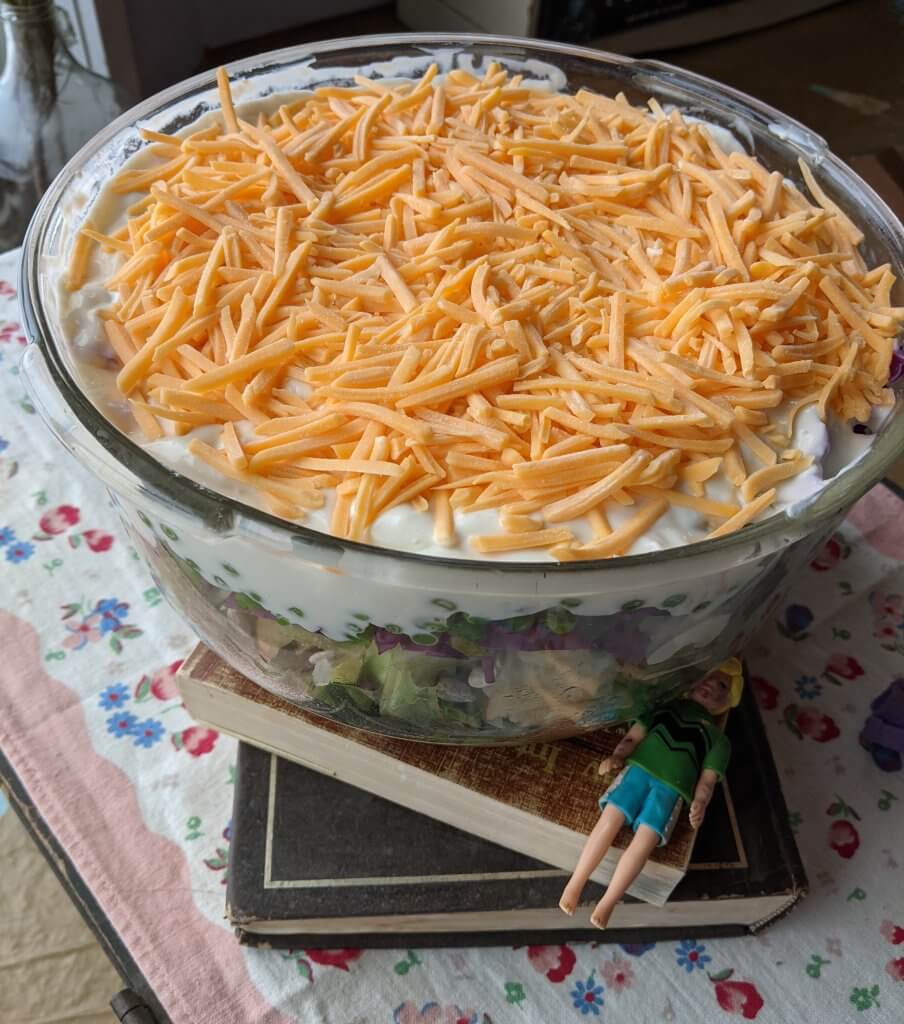 Gentle reader. I hope you're well. I hope you're filled with courage, with zest for life, and with confidence!
A quick favor: if you think this blog post might bring a welcome smile to the beautiful face of a loved one, would you share it, please? I would appreciate it so much!
Thanks so much, and non-social-distanced warm *hugs* from me.
Amy