The 26 Nice Things that (actually) Happened in 2020 post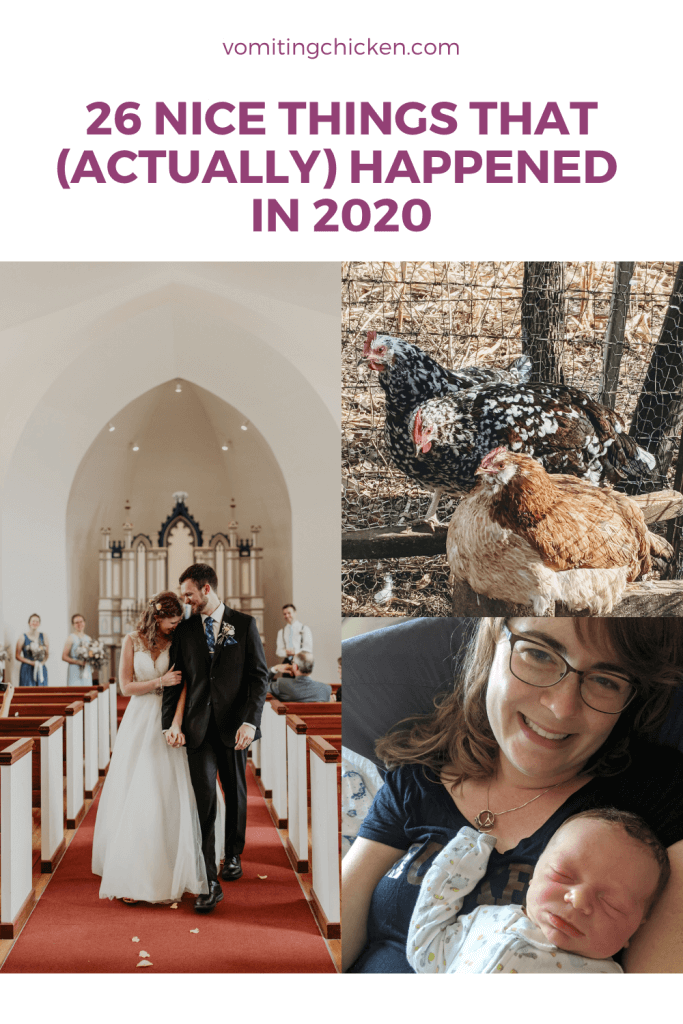 Hi there.
I usually take my sweet time in writing these blog posts. That's possibly the reason that 99% of them are much too long. I enjoy the process of visiting with you, gentle reader, so much–that I linger over it.
But I've never had a post draft become obsolete within hours of writing it before.
And then, after a hasty re-write . . . a second, astonishly-rapid obsolescence occurred.
So . . after deleting several paragraphs, I type now as quickly as I can because who knows what incredible and/or unbelievable events will happen next? Maybe the Yellowstone supervolcano will finally erupt. Maybe–oh glory, please!–Jesus will come back. Or possibly aliens will land on earth and we'll forget all our current troubles as we get acquainted with them.
In any case.
2020 was a humbling experience for us earthlings. If extraterrestrials really did visit the earth (as, unsurprisingly, I read happened a couple of times this year) in 2020 (as reported on CNN, I think?)(wink) I reckon they probably took a quick look around, saw the state of things, brushed the dirt off their shoes/whatever the heck they wear on their feet/if they have feet, and climbed right back up into their flying saucers and went back home, muttering "Xiellin' broee weoinm2. Dkei*."
*"Nothin' worth noting here. Pretty dismal."
Personally, in 2020, I learned that I was stronger than I thought in some areas, and more pitiful than I knew in others.
Alas. I was reminded last year that I can be such an Eeyore. When I think hard about the changes in the past year, I take the most logical, most productive action: I burst into tears. I can't seem to accept what we as a culture and even what we as a family have lost this year. I feel it deeply. My heart is broken over what countless others have lost, too.
Truly. 2020 was a big fat loser. (I'm getting to better stuff here, I promise.)
I thank God, however, that not everybody in my orbit has this dominant melancholy Eeyore-gene. Consider my sweet daughter Bethany. She and I are working on several projects together, including our internationally acclaimed podcast (I made up part of that), Sweet As Love. We were recording a podcast a couple weeks ago, and I was treading the line of becoming maudlin (that is, Eeyore-esque) over 2020-ness, and Bethie gently reminded me of a number of Very Nice Things that had happened in my life.
In 2020. Of all times.
"Mom . . remember that Amalia and Caleb got married . . . ? And you have a new grandson, Teddy . . . ?"
(Imagine yours truly, in the bottom of a deep, dark pit–let's say it's an abandoned cistern–let's say it's an abandoned dry cistern–blinking sad, tired eyes up at the merest spot of light. I hear the most gentle of voices: ". . . got married . . grandson . . . Teddy . . ") God bless her. Of course. It's a cinch to focus on the sad things that happened last year. Especially when they don't seem to be getting any better this year. Yet. But I hope I'm not the only person who had many blessings happen in her life, as well.
Praise God from Whom all blessings flow, gentle reader.
I hope you have a Bethie in your life to sift through your Eeyore-like moments and bring you back to your inner Pooh–optimistic, joy-filled, looking for the bright side. So to speak.
Since, then, you've been raised with Christ, set your hearts on things above, where Christ is seated at the right hand of God. Set your minds on things above, not on earthly things."

–Col 3:1,2
I'm working on this, I am–on this setting-my-heart-on-things-above business. Every day. It doesn't come naturally to me, a girl who is happiest with her hands in the earth. But maybe it doesn't come easily to any of us earthly beings.
So. Let's get to the good stuff that happened in 2020. I came up with 26. How many can you list*?
Are you with me? Here we go. Without any more folderol and fiddlededee, the
26 Nice Things That Actually Happened
in 2020 (in no particular order):
1. I learned how to grow really beautiful lettuce.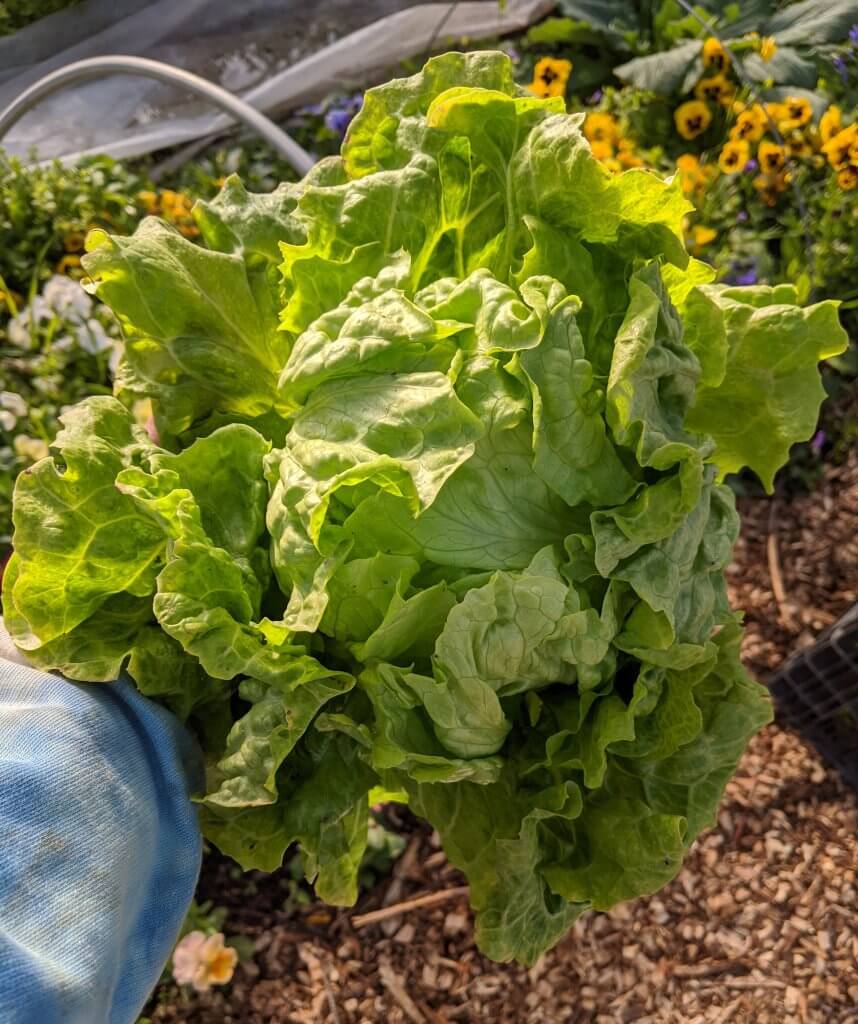 I mean, really. Look. It couldn't have been prettier, more buttery, or more crisp and delicious. I almost cried; it was so pretty.
2. When the restaurants closed overnight, people lined up to buy the hundreds of heads of lettuce that were ready to harvest in my hoophouse.
Sweet, supportive, hungry and grateful salad eaters of eastern Nebraska, I salute you!
3. Amalia and Caleb got married.
I wrote a post about it. If you want to see more pictures beautiful enough to make ya cry, click on over here.  (Confession: several months later, these photos still make me cry, for pete's sake!)
4. Our tenth grandbaby was born.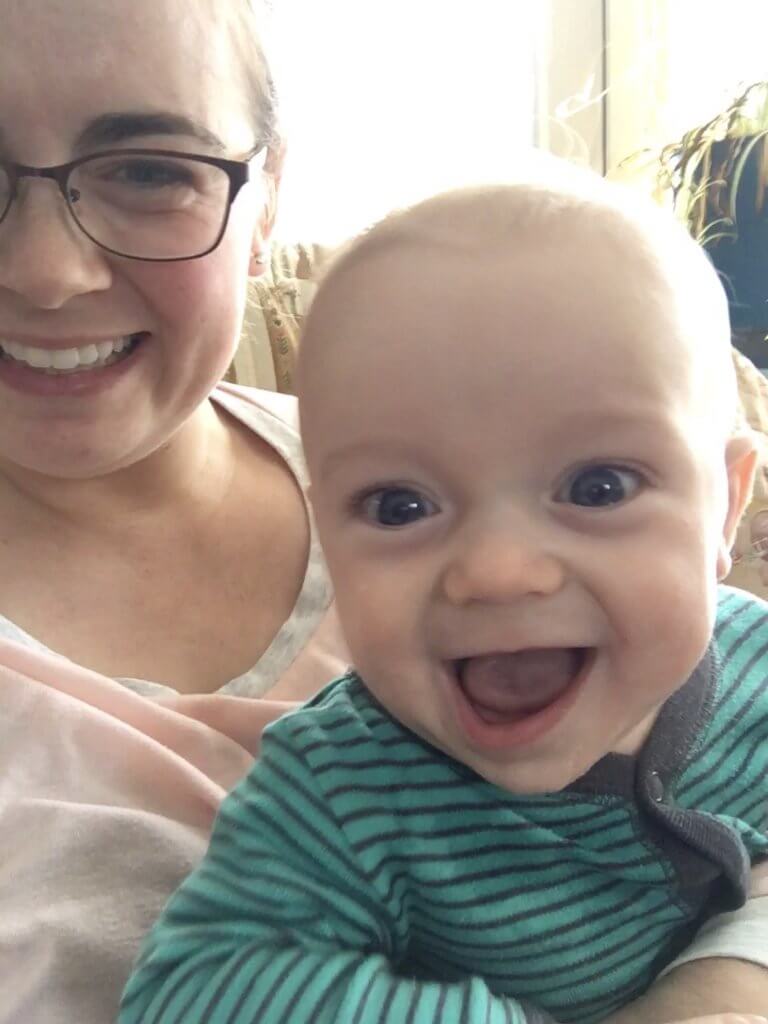 TEN. (Imagine me, happy-dancing to the factor of ten.) Ten! Can you believe it? What a sparkly-eyed little charmer! This is our Teddy, little bro of sweet Emmalynn, with his pretty Mama Catie. Our Timothy is his papa.
5. Through it all, our favorite small-town restaurant stayed open (mostly).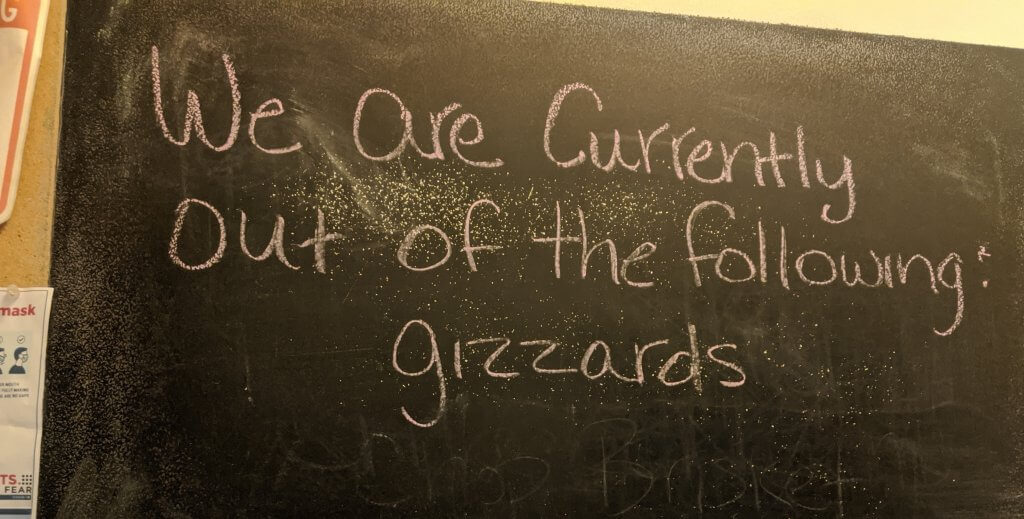 Although they did have trouble keeping gizzards in stock. It happens.
6. I started taking banjo lessons and practicing in earnest.
I've talked and dreamed about learning to play the banjo, and even plink-plinked about for years, but this year I actually had the time at home to devote to daily practice and study. What a blessing! This fun guy introduced me to several new techniques, three new pieces, and an infectious enthusiasm for banjo playing.
There's no going back, folks. I'm in it now for good. (Sorry, family.)
7. I took the social media apps off my 'phone and canceled my twitter account.
You know why I did, gentle reader. I suspect we're on the same page about feeling betrayed and disgusted about the shenanigans of these Big Tech overlords. Who voted them into power, anyway? Oh yes. NOBODY. I'm done with them. I'm wiping the dust off my feet. As soon as I can extricate myself from Facebook and Insta, I will. I read this (ironically on twitter) right before I disabled my account:
Twitter-style access to far flung interlocutors is a luxury. You have in your near vicinity more than enough people and books and things to love and learn from. You don't need this. Don't invest too much in it. Let it pass if it wants to. –I.M.Corbin

So if that was the last thing I read on twitter, at least it was a good thing to read.
8. I read more books this year than I did last year.
Last year's list was pitifully pitiful, so this was a good thing, though still not entirely impressive. Hopefully I'll read even more this year. A few favorites:
Full Moon, by P.G. Wodehouse
Cool Flowers, by Lisa Mason Ziegler
Personality Isn't Permanent, by Benjamin Hardy
Save the Cat! by Blake Snyder
New Morning Mercies by Paul David Tripp
All Creatures Great and Small by James Herriot (my hundredth time through that one, but it's a comfort read, what can I say?)
Horse of a Different Color, by Ralph Moody
The American Treasury of Poetry
9. We went to the movies!
I know. Strange, but true: this was no small delight, either. Over Christmas vacation, while Amalia and Caleb were still staying at our house, we realized in giddy delight that the small movie theatre in the little town near us had just opened up again, and we all went to "News of the World" together. I hadn't yet heard of it–but hey, Tom Hanks was starring in it so how bad could it be??
I felt like it was the best movie I'd ever seen in my life; I was that happy to be going to a movie again.
10. Our King's Players performed our annual melodrama
in late February. Yes. We were that close to being one of the unfortunate groups that couldn't perform because of closures and lockdowns.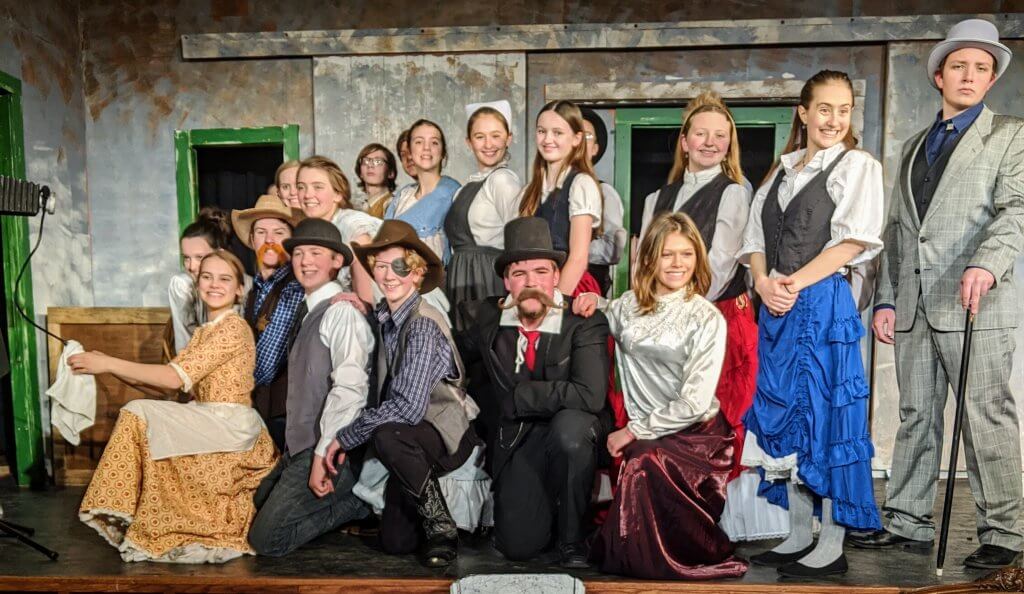 It was God's mercy that allowed us to go through show week and four sold-out performances the last week in February, after which confusion, dismay and government overreach took over to reign in the world. You would think that God had other, more important matters to attend to at that time . . . but making sure that this particular group of sweet kids got to perform after months and months of hard work was a blessing straight from heaven. I know it was. A week later everything started to shut down.
11. My plant sale in May was a thing. A big thing.
I sold twice as many plants as I did last year. It was exciting! I had more enthusiastic new gardeners come down the driveway than ever before, and I enjoyed every minute of it. Learning how to grow your own food is a good thing. Sharing what little expertise I have in growing plants felt more important this year than ever.
12. I discovered online courses.
From decluttering to building your own business to grammar refreshers to better productivity, there are courses online that you can learn from. Some I paid for, most were free (because your blogger is a #tightwad). I learned tons from them all. A-mazing, that's what. To use the tag line from a Khan Academy course that I learned from "You can learn anything!" Apparently you can.
13. Trapping raccoons: we got it down to a science.
We lost a few chickens before we figured it out, but figure it out we did! Mack was particularly good at setting the trap just-so. We ended up trapping (and re-homing) a dozen of the local raccoon population, over the course of a few weeks.
14. Mack and I went fishing. A lot of fishing occurred.
Our goal was to go fishing 100 times this year. That's a mighty ambitious goal, but I kinda love to s t r e t c h and push for big goals. We did not make it out that many times, but we did go more than we usually do, and we caught a lot of fish. We ate a lot of fish. Yum.
15. Little Mack got tall. Tall Mack.
And yes, it was a good thing. I don't have the stats (he does) but he grew several inches this year (as you can tell in the photo above). Is he any less ornery? NO.
16. We went swimming in the lake several times, too.
My grandies are just as excited about jumping into the lake as I am. We ignored the "BEACH CLOSED" signs and marched right into that water. (Please don't say anything. Like we were going to catch a virus from the lake water?? Silly.) It was lovely.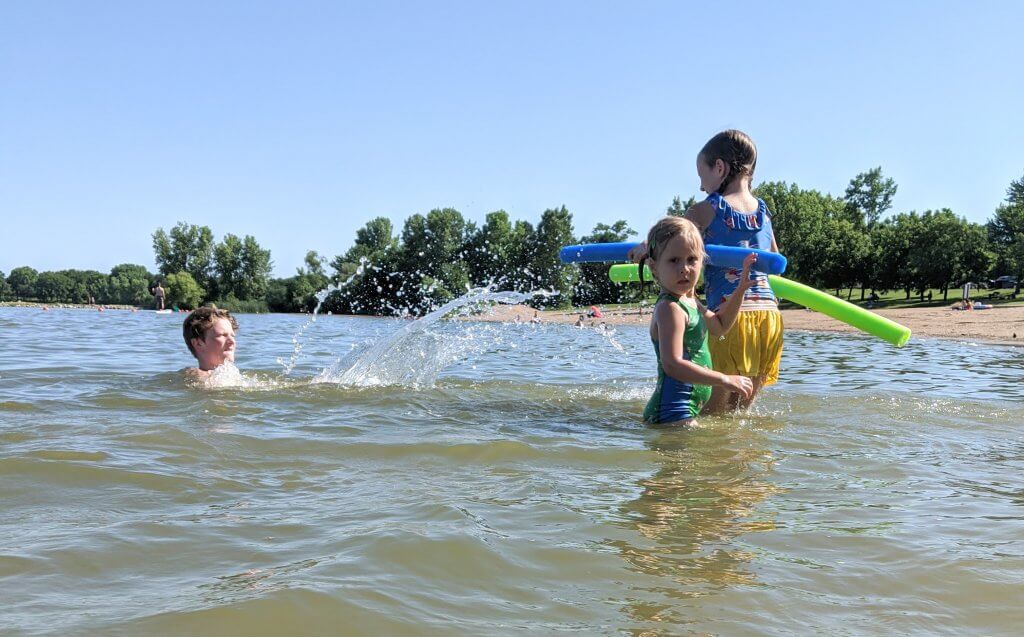 17. My tomatoes produced like cray-cray.

My tomatoes didn't know that it was a rotten year. That the world was . . . disturbing . . . and getting worse. They went bonkers. And by the time of this bonkerness, restaurants were open again (more or less) and I had no trouble finding chefs who were anxious to buy them. Yay. I canned a lot of tomatoes, salsa, and other tasty tomato-based treats, too.
18. I finally ponied up and bought a decent incubator.
After struggling with the cheapo styrofoam ones for a few years, I finally tossed it away in disgust and bought a good one, and had great results with it. (See?)
19. A friend gave me almost enough hens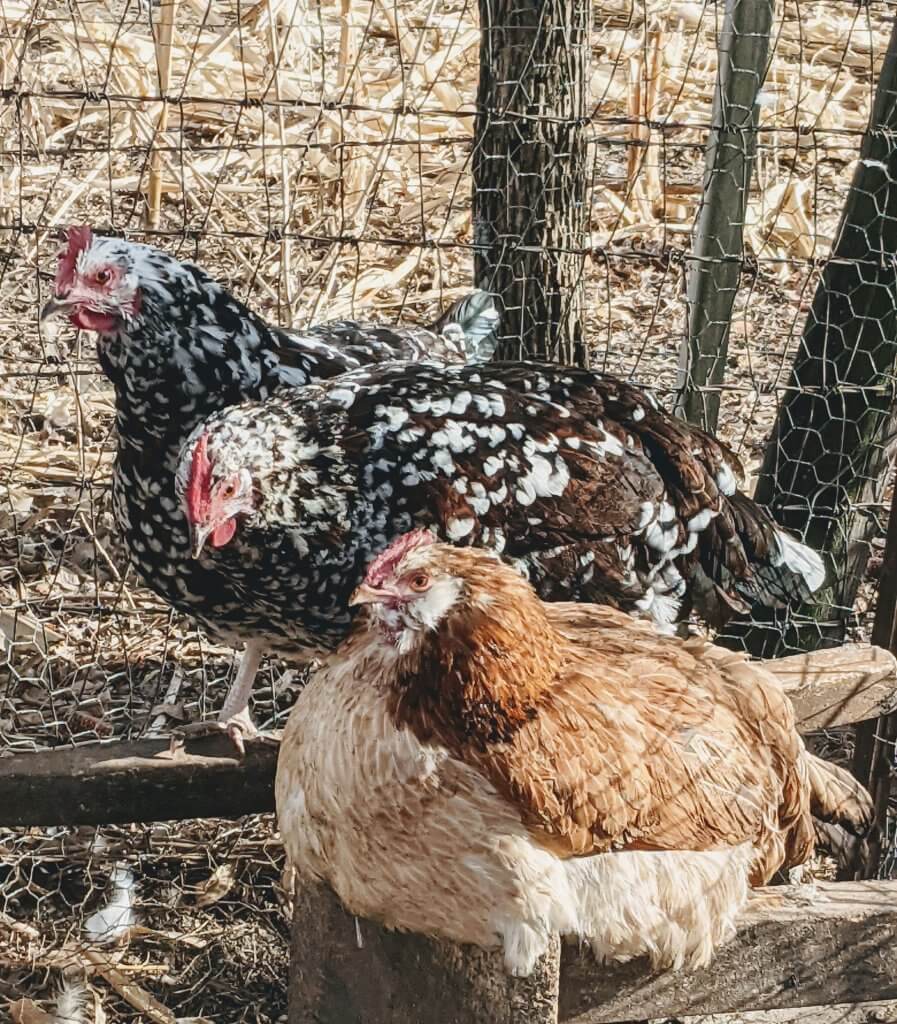 . . . to replace the dozens that a sneaky little neighbor dog killed. Definitely a God-thing, almost down the number! My friend was planning to move, and wouldn't be able take all these charming hens with him.
Oh-kay, said I. I guess. I'll take them! (I certainly had the room.)
20. My mom's Sansevieria trifasciata bloomed.

My mom has the greenest thumb on earth. In the universe, even! She has had this gorgeous plant for years and years, and this is the first time she can remember it blooming. And speaking of unusual blooming patterns . . .
21. The lilacs in our area bloomed twice.
Once in May, and again in September! Weird. In a nice way. It was–to me–as if God was saying "See? I am still here with you. Here. Take a look. Smell these lilacs, though it's October."
22. Bethany and I started our podcast.
We prepared, planned, plotted, and procrastinated over it for (cough) a-while, and then we finally did it. You can grab a listen here.
23. Mack and I played a ton of tennis. And even more disk golf. Two tons, possibly.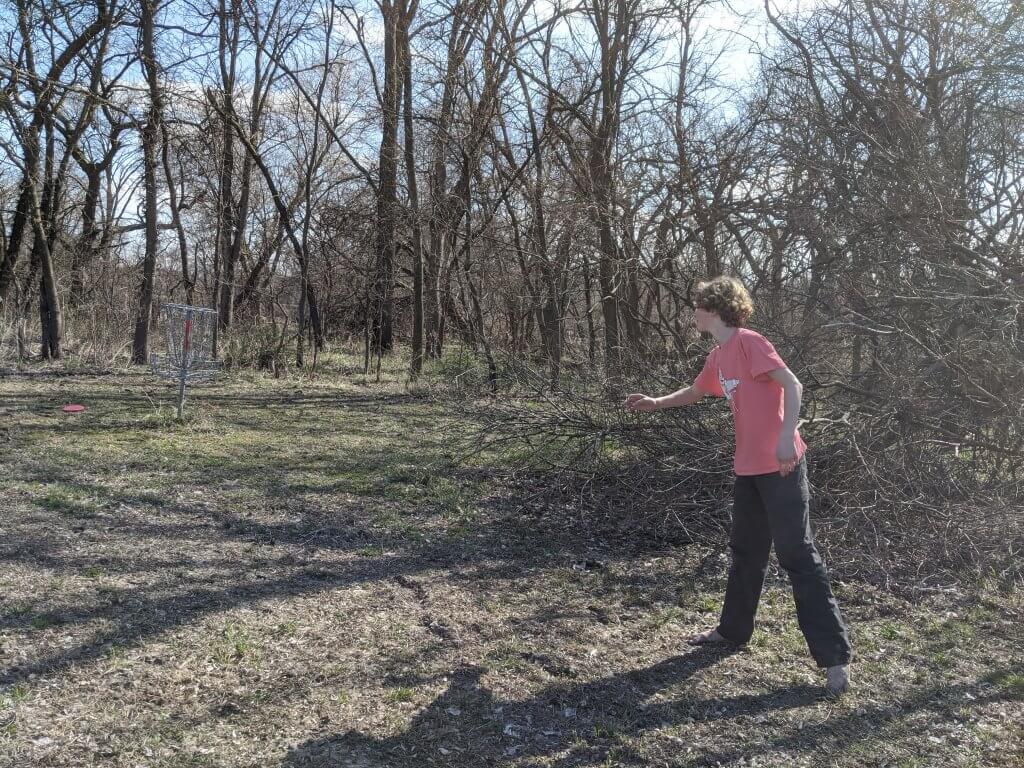 It was a frustrating year to read the news, wasn't it? Somebody please–strike me blind! (Not really.) I realized that I always felt better about the State of the World after hitting the tennis ball a few hundred times across the net to Mack (over the fence was even better, because then he'd have to run downhill for quite a stretch to catch the ball! I only did that when he was grumpy though), and the disk-throwing was also the same type of release. Fling it away–away, away!!
24. The little coffee shop in our town closed, then opened, then closed, then changed ownership. Then opened again.
A coffee shop is a pretty important thing in a small town. Coffee (duh) is paramount in its own right, but a welcoming place for meetings, community-making, friendship-nurturing is also important. With the changing of the owners, from-scratch, homemade baked goods and breakfasts and lunches now are within our grasp when we get tired of culinary drudgery in our own kitchens. (On busy days, the mothers of the owners, who are young ladies in their twenties, come to help out in the kitchen. I love this.)
25. I bought new tires for my two wheelbarrows.
26. We got not one–not two–but three new kittens!
Say. Having a horrid year? Get a kitten. Get two. Better still, get three kittens. That's what we did. It really did take the sting off some of the more annoying elements of 2020.
Well. What do you know? Though it was a year of unusual suckiness, I just came up with 26 legitimately wonderful things that happened in my life in 2020.
*What about you, gentle reader? I know you had a few nice things happen in your life, too–right? Say, we are all in this morass together, are we not? Then do me a favor–drop down into the comments below with your own list of good things. I would love to here about them!
Take care, stay well, keep your head up and praise God. Floss your teeth. Read more books. Take a walk. All good things to be doing these days.
Take care.
oxox
Amy
lalal