"So Long, Summer" Ratatouille: Queen of the Fall Garden Melange
Edited just for you in September 2019, though the pictures of little Mack are so cute that I left them alone. 🙂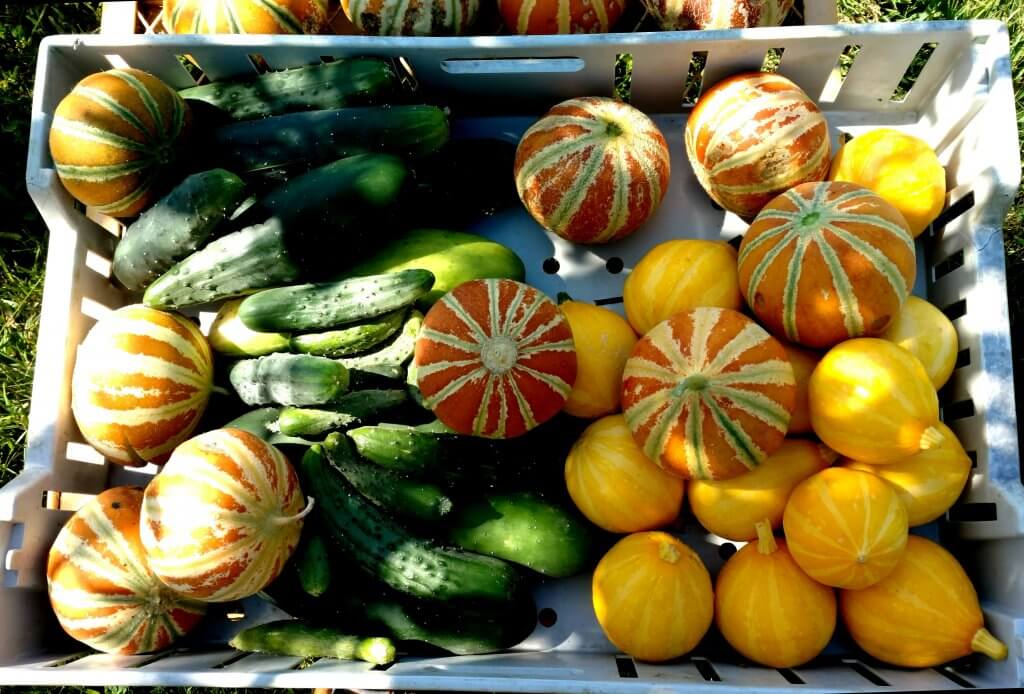 Ratatouille has so many things going for it that it's no wonder that everybody seems to have a favorite recipe for it.
Oh . . . *awkward silence* You don't, Gentle Reader? Well! You've come to the right place today. This traditional French Provencal vegetable dish is so tasty, filling, and so versatile that it can be eaten as a stew, a pizza topping, stirred into hot pasta, or served as a nice side dish with fish or chicken. It can be eaten cold out of its plastic leftover container, standing in the warm light of the open 'fridge door. #doneit It can be toted to work with some leftover steamed rice and heated up in the office microwave and eaten in front of drooling co-workers. It can be shmeared on a cracker and eaten sitting in the yard.
While the chickens watch. I mean it. I love this stuff.
When I say versatile, I mean versatile. Did I mention that it is easy to pull together with the simplest kitchen tasks–chopping, sauteing, tasting, and stewing. An infant could make it. (Almost.)
I know you, Gentle Reader.  You're thinking about the movie. So am I. When I kept talking about ratatouille yesterday, the movie is where the conversation invariably went.
To wit:
Me: (announcing to the kids) "I'm going to the hoop house to pick eggplants and zucchinis for the ratatouille that I'm going to make tonight . . ."
Amalia: "Ratatouille! I love that movie; we should watch it again sometime!"
Mack: "I'll help you. If I can drive the tractor. Can I drive the tractor? And what's rata-whatsee?"
 . . . Later:

Me: "Amalia, want to help me chop veg for the ratatouille?"
Amalia: "Ratatouille! I love that movie; can we watch it again sometime soon?"
Mack: "I'll help. If I can use the biggest, sharpest knife. Can I, Mom? What's rata-whatsit?"
. . . and even later, at Suppertime:
Me: "So how do you guys like the ratatouille?"
Amalia: "Ratatouille! I just love that movie, let's find it and watch it this weekend!"
Mack: "I'm full. I'm not hungry. What–is–rata–what??"
This fact became painfully obvious to me over the course of these conversations: the movie is probably better known in our home than the dish. *sigh* #itried

However.  Nearly everything that goes into this veggie-rich dish is available in the o'er burdened fall garden, or at your farmer's market. Check out this delicious lineup: eggplant (aubergine, as the Brits and the French call them), zucchini (or courgette) onions and garlic, tomatoes, carrots, sweet peppers, herbs, and so forth. I even will toss in a lemon squash or two, for a bit of color. And because I've got lots.
For no reason at all, I take this opportunity to subname this dish the Queen of the Fall Garden Melange! *cymbal crash* Also to make up the word subname. *curtsy*
When you've got buckets and baskets and boxes of scrumptious veg from your garden and you're loath to waste a scrap, and you've still got a bit of room in your freezer (just a bit) this is what you should make. Really. It's delicious for dinner, and then you can sock away the leftovers in the freezer for winter meals, and it'll taste about 200% better in January when you're coming in from scooping about twenty inches of snow off your driveway and environs. A-GAIN.
It's coming. You know it is.
Ready? Here's how you make it.
"So long, summer" Ratatouille
Recipe Type
:
end of summer harvest surplus extravaganza
Author:
Prep time:
Cook time:
Total time:
This is the perfect dish to whip up when the frost has left you with a plethora of garden veg to use up! It's wonderful eaten so many ways, and it freezes beautifully, as well, in containers or bags.
Ingredients
6 Tb olive oil
6-8 garlic cloves, smashed and diced
6 pounds ripe tomatoes, chopped
2 large onions, chopped
6 carrots, chopped
8 bell peppers, mix or colors, natch'
4 lbs eggplant, cut into 1-inch cubes
4 medium zucchinis, cut into 1-inch cubes
2 medium summer squash, cut into 1-inch cubes
1/2 cup fresh flat-leaf parsley, roughly chopped
1/2 cup fresh basil, roughly chopped
Salt and pepper, freshly ground, to taste
Instructions
Heat 2 Tb olive oil in large saucepan, add garlic and saute for 30 seconds or so.
Add tomatoes, bring to a boil and lower heat, simmer until sauce thickens, 15 min+.
In a large pot, heat remaining 4 Tb oil over medium heat. Add onions and carrots. Saute until onions are translucent, about 5 min. Add peppers and eggplant and continue sauteeing until eggplant begins to soften. Add zukes and squash and cook just until they are barely soft. Add tomatoes, herbs and cook for another 5 min to combine the flavors nicely. Taste and add salt and pepper judiciously. Serve with rice, pasta, steamed chicken or fish, grated parmesan cheese or what-have-you. Just serve!
Sound good? That's because it IS good. Actually, great.
Now make some up for your family, find the movie (here it is!) and enjoy both concurrently.
And speaking of chopping. I have an embarrassing story to tell you. I'd been cooking daily meals for over thirty years before one of my children gave me one of these for Christmas and demonstrated how to use it properly. *blank stare* Why did I not know how to properly use a chef's knife before now, I wailed in anguish at nobody in particular. To the sky, actually, I think.
Not wanting to scare the children, you understand.
Anyway. If you don't have a proper chef's knife, gentle reader. GENTLE READER, get one. Get one now. N–O–W. Your life will be infinitely better. Honest. Mine is. And we can feel so, so clever together.
Bon appetit, mes cheris!

Thanks for popping in again. If you enjoyed this post, do me a favor: actually, two! Sign up for my email list (above right) so you'll receive all the goodness that I can muster out of this space, and share this post with your friends.
Thanks! I love you. I mean it! You're da best.
*hugs*