How to make pretty displays for the holidays out of dead stuff . . .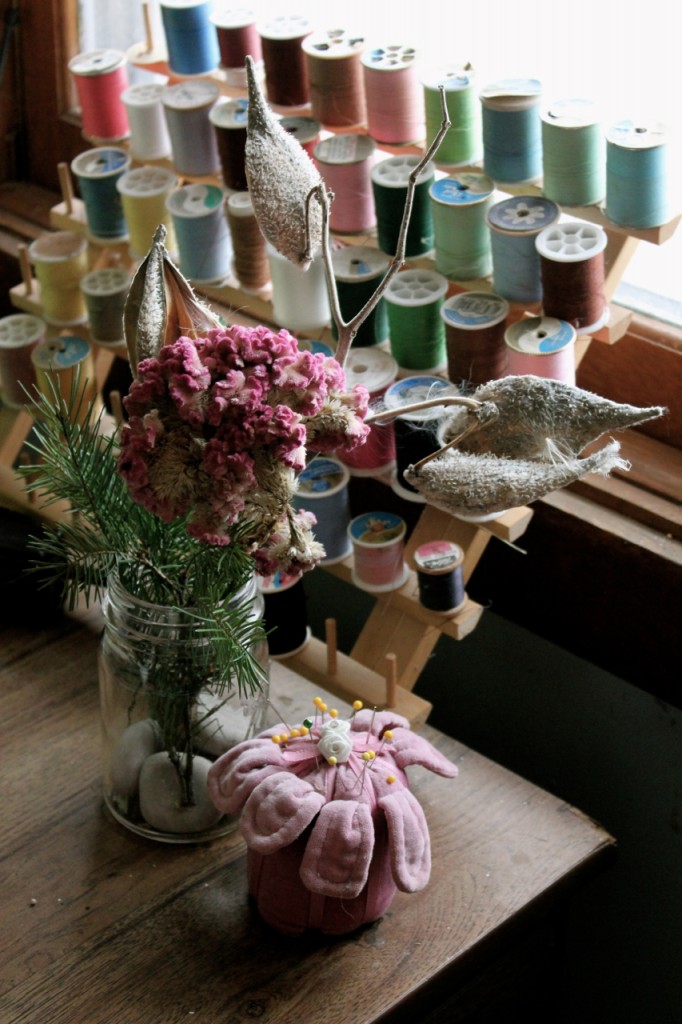 . . . Even if you're not a decorator-type person. (Like me.)
The article that started it . . .
I happened upon one of those blogs that focus on organizational skills, the week before Thanksgiving-–you know the type–There was an amusing article on how to get everything done for Christmas without going mad. It was marvelous, really, everything you normally do for Christmas was all laid out in a simple list. It was titled Four weeks to Get Ready for Christmas Without Losing Your Mind or somesuch thing.
Four weeks. Four simple tasks. That was it. The blogger suggested that you do the task the week it was appointed for, and you'd be All Ready For Christmas, well groomed, well rested and low-blood-pressured and not crazy and all. She didn't mention that upside: that you wouldn't risk the usual, panicked episode about a week before Christmas when you realized that Christmas, after all, is only a week away . . .  not to mention middle-of-the-night grim wonderings about, say, getting enough presents for Johnny or too many for Susie.
All. Hypothetical. Folks. 🙂
But, gosh. That blogger's life must be so dull. Right? Everything done just-so. Everything tidy and peaceful and under control. *yawn* Also. Low blood pressure. What fun is that? Probably she has no chickens. Or dogs that throw up in the driveway, in the same spot and at the same time that the UPS man brings his big truck to a screeching stop. Probably she doesn't have an outside cat who dashes to get in every time you open the door (with the subsequent dashing after her), and an inside cat who dashes to get out, you know, in similar fashion. All at the same time.
Say . . . by the way, who keeps inside and outside cats, anyway? And why?
I think they're in cahoots, those two cats.
"Sammy got in! She headed underneath your bed again, Mom!" Ugh. Please. *Yawn* Can you catch her? "I'm trying—what is this underneath your bed, Mom? Hidden Christmas presents?" Yikes. And then! "Oh Nooooo! Lolo got OUT!!" Ugh. Please. *Yawn* Can you catch her? "Oh noooo . . . the UPS man is stopping in the driveway and it looks like Bea is throwing up again—right in front of the UPS man!"
Ugh. Please. Somebody make it stop.
Let's see, where was I . . . ?

The Simple 4-Step Plan
Oh yes. The Simple 4-Step Christmas Plan. It went something like this:
Week 1: Decorate
Week 2: Order your gifts
Week 3: Wrap your gifts
Week 4: Honestly, I don't remember what Week 4 was: Rest Up for the Big Day, possibly?
I think that was it. It made SO MUCH SENSE. But I got stuck on the first one. "Decorate"?? I am not a decorator. I still have no curtains on most of my windows (most of them anyway, although we do live in the country, so what the heck) and you know how sometimes you take all the pictures and so forth off the walls, so you can paint, and then you put everything back on the wall? I do that, and then I leave the walls bare for years. Isn't that pitiful?
Yes. (To answer my own question.) Yes, it is. Anyway.
How Staying-Sane Walks lead to Bringing Beauty Indoors
Back to the decorating issue. Or the non-decorating issue. I've been forcing myself out into the biting wind every day to walk, to make sure that I get through winter with a semblance of sanity and strong(ish) legs (and honestly, so I don't have to buy a whole batch of new jeans, all in a size larger *wince*), and I watch carefully in the ditches and the fields for pretty things to pick up. I like to draw pretty things, and one day I stuck a few of the dead things into a jar on the school/dinner/homework table, to draw. It was pretty. It was awfully pretty.
Hmm, thought I. A few more jars of pretty dead things would look interesting scattered around the house, almost like . . .  I'm decorating! Almost like I have a 4-point plan. Almost . . .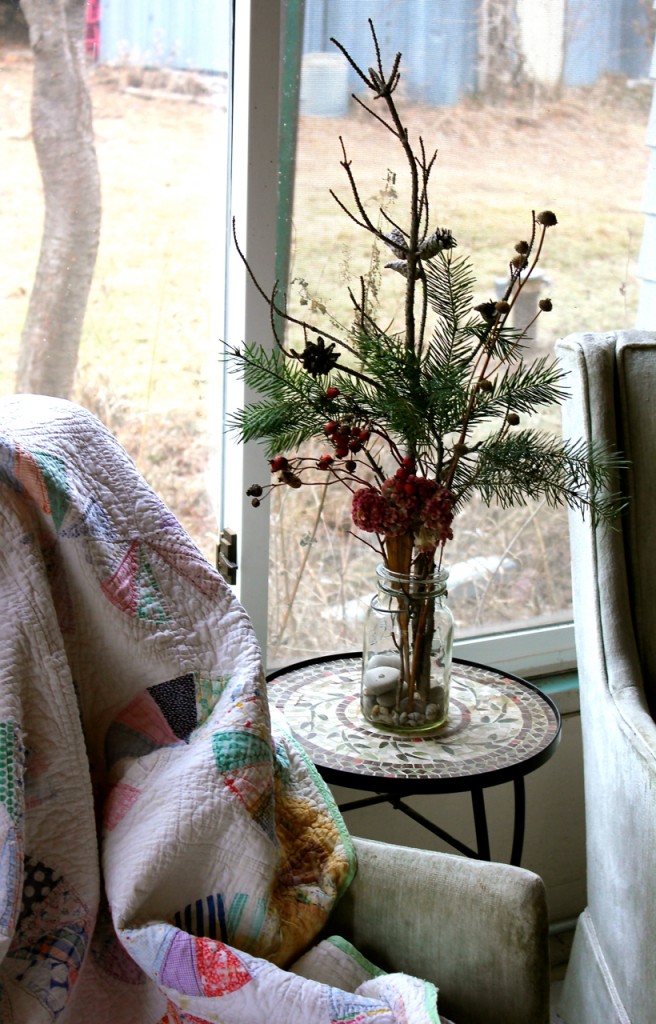 The Book that Changed my Mind About Decorating
You see, I've been reading this book. I love it. I've never read a book like this before. I obviously don't read books on decorating, but I love the gal who writes this blog. She doesn't know it, but I just love her. She is just precious. And this book has given me courage that I didn't even realize that I didn't have. Follow?
I've had this idea of myself (see above) that I'm not a decorator type; ergo my home will be plain. Undecorated. Not beautiful. But I put up with it by making the excuse that it's "just not me."
But this book and The Nester has given me courage to do what I love, which is to bring in the stuff that I love–dead stuff being one thing, also pretty rocks–and stumps–and quirky things that I pick up at my favorite thrift shop–and display it as if I know what I'm doing. I can create beauty in my home, according to my own ideas and instinct and love for beauty. That makes sense, doesn't it?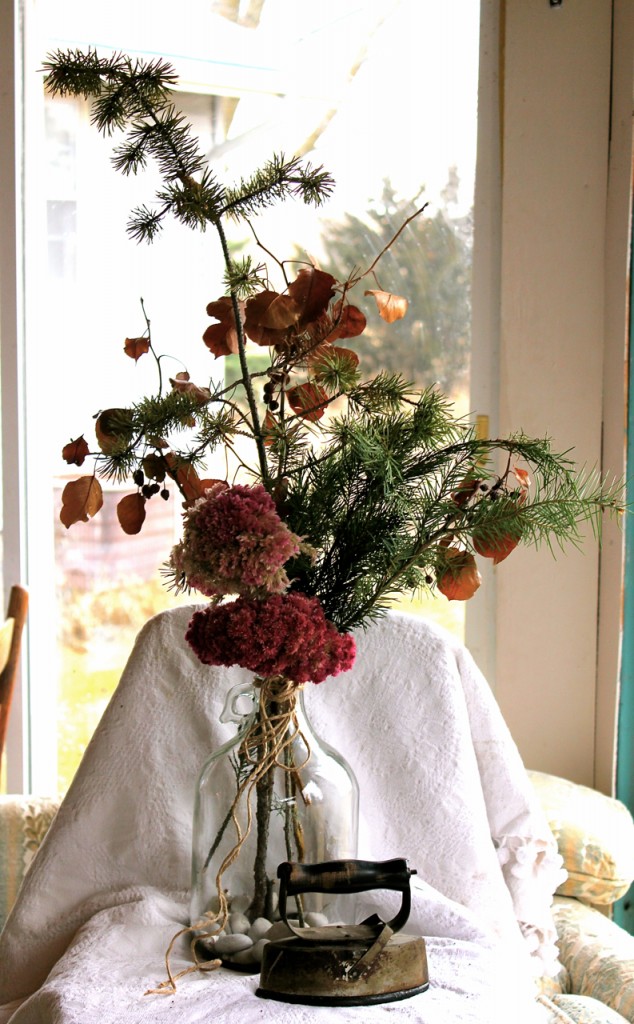 So I paid attention to my little zing of excitement when I stuck those dead things into that first jar. "Beautiful," thought I. Not "Would you see this in Better Homes and Gardens Magazine?"also not "Is this lame? Would somebody tell me if it's lame?" but just "I think that's beautiful."
I put down my broom and shovel (I mentioned that I was cleaning house, right? or should have been) and got to work on more arrangements of this beautiful dead stuff.
I don't come from a people of natural decorators, Gentle Reader. Bakers, readers, Pfeffernusse-makers, musicians, theatre geeks, shoe mud scrapers, food-growers, chicken-raisers, yes. Not decorators.
Maybe you do come from folks who decorate as easily as they breathe. If so, you might not find anything new to inspire you in this post, or in The Nester's book above. But if you're a decorator-wannabe, like me–I think you may enjoy this quick project.
I'm going to show you how to take a few things that you already have in your house, pick and snip and clip some pretty things from outside, and make charming country dried dead stuff arrangements. Ready? Let's go!
You can do it too: Here's my Simple 4-Step Process

1. First, assemble some pretty jars. I picked up some glass gallon cider jugs that I thought I'd use someday. Also I love old canning jars, and even pretty pickle jars. It's fun to have lots of different sizes and shapes. Glass vases are nice, too.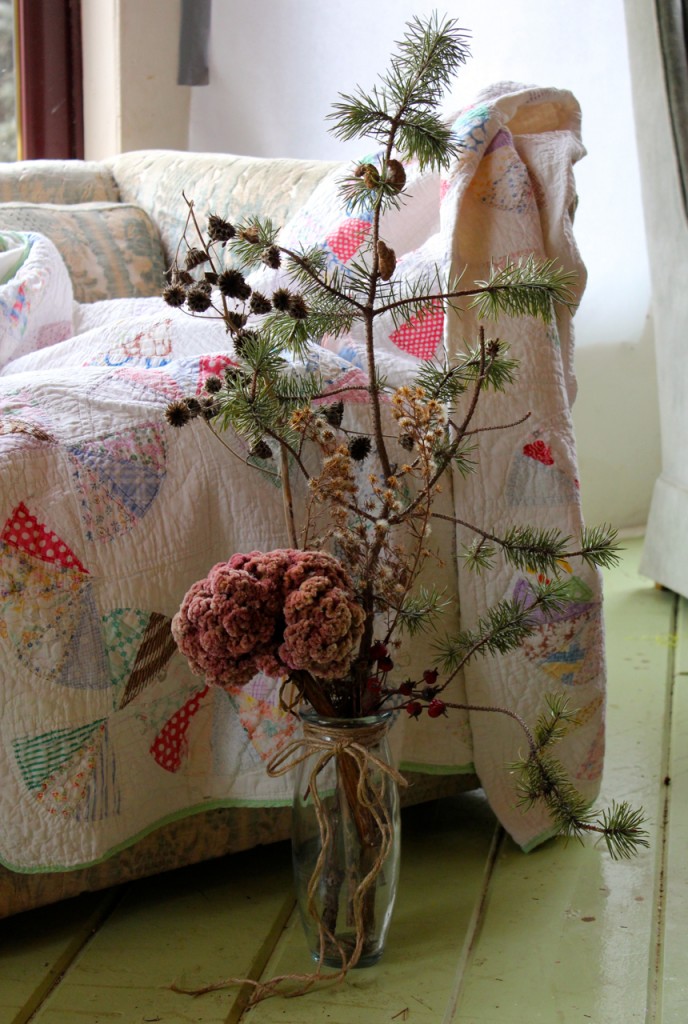 2. Find some smallish rocks that you love the looks of. I pick up rocks on the road every day, when I take my walk, so I've got jars and piles of little rocks everywhere. (Basically I'm still an 8-year-old boy who has to clean out his pockets before putting them into the laundry. Wait. My 8-year-old boy doesn't put his pants in the laundry. Oh well. You know what I mean.) If you don't have marbles or rocks from the road, those decorative little glass pebbles work well, too.
Also, shells are nice.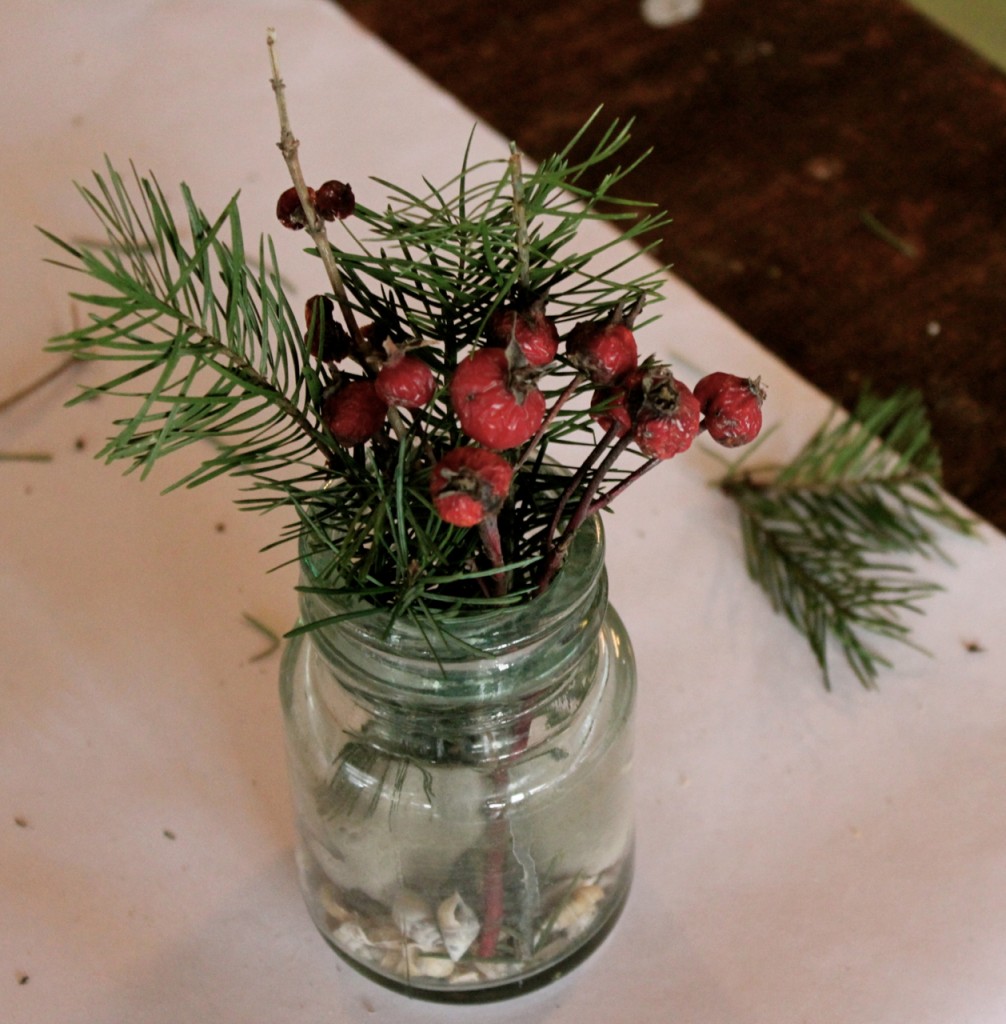 3. Now, go for your daily Staying-Sane-In-Winter walk, and carry along a good pair of nippers. I like this one (affiliate link) A LOT:
Put on your artist spectacles, and look at your landscape as you walk.  You'll see wild plants, weeds, grasses, and so forth. But what you want to focus on is what is attractive to you. What would look pretty in a vase in your house. What attracts your eye.
You need the following, besides assorted glass jars and little rocks, to create these pretty jarred displays:
Dried branches with pinecones, or milkweed pods or something like that, for height and structure
some greenery, just because . . .
filler: lacy or ferny dried weeds or plants
something with a bit of color: I've used my leftover Coxcomb flowers, which (happy day) I hadn't cleaned out of my hoop house yet. 🙂 Also dried rose hips are very pretty, and are usually abundant along country roads.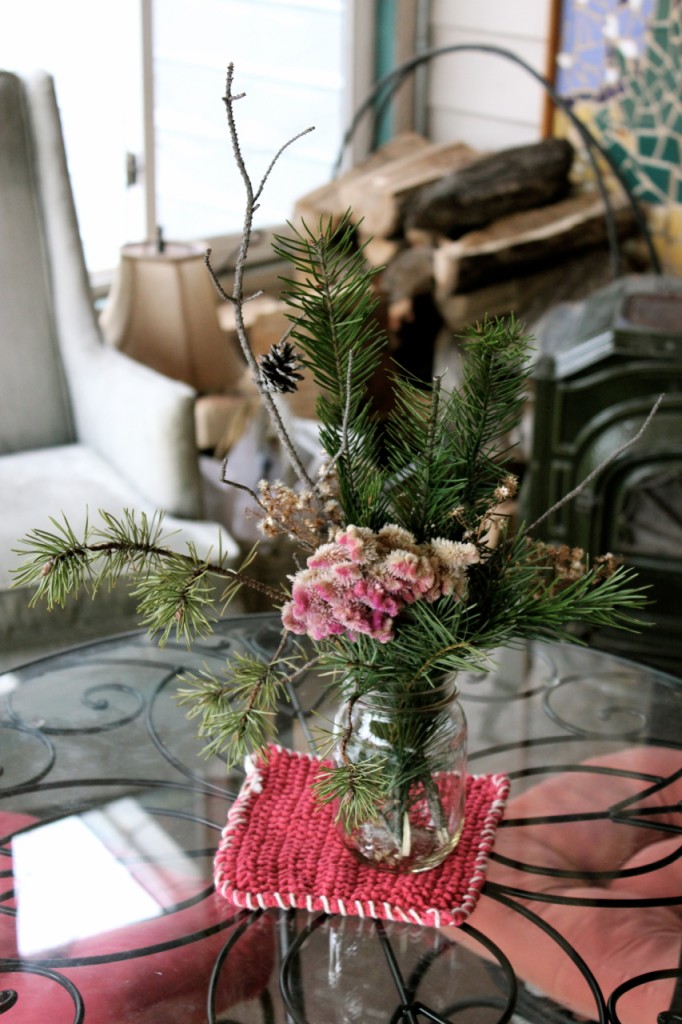 (When I discovered all this pretty dried coxcomb in the mess in my hoophouse, I actually felt a bit clever about NOT cleaning out the hoophouse in a timely manner. Yay, me.) 😉
4. Now arrange your winter dead stuff bouquets. Put on some Christmas music. Have fun!

Put the rocks in the bottom of your bottles and jars.
Trim, and then put into each one a piece of structure (the branch or whatever), add a bit of greenery, some filler, and something with color.
If you like, wrap some twine or a strip of muslin or burlap, around your jar. Tie a bow. Or not.
What do you think? Pretty? It took me about an hour to make about 8 of these, and then to put them around the house. Instant prettification, Gentle Readers! From a non-decorator! Boom!!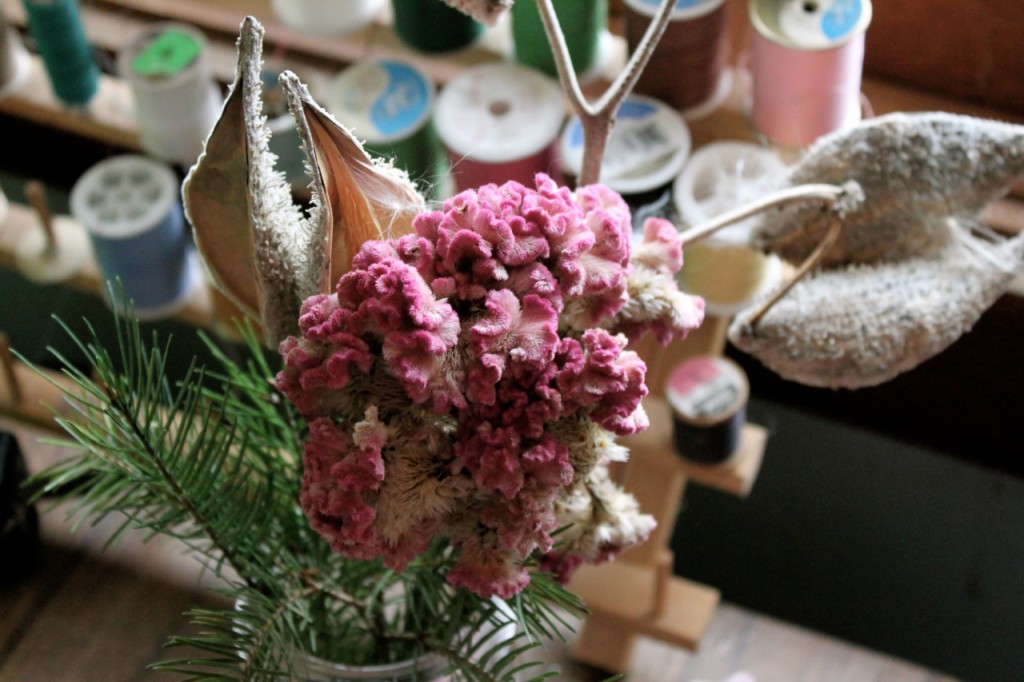 Merry Christmas decorating, Gentle Reader!
Are you still working on Christmas? It's okay. I am, too. Here are two things I've got available on my blog right now, that make wonderful gifts:
My Coon Creek Herbs: I've got a 3-tin set of dried herbs mixes, ready to purchase for your own kitchen or the kitchen of your favorite aunt/piano teacher/sister-who-lives-in-another-state.
My Dad is still staying out of trouble by making these gorgeous French rolling pins for me. I've got luscious walnut ones, daily use maple pins, and many more. Check them out! I can get one in the mail on the way to you in about two shakes of a lamb's tail!
Thanks, dears. You're the greatest to read to the very stinkin' end. Gold star to you! If this post was helpful or even just mildly amusing to you, would you share it with a friend? Thanks so much!
I love ya. I mean it!
*hugs*