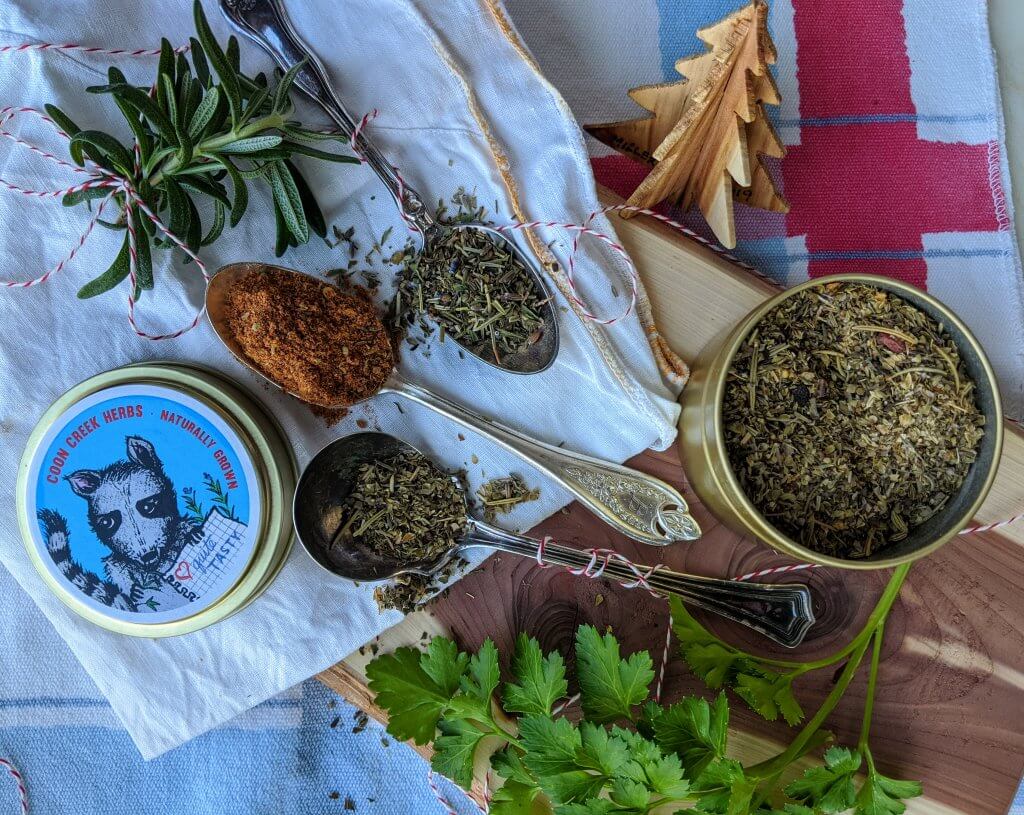 I'm excited to share my love of growing herbs not only with my local customers, but as of today with you, my gentle reader! Coon Creek Herbs debuted last year at this time, and we're back with a fresh batch of yumminess. (Read about how Coon Creek Herbs began in this post.)
If you're curious about the cute little lady raccoon on the labels of my herb mixes, you can read her story here. (You know how I love critters. This little gal–Juniper by name–captured my heart, and her story is a contemporary one that resonates with me.)
Currently I have available in my shop a package of three tins of herb mixes, grown, harvested and processed right here in Nebraska. The recipes for the mixes are our own, and have evolved over years of trial and error, testing and tasting.
Of course, this is the best way all recipes come to their finest selves!
My three mixes are:
Spicy Tuscan Italian–rosemary, oregano, marjoram, thyme, fennel seed, basil, chile peppers (for a bit of a bite!) and sage.
Mexican Madness–chile peppers, onion, garlic, cumin, paprika, Mexican oregano, Bay leaf.
Herbs de Provence–French thyme, Girardus rosemary, fat spike lavender, garden sage, winter savory, and bay laurel.
If you'd like to learn more about how to use these mixes in your own recipes, check back, as I'll be posting a meaty post full of recipe ideas very soon. And if you are curious about Juniper's Story, here is where you can find it.
Ready to try Coon Creek Herbs mixes out for yourself? Maybe you'd like to send a sweet package full of goodness to a loved one whom you won't be seeing this year? A set of Coon Creek Herbs is, probably, the answer. (And if I receive your order before December 15th, I offer free gift wrapping!)
Here's what I'll ship immediately to you, when you push the Add to Cart button below:
One tin each of the three herb mixes listed above, fresh and ready to use in your holiday cooking! (I'm happy to wrap up your gift herbs and ship to a loved ones, as well!)
Buy now!
$16.95
A couple more quick notes:
We have limited supplies! Once this year's harvested supply is gone, it's gone, so order today! This is a true small-batch business.
Wait! Want to get in on free gift wrapping? Order before December 15th and I will wrap your gifts for you for free, and mail to you via first-class USPS postage. (Just indicate that you want to take advantage of the free gift wrapping in the comments of your order.)
A quick favor, please: if you think of somebody in your life who might like to check out what I'm offering here, would you please share this post with them?
Me—> Ooozing oodles of gratitude. You're the best and I love you. I mean it!
Thank you!
*hugs*