Make your own chili powder with dehydrated hot peppers (!!)
Make your own chili powder at home with dehydrated hot peppers, herbs and spices. Read on to learn how to perform this little bit of magic in your own kitchen!
Make the best chili powder you'll ever taste by dehydrating hot peppers, grinding them up, and mixing them with a few other simple ingredients. It's amazing and so easy to do at home! I'll reveal all in the paragraphs below.
There may be affiliate links in this post. Check out the full affiliate disclosure above, if you're so inclined.
If you grow hot peppers–habaneros, chilis, jalapenos, or maybe even (my new favorite, at least for this year) Rezha Macedonian peppers–you're probably not snacking on them out in your garden. If you were, you would open your mouth and the flames spurting out of it might catch something important on fire. Like your cat. Your t-shirt. The trees in your windbreak.
And we don't want that.
If you grow hot peppers (or even if you purchase them locally at the farmer's market), if you're like me, you're picking them when they're ready, bringing them into the house, placing them carefully on a horizontal surface and then regarding them with wariness and suspicion. You are wondering . . . now what??
I don't know why you're acting that way, but I can tell you why I'm acting that way . . . and it had to do with—
–an ignominious day that I can't forget
(Dang it! I wish I could.)
I haven't forgotten the day that I didn't notice our then-toddler son, Matthew, at the time a chubby tow-headed toddler, playing with a pile of pretty, finger-slim chili peppers. I'd gathered them from my garden and then dumped them on the picnic table. Tiring of his play, he rubbed his little eyes with his fingers . . . .
Oh, the ignominy felt by your gentle blogger, the absolute horror when the little tot screamed and thrashed, his eyes streaming with tears. Poor baby!
Thus, the wariness and suspicion of hot peppers I harbor to this day, not to mention deep, abiding respect.
Hot peppers are not an easy crop to grow or process. They are potentially dangerous, yet full of wondrous promise. The gardener who pushes past the danger and the difficulties is rewarded by the tastiest hot sauces and chili powders and pickled heat that others may only dream of.
Other crops don't require such caution. Green beans, for example, are easy: easy to grow, easy to eat. You can pickle them, fry them, cook them perfectly in just a few minutes for supper, or toss them into a soup. Canned green beans are wonderful to put into the pantry if you grow enough of them, of course.
Tomatoes are easy, as well. You can make them into sauces that will delight even a tomato hater, or slice them into a beautiful marinated salad. Pair them with bacon, lettuce and good mayonnaise for the best summer sandwich you can make.
Hot peppers, as we noted, take a bit more preparation to make them into something edible. Today I'm going to share with you how I learned to make hot peppers into a chili powder that makes every store-bought chili powder want to hide its face in tasteless embarrassment. As in so many things, most things in fact, homemade is just better. Especially if you raise the hot peppers yourself!
First: quickly how to make a chili powder out of your own dehydrated hot peppers

1. Slice hot peppers into thin strips, protecting your hands with thin gloves.
2. Place strips into your dehydrator, in single layers*.
3. Check pepper strips the next morning. If they are dry and crunchy through and through, you're ready to grind them.
4. Using an old coffee grinder kept just for this purpose (trust me) grind the peppers to powder. Again, this is a good task to do outside or in the garage. (A blender will work, too.)
5. Mix in additions if you like. Many dried herbs, dehydrated onions and garlic, and other spices are nice.
6. Check out my recipe for ideas.
(PRO TIP: put your dehydrator in the garage, especially if you have moved the baby chicks out to the coop. Run at the lowest setting (?) overnight.)  
→↓ A SUCCINCT NOTE OF CAUTION ← ↑

Again, but it bears repeating (and some creative color usage): use care when handling hot peppers. Every step of the way in this process, USE! CARE! Wear gloves; try not to inhale the fumes or the dust. Run the dehydrator outside or in the garage. Don't let the baby touch the chili powder, either.
I used to buy the generic taco seasoning from the store, and I would use it to season taco meat, burrito sauces, quesadillas, etc., until the day that Gene shared a tin of his homemade "Mexican Madness" chili powder seasoning with me. I made quesadillas for Mack's lunch soon afterwards, and he looked up from his plate and asked "What did you do? These are different! They are so good!!"
Honest, gentle reader, the only thing I did differently was to swap the store brand "taco seasoning" for Gene's homemade "Mexican Madness" seasoning. It was so much better. 
Of course, upon one nanosecond of reflection, I shouldn't have been surprised at all. Homemade is so often superior to anything from the store! Gene–my farming buddy and erstwhile mentor–gave me permission to share his recipe, and I'm thrilled to share it today with you.
So, without further ado: here's how to make this same wondrously tasty spice mix for your own kith 'n' kin.
First, dehydrate your hot peppers
1. Wearing gloves, slice your hot peppers in strips. Remove most of the seeds, unless you don't want to! The seeds will make a hotter, coarser powder. (I usually shake out most of the seeds, but I am not fussy about it, and don't mind a few seeds heating up the powder a bit.)
2. Set your dehydator up in the garage, the deck, or someplace where you're not going to breathe right next to it! (I did have to wait on this project until my chicks–who always spend their first few weeks of lift in a tank in our garage–were big enough to move out to the coop.) Turn it on and run it overnight, on the lowest setting. (This is usually how long it takes for my peppers to thoroughly dry out.)
3. When the pepper strips are completely dry and crunchy (usually this is after 8-10 hours, depending on the thickness of the pepper strips, though it can also take 24!) they are ready to grind.
Pro tip: If your peppers are very hot, you might want to add sweet peppers in the dehydrator too, to balance things out a bit.
How to grind the dried peppers
1. Using a coffee grinder that you use just for spices, grind the dried pepper strips until fine. Do this also outside, or in a spacious garage. Try not to inhale this powder! (Word to the wise gentle reader!) A blender will also do the job.
2. Measure out the ground peppers into a large bowl.
What to add to the dried peppers
1. Mix in dried herbs, dehydrated onions and garlic, other spices, and salt if your like, to make your own chili powder blend. Taste and adjust seasonings. OR use Gene's recipe, below.

Recipe in printable format
Homemade Chili Powder Recipe, aka "Mexican Madness"

"Mexican Madness" Homemade Chili Powder
You'll be shocked at how much tastier this homemade chili powder is, compared to what you have been buying at the store. Trust me! It's easy to make, too.
Ingredients
1

tsp

chili powder (homemade, if you can)

1

tsp

garlic powder

1

tsp

onion powder

1/2

tsp

crushed red pepper flakes

1

tsp

dried oregano

2

tsps

paprika

2

tsps

cumin

1/2

tsp

sea salt

1

tsp

black pepper, freshly ground

1

pinch

cinnamon and ground cloves (each)
Instructions
1. Dehydrate your chili peppers

2. Measure and mix with the rest of the ingredients.

3. Store in airtight container. Lasts a good long time!
Shop this post
1. This is the dehydrator I have. It is cheap and it works!
2. I use a coffee grinder like this one to grind up the dehydrated peppers.
3. I buy my bulk spices, like the cumin seeds and paprika in this recipe, from Azure Standard. If you don't shop yet with Azure Standard, this is a great time to start an account! Azure Standard carries a huge variety of bulk herbs and spices, dried beans and grains, organic produce, health supplies and so much more! We have a local drop-off only about fifteen minutes from our house (and you may, too). Check out all the deets right here.


Pin it for later!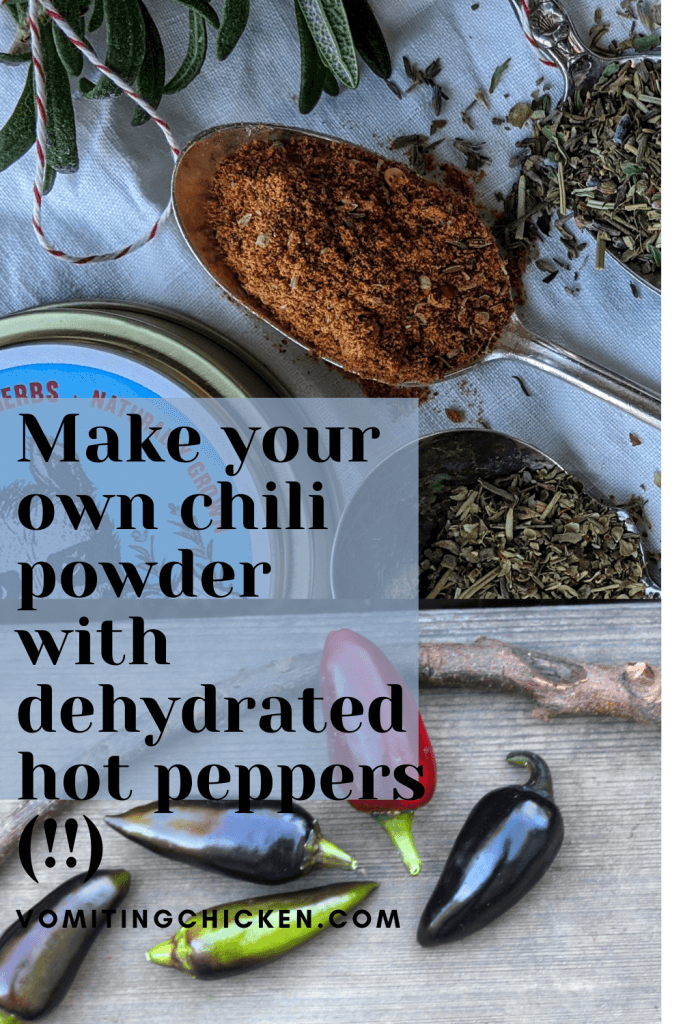 Thanks for popping in, gentle reader!
Have you ever made your own chili powder? If so, I'd love to hear about it in the comments below!