Why I shop with Azure Standard, and my favorite items to order!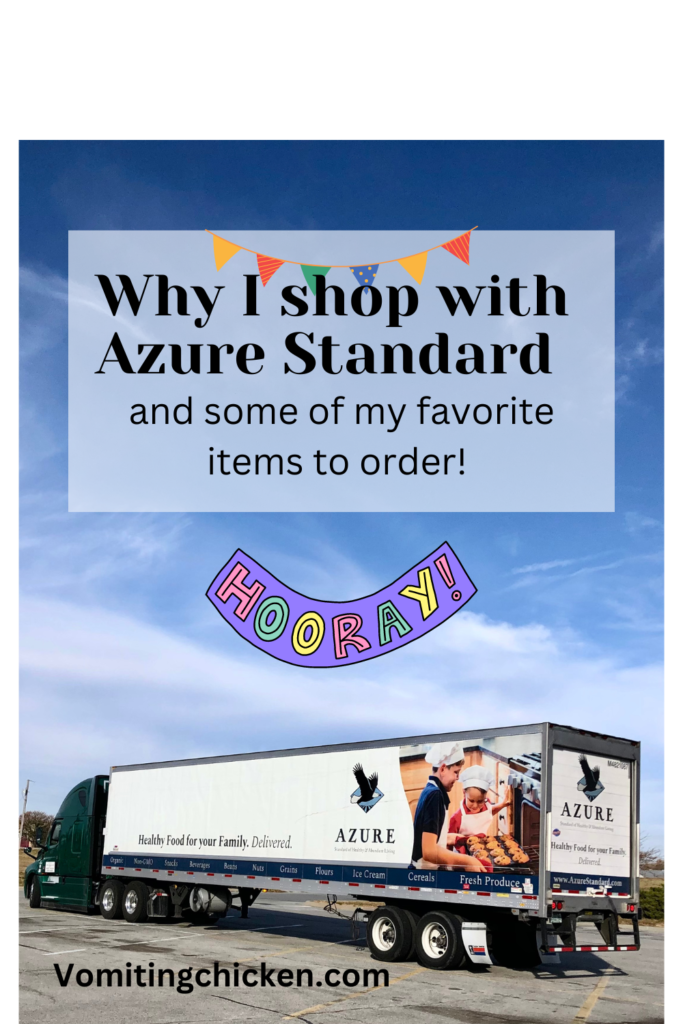 Look over my shoulder and see what I have found to be great purchases from Azure Standard, and why I shop with this excellent company every month. And, bonus: learn how to make an account and shop with Azure yourself!
Why I started shopping with Azure Standard
A few years ago, my mom, my daughters and I spent one day each week through the summertime baking for a local farmer's market. The kids and I were trying to earn enough money to pay for airline tickets to New Zealand (we did it, too!), and peddling bread and fresh eggs and organic veggies was our best option at the time. The following summer, we looked forward to doing it again, so we did. And the next. (Bake for the farmer's market stand that is, not go to New Zealand–although that would have been nice, too!)
I wrote about how we did it all in this e-book.
Happily, during this busy phase, I stumbled upon the vast and lovely resource that is Azure Standard. We live in a small town with limited options for purchasing spices, herbs, grains, bulk staples, etc. I can find some of them in small quantities, possibly, but they are pricey to purchase that way. With our farmer's market business, I was watching my expenses pretty closely, and I discovered that buying things like grains, bulk herbs, flours, nuts, and the like was so much more affordable with Azure Standard.
I got spoiled to the high quality and sheer number of products that I could order from Azure, too.
How Azure does what they do so well.
Azure saves you money by connecting directly with independent growers and food producers, shortening the cycle and handling of your food. You have access to organic farm-fresh veggies, dry bulk foods, bulk spices and herbs, grass-fed dairy and frozen meats, raw honey, raw cheeses, non-GMO oils, packaged foods, frozen and fresh fruits, nutritional supplements, beauty products, garden plants, seeds, and more!
It's so easy. First, make an account with Azure. Then simply shop by choosing items from Azure's website and place them into your website cart. The warehouse team in Moro, Oregon then pulls them off the shelf and packages them up for you. Your order is put on a truck that delivers straight to your local drop.
You get to be a part of the Azure community in your own neighborhood, meeting a fully stocked natural grocery store on wheels – coming directly to you.
It's pretty cool!
I'm always happy to see friends at our local drop spot, which is only fifteen minutes away from my home. And it always feels a little like Christmas to bring my order home and unpack it.
Why it's such a pleasure to shop with Azure.
Azure is a family-owned company started by David Steltzer. He and his wife put out a helpful Youtube channel with health tips, recipes, and other interesting content, and they also write articles pertaining to building health, preserving food, and more in their newsletter and website.
No membership fees. You don't have to order every month if you don't need to.
High quality products. There is such a huge variety of quality organic and natural items. I've actually never been unhappy with a product I've purchased from Azure.
Excellent customer service – Azure treats customers with dignity and respect, and always has the best customer service.
Azure Standard is the largest independent health food distributor in the nation. You can find just about anything there.
How you can shop with Azure Standard
Interested in trying some shopping with Azure yourself?
Here's how you do it:
 Create an account. Then join a delivery drop near you. (If there's not one, you can start one yourself! I have two friends in our area who did just that.)
Place your order. In doing so, you'll share your email address and will be notified at what day and time your drop will happen.
Show up at the drop point and meet the truck at the appointed time.
Take home your order!
A few questions you may have
Can I be a member without joining a drop?
Yup. Azure also offers home delivery through economy parcel shipping.
Do you have to split up orders, like in a buying club?
Nope. Your order will be individually boxed with your name on it, ready to take home with you.
Do I have to order something every month?
Again, nope. There's no pressure to order every month. Order when it works for you. However, if you're like me, you will be so pleased by what you can buy through Azure that you'll want to order every month!
Have any more questions?
Feel free to drop them into the comments below, or push the Contact Us button on the Azure website, and they'll be happy to answer your questions, or walk you through the process of making your account.
Hey! I have a special link for your shopping pleasure!
Here's a win/win for both of us. If you follow my link in setting up your own account, I'll earn a small commission. The support I receive through affiliate links allows me to continue sharing information like this through my blog, at absolutely no cost to you! But wait. It gets better. After you've set up your account, when you share Azure with your friends, you can earn the same commission! You don't even have to be a professional blogger. (As my dad would say, "Better than a poke in the eye with a sharp stick!")
I hear from my friends: Why they chose Azure Standard
You read above why I started shopping with Azure, and why I continue to shop there. A couple of my friends gave me their reasons for shopping with Azure. (I changed their names to protect their privacy, as if you can't tell.)
Bethilda Mae:
Reasons I LOVE Azure:

I can buy bulk and specialty items that I simply can't find in our rural area. I'd have to drive over an hour to find some of these items, and the prices wouldn't be as good.
Ordering from Azure means I can pick up all the specialty and bulk items I need at the drop off spot, only a few blocks away from my home!
The quality is outstanding.
It gives me so much comfort to buy in bulk, and run out less often.
The prices on bulk items are better than buying from big box stores!
Edith Anne:
The main reason I shop with Azure is because I love being able to save money by buying in bulk.
Good quality, organic products.
I have gotten similar things at Natural Grocery and Misfits Market and for most items, Azure is cheaper.
What you really need to order from Azure Standard: my favorite finds
Here's the fun part of this post! Azure is so easy to share. And it has such a huge number of items to shop from that I find new favorites every month! I was chatting with a few friends the other day about their favorites, and I was taking notes like mad!
Here are some of my favorite things to order from Azure, and favorite items of some of my friends, too.
Baking supplies, etc.
Dairy
Bulk herbs and spices (all non-GMO)
Dried Beans and pasta
Produce
Since I grow so many of my veg and fruits, I don't buy much from Azure or other places either, but there are a few things that I've purchased that I've been very happy with.
Essential oils & other healthy buys
Some fun stuff!
So are you getting the feeling that Azure Standard has a lot to offer?
That's because–they do! I heartily recommend your checking them out, if you use any of the items above! Follow the instructions above (under the heading in orange).
Thanks for popping in today, gentle reader. I hope you've learned something and are encouraged to check out Azure Standard. Click on over to their website and see what you can find today!
For those of you who already shop at Azure, I'd love to hear what are your favorite items to order. I discover something new every month!
Take care–eat well–and live well!
*hugs*