Spring lettuce salad with honey dressing, and a winner!
I have really enjoyed running my latest giveaway, you know, the 5 jars of raw and infused Nebraska honey. In my blog comments, I learned a whole bunch of new ways to use honey, from my awesome readers–that means YOU!
And we have a winner . . . but you'll have to read to the bottom of this post to find out if it's you. 😉
Here are a few uses for honey that were especially fun and some of them quite new to me:
used to help heal cuts
drizzled over cooked carrots
mixed with cinnamon to make cough syrup
as a weight-loss aid, dissolved in water and drunk before meals
helps with seasonal allergies, if it's local and raw
mixed with peanut butter in oatmeal, chocolate chips sprinkled on top (yum)
straight off the spoon
adding spices to raw honey to boost immunity…black seed, cinnamon, ginger and cayenne pepper
used to fight dandruff
to sweeten smoothies
drizzled on Greek yogurt, with pistachios 🙂 (yum, also)
creamed with cinnamon and eaten on toast! 🙂
No health claims, here, folks, of course! I'm so happy that I have a continual supply of honey from our hives, and (fingers crossed) I'm hoping that we can continue to keep bees on our place.
We eat lots of raw honey ourselves, from drizzling it on our morning toast and oatmeal, to stirring it into our tea at night. Because we have a few family members who are sensitive to sugar, raw honey is our favorite sweetener.
Have you ever made salad dressing with raw honey in it? Do I have a recipe for you! I know what you're thinking, Gentle Reader. 🙂 "Honey on salad . . . sounds awfully sweet . . . maybe even too sweet . . . " but this recipe includes snappy Dijon mustard, and tangy balsamic vinegar, so it's just perfect to eat on early garden lettuces. Oh, you must try it!
See? Doesn't it look yummy?
That's because. . . it is yummy!
Here's the recipe:
New lettuce salad with tangy honey dressing
Author:
Prep time:
Total time:
What a great combination! Even your pickiest salad naysayers should enjoy this salad, with its sweet and tangy dressing and delightful combination of ingredients!
Ingredients
For the salad:
Big bowlful of spring lettuces: washed and torn into bite-size pieces
1 cup strawberries, washed and sliced
1 apple, cored, sliced and cubed
3/4 cup pecans, lightly toasted*
1/2 cup sliced spring onions
1/2 cup crumbled feta cheese
And for the dressing:
1/3 cup white balsamic vinegar
2 T raw honey
1 T Dijon mustard
1/2 tsp salt
1/2 tsp pepper
2/3 cup good olive oil
Instructions
Toss lettuces with other salad ingredients, except for nuts and cheese.
Mix dressing ingredients together in a jar with a lid, and shake until combined.
Pour dressing on top of salad and toss.
Sprinkle with pecans and feta. Take a picture. Sneak a bit for a taste. 🙂
There will be dressing left over, and it will stay fresh in your refrig for a long time. It's also good as a marinade on chicken!
*To toast the pecans: saute gently in a cast iron skillet on medium heat, until they start to smell delicious, and brown just a little. Be careful not to burn them! (I usually do: when I made this recently, little Mack looked at it in dismay: "Burned nuts in salad??")
And here's another picture. It's just so pretty. I can't resist.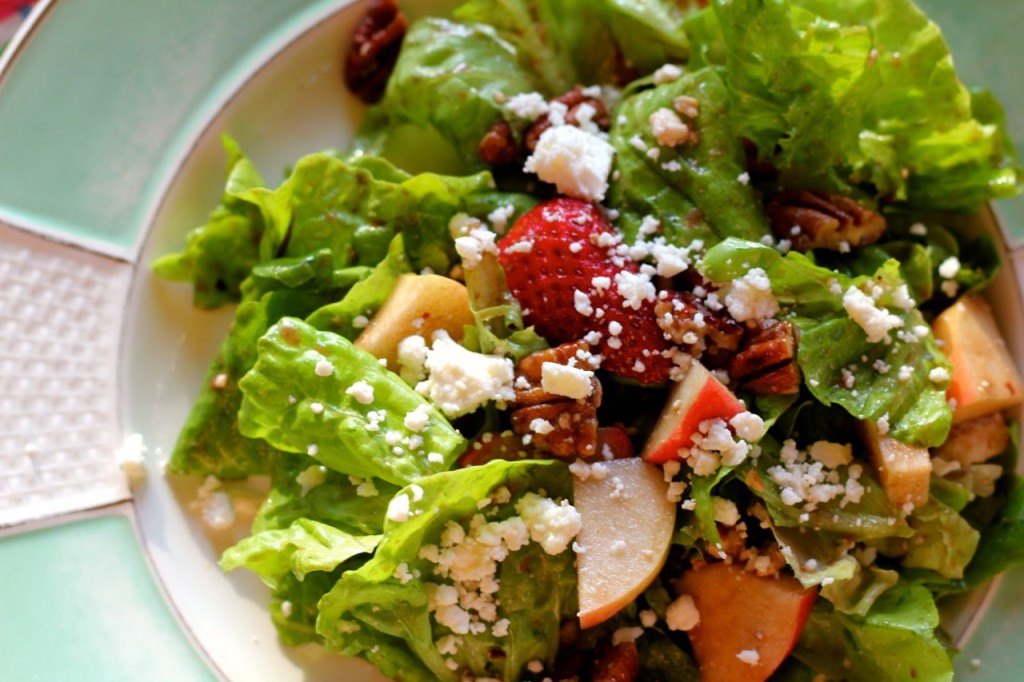 Oh, yes, and I can't forget: our winner of the raw and infused honey giveaway (drum roll, puh-lease) is Tamara S. from Georgia. I've e-mailed her, and this sweet package will be winging its way to her this week. Congratulations, Tamara!
And thanks ever so much, my Gentle Readers, for entering my giveaway, and for reading this space so faithfully. 🙂
You are very, very good to me! *smooch*
Oh yeah, I'll be sharing this recipe with my cool friends over at The Prairie Homestead. Come on over, there's lots to learn over there!