A recent post by Ben Hewitt rung true to my heart, right now, right where we are. Bryan and I bought our country place place thirteen years ago, when we had 5 ornery children underfoot, and we added another one after a few years, little Mack being, as it were, the final exclamation point to our sentence of smart-alek children.
Moving to the country seemed like a great idea at the time: we wanted to continue to teach our children at home (which is harder in town, honestly: we had police officers showing up at our house, checking up on our children when I had allowed them to bike to the library during "school hours") and not to have to blanch under the scrutiny of the neighbors (we could see them watching our kids out their windows) and we wanted to build up a place in the country where we could raise our children with plenty of things to do, plenty of skills to learn, plenty of work to learn.
Check. Check, check, and check. We did it. Fait accompli. With the kids' help and our own strong backs (and the backs of some of our family members, too, from time to time) we planted hundreds of trees, laid out two very large vegetable gardens and a decent-sized orchard, planted trees and flower beds as if the world would end if we didn't (there were very few trees and almost no flowers on this place when we moved out here) and raised our children at the same time. We set up three hives of bees. We planted berry bushes and grapevines and asparagus. We bought a log-splitter and installed two wood stoves, so we could heat our house with wood, primarily. We raised chickens for eggs and meat, and learned how to butcher them and how not to waste a bit of those chickens when we ate them.
And the kids grew up, one by one. And as the kids each moved away, we found that we had much more time to just pull up our respective hammocks, Bryan and me, and take a well-earned rest, in the shade of the trees that we planted, eating the fruit from the trees and gardens that we so wisely planned to be big enough to feed an army. "It is time," said Bryan with a yawn, "to, at last, enjoy the fruits of our labours." And I breathed a restful sigh of relief, picking up my icy glass of tea with a well-manicured hand, and concurred.
Not really. Not at all. This is fiction, Gentle Readers, this last paragraph, down to the manicured hand. A cruel fantasy.
Here's how it really happened, and is now, in fact, happening:
And the kids grew up, one by one, and as they each packed their things and gave us hurried good-bye hugs, and as we helped them to develop the skills which would make it possible for them to move away from us, Bryan and I looked at each other in mute bewilderment.
"What now?" I asked.
"Don't know," he mumbled.
We wanted this–this Beautiful Life-–filled with children and animals and friends and family and growing things and music and books and new adventures. Sweat and tears. Laughter and learning. We taught them (and ourselves) how to tend it all–how to prune apple trees versus peach trees, how to pull weeds so you get the roots up, how to pile mulch around the plants so you don't have to weed again any time soon. How to plant heirloom tomatoes and onions and potatoes and peas. How to harvest rhubarb and spring lettuces and kohlrabi and elderberries. How to use the wild plants that grow all around us–dandelion, dock weed, nettles, lambsquarters, How to bake bread and make rhubarb pie and how to fry chicken so it stays crispy and how to can tomatoes and make pickles and preserve herbs. So much more. We built a hoophouse so we could extend our growing season in a wonderful way.
And now. And now. . . . ? With each child leaving, we are left with a smaller workforce, but the work doesn't go away. Strangely. And with Timothy taking his job in the city, we are left more short-handed then ever. Amalia is a cheerful worker and Malachi is learning, but I wonder if this is the tipping point, for us. The point where we go from "perilously behind" in our gardening and mowing and tending, to "we just can't keep up."
I'm in danger of oversharing here, I realize that, and I'm trying not to go over that line. It's a confusing journey for us, one that I'm confident many other parents have trod, have figured out, and have emerged triumphant on the other, Empty Nesting, side. But to be honest: it's not one that we pictured happening so quickly. When I planted 30 fruit trees, I only envisioned lots and lots (and lots) of fruit and the sweetest blossoms in the spring. Children running and laughing through the well-tended orchard. Bushels of apples. Cherry pies. Canned applesauce. Peach cobbler. I didn't envision pruning them all by myself, one day, with hands that are starting to show arthritis (it's true).
When we laid out our fun walking paths criss-crossing and encircling our place, we always envisioned one of our kids on the riding mower, keeping them mowed. And enjoying them on our bikes, or on foot, together. Not spending every spare moment, ourselves, keeping them mowed.
And yet we're not ready for assisted living yet. I admire people who get old and still stay active and busy and that's what I see for us: but how to keep up with our place, I can't quite see that yet. I know that God has a plan for us, and I'm looking for that. A plan to let some things go, without feeling like a failure. Or a quitter.
What do you want, Amy? I'll tell you. I want to live out here, to tend my gardens and orchard and bees and so forth, but I also want time to enjoy my children and my grandchildren and my good husband and my family and friends, without the breathless "work harder, work faster, get caught up" that has been driving me for some time now. Is it possible? I don't know.
That's all I want. That's not so much to ask, is it? Or . . . is it?
Like Ben Hewitt wrote, there are days–in January, when the snow is piled high and the chickens are waiting for me to trudge through it to break through the ice on their water bucket and pick up cracked eggs, and we can't keep the house comfortably warm no matter how much wood we chuck into the living room wood stove–when I would sell this place, lock, stock and barrel (as they say) for any price. Or at the height of summer, when the fierce wind from the south makes it miserable outside and you can practically see the garden perishing, plant by plant. But you wouldn't want to buy it then.
You'd want it now. When everything is green and lush and just ripe for the plucking. When the pond is full from recent rains, and the new bushes that we just planted are covered with new growth. The garden is already bursting with wonderful things to eat, and the hoophouse is full and thriving. So much promise. The heirloom tomato plants are covered with dainty yellow blossoms. Promise of pleasure and delight.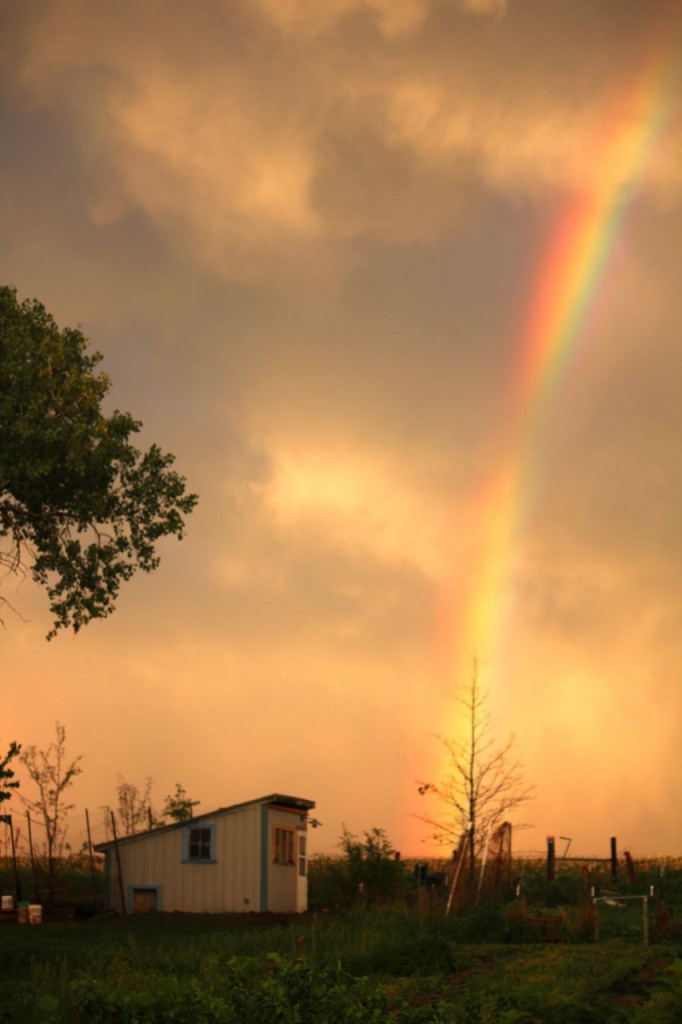 But today–I wouldn't sell it for any price. Not yet. Probably not next month, either, because I'm pretty excited about the blue tomatoes that I planted. And that new purple broccoli. And I'd like to see how those spring chicks turn out. And with my hoophouse half-full of flowers for cutting and half-full of tomatoes and peppers and lettuces and kale, I'd like to see how all that turns out. And the cherry trees are positively loaded.
But you might want to check with me again. In late July, say, or early January.
Maybe.
Hey, I'm going to join up with the linky party over at The Prairie Homestead. Come on over!