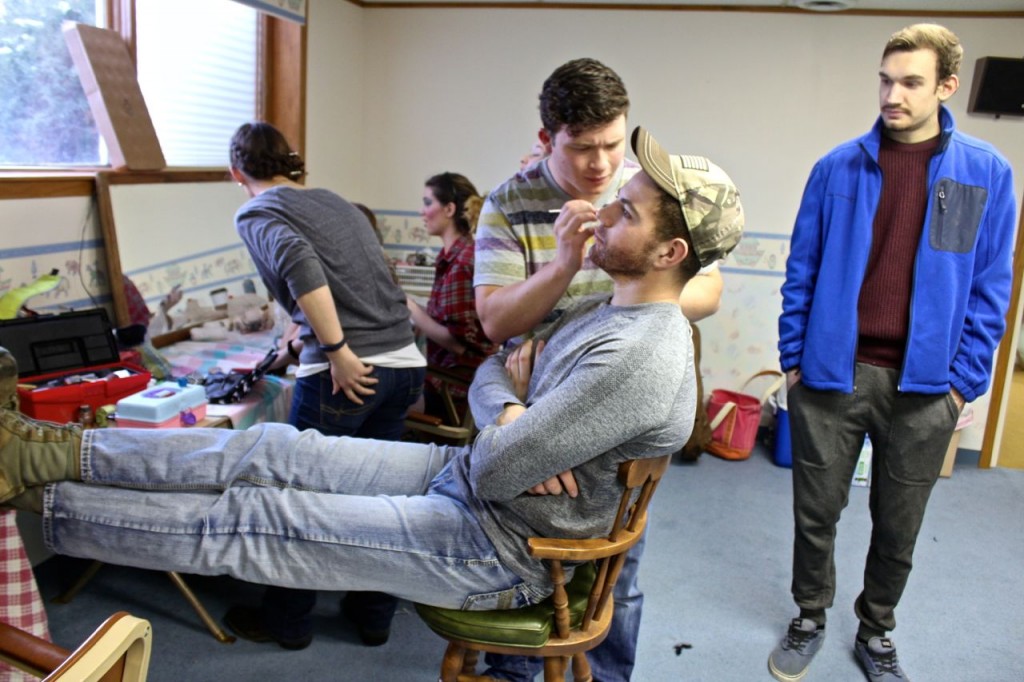 The week after the melodrama, we nearly always get sick. Because of this, depending on our level of misery, we may take a day or we might take three, to sufferandcomplain rest and commiserate, and then, when the sinuses clear and the headaches ease up a bit, I start making elaborate to-do lists–again–in the attempt to catch up, already!
Running a small farm like ours takes daily maintenance, as well as lists of weekend chores–never mind factoring in kitchen remodels, melodrama, homeschooling, and the like–so if you indulge in taking a few weeks off to produce a melodrama 🙂 (it's quite a fun indulgence) with a noisy pack of enthusiastic and talented home school kids, you'd better believe that you're going to have to put in the work and catch up eventually, when it's all over.
By. The. Way. For those of you who wonder (and will even ask) about how I get so much done, this post ought to give you hope. Because, many days, I don't.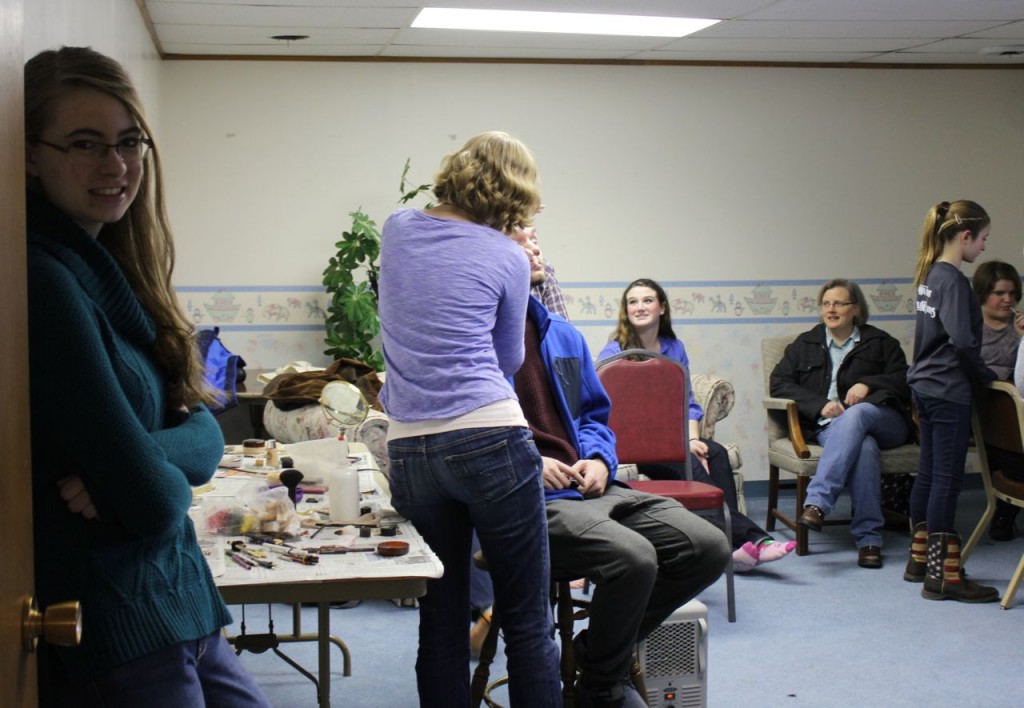 Read on.
Yesterday was lovely–when you get sunshine and upper-forties in January, why, you make hay while that sun shines! In my case, I decided that it was a good day to clean out the chicken coop (a time-consuming chore that I get at twice a year, usually), AND haul a load of grain from the elevator to feed my chooks for the rest of the winter; AND spread compost in the hoop house and run the sprinkler in there for a bit. Those three chores were at the top of my list–heck, they were my list–and I got out and at it relatively early. Well, before I could get to them, I hung out two loads of laundry, made the wood fires, and made sure that everybody–and everything–was fed. You know.
I had my MP3 player on me (I'm listening to The Outsiders right now, by Malcolm Gladwell), figuring I'd be alone outside most of the morning–well, except for the dogs and the chickens.
But I figured wrong. Mack followed me outside, asking me—-please, Mom?—if I would come look at something with him. "Look at what?" I asked, chomping at the proverbial bit to get started on those chores. Glancing toward the chicken coop. Feeling the itch to just get at it, already. I could already feel the sense of accomplishment that would soon be mine, to get so much done in one day.
"Just come. Come and see. It's difficult to describe."
I already had my work gloves on. I looked hard at my son, his face full of longing. "Tell ya what . . . " I began, intending to make one of those bargains that parents like to make, such as "I'll work for an hour, then I'll take a break and come see—"
"Noooooo!" he moaned. His face crumpled. "Just come now. Please. Mom." Just a couple of hours ago, I had put down my requests before my Father, who is intent, I'm sure, on answering prayers but also on growing my heart the way it ought to be growing. I had asked for a productive day. I had asked that I would choose the most important things to accomplish. I had asked for wisdom in making these choices.
"Teach us to number our days, that we may gain a heart of wisdom." Ps 90:12
By the time little Mack zips down our driveway, off to college or whatever, with very little need of me (he'll think, anyway), after all, I will have been a full-time mama for nearly forty years. I think I'm probably breaking a record, in modern days anyways, or at least I'm in the top echelon of this category of mamas who have a very long full-time child-rearing "season." My days now look very different from my days when I had six children at home. But they are no less full. Those of you with a houseful of young'uns right now probably can't imagine this.
The days are changing–always changing. I can run errands now without a car full of kiddos, so I can move faster, but I have fewer hands to help at home, so I do more work. I have fewer worries with fewer kids at home, and more worries with kids that are living away. Everything changes.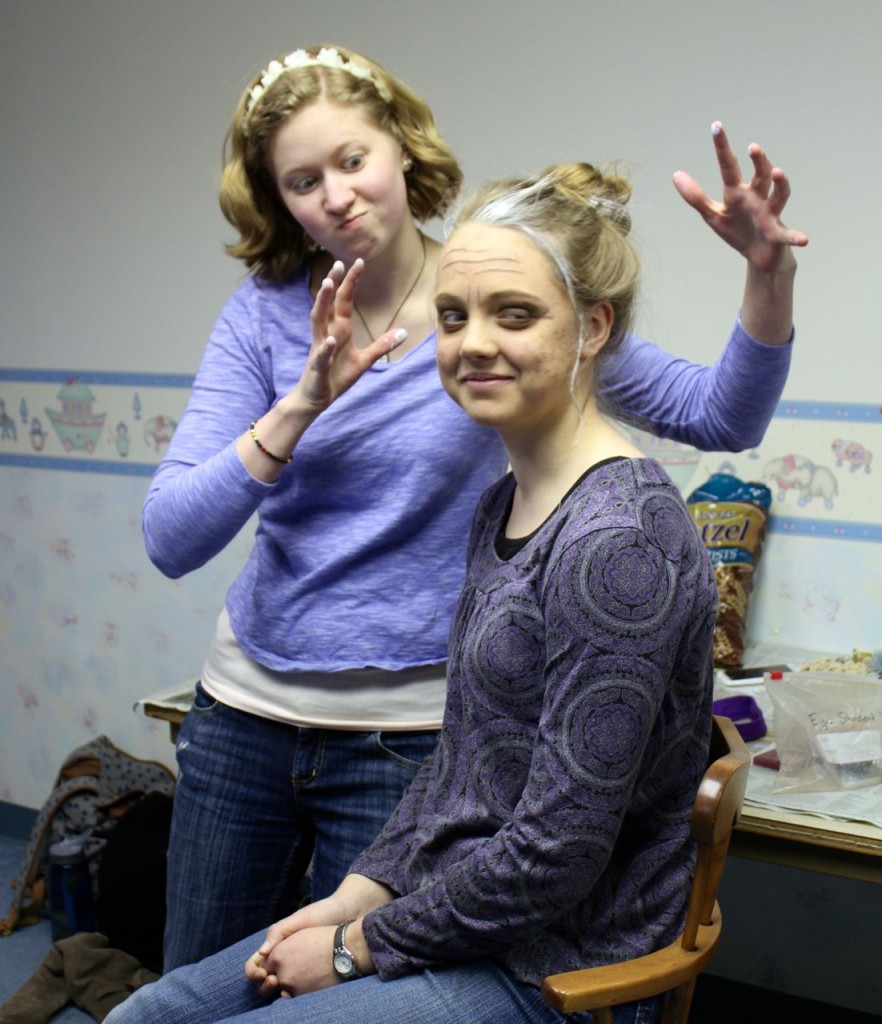 There are days, Gentle Reader, when I would have had no choice but to gently tell my little Mack "no, I can't do that right now," in fact we've had a lot of those days lately. BUT this was not one of those days. The chicken coop, and my hoop house, and all the outside tidying that I was intending to do, could wait a few hours or even a day or two, I knew. The weather was supposed to hold all weekend, and in fact those chores, I knew, could wait another month or two if necessary.
So I said yes to my little boy. We went on a long walk, first. I wish I would have had my camera at that time. He took me to all his favorite spots on our place, from one corner to the next. Then he plucked a handful of fraying cattails for me, a sure sign of love and affection from a 9-year-old boy.
He took me to his "private thinking spot." He showed me the little shelter he was building, and we discussed what his next step in construction might be. He showed me two bunny burrows that he had discovered (he dearly wants to trap a rabbit, so I can make him rabbit pot pie). 🙂 We checked out the pond for ice skating (a no, it's full of puddles now). We checked out the thistle situation in the woodlot (don't ask). We mushed through the drifts in the windbreak (where the trees are at last canopying and meshing and doing what they are supposed to do).
We watched the chickens for as long as we wanted.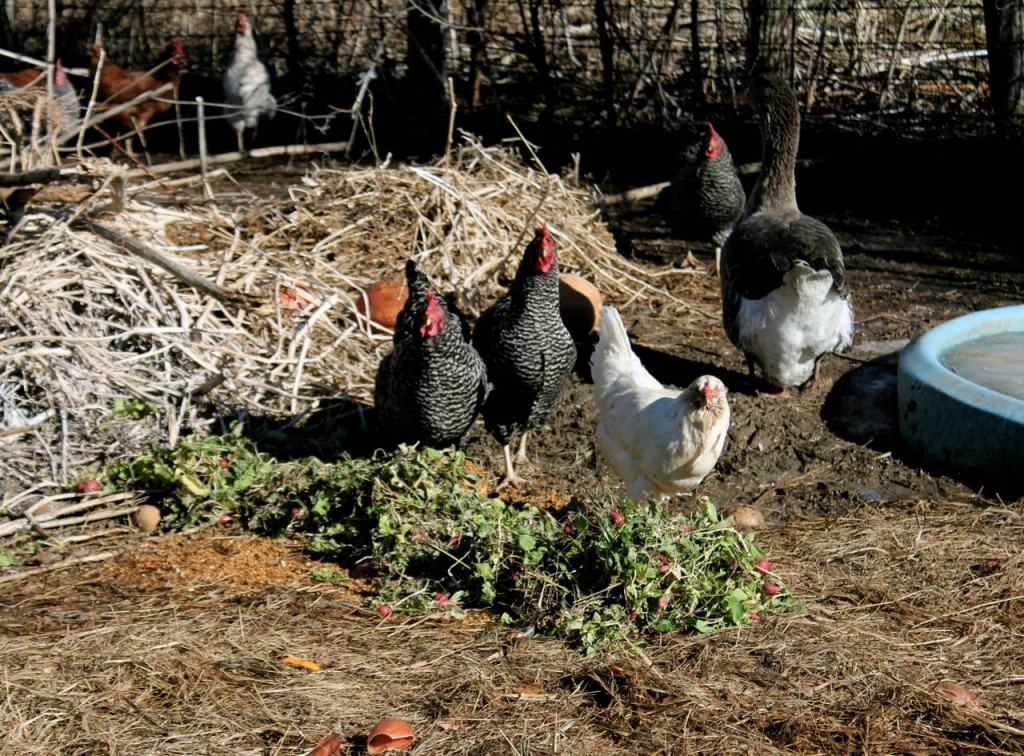 We went to the hoop house, to put some water on the greens in the cold frames. After all, we could hook up the hose on such a pleasant day.
And then. Mack, who had run on ahead of me, let out a shrill scream. "Mom! Mom! Moooooommmm!" He was looking down at something in the brown grass at his feet. I hurried to him, wondering–what on earth–??
Three years ago we gave Mack a very special present: something he had been pining for since infancy (practically): a bonafide Swiss Army Knife. It was a big one, with lots of handy tools on it. He had been ecstatic. So grateful. It was the perfect present. Until he lost it. Almost immediately.
The loss of that knife has been a canker in his side (and mine!) ever since. He has actually received two or three other Swiss army knives since, but none of them were his Birthday Swiss. Ergo. None of them were as good. Of course.
So look at what he found.
It wasn't his Birthday Swiss.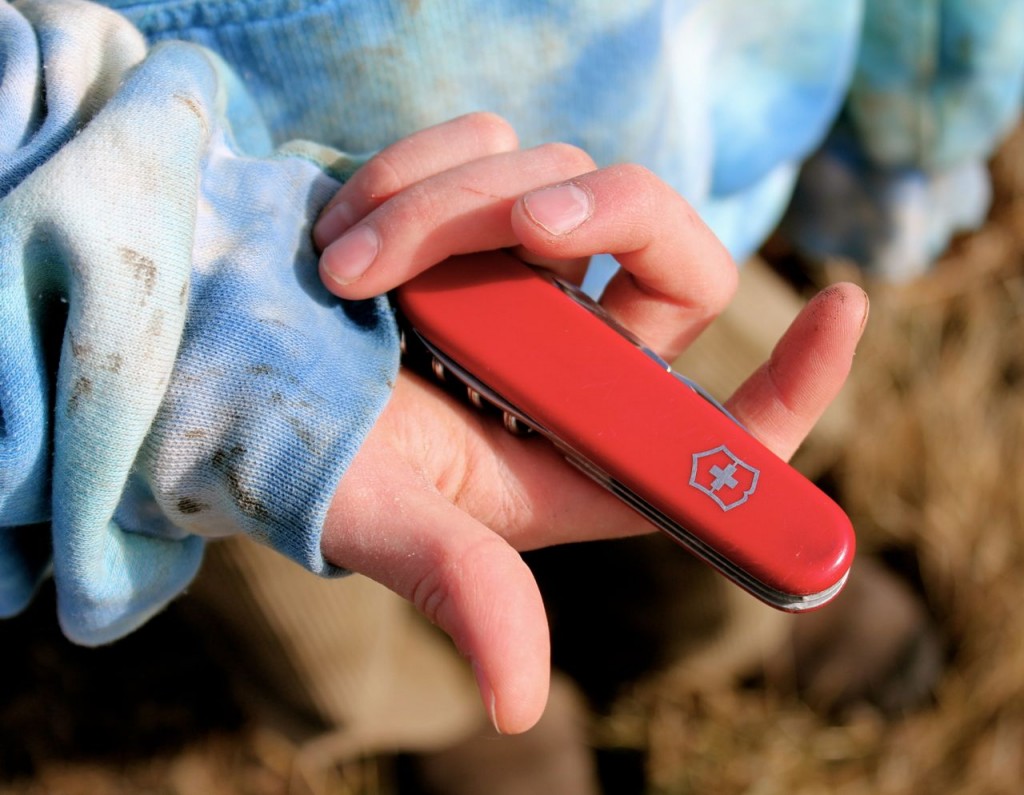 But it was one of the others, that he didn't even realize he had lost! (And yes, that's my jacket that he is wearing.)
By the end of the afternoon, we were both refreshed by the sunshine and the time together, that I didn't even care that I didn't get much work done.
And if Mack's big smile was any indication, I do think I chose the correct course for the day.
*hugs*