Swedish pancakes, the way my Swedish grandma made them
In the past few years, I have come to a startling realization, to wit: I am becoming my Grandma.
The first time I canned tomatoes, and planted a garden, and started raising my own chickens, I realized that I had seamlessly segued from being ME to becoming my mom. That was decades ago (whistling) and was not all that startling. It was expected, in fact, and welcome. I've always admired and been amazed by my mom. Hooray, I decided, I'm becoming my mom. It's about time, thought I.
But this new realization, of late, that I am becoming my Grandma . . . now this takes a bit of getting used to, I must admit. I won't coyly try to hide my age or wonder how I got to be this old . . . the mirror doesn't fib (whatever). Plus, I am a grandma, after all, and am thrilled to be one, at that. Natch'! But it is worth puzzling over, and brings to mind, of course, the nature vs nurture argument. After all, my Grandma Kuehner died nearly 25 years ago now, and my Grandma Young over 40 years ago, I believe.
I actually was blessed to know both of my lovely and accomplished Grandmas, and some days I feel my Grandma Young most strongly as part of me, and then other days I feel my Swedish grandma, Grandma Kuehner, the most.
Lately, my memories of my little Swedish grandma have become entwined with me, myself, in a strange way. How does this happen? If I had been adopted, say, into a family that lived in a big city on the East coast (for example) and raised in the city, would I still have a longing to forage for wild dandelions and grow tomatoes in pots on the balcony and have livestock of some sort? Would I still have an unexplainable hankering to raise a couple of homestead hogs?
Or would I be happy to do city stuff—-(let me take a moment to conjure up what that might be)–going to shows, enjoying the sales at Macy's, having coffee with my friends at the French coffee shop down the block from my flat. (City folks, help me out here.)
I've never had a flat, speaking of which. If I lived in a big city, I'd definitely have a flat, for this reason if for no other: so I could say "C'mon by the flat . . . I've got some elderberry syrup that'll knock that cold out of the park . . . " The flat. I would just love to say that.
Swedish proverb: "Bara döda fiskar följer strömmen." Only dead fish follow the stream. 🙂

Here's the thing (and you really oughta pay attention, dear younger Gentle Readers, because chances are this will happen to you, too): One day I was going about my own business, as if I'm a unique person in my own right. I've developed all these habits and preferences and whatnot out of my own experiences (nurture!) and choices, and then the very–next–day–I'm pulling down a quart jar of dried herbs (from my own garden) to sprinkle into the soup, and I'm pulling out a knob of ginger from the freezer from my stash (that I grew in my hoop house last summer) to shred into the stir-fry, I'm feeding my canary dried dandelion that I harvested last summer, and I'm pouring shots of elderberry winter tonic for the kids every morning at breakfast time.
It has happened: I've become my Swedish Grandma.
Swedish proverb: "Ensam är stark." Alone is strong. (You can accomplish a lot on your own).
You know that you've become your Grandma when you're checking the ginger root that you have planted in a bin next to the wood stove for signs of growth. You know that you've become your Grandma when you realize where you've smelled that elderberry jelly smell, when you are making jelly: it is exactly the smell of your grandma's house. It's kind of a strange thing to realize that I don't have a whole lot to do with the fact that I am becoming, in fact, my Grandma (nature!).
I do depart with my grandma Kuehner in many ways. I'm taller than her (she was not quite 5′ tall, and I'm a looming 5'4″) and she would have never worn her hair short, but wore it long, nearly down to her waist as far as I can recall, and then wound it all up in a (fashionable) messy bun at the nape of her neck. There are other differences, too, natch'. But for the most part. I have become her. She is, after all, a part of me.
Swedish proverb: "Ju senare på kvällen, desto vackrare folk." The later in the evening, the more beautiful the people. 🙂
My Grandma Kuehner, well into her sixties, I think–possibly even into her seventies–planted a row of apple trees next to the driveway of her little house, from seeds of a few favored apples. I remember folks asking her what she was doing. Who would plant apple trees from seeds? It would take so long for them to mature–and with today's grafting practices, you wouldn't be assured of what kind of fruit you'd get from them–but she planted them, anyway. After all, the apple seeds otherwise would be discarded. If they grew into trees, they wouldn't cost her a cent (oh yes, she was a tightwad, too).
Years later when I was eating apples from those trees, I was happy that she didn't listen to the naysayers. They were good apples. And there were lots of them. Which she then made into applesauce and apple butter, exactly what I would have done. 🙂
My Swedish Grandma immigrated to American from Sweden with her parents and was always very proud of her Swedish heritage. She tried to teach us Swedish prayers every time we were with her, but we weren't very devout as children, and the Swedish tongue just made us laugh. If we hurt my grandma's feelings by laughing at her attempts to teach us those Swedish prayers, we would have been in deep trouble. So we sat and mumbled after her and tried not to laugh until our throats were sore from it. Somebody–probably me–would finally let a giggle escape, and then we'd all be in trouble. Grandma never seemed to notice, though.
Swedish proverb: "Det finns inget dåligt väder, bara dåliga kläder." There is no bad weather, only bad clothing.
Grandma made a lot of traditional Swedish dishes, too, and one of our favorites was Swedish pancakes.
Last weekend my sister Mollie and her kids were visiting my folks, and Mom asked my little niece Sophia what she wanted for breakfast, and she requested Swedish pancakes. Who wouldn't?
Swedish pancakes are very like French crepes: a thin swish of an egg-milk-flour mixture in a hot buttery pan, flipped when set, and then filled with your choice of fillings, rolled up, and eaten hot. In great quantity, by the way. My Grandma used to present them with warm homemade applesauce and cottage cheese. Growing up, we almost always ate them with cottage cheese and applesauce and a drizzle of maple syrup or a sifting of powdered sugar on top. Of course they can be elevated to dessert standards by rolling them up with homemade whipped cream and fresh fruit–mangos, peaches, or berries would go especially nice.
🙂 My mouth. She is watering, at the thought.
I'm planting some small melons in my garden this summer and I'm thinking thinnnn slices of these unique-tasting little melons, drizzled with just a soupçon of honey, and a dusting of freshly-ground nutmeg, would be a good filling, too. Are you following me here? Nearly anything that you like to eat can be wrapped into these pancakes. Flaked coconut and vanilla pudding . . . strawberries and cream . . . roasted brussels sprouts and cream sauce . . . whatever!
Swedish proverb: "Det som göms i snö, kommer fram vid tö." What is hidden in snow, is revealed at thaw. (All Swedish proverbs and more can be found here.)
And these pancakes are so easy to make. It takes just a tiny bit of practice to recognize the proper thickness of the batter, and then just a teensy bit of practice to figure how to flip them, and then . . . you're golden.
Golden.
Here's how to make them.
Whip together eggs, flour, milk, salt and freshly-ground nutmeg (if you've got some)
Add flour or milk, depending on if your batter is too thin or too thick (probably it'll be too thin).
Melt a generous knob of butter into your pan (a crepe pan, or a cast iron skillet). Please don't let's be afraid of butter, ya'all. Reconcile with butter, say I!
Pour at least a half cup of batter into your hot hot hot pan, and swish it around to cover the bottom.
Loosen the edges of your pancake and, when firm (2 or 3 minutes), flip it quickly. Don't be discouraged if you make a mess of it the first time! If you've never made these before, it might take just a bit of practice. But you'll get the hang of it. I know you will. I have the utmost confidence in you, Gentle Reader. 🙂
Cook one minute more, and remove from pan, placing on plate and keep warm (I cover it with a clean towel, and place it in a warm oven.
Repeat until you have enough pancakes for your group. Or yourself.
When you have enough pancakes, present them with great fanfare with the toppings you've got laid out:
cottage cheese
maple syrup
butter
applesauce (warmed is nice, homemade and warmed is even better!)
elderberry syrup
any jams and jellies you like
whipped cream
fresh berries
confectioner's sugar
tra-la: use your imagination!
Because we have a nice supply of such excellent eggs, I try to work an evening egg meal into my dinner menus every week. Swedish pancakes with plenty of toppings, and some good sausages is a celebratory dinner at our house, and easy and quick enough to make on a weeknight, too. Score. 🙂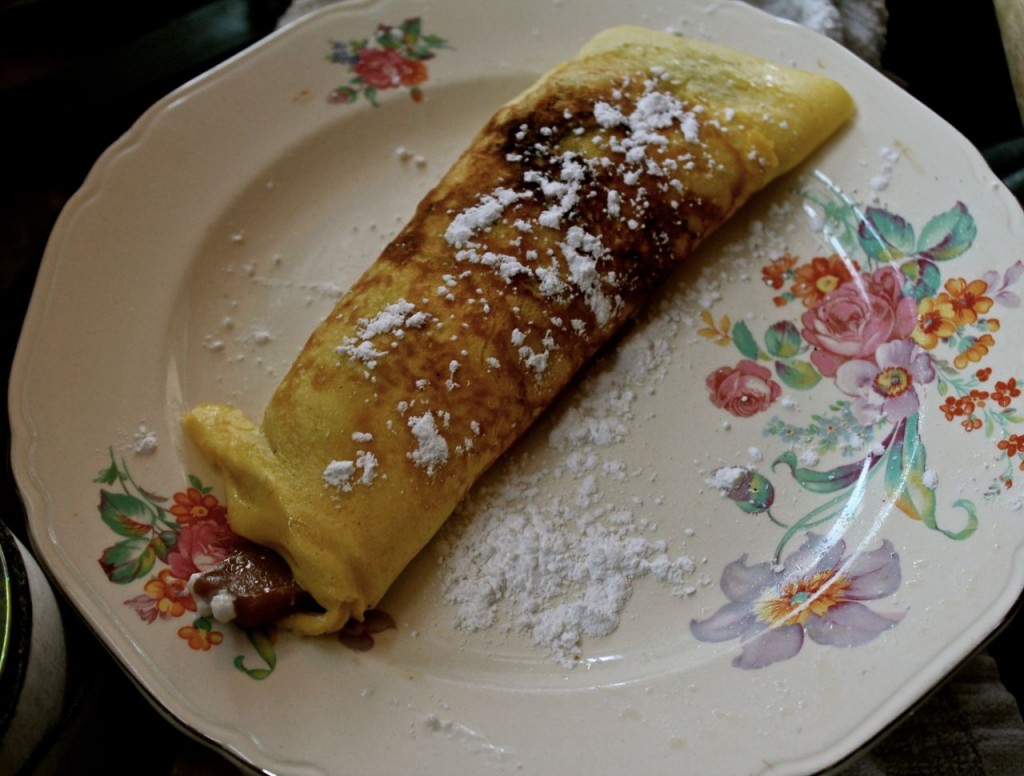 The last time I made these, I also made a savory filling: I sauteed mushrooms in butter, then threw in chopped green onions, a dollop of pesto, halved artichoke hearts, Italian herbs (dried), salt and pepper, then grated a bit of Havarti cheese on top. Oh baby. So good.
Here's the nuts and bolts of this recipe:
Swedish pancakes, the way my Swedish grandma made them
Author:
Prep time:
Cook time:
Total time:
Much like French crepes, Swedish pancakes can be wrapped around any fillings that you like, although our traditional way to eat them was filled with cottage cheese and applesauce, with a drizzling of maple syrup on top.
Ingredients
various fillings: jams and jellies, syrups, cottage cheese, applesauce, and whatnot
3 large eggs, well-beaten
1 cup of milk
1/2 cup + 2 Tb flour
pinch salt
dusting of freshly-ground nutmeg
butter
Instructions
First get your fillings and toppings laid out in an attractive manner. 🙂
Whip together the first 5 ingredients, while heating up your pan to medium-high.
Add a knob of butter (start with 1 Tb) and melt, swishing the melted butter all over the pan. Add more butter if necessary to get a well-oiled surface. You don't want your pancakes to stick!
Pour in a half-cup of batter, moving the pan around to get it evenly spread.
Cook for 2 or 3 minutes, and once the edges are set, loosen them and flip your pancake (also this takes a bit of practice–having a chicken bucket, or a patient dog will be handy here).
Cook for 1 minute more, then flip out onto a plate and keep warm while you make more.
Add another knob of butter to the hot pan, and repeat.
To eat: flop pancake out onto your plate, and put a helping of your favorite toppings down the middle. Roll up, drizzle with maple syrup or sprinkle with confectioner's sugar, and enjoy!
Questions? Comments? Request for an invite the next time I make these? Fire away in the comments, chickie. I'm here for you in the Swedish Pancake Consulting Department.
🙂 Didn't know that was a thing? It quite possibly could be!
And thanks again for popping in. If you like this post and feel like sharing it with your friends, I'll be your slave forever, by–the–way! 🙂
*hugs*