Our Ponca West Weekend: & 10 handy tips for your own family camp-out
It has been nearly ten years now since my sibs and I planned our first Ponca weekend camp-out. Our mother was turning 70; we wanted to surprise her with something she'd like–not a dinner at a fancy restaurant or a surprise birthday party, but a surprise camping weekend, with her only sister Maria and her five children and their families (who all live out of state) invited, making it a big extended family surprise camping party and reunion. I think Mom was mostly surprised. And mostly pleased. I wrote more about it here.
I was carrying a delicious secret that fall--I was expecting baby Malachi, but hadn't told anybody yet–so I didn't enjoy the weekend as much as I might have, fighting to keep any food down in my stomach as I was. Green. Tired. Excited. A little worried. But mostly green.
We told our out-of-state relatives (some coming from as far away as California) that if they took care of their travel expenses, that we'd provide the food. So I suppose that's where the emphasis on grand and glorious meals at our Ponca weekend started. "As the twig is bent grows the tree . . . " goes the saying, right? Or maybe it's just because we are Youngs, ergo we enjoy food: the growing of it, the preparing of it, the eating of it, the thinking about it, the searching for it, the chatting about it. I've always wondered that we are not all 300-pounders. But we're not. We're all fairly lean. All that gardening and cooking and baking and shopping and so forth burns a ton of calories. 🙂
At this year's camp-out, our 9th annual Ponca camping weekend, we changed venues. Instead of staying at Ponca State Park, we re-located to the Pine Valley Resort, near Long Pine, Nebraska. We had a number of reasons for changing our location, two of which were the proximity to the Niobrara River, and also the presence of a beautiful little trout stream on the property that had captured the imaginations of some family members who had visited there last summer. Not everybody was thrilled with the change. But the majority opinion won out, and I think everybody was happy with the change afterwards, no matter how they felt about it before.
To mollify the dubious ones, we still called it Ponca, but we tacked West onto it, to further confuse. Got it? No? Oh well. 😉
The important thing is not the venue, anyway, but the awesomefood getting-together aspect. We are all (nearly all of us, with a few who couldn't be there) together for 3 or 4 days, with no televisions or computers or cell phones (well, mostly). We have all the time in the world to catch up on our lives, to take long walks, to watch the babies, to play games together, to cook and to eat and to make endless cups of hot tea and also enough tasty hot s'mores to make everybody happy.
This weekend has become very important to me, and I think to all the family who are able to come every year, and I've spent some time wondering why. I guess for me, it's because we all stay so busy that just sitting and enjoying each other's company is not something we do often enough. Even when we have family out to our place, we are busy cooking and caring for children and just doing, answering the 'phone, thinking about tomorrow, always, but at the camp we aren't so distracted. We are just enjoying today. And did I mention that there was no internet and no t.v.?
Although with enough heads working on it (and enough computer doodads and whatnots and duct tape and wads of chewing gum), we did get the Husker game late Saturday night, which made several die-hard fans very, very happy indeed. 🙂
There are perhaps other families around who would like to do something like this, but might not know where to start. We've learned a lot in the last 9 years about organizing this event, and I've put together a list of ten tips on how to organize a family camping weekend for your own family (or a group of friends, if your family is too scattered) if you take a mind to. 🙂 Then you'll be a member of that exclusive club: The Cool Families That Camp Together Club, or TCFTCTC. (Tricky acronym.)
You really ought to consider taking a mind to. Honest. It's so worth it.
I think I might have a few pictures to share with you, too. Just. A few. 😉 On to the handy tips!
1. Choose a camping site that is affordable and centrally located, if possible. We actually tent-camped as a family a time or two, but we quickly and unanimously and desperately decided that it was worth the extra money to rent cabins, with real kitchens. And showers. And beds. And hot water. 'Nuff said. 😉
  2. Do a little research on the local attractions, but don't overbook your schedule. For Pete's sake, part of the reason we enjoy these weekends so much is that we can sit around and relax a bit, so don't over-commit and try to see every attraction in the area! On the other hand, it's fun to go out and look around, and it feels great to move around a bit in between meals (burp).
The city of Long Pine is sensible in that they keep their jail right out there on the main street. Shady-looking types can be locked away so easily this way. I approve.
3. Organize and delegate.
If you are the organizer, hand out jobs cheerfully and willynilly and without apology. Don't try to bear the burden all on your own tired back: share it! If you're the organizer in the group, organize your helpers and remember the old adage: "Those who delegate actually do live longer." I think the research will support this finding.
4. Bring more than one pair of shoes. And more than one jacket. And more clothes than you think you'll need, because you'll probably use them all. And blankets. Extra pajamas. And so on.
Here's a question for you: do Hipsters wear mocs?
5. If possible, make sure there's a baby in the group. Or two babies. (See photos below.) Or more. Basically, you just can't have enough babies to hold and play with and admire during a family camp-out weekend. We only had one baby this time, but little Milo was agreeable and winsome and not at all fussy about who he'd let hold him. And he couldn't have been cuter, of course. He was the perfect baby for all our baby-holding needs. The perfect baby, period!  Just look.
6.  Leave margins. Lots of sitting-around-the-fire-time. Leave the computers and cell phones and watches at home. Also the alarm clocks.
Remember life without all these gadgets? Keep remembering. . . reeeeach back in that memory . . . there you go . . . Let's see what a weekend is like without them, again.
I'll give you a hint . . . it's nice.
7. You can't pack too many boxes of graham crackers, bags of marshmallows, and bags of chocolate bars. And a little junk food is okay. Shoot. You're gonna hike it all off, anyway.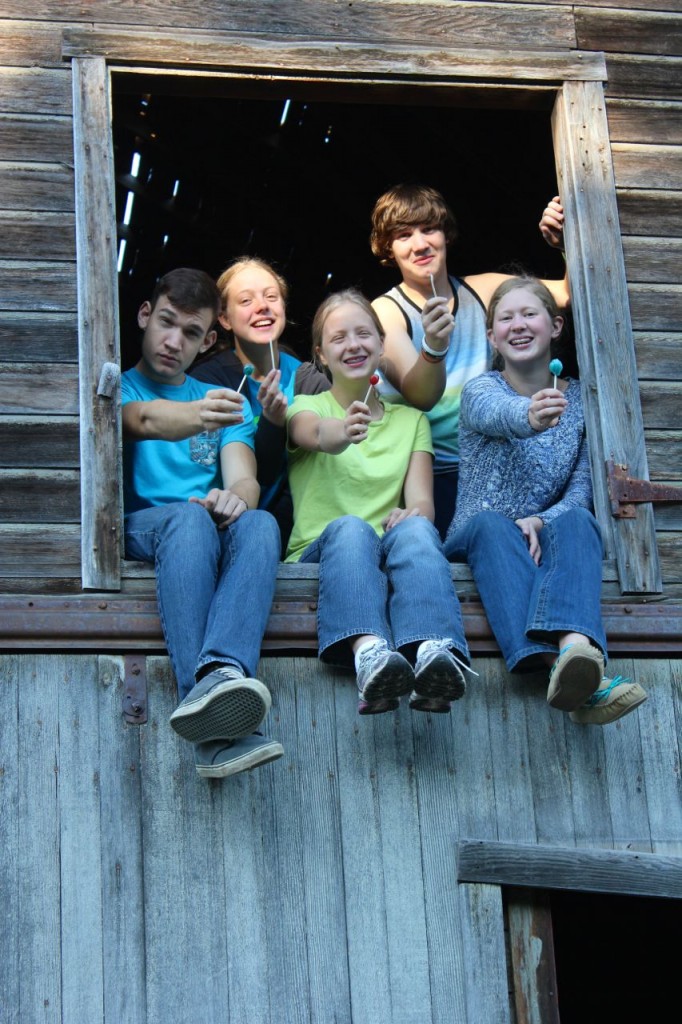 8. The food doesn't have to be difficult, but it ought to be memorable. And plentiful, natch'. We assign each family one major meal: Anne and Dave do the walking tacos for lunch on Saturday, Dad brings ribs and fixings on Friday nights, Mollie and I do Saturday's breakfast, and so forth. We plan it three days before all year long! 😉 And it's always marvelous. And it always tastes so good because we are out in the open air, and we're using up tons of calories walking and playing and climbing and hiking and whatnot.
Anne's Walking Tacos: Into a small bag of Frito's chips, pile hot seasoned hamburger, beans, lettuce, shredded cheese, guacamole, sour cream, chopped onions, etc. Stir. Eat! Go back for seconds.
9. Take lots of hikes and walks and climbs and whatnot. 
Just do it. Go with different companions every time. Get to know your sister all over again. Reconnect with your brother. Horse around with your cousins. And so on.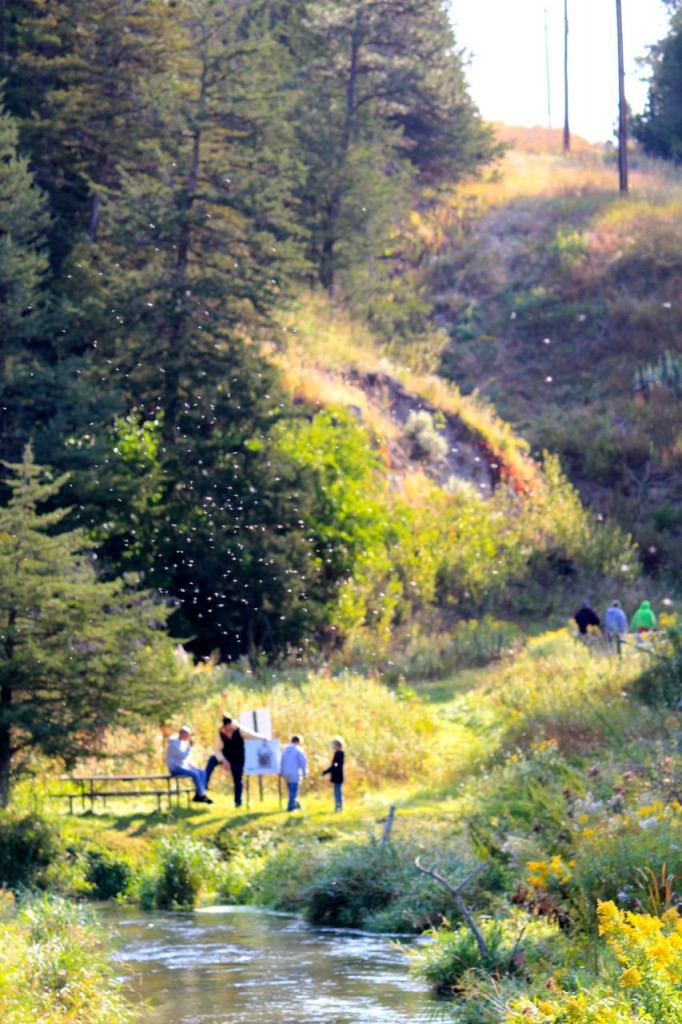 10. Plan for next year!
We make mental notes (it would be even smarter to write them down, of course) all weekend, things to remember for next year, and then we tweak the schedule or the meals or the cabin arrangements or whatever, before the next year's camp-out. If we remember our mental notes. Somebody, grab something to write on . . . ! One year, for example, we had a late brunch on Saturday and then skipped lunch and had a big dinner. We were in favor of spending less time making meals. It wasn't worth it. Kids got grumpy and peckish, and everybody went searching for large snacks from noon on. So we never did that again. Don't disrupt the vital flow of meals!!
I have spent so much time poring over these photos and writing up this list, and I could spend even more time at it, but I'm going to say that I'm done (for now) so I can get back to making salsa and tomato soup, and you, Gentle Reader, can get back to whatever you need to be doing. Thank you so much for checking in and sharing my life with me. It's so good of you.
If you enjoyed this post, please enter your e-mail address in the little box above (to your right) and be assured of receiving every post I write! Cool, huh? Also, if you could do me the favor of sharing with the handy li'l buttons below, I'd love ya forever. Honest!
And now that you know how to pull off a weekend like this one, maybe you'd better start planning one with your dear ones. And then you'll be a proud member of TCFTCTC!! 🙂
And just because . . . one last photo:
And also just because . .. I'm sharing this post on The Prairie Homestead's weekly Barn Hop. Join me! 🙂