Raspberry Walnut Scones, and a book teaser
Well, it's almost finished. Amalia and I have been working on a recipe ebook chock full of Halfling recipes (inspired by J.R.R. Tolkien's Hobbits and their charming appetites for delicious comfort foods) and it's within a week or two of being finished. We had hoped to release it at the same time that the latest Hobbit movie was released (last month) but a string of family Christmases and a bad case of the flu stymied our efforts.
But that's okay. It's a wonderful little ebook, and we're very excited about it! Amalia and I decided that in the Tolkien world, we wouldn't be the ethereal elves with their grace and longevity, or the dwarves with their lust for adventure. . . certainly not the Orcs with their propensity for violence and charging around half-clad . . . No, we'd clearly be the Hobbits, the Halflings, with their longing for home and comfort and good food, and pride in their gardens and love of music and dancing. Yup. No question about it.
Our designer has taken our photos and recipes and our prattling on about Halflings and their ways, and made a beautiful little book out of it. I can't wait for you to see it (watch this space, Gentle Readers, I'll be announcing it soon!) and to that end, I'll post one recipe from it today.
Scones are very much the fashionable thing right now in fancy coffee shops. Here's the funny thing: they aren't at all difficult to make at home. There are some things you can do to make them even fancier (adding special ingredients, or glazes and icings). These scones are plenty fancy: they include berries and nuts and a drizzled glaze! Boom! They're loaded!

These are Company's-Coming!-and-I-just-found-out-about-it Scones. You have time to whip something simple up, but only just. You may have time to slide these into the oven, whip off your apron and make coffee before the knock comes at your front door.
And look how pretty they are. Impressive. And, Gentle Reader. They taste even better than they look. Especially if you split them while they're hot, and add a loving schmear of soft butter. 🙂
Here's the recipe. And thank you to my dear daught Amalia for sharing it with me.
Raspberry Walnut Scones
Recipe Type
:
quick breads
Author:
Prep time:
Cook time:
Total time:
The well-kept secret about scones? As fancy as they seem, scones couldn't be easier to make! You can vary the ingredients and toppings to suit your family and friends, but get busy and make them: they're delicious!
Ingredients
2 cups all-purpose flour
1 tablespoon baking powder
3 tablespoons granulated sugar
1⁄2 teaspoon salt
6 tablespoons cold, unsalted butter cut into 1/4-inch cubes
1 cup heavy cream, plus 1 tablespoon, divided
1⁄4 teaspoon almond extract
1⁄3 cup chopped walnuts
1 cup raspberries
And for the Walnut Glaze:
1 cup powdered sugar
4-5 tablespoons heavy cream or milk 1⁄2 teaspoon almond extract
1⁄4 cup chopped walnuts, for garnish
Instructions
Preheat oven to 400 degrees F.
Line a large baking sheet with parchment paper or grease it and set aside.
In a large bowl, whisk together flour, baking powder, sugar, and salt.
Quickly cut in the butter, using your hands, two knives, or a pastry blender. Mix until mixture resembles coarse meal. A few lumps of butter are fine.
Pour 1 cup of heavy cream and almond extract over the ingredients and stir with a spatula until dough begins to form. Don't overmix!
Gently fold in chopped walnuts and raspberries. Gently, gently, so as not to smash the berries.
Transfer dough to a floured countertop and knead dough by hand just until it forms a ball.
Form scones by patting the dough into a 3⁄4-inch thick circle and cut into even triangles.
Place scones on prepared baking sheet. Using a pastry brush, brush scones lightly with the additional heavy cream.
Bake for 15-18 minutes, or until scones are golden brown and firm on the bottom, cool on a rack.
While the scones are cooling, make the walnut glaze. In a small bowl, whisk together powdered sugar, heavy cream or milk, and almond extract.
Drizzle glaze over the scones. Top with additional chopped walnuts. Serve!
Scones will keep in an air-tight container for up to 2-3 days, or in the freezer (well wrapped) for several weeks, but they really are best eaten the day they are made.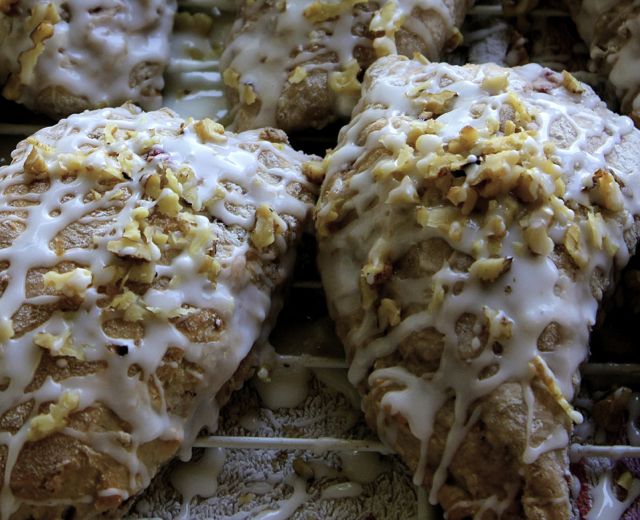 And oh, hey, we've got company coming this weekend. With any luck, when Amalia sees that I posted this, she'll feel like making some . . . ! 🙂
Save