2015: The Sparkling Possibilities of "The Year of No"
The time period from mid-November to mid-January is always a particularly challenging time for me. Perhaps for you, too, Gentle Reader? I suppose it is for anybody. I think that time span mirrors the busyness and intenseness of harvest time for me, but without the sunshine and the fresh veg from the garden to bolster one's energy and spirits and mental health, and with the added element of colds and flus that plague most of us during the winter, not to mention the harshness of our usual winter weather here. Catch all that? All the work without many of the perks.
So, if you will picture it: it's very cold, we are hauling wood and water and feed, trying to keep up with household chores and responsibilities, preparing for several Christmas celebrations, trying to keep the bills paid and the pets alive and the children fed, and taking a few moments every day or two to pamper feet that have gotten too cold while slogging away at daily chores (I soak mine in the hottest water I can stand, with epsom salts, for as long as I can stand, and then I pull on wool socks and go to bed). Never mind laundry and dishes and the need to feed everybody several times per day. That's all in the daily mix, too.
ALSO we are starting our homeschool drama year during this time, holding auditions, answering questions and emails, organizing schedules and practicing music and designing set. All of this, I love.
And, well. Of course I don't want to drop my blog and my writing during this time, so I get up extra-early to get my writing done before the rest of the day begins. My mind is whirling with creative ideas. I wake up thinking about them.
*Phew* It's a lot.
I was feeling exhausted and spent one day when our college daughter, Bethany, was home for Christmas break. The weather was milder than usual that day, and she and I stole out for a quick walk before dinner. She had just finished a punishing semester at college, had just gotten well from a bad case of the flu, and we both were struggling with exhaustion. We faced the cold wind, and we trudged along on our gravel road, breathing deeply, trying to muster up a bit of energy to finish the day.
Truth is, we were both dreading the next couple of months, trying to figure out a way, you know, to get out of some things that we were feeling like we needed to do, but didn't want to do. You undoubtedly have these things in your life, too: obligations that either have been thrust upon you and you've accepted (perhaps in a weakened state) or responsibilities that you signed up for at one time, but no longer care to keep up. Yet there are good people expecting things out of you . . . you hate to disappoint them . . . you just hate to say No.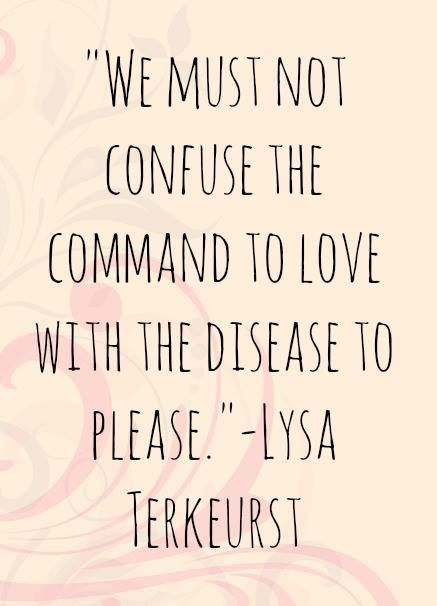 Bethie told me about a chapel speaker at college who shared something with the students one day. She must have been a people pleaser, herself, and I'm sure it was the people pleasers in the audience who were listening to her intently on this day. (The kids in chapel that day that were dozing, I'm sure, never have trouble saying "no" when they need to.) The speaker said that statistics show that only a tiny percentage of the people you know will attend your funeral when you die. Only a small percentage of those folks will cry at your funeral. And only a smaller percentage of them will actually trek out to the graveyard to see you buried.
I simplified the whole message, of course, from what Bethie told me, but as she finished telling me this, I was struck with one thought: why was I working so hard to please people who wouldn't even show up at my funeral, and then regularly saying no to the people who would be there, crying their eyes out, and who would make the trip out to the graveyard to see my coffin laid into the ground?
Did I think that I was going to disappoint these folks? Was I going to ruin their day if I just said no? Why does it matter so much to me to please everybody? My eyes filled up with tears. What was more important: how busy I could be, how much I could accomplish, or nurturing the relationships with the folks I loved the best?
I really was tired.
I thought of little Mack and how I'd brushed him off that very morning, when he asked if I could sit down on the living room floor and play marbles with him. I was too busy. I had big plans for the day (I always do), the momentum was already driving me, and I put him off. I said maybe later. But then I didn't get back to him. Little Mack loves me enormously, I know this is true. He'd be at my funeral, no question, crying his little eyes out. (God forbid.)
I thought of my folks, who regularly remind me to stop by and visit, and how long it had been since I had stopped by to visit for more than just a few minutes. When was the last time I had them over for dinner? I couldn't even remember it. Yikes. You know that they'd trek out to the graveyard to see me buried.
When was the last time Bryan and I had taken the time to go out for dinner, just the two of us? I couldn't remember that, either. I was–too–busy.
Yeah, I was keeping up with lots of stuff, but letting my relationships with the people who meant the most to me fall through the cracks. I was taking them for granted. Boo. Boo.
I just felt like bawling. "I've got to start saying no," I said to my daughter, weakly. And I knew that it was true. I was trying to do too much, and I knew it. I could tell it in my body–my sagging shoulders and my regularly-interrupted sleep were a dead giveaway. I could tell it in my spirit–although I had all the kids (and grandkids!) coming home in a few days, I only felt exhaustion, when I should be feeling intense excitement and joy. Bethie was on the same page.We were both bone tired.
(By the way, I rallied. We had a lovely few days together, seasonal weariness notwithstanding!)
Right then, we both listed a couple of obligations that we really wanted to say no to, but that we didn't feel like we could. We both bolstered each other up in these decisions.
"Let's make 2015 The Year of 'No'," I said with a (weak) laugh.
It sounds so counter-intuitive, doesn't it? Our culture encourages Yes. A constant message is if somebody asks you to do something, you say Yes. Want to succeed? Say Yes. Want to go places, to make a difference, to live life fully? Say Yes. Do it. Stretch. Burn the midnight oil. Succeed, succeed, reach for the stars! There's absolutely Nothing You Cannot Do!
Only thing is, that attitude has caused many of us to crash and burn. I'd been saying yes to everybody and every opportunity for too long. My schedule has always, always, been o'erbusy. I think in America, for the most part, the busier we are, the prouder we are of ourselves. We brag about how busy we are, about how little sleep we can get by on. Even if we work ourselves until we're exhausted and spent and grumpy. I'm stealing my daughter's twitter line from her blog post on The Year of No. Which I hope you make the time to read.
So, there's the problem. But what–pray tell?–is the answer.
Truth is, I'm not sure what The Year of No looks like yet. But with God's guidance, I intend to figure it out. I'm going to take it day by day (not worrying about tomorrow, but just taking our troubles one day at a time, is a Jesus-thing) and moment by moment. Decision by decision.
–Matt. 6:34
Here's what I'm going to do, for starters:
I'm going to say "no" to the clutter in our house that is time-consuming and depressing (more on that later). It'll take awhile . . .
I'm going to work on asking for help more often, giving others an opportunity to say Yes to me–ironic, ain't it? 😉 Effective, thoughtful delegation is the idea here. For example, for years in our theatre program, for example, people have urged me to tell them how they can help, yet it always seems easier to just do it myself: but it's really not, in many instances.
I'm going to read this book, that Bethie recommended. "The Best Yes" by Lysa Terkeurst.
I'm going to pray for wisdom and insight in this matter, every day.
I'm going to relish the possibilities of the time that will be available to me, if I have the courage to re-claim my schedule. If I have the courage to say No. And you know, I do.
A couple more thoughts:
I'm not the only one struggling with burn-out and overwhelm. One of my favorite bloggers, the Nester, took a break after she realized that she was lacking in energy and creativity.
Here's something you can do, if you're struggling with the same thing: you can sign up for this free course on how to regain your creativity: Sign up for this creative course to jump-start your creativity.
That's it, Gentle Reader. I hope this post encourages you. I hope you join me in The Year of No. I'd love it if you shared this post with some of the handy sharing buttons you see at the end of this post!
*hugs* and Thank you for reading!