Redneck Chicken Livers with Bacon & Herbs: a recipe anybody will love . . .
(Post updated in December 2018)
(. . . even your daughter who loathes liver.)
But first, before we get to this delicious new recipe: a story. Because, gentle reader, I know how you like stories.
To wit.
Once upon a time, in a fair land where it was so windy that the people no longer wore hats because every hat in the land (every hat, gentle reader!) had blown away to neighboring states, there lived a lovely young maiden. She was very beautiful, and was so full of sweetness that the very air around her smelled like honey.
Bees preferred her to the flowers oft' surrounding her.
The young maiden had a problem, however. She was cursed (by a dark fairy, to be sure) with daily pain–a headache, to be precise, that never went away. She possessed a mother who, unfortunately, was not so bright, but her eagerness far outweighed her lack-of-brilliance, and the woman trundled the beautiful lass to wise men and to doctors and to specialists, to ascertain the reason behind the daily pain, and ultimately, to cure it speedily and forthwith.
At least that was her ardent hope and wish and fervent prayer.
But the pain persisted. The headache stayed put. The lass went from doctor visit to specialist probing, to all manners of tests, to well-meaning friends and relations' tender and soulful suggestions, to no avail. She woke up with a headache every day, and went to bed with a headache every night. And felt the heaviness of a headache all throughout the long day. Inexorably onward and anon.
One specialist in particular suggested that the pain was "autoimmune in nature" which sent the anxious mother to learning all she could about this particular form of malady.
It seemed there was much to learn.
The gist of what she learned from books and websites and journals was that there was hope for wretched folks who struggled with autoimmune-related maladies, and that starting with a restrictive diet was a first, important step. She found much research done on a diet called the Autoimmune Protocol, a form of the Paleo diet (which, it must be noted, the sweet daughter and her mother both had spent many merry moments in their lives poking fun at diets of its ilk, being–as they were–competent bakers and cooks of all nature of breads, sweets, and sumptuous desserts) and she spoke to her daughter about it.
"I'll try it," the brave lass announced, but not before weeks of mulling over the horrors of not eating bread, or sugar, or eggs, or milk, or nuts, or so many other things that she loved. So the mother and daughter together read books and stocked their pantry with foods that were designed to heal the sensitive gut of the princess.
Their hope, of course, was that once the lass's gut was fixed, her headaches would cease. But it wouldn't be easy. They knew this.
For example, the diet recommended organ meats be consumed several times per week, and fish a couple times a week, as well. The sensitive young lady had a refined palate, and she detested liver and fish. Individually, she hated them all . . . "and collectively, she looked upon [them] with a loathing that amounted to absolute detestation!" 
"Don't even get me started on organ meats!" the delicate girl wailed one day at dinner, when her mother presented her with an attractive dish of beef heart, sliced and prepared in a particularly tempting fashion. In fact, the poor girl burst into tears and cried so heartily and for so long that the family's poor hardscrabble farm was all watered from stem to stern, and their pitiful little pond was full to the brim, and nicely busy with frogs and winsome turtles.
Such, however, were the girls' tears: plentiful and pure.
The wretched mother scurried back to her kitchen to make liver again and again--it was an integral part of the wretched diet, after all–!–and the young lady continued to try a bite–time after time–and then push it away, with delicate moans and blushes.
Then the sun rose on that blessed day, difficult to even imagine in its wondrous miraculousness, when the mother warily presented yet another platter of liver to her daughter–another new recipe. The mother's shoulders sagged. She was wearing down. The liver-cooking and then presenting and then tossing was getting to the poor farm woman. The lass, for her part, was wan from lack of liver meals, and the wretched mother more strained and gray than usual.
There were frustrated tears of anticipation in the eyes of both, when the lass deigned to take a tiny nibble of the new recipe. The mother waited. No tears. (Which was a relief to all, since the farm was already quite soggy.) The mother held her breath. The lass took another bite. She chewed, thoughtfully. She caught her breath. As she ate one mouthful after another, a tiny smile of hope curved the edges of her perfect bow-shaped mouth, and finally–her plate clean in front of her—she put down her fork and announced in relieved, happy tones:
"I don't hate it!"
From that moment forward, the mother made liver for her daughter in this way. All the family rejoiced. The daughter ate as much liver as the diet suggested. The headaches ceased. The farmlands dried out. And there was joy and peace in the land.
And not nearly as much liver at the butcher's shop as before.
–The End–
Actually, Amalia's headaches haven't ceased, but we are plugging on with the AIP-Paleo diet for now, until a couple of months have passed, and our hope is that we will see a difference soon. In the meantime, we are coming up with some fabulous new recipes! I know that we aren't the only folks in the world who are struggling with pain and autoimmunity, so I'm going to share the recipes that we develop that we all really, really love.
The ones that we don't love will be abandoned, of course, and speedily forgotten. Wiped from our memory banks, as it were. The pond can stay full, natch', but we don't want any more waterworks around here, you know?
And this is one of the good ones–a keeper, for sure. On the AIP-Paleo diet, you "get" to eat lots of organ meats. The recommendation is to eat several meals a week of them.
I love beef liver (as long as it is made correctly) but I actually prefer chicken livers (and they can be prepared lots of tasty ways, too). Enter the star players in this recipe: crispy fried bacon, chopped green onions and fresh garlic, and fresh herbs. The bacon, of course, tastes fabulous and adds a salty, pungent bite of flavor to the dish, and the fresh herbs cut the richness and the earthiness of the liver. It all balances out so nicely that even my liver-hating daughter likes it!
Score!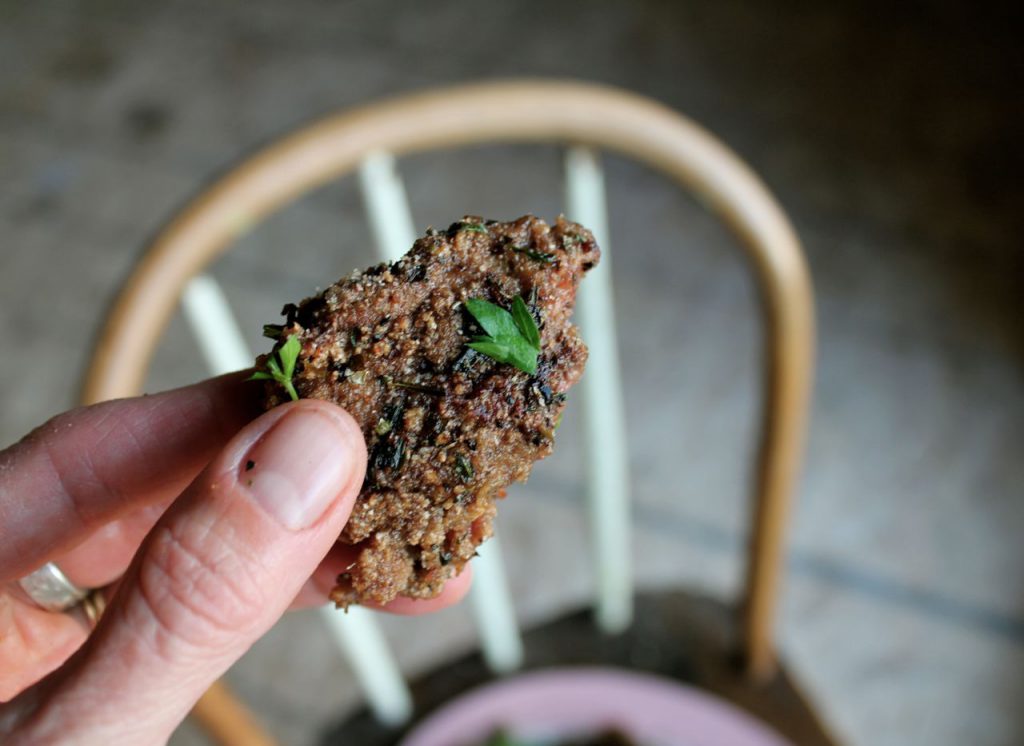 This is not your gourmet, fancy-schmancy liver recipe. This is red-neck liver, fried with and smothered in so much bacon to make it taste rich and bacony, and then heaped with fresh herbs, fresh garlic, and green onions, to disguise its red-neckedness. And it's awesome.
When I make this bacony liver dish, I wake up the next morning thinking about it, and hoping that there are leftovers in the 'fridge to eat for breakfast. No. Kidding.
It is so tasty that even my liver-hating daughter loves it. I've mentioned that twice already, Gentle Reader, because it's a BIG DEAL. She loves it, she loves it, she loves it (third, fourth and fifth time) not just tolerates it.
Now that's big. Now that's amazing. Now that's a keeper recipe.
And that, simply, is the power of bacon.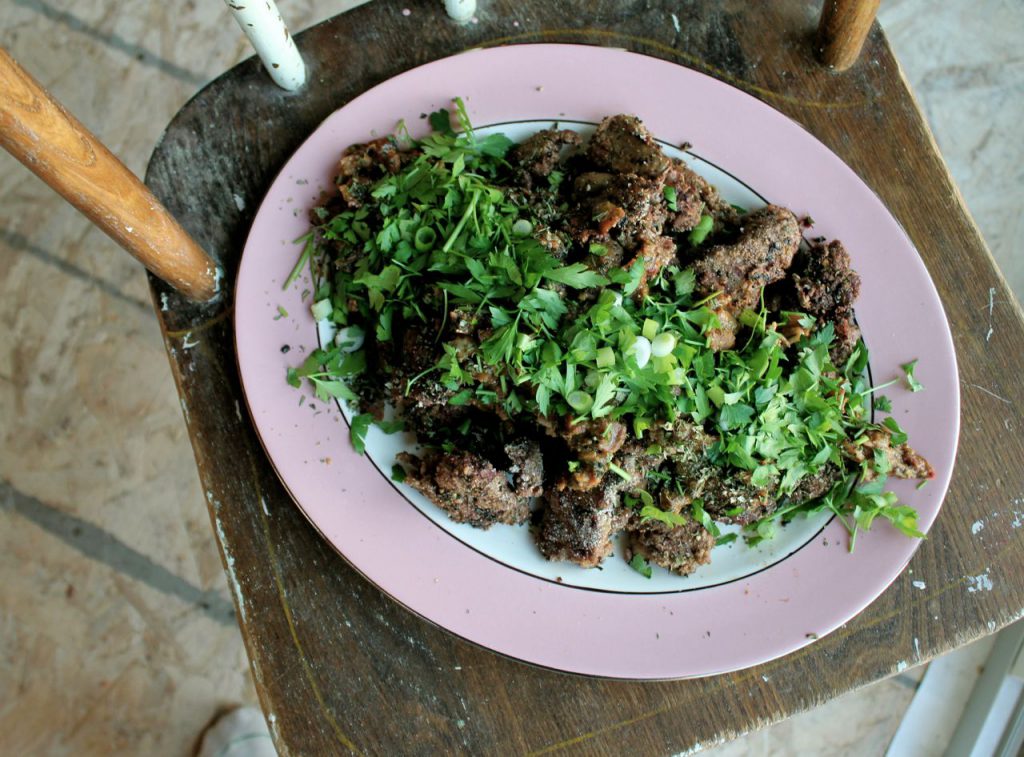 But enough yakking. Here's how you make it:
Chicken Livers with Bacon and Herbs: a recipe anybody would love . . .
Author:
Prep time:
Cook time:
Total time:
You know you WANT to love chicken livers, but you just don't like the taste. What to do? Fry it up with plenty of bacon, and then cover it with plenty of fresh garlic, green onions, and herbs. Score! A great accompaniment to this dish: fresh saurkraut, or vinegar-based coleslaw, served very cold. 🙂
Ingredients
1 lb chicken livers, trimmed and dried
1/2 to 1 pound of bacon, fried crisp, cooled and crumbled into bits, and then set aside.
Bacon grease, from the frying of the bacon, drained from pan and reserved.
1 medium onion, sliced into rings
1/2 cup flour (or cassava flour, if you are doing AIP)
1 tsp salt
2 Tb Italian seasoning, plus more for sprinkling
olive oil
1/2 bunch chopped flat parsley
8 green onions, chopped
4 garlic cloves, crushed and chopped
dried Italian seasoning
Instructions
In a cast iron skillet (that's what I prefer, at least), slowly saute the sliced onions in 1-2 Tb of the reserved bacon grease, until soft and golden. Remove from skillet and set aside on your serving platter.
Mix together flour, salt, and 2 Tb Italian seasoning and dredge the livers in the mixture. (I use a pie plate for this.)
Add more bacon grease (or a couple Tbs of olive oil) to the pan and when it is sizzling, add the livers in a single layer, cook for 3 or 4 minutes until nicely browned, and then turn. Taste, and add salt and more Italian seasoning and some of the crumbled crispy bacon. (Amalia actually prefers them a bit over-cooked, though that is breaking all kinds of Proper Cooking Rules.) Turn again and cook for 1 or 2 minutes, so the bacon and herbs get all crusty-stuck to the livers (that a redneck term: "crusty-stuck".)
Remove livers from skillet as soon as they are cooked through, and arrange atop the sauteed onions, and keep warm on the covered platter. When all the livers are cooked with the reserved bacon arrange on a platter, festoon liberally with the chopped garlic, green onions, and herbs. Voila!
It's time to fall in love with chicken livers, baby!
Sound good to you? If so, I'd love to hear back from you, if you make this dish and if you liked it, or even if you made changes that you preferred. YOU KNOW, gentle reader, that I'm a hack in the kitchen and I learn just as much from you as you learn from me!
If you made it this far, could I ask a favor? A comment and/or a share would be a great way to let me know that you got value from this blog post. And thank you, I appreciate it, and you–-natch'–-are my favorite! 🙂
*smooches*