Russian Tea Cakes and a handful of delightful variations
You know what makes me really happy this time of year? I mean, besides Christmas lights, and frosty breath coming out of the mouths of my chickens (really, it's so cute) and bringing home eggnog from the store, and knitting by the fire, and watching the kitty chase a tiny round ornament across the floor? AND all the little secretive conversations and gift-wrapping sessions done behind closed doors AND the projects that nobody is supposed to know about?
It's this: looking forward to having a tidy stash of goodies that we only make at Christmastime, out on the porch or someplace where it will stay cold, carefully tucked into Christmas tins and lidded containers, available to the kids when they all come home. It's seeing Matthew get up quietly from behind his book in the living room, letting himself out onto the porch, and then coming back in, chewing and smiling, cookie (and a fresh cup of coffee) in hand. Mamas with grown-up kiddos will totally get this, I know it. It's seeing Mack with the tiny dusting of confectioner's sugar on the front of his sweater. Catching sight of Timothy walking through with a glass of milk and a saucer full of goodies.
It's a particularly satisfying time of year to be a mama with a bunch of sweetie-pie grown-up kids. 🙂 And a few younger, still-ornery ones, too. Basically, just a good time of year to be a mom.
Not all the family will be home for Christmas this year (we spent Thanksgiving with Andrew and Sonia, who–expecting a baby not too long after Christmas, wisely decided not to travel over Christmas–although–this just occurred to me–Sonia? A Christmas baby born far away from home? There's a pretty legitimate precedent set already . . . and we would absolutely have room . . . !) <3 🙂 🙂
Since it has gotten colder, I'm wearing about 13 layers so (honestly) who cares if I gain a few pounds? And though the rest of the year we are conscientious to the extreme about what we eat–it's kale salads and roasted sweet potatoes and veg stir-fry and green smoothies, oh! and kombucha and kimchi and all the rest—we relax just a bit over Christmas vacation. It's fun. It's sweet. It makes me happy.
It makes me feel like a little girl again, to make and share and eat the same Christmas treats that I ate when I was little.
When I was a new bride, this cookie–the Russian tea cake (also called the Mexican wedding cake, depending on where you live)–was one of the first cookies I made for my new husband. It's so simple, even a newlywed without a whole lot of experience in the kitchen (that would be me) can make them. An older child could tackle this recipe, too, no sweat. We usually make a few variations, just for fun. They stir up really fast.
It's a melt-in-your-mouth sort of cookie, with the basic ingredients being butter, chopped nuts, powdered sugar, vanilla, and the tiniest bit of salt. A word to the wise (that would be you) though: don't skip the two chilling steps. By-guess-and-by-golly (and also by making a batch that, after the first chilling step, still spread out like little pseudo-pancakes) I discovered that you need the second chilling (after you've formed the balls of dough) to make these little cookies actually roundish, not flattish.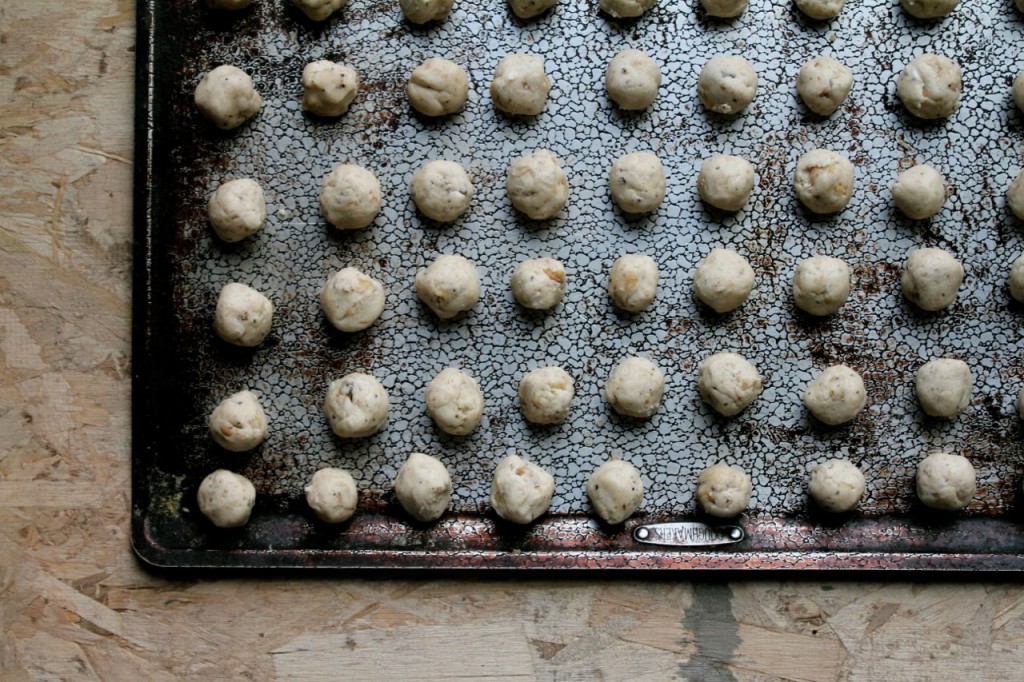 If you don't care about the shape, or if you are in a Christmas cookie panic, you don't need to feel compelled to chill the dough twice.
Here's how to make them:
Russian Tea Cakes and a handful of delightful variations
Author:
Prep time:
Cook time:
Total time:
Our Christmas cookie stash is never complete without a goodly supply of these light, melt-in-your-mouth cookies. Also called Mexican Wedding Cakes, they are easy to make, and delightful to have on hand to serve with coffee or tea or a big cold glass of milk.
Ingredients
1 cup (2 sticks) unsalted butter, softened, cut into chunks
3/4 cup powdered sugar plus 1 to 2 cups for dusting
1/4 teaspoon salt
1 teaspoon vanilla extract
2 cups flour, sifted
1 cup toasted nuts, finely crushed
(check out optional ingredients for variations)
Instructions
Combine butter, 3/4 cup powdered sugar, salt and vanilla in the bowl of an electric mixer and beat until creamy.
Beat in the flour and nuts.
Chill the dough 30 minutes–don't skip this step! (Solemn Voice of Experience speaking!)
Shape the chilled dough into 1″ balls, or less if you prefer a smaller cookie. Arrange them on ungreased baking sheets about one-half inch apart, and chill for another 15 minutes.
Preheat oven to 400 degrees.
Bake on the center rack of the oven until the cookies are set on top and deep golden on bottom, 18 to 20 minutes. Rotate the baking sheets halfway through baking to ensure even baking, if you care about that sort of thing.
Transfer the cookies to a rack and immediately dust heavily with powdered sugar.
Cool completely, then turn out into a large bowl and thickly dust with the remaining powdered sugar, coating all sides. Store in an airtight container, if, indeed, they last long enough to store (which I doubt).
But wait. Don't go yet. These cookies are so easy to make, why not try a variation or two? Here are some that we've made:
Almond-lime wedding cakes: Add almond extract instead of vanilla, and add the grated zest of 2 large limes while creaming the butter. Use sliced almonds, lightly toasted and finely crushed, for the nuts. Proceed as directed.
Cocoa wedding cakes: Place 3 tablespoons of good-quality cocoa powder in the bowl before creaming the butter and powdered sugar. Increase the vanilla to 1 1/2 teaspoons. Cut the flour by 2 tablespoons. Increase the finely chopped nuts to 1 1/4 cups. Proceed as directed.
Mexican wedding cakes with a kick: Add 1 tsp of cayenne pepper to the dry ingredients, use toasted walnuts, and proceed with the recipe.
Ginger spice wedding cakes: (You knew I'd have to make these, too!) Add 1 tsp ground ginger, 1/2 tsp allspice, and 1/2 cup of very finely chopped candied ginger to the recipe.
Would your friends like this recipe? Then could I ask you a favor? I'd love it if you shared it with them! They might just thank you profusely, too. Thank you . . ! and . .
*hugs*