Sneaky Summer Squash Salt-n-Vinegar Chips recipe
Learn how to make all that summer squash abundance into these sneaky (and tasty) salt 'n' vinegar chips, using your oven or dehydrator!
This blog post may contain affiliate links, by which I share products that I enthusiastically endorse. If you follow my links and purchase said products, I may earn a small commission, at no extra cost, of course, to you. Read full disclosure above.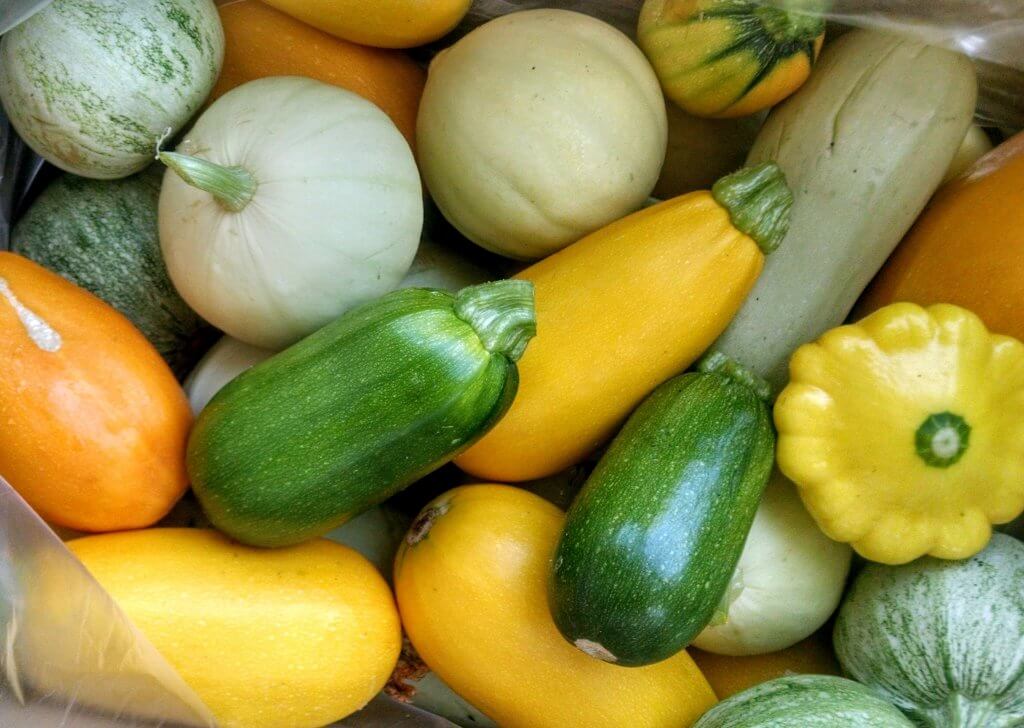 The mysterious and generous ways of summer squashes
Summer squash is the garden's most generous vegetable. One or two plants might do a small family just fine, but who plants only one or two seeds of any variety? You plant six, or ten, or–dang!–the entire packet because 1. it's summer at last, huzzah! 2. you've been eating tired grocery store produce for months, and 3. you could eat a bushel of summer squash right NOW!

Plus, as far as quantities goes, who knows how many of those tiny seeds will even germinate?

As a matter of fact, every single blessed one of them will, if that is your attitude. It's just the way things work. If you don't need but a few plants, every one of the 31 seeds in the envelope will germinate, count on it, and then you'll find yourself with 27 more plants than you really want or need.
So you'll sell a few at your plant sale, and then do what any sane gardener would do: you'll foist them off on family members who stop by.
But you've still got so many left . . .
And then . . . when your family starts to avoid you in an obvious way, you will find yourself handing out squash plants to strangers passing by on the road (waving them down), or even dropping them off in town, on street corners next to "FREE" signs. And finally, already, you'll stick those last few into the odd nooks and crannies of your garden spaces that happen to be open, after all.
Because, no matter what, you just can't bring yourself to pitch a healthy plant. (It's a blessing . . . and a curse.)

And besides, who knows how many will even survive the probably-punishingly-hot summer months ahead? That is your thought.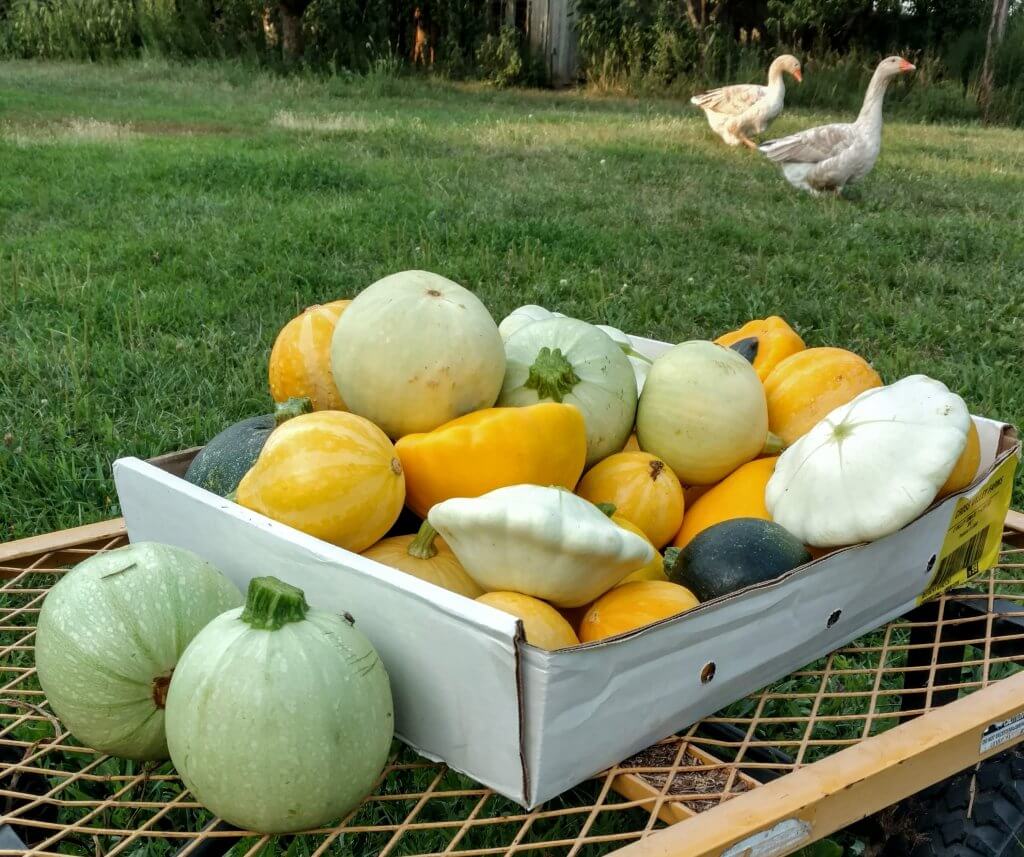 All of them will
. . . as it goes, and you'll trudge to the house nearly every day with summer squashes in your arms, wondering what to do with all of them today.
And the real shame of all this largess? This: your giant gangly son (never o'erfond of squash, after all) will ignore your pleas to "Eat your squash, do, it's so good for you" in quite a grumpy manner, and will stare you in the face and say "No thanks, Mom. As you know, I am not o'erfond of squash but I will take another beefsteak, please. Or 'steak de bœuf,' rather." (The lad is learning French.)
You think fast.
(Then, you wheedle, just a little.) "But squash will make your muscles bigger." "No, Mom. Thanks. Pass the steak, please."

(Proceed to lose all dignity.) "I'm sure I read someplace that eating squash leads to greater height." (cue exasperated sigh, the dollop of whipped cream on the teenaged multi-layered attitude sundae) "No. Mom. Read my lips: Steak. De. Bœuf. Pas la courge!"

(Momentarily impressed that your son knows what "squash" is in French, you still drop the final desperate salvo.) "I've heard that young men who eat summer squash are more attractive to young ladies. Something about . . . squash contributing to . . . er . . . greater masculinity? . . . " "Ugh, no, Mom, sorry. I'm too full of steak . . . and . . . anyway 'greater masculinity,' Mom?? What the heck??"

This is EXACTLY what happened earlier this summer,
at our place, in regards to summer squash. EXACTLY.
But then I gave up got smart and started making these Salt 'n' Vinegar Summer Squash Chips. This is not a commercial. It's pure and unadulterated HOPE, in a blog post, to other housewives and gardeners who raise vegetables that their family may not like more than, say, a big ole' beefsteak. Or an ice cream sundae. I can't be the only one. Right??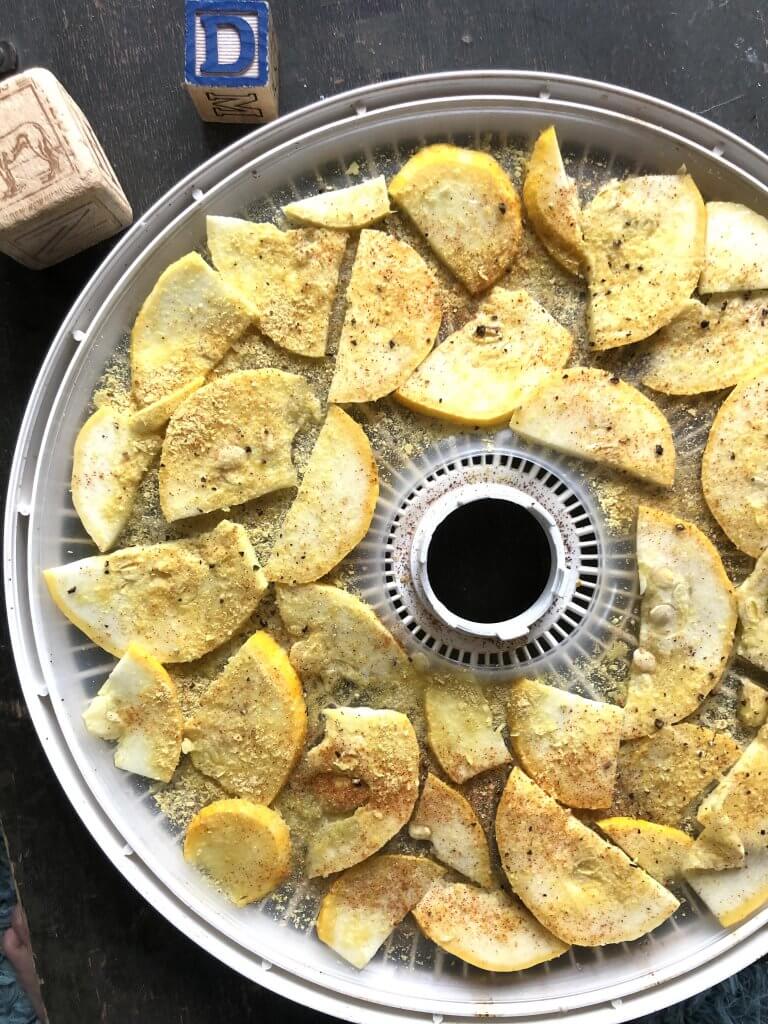 And here's what I do.
I fill my dehydrator up to the brim with these Salt 'n' Vinegar chips, and when they are crunchy and delicious, I set them out on the island, with a toothsome dip.
Ideally the time to set out these goodies is when you are happily busy in the kitchen, preparing dinner. It's kind of my invitation for the inmates in the house to pause for a moment–as I'm pan frying the beefsteak, say, and testing those excellent baked potatoes for doneness. They may pause for a moment, after all, and pass the time of day with me, to partake in a little appetizer, and to EAT THE DANG SQUASH, IT'S GOOD FOR YOU.
Ooooops. Actually I don't nag or cajole. I just set it out, and that's all it takes. (Do remember the dip.)
These chips are crunchy, tangy, salty, and delicious. And they are more like chips than squash, if you know what I mean.
Want some squash? That sounds totally different to the ears of the squash-reluctant from, say . . .
Supper's nearly ready. Have some chips and dip! (Dontcha think?)
Here's the recipe.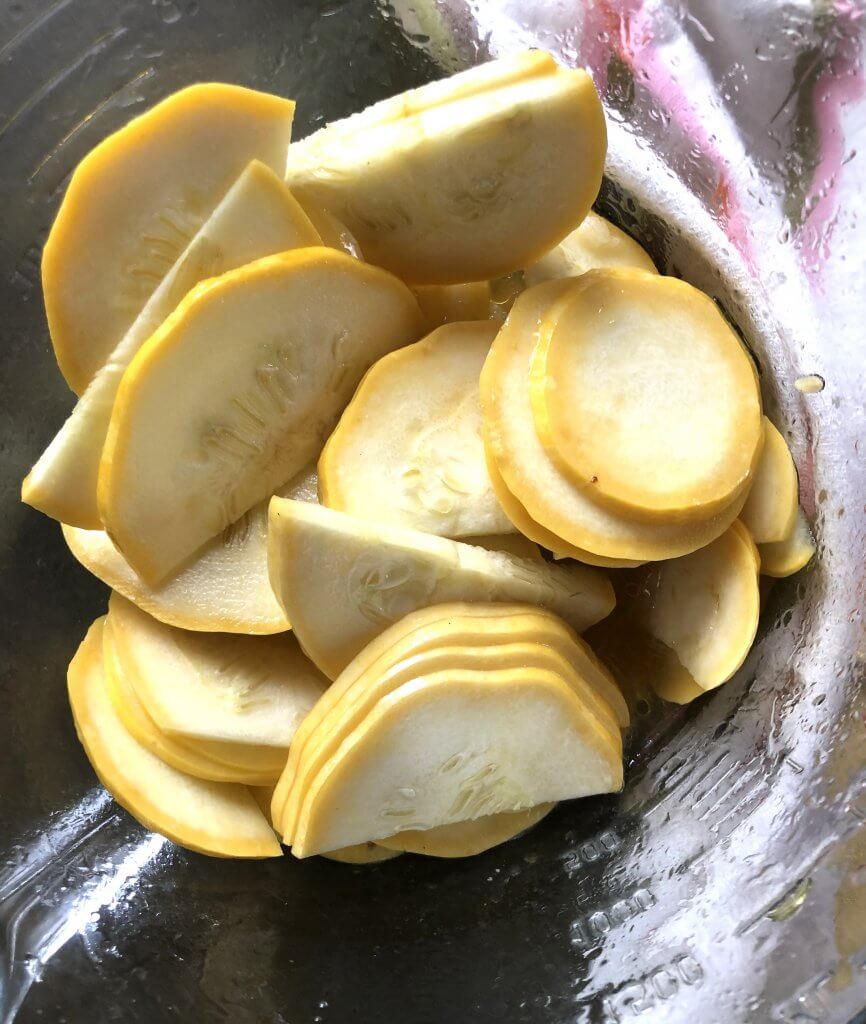 Squash chips are super easy to make, and you probably already have all the ingredients in your pantry. All you add is the summer squash. (And if you don't have any summer squash . . . well . . . stop on by. Please.)
Any type of summer squash, including zucchini, can be used in this recipe. Smaller squashes, with immature seeds, seem to work best, in my experience.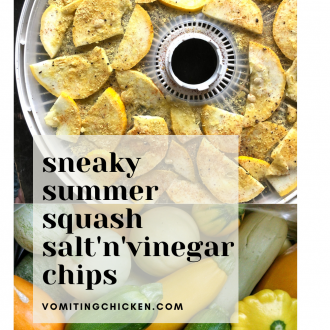 Sneaky Salt 'n' Vinegar Summer Squash Chips
Don't toss all the extra summer squashes to your chickens! Instead, make them into these nutritious, crispy, salty, zesty chips! Great as an appetizer, dipped into your favorite dip, or as a healthy snack.
Ingredients
4

yellow summer squashes

3

Tb

extra virgin olive oil

1/2

cup

apple cider vinegar

salt and pepper, to taste

Nutritional yeast, to taste (optional)

cayenne pepper, to taste (optional also)
Instructions
First, slice the squashes very thinly with either a mandoline or a very sharp knife. Shoot for 1/4" to 1/8" and make them as uniform in thickness as possible.

Mix together the olive oil and vinegar, and pour over the slices, mixing well.

Place the slices into your dehydrator, in a single layer.

Sprinkle liberally with salt, pepper, and nutritional yeast.

Dehydrate at 110 degrees F for 8 to 12 hours, testing after 8 hours for crispiness.

When completely dried and crispy, serve with dip, or store in airtight container.

What am I saying? You won't need to store them. These are delicious and they won't last long.
A few summer squash facts
. . . for them that wants them. Though I've grown a great variety of summer squashes, hands down, my favorite summer squash variety is Lemon Squash (I buy the seeds from this place). I fell in love with this squash many years back, for many reasons, to wit:
1. It's quite easy to grow.
2. Lemon squash is a consistently heavy producer.
3. Also it's fairly resistant to the usual squash pests that pop up around here, unbidden and unwanted, like a summer cold or nettle rash (specifically squash bugs and squash borers).
4. The restaurant chefs I used to peddle veg to all loved them.
5. They are really really tasty sliced, brushed with olive oil and chopped fresh basil, and grilled. Truly. YUM. Also, cubed and sauteed with butter and herbs. Also yum. And made into these squash chips. Triple dog yum.


Shop this post
Pin it for later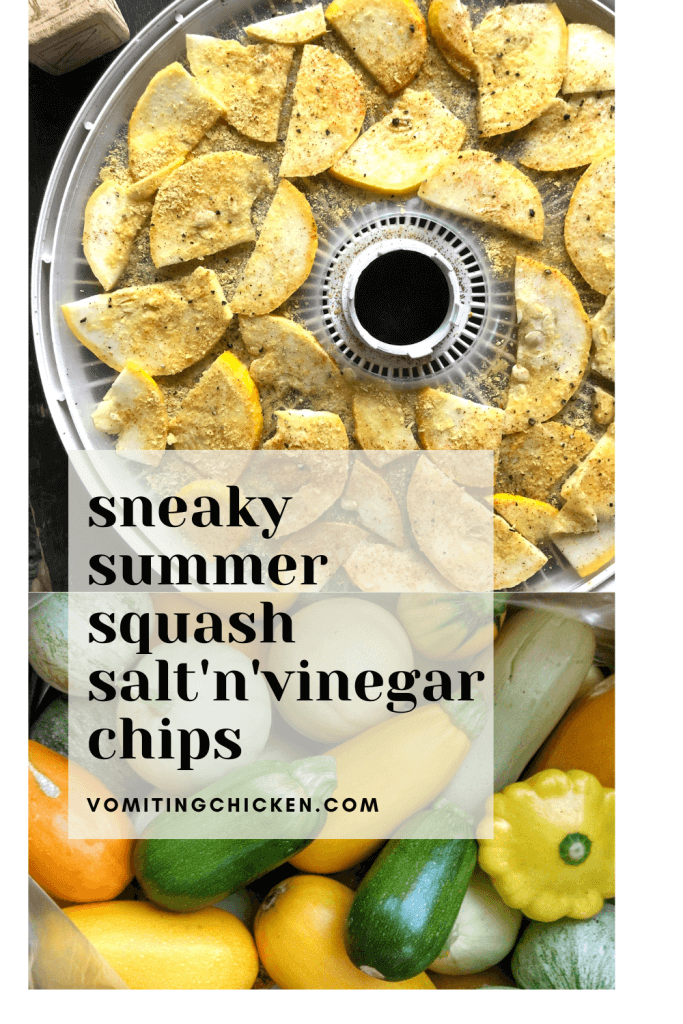 A note about Azure Standard.
I've been buying everything from seeds, to bulk grains, to organic produce, to specialty kombucha, from Azure Standard for years and years. So many people recently have been asking me about it that I decided I needed to write about it, and I have a blog post in the works as I speak (write).
The quick explanation is that Azure Standard is a family-owned distribution company, and they carry more items than you would believe. They started out distributing products to restaurants and stores, but–happily for me, and for you!–they now also sell to the general public. You can read more of their story on their website here.
I have my favorites that I buy every month (which I'll list in a future blog post) though I started buying from Azure many years ago when I couldn't find specialty grains for the breads that I was making for farmer's market. Flaked barley? Steel cut oats. Dark wheat bran. Sesame seeds and poppy seeds. Two different varieties of flax seeds. Chia seeds. Herbs and spices in bulk, at bulk prices (i.e. cheaper!). These were some of the things that I ordered when I first discovered Azure Standard.
It makes sense for sure
It would have taken me several hours to drive all over the closest city to find the things that I ordered from Azure with a few clicks on my computer keyboard. And even then, I wouldn't have found them all, I'm sure of it. Azure saves me time and money, and I've always been very happy with the quality of the products. Win/win, to be sure.
Azure Standard is not a company like Amazon.com where you place your order and it comes to your door. You place an order on their website by a certain monthly deadline, and then you gather at the local drop spot, chat with your friends and neighbors, and pick up your order! It's as simple as that.
Interested to learn if there's a drop spot near you? (There probably is. I live in the ACTUAL middle of nowhere, and I only have to drive 15 minutes to get to the local drop spot, which is in a Walmart parking lot.) Click on over here to the Azure Standard website where you can learn more about AS, find out where the closest drop spot is to you, and quickly make an account.
If there's not a drop spot, read on the website how you might be able to become a Drop Coordinator. (Just check out the FAQs.)
One more thing:
Azure Standard rewards its customers for sharing with a $25 for each customer referral. That means if you become a customer and you refer your friends to Azure Standard and they become customers, you'll receive $25 for each one. Cool, huh? What a lovely thing to share something you love with your friends and actually get paid for the privilege!
Already have an account with Azure Standard? Welcome to the club! Now please, in the comments, share with me some of your favorite products. I'll start . . . that big 6-pound block of fresh whole milk mozzarella cheese~~~YUM! I've got one in the freezer as I speak (write). It's creamy, fresh and delicious and freezes well.
Now it's your turn . . . . !
Thanks again for stopping in, gentle reader. Keep your chin up!
*hugs*