How to make Pineapple Peel Tea: a scrumptious, nutritious pick-me-up!
Whacking up a pineapple to go with dinner? Well, heeey now . . . don't toss those pineapple skins! Use them instead to make a tasty, antioxidant- and nutrient-rich tea. Here's instructions for how to make my favorite recipe for pineapple peel tea and a little bonus: an easy recipe for how to make pineapple peel tea mocktails for special events with your friends and relations.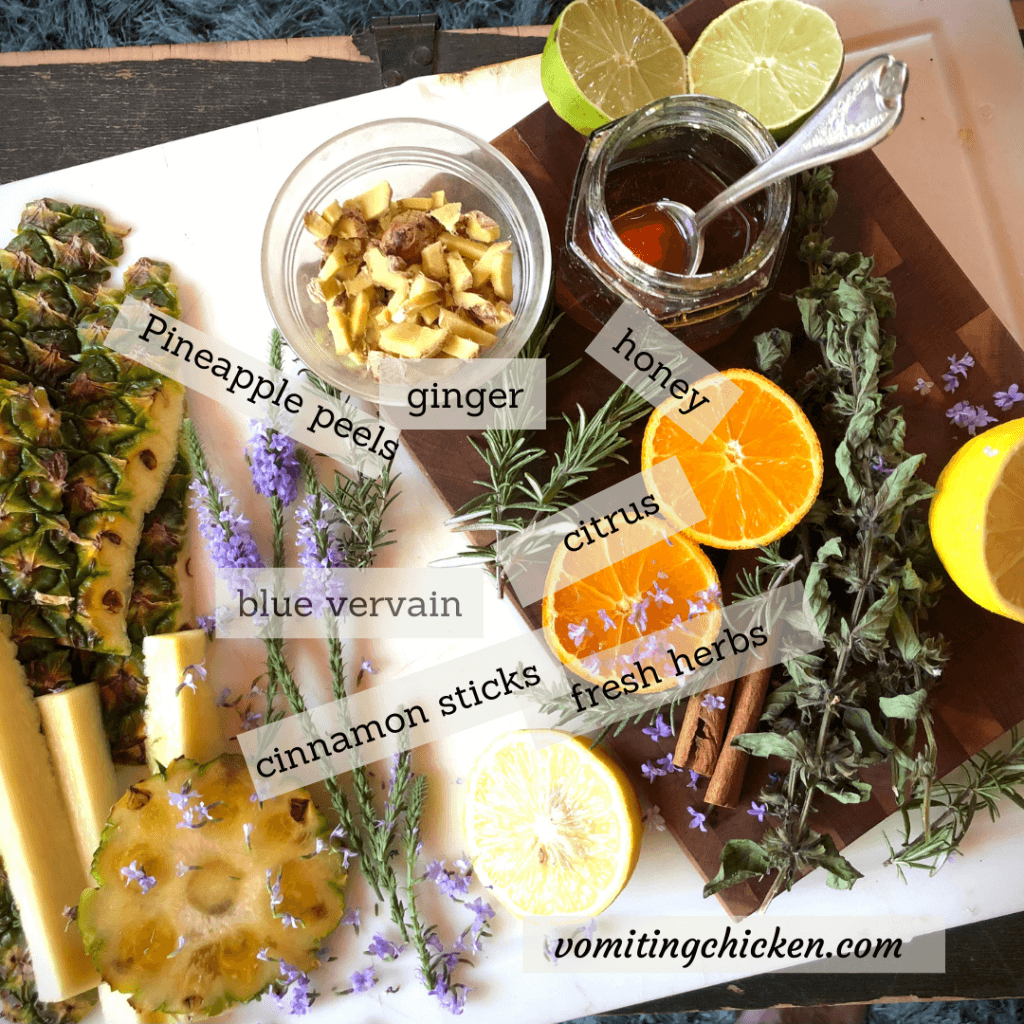 Item #1. How my inherent tightwaddery led to this marvelous, nutritious drink
Is it just me, or does it seem like there's a lot of waste to your average pineapple? It's a puzzlement, for sure. If you peel the pineapple closely enough to avoid cutting off a big portion of flesh, you leave lots of spiky bits on the fruit. It you shave off all the spiky bits, you end up with a lot of flesh waste. Flesh waste: it's a turrible, turrible thing. Especially these days as the cost of pineapples goes up and up.
I've peeled oodles of pineapples, and every time I face this question. Do I a. honor my inherent tightwaddery and peel it thinly, and pick the spiky bits of peel out of my teeth for the rest of the evening, or b. wince as I toss all that peel + flesh into the chicken bucket? Or do I just forget about pineapples entirely and just whack up a cantaloupe?
Minor item #1.2: Pineapple peel or pineapple skin? Pineapple peeling? Pineapple skinning . . . ??? What do you think?
Item #2. I'm bored with summer drinks.
It's true. It has been a hot hot hot summer (at least the hot weeks have been hot). There have been lovely mild weeks here in Nebraska, as well. We're in the middle of a (heavenly!) mild week as I write this, as a matter of fact, though it's still July, which is traditionally and has ever been (in Nebraska at least) hot hot hot.
During the summertime I drink a LOT of water–water infused with lemon balm, cucumber slices, and lemon wedges. I'm grateful for it. It's water, after all. We'd all die pretty quickly without it. And I have a Berkey water filter so it is tasty and sweet.
Before I make any summer drink, however, I do make sure that we have safe, pure drinking water, of course! Using filtered water from our Big Berkey water filter helps ensure that there are no extra pollutants added unintentionally to our drinks. (Did you know that trace contaminants in tap water, such as chlorine and sediments from erosive processes can also change how your water tastes? Many folks prefer filtered water for this reason, and the Big Berkey does such a great job of filtering all water).
I drink carbonated water every now and then, to take the tedium out of huge quart jars of water. But still. As long as I'm guzzling water every day, I've been thinking that it would be nice if it had some nutrients in it . . . you know?
I've also been trying to get as much nutrient-dense foodstuffs into my body. So why not nutrient-dense drinks, as well?
Ponder that, gentle reader. Wouldn't you also like to be pouring nutrient-dense liquids down your gullet, rather than drinks loaded with sugars, artificial stuff, and dubious chemicals the likes of which you don't even understand precisely what they are??
I'll wait while you think on that.
Item #3 I had a thought
As I peeled my (probably) thousandth pineapple, earlier this week, this occurred to me: Hey! I wonder what the smart folks on the Interwebs do with pineapple peelings? Surely there's somebody on the internet who knows what to do with them, instead of just tossing them to my already-spoiled chickenfolk.
And gentle readers, I found a lovely recipe here. 
I grabbed a few more ingredients, my biggest stock pot, a good sharp knife, and stirred together a variation of this recipe quicker than you can say "the chickens are gonna pout since they won't get the pineapple skins this time."
(But, as I said, they are a bit spoiled.)
I made the recipe my own (as one does) and I'll give you permission to do the same. But know that by using your pineapple skins in such a smart way, you're contributing to your health in a very positive way. This tea is anti-inflammatory, packed full of minerals and vitamins, and has very few calories.
The benefits of pineapple peel/skin/whatev
Subtitle: getting into the weeds of it
All of the pineapple–including the core and peel–contains a powerful enzyme called bromelain. This enzyme digests protein and fights inflammation in the body. For hundreds of years it has been used medicinally.
Hundreds. Of. Years.
And you thought pineapple was just a sweet, juicy component of fruit salad!
Bromelain is believed to reduce inflammation and swelling of the nasal passages and throat. Studies have shown that it also helps prevent blood clotting, and encourages the formation of new red blood cells, which may be beneficial for treating cardiovascular diseases.
The enzyme bromelain also helps your body make substances that fight pain and swelling, and contains chemicals that seem to interfere with tumor cells. Interestingly, pineapple seems to be the only food known to contain bromelain. (You can buy it in pill form too.) (Affiliate link) (Side note: I am not a doctor, just a person intensely interested in building vibrant health.)

Let's get to the recipe!
Yes, let's.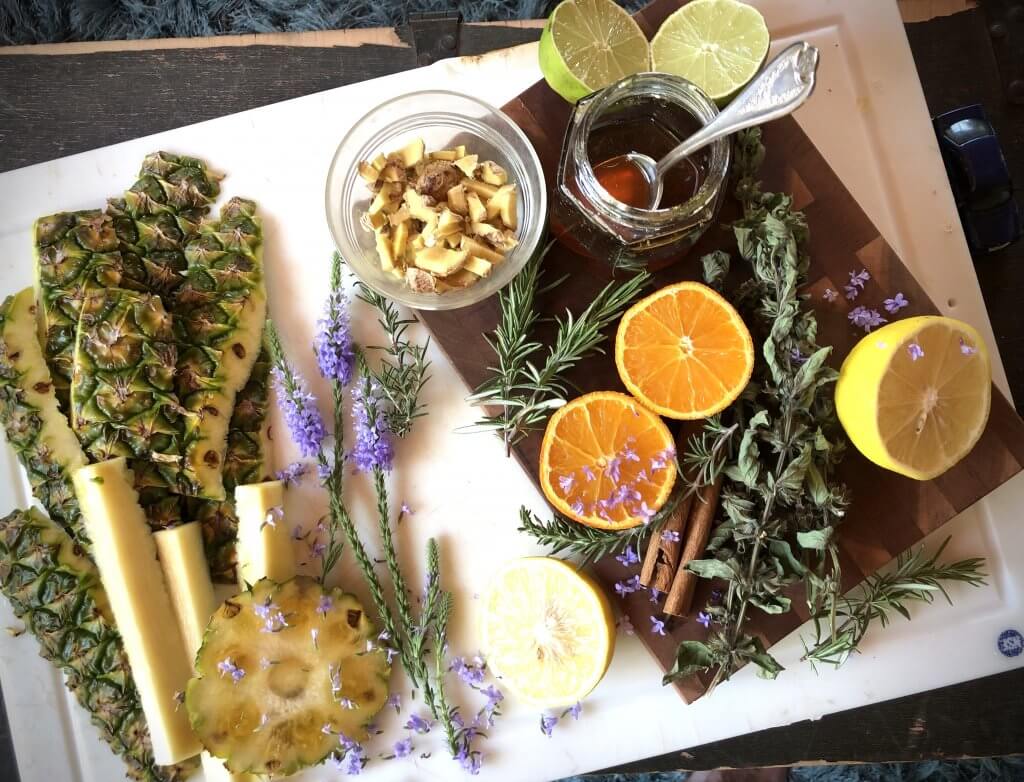 Pineapple peel tea recipe
Ingredients:
1 pineapple
18 cups water (purified if possible)
2 lemons, juiced (or 1 lemon + 1 lime, juiced)
2 Tbs grated ginger root
2 Tbs grated turmeric root
2 sprigs of rosemary (thyme or lemon thyme is good, too)
2 sprigs of lemon balm
1/2 tsp of cayenne pepper (or more if you like the burn)
1/4 tsp of mineral-rich salt (this is definitely my favorite)
2 Tbs honey (raw, if possible)
2 cinnamon sticks
1. First, wash your pineapple. Soak it in warm water for at least 30 minutes with a couple Tablespoons of vinegar. Scrub with a soft brush, and rinse well. This should take care of removing any bacteria and pesticides.
2. With a sharp knife, cut the skin off the pineapple. Chunk the skin into a large stock pot. Quarter the fruit and cut the core out, too, and toss it into the stock pot as well.
3. Add the 18 cups of purified water and turn on the heat under the pot.
4. Juice the citrus; grate the ginger and turmeric. Stir them and all the rest of the ingredients into the pot, except for the honey.
5. Bring the pot to a boil over high heat, then turn the heat down and cover. Let the pot simmer for at least an hour. The longer it simmers, the stronger the flavors will be.
6. Let cool slightly, then stir in honey (if desired) and strain out the peels and herbs. Decant into bottles or jars.
7. Store in refrigerator for up to two weeks. Enjoy hot or cold, full-strength or diluted.
8. Astonish your friends and relations with pineapple peel mocktails: add sparkling water to taste to your pineapple peel tea (I usually do half and half), and garnish with fresh herbs. Serve in fancy glasses. Life is so good and you are so impressive.
Pineapple Peel Tea
Don't toss your pineapple peelings! Instead, simmer them with citrus juices, herbs and spices and make a nutrient-rich, inflammation-fighting drink that's tart/sweet and delicious!
Ingredients
1

pineapple

 

18

cups

purified water

2

lemons, juiced (or 1 lemon + 1 lime, juiced)

2

sprigs

fresh rosemary

2

sprigs

fresh or dried lemon balm

2

Tb

grated or finely chopped ginger

2

Tb

grated or finely chopped turmeric

1/2

tsp

cayenne pepper

2

cinnamon sticks

2

Tb

honey (raw, if possible)

1/4

tsp

mineral-rich salt
Instructions
Add 2 Tbs of vinegar to a pot of warm water, and submerge the pineapple to soak for 30 minutes. Scrub with a soft brush to remove bacteria and pesticides.

With a sharp knife, peel off the skin and put it into a large stock pot with the water. Turn on the heat. Add the core of the pineapple.

Juice the citrus, and add the juice, the shredded or chopped ginger and turmeric, the fresh herbs, and the spices to the pot. Leave the honey out for now.

Cover and bring to a boil. Lower heat to simmer and simmer for at least an hour.

Let cool slightly and remove all the peelings and such. Stir in the honey (optional).

Decant into bottles or jars and store in the refrigerator for up to two weeks. Also freezes well!

Drink warm or cold, or make into mocktails by adding sparkling water and a fresh herb garnish.
Pin it for later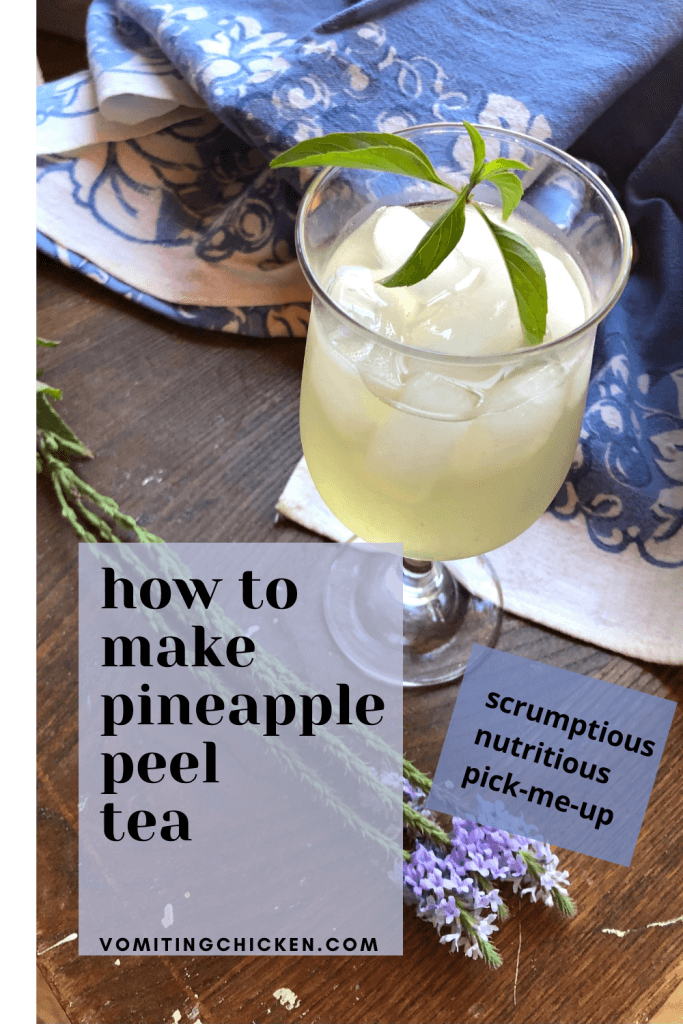 A few other tasty bevvies to check out:
a note about the edible flowers in the photo
. . . because I know you lovely folks will ask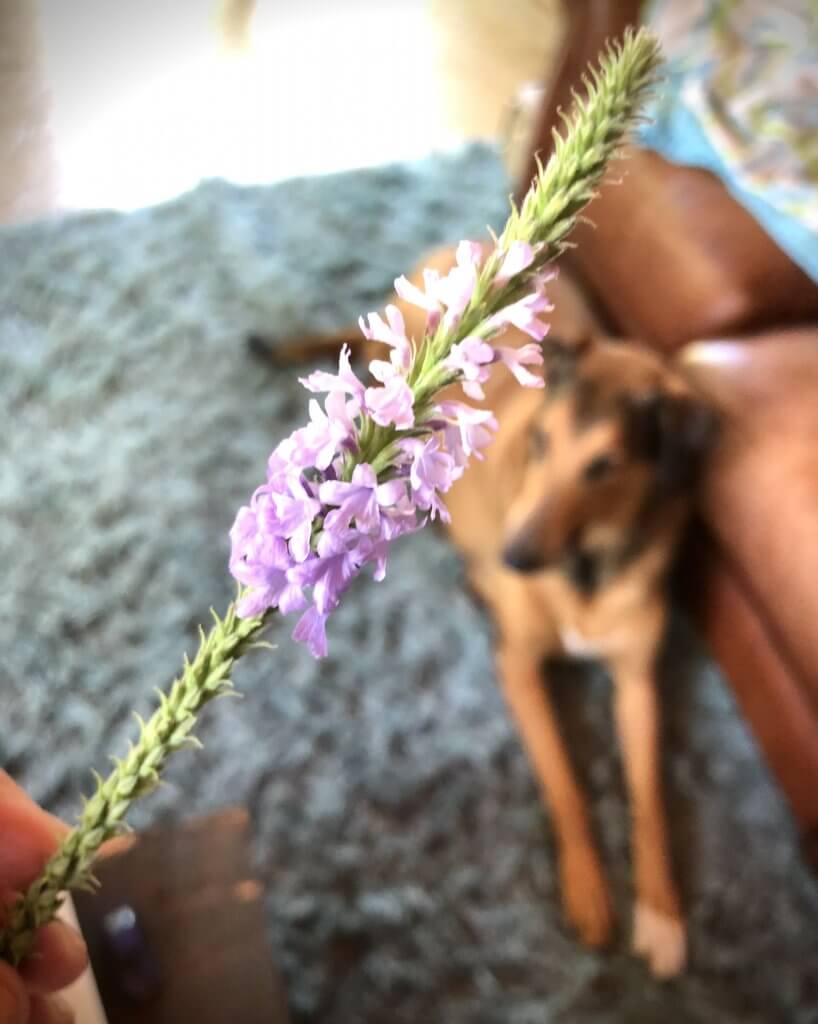 While I was working on this post, I also was working on growing and arranging the flowers for the wedding of a lovely niece of mine. I discovered this blue vervain flower growing along the ditches and roadsides near me. It makes a beautiful cut flower and gets prettier by the day after it is cut and put into a vase of water!
It's also (AMAZING) a medicinal herb, and I plan to delve deeper into its uses, but that post will come another day. I think I've gone on o'erlong with this one.
Thanks for popping in, gentle reader, and thanks for reading to the very end!
I love ya, I mean it.
*hugs* and prayers for a great today and an even greater tomorrow!