Some Random Observations, in a random order
1.  It's happening.  When I get up for my crazy-early walks in the morning, the sun is not yet up at 5:30 anymore.  The sun is not rising as early as I am, and that means there's trouble in River City, people.  We've passed the summer solstice nearly a month ago, now.  You know what that means:  winter is coming.  And you know what that means:  wood fires. Chili with tiny crackers. Wool sweaters. Wool socks. Ice. Snow. Freezing nostril hair. Big hunks of meat roasting slowly in the oven.  Qwerkle.  A new season of Downton Abbey.
It's not all bad.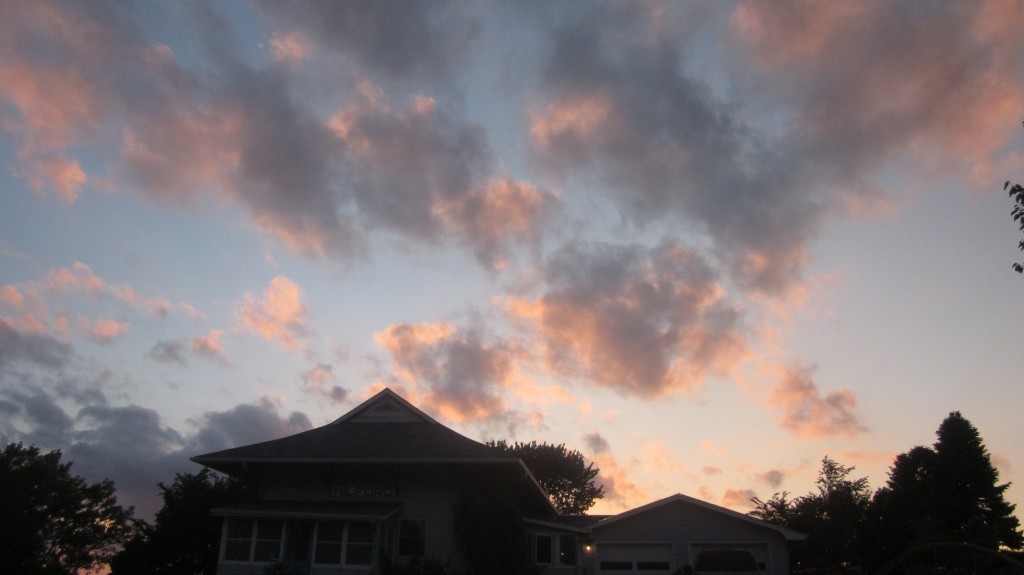 2.  Speaking of big hunks of roasting meat, I roasted a turkey the other day, because I had one in the freezer that was dangerously old calling to me, and it was 100 degrees outside, so why not roast a turkey all afternoon in the oven?  You would have thought that I had gone out and shot a wild turkey, dressed it myself, roasted it over a wood fire and also that the kids hadn't eaten for a week; they made such a fuss over that turkey.
Here's what little Mack said, when I called him for supper:  "What about gravy?"  Of course I hadn't made gravy (it's July, after all! Gravy in July? Really??) so I stirred it up really quick, and I wish you could have seen the look of utter devotion on his little face.  Devotion for the turkey and gravy, that is. It really was lovely gravy. We ate the turkey like ravenous beasts, tearing and grunting and salivating and . . . well, no, not really. But we enjoyed it. Lots.
3.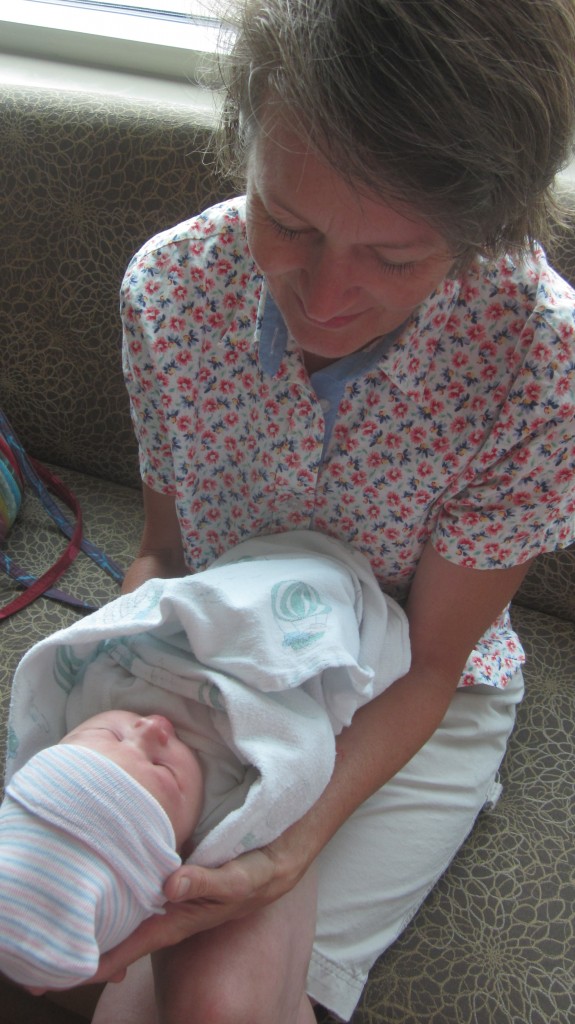 Here's me with my newest little nephew, the darlingest baby in the world, Milo Walden.  He has a little round face and a cleft in his perfect little chin and flawless skin and he has completely stolen my heart.
I can't stop thinking about little him.  I want to see him again, soon.
I wish he didn't live several hours away. I wish that he lived in my house.
a. Why is it that babies do this to me?  Maybe it's because I'd go back to being a mama with babies and toddlers in a heartbeat.  That time goes way too fast. Everybody says it, and everybody's right.
I love the way this picture makes me look so thin, since I'm really not that thin.  It's just a weird visual effect that (frankly!) I love.  I don't love the fact that it looks like I did my hair with a wire whisk, however. (Next time I shall at least use the bigger whisk.)
Probably it's my camera's fault. Probably it's a weird camera-related quirk. Clearly, this is the case.
Speaking of my camera. . .
4. A few days ago, Amalia was taking pictures of the hoophouse project (at my behest) and it was a windy day and she balanced my darling camera carefully on the ledge of the hoophouse and the wind (like a mad thing!) blew it off into the dirt.  I love my camera.  When I noticed that it had gone missing, I discovered it–to my dismay!–in the dirt at the base of the hoophouse.
Even worse, Bea (our Australian Shepherd) was standing on it.  At that very moment. Standing on my cherished camera.  Which I love, did I mention that?

I picked up my poor little camera, pushing Bea aside, and hit the shutter button. "E18 Lens Error: Turn Off Camera, Camera turning off automatically, you Idiot, you shouldn't have let your dog stand on it." It said this, or at least something like it.
Bad, bad news. We know there are rules concerning expensive electronics in our house.
Rule 1:  Electronics and water don't mix.
A. Don't clean the cordless phone with Windex, for example. Or your camera. Also, don't use a scrub brush.  And water.
Rule 2:  Dogs shouldn't stand on your electronics.
b. Especially dogs with dirty feet. Or wet feet.  See Rule 1.
Did I mention that I love my little camera?   I'd take a bullet for this camera of mine.  I'd take a picture of it and post it, but that would be impossible because . . . I only have the one.  But it's a little Canon Powershot SD 1300 IS . . . well, wait, here's an image from a little online shop you may have heard of . . . amazon.com . . . which I am not affiliated with, so in case you decide to buy one of these dandy little cameras, click on this link . . . and I'll get paid approximately .03.  How sneaky, huh?
See?  Is it not adorable?  I love this little camera. I bought it a couple of years ago when we travelled to New Zealand, and it has been in my pocket (literally) or my purse, every since. I use it all the time.  It's easy to use, it's very portable, it takes great photos, and (the best thing yet) it's my favorite color:  turquoise!  It comes in other colors, too, but the turquoise one (clearly) is the best.  Probably the other colors work just as well, if turquoise is not your thing.
And here it was, broken.  I will spare you the details about the self-pity, the mourning, the very very long face that I sported the rest of the day, the handfuls of chocolate I shoved into my mouth, and I will merely tell you this:  I fixed it!
You read that right!  I fixed my broken camera. I found a website, Timothy-like, that listed common problems with this very camera, and I worked tirelessly down the list of things to do to fix it, and I fixed it!  I am so happy about this!  My camera still works. Probably–even–better.
5. My sweet son Timothy is turning 19 this week.  
Here he is when he was a baby.  He was standing on a chair that I had pulled up to the kitchen counter, so he could be a part of my work in the kitchen.  Look at those little cheeks and those sweet eyes, just glowing with happiness. And those itsy-bitsy wittle teefers.
Here's another one. Snif.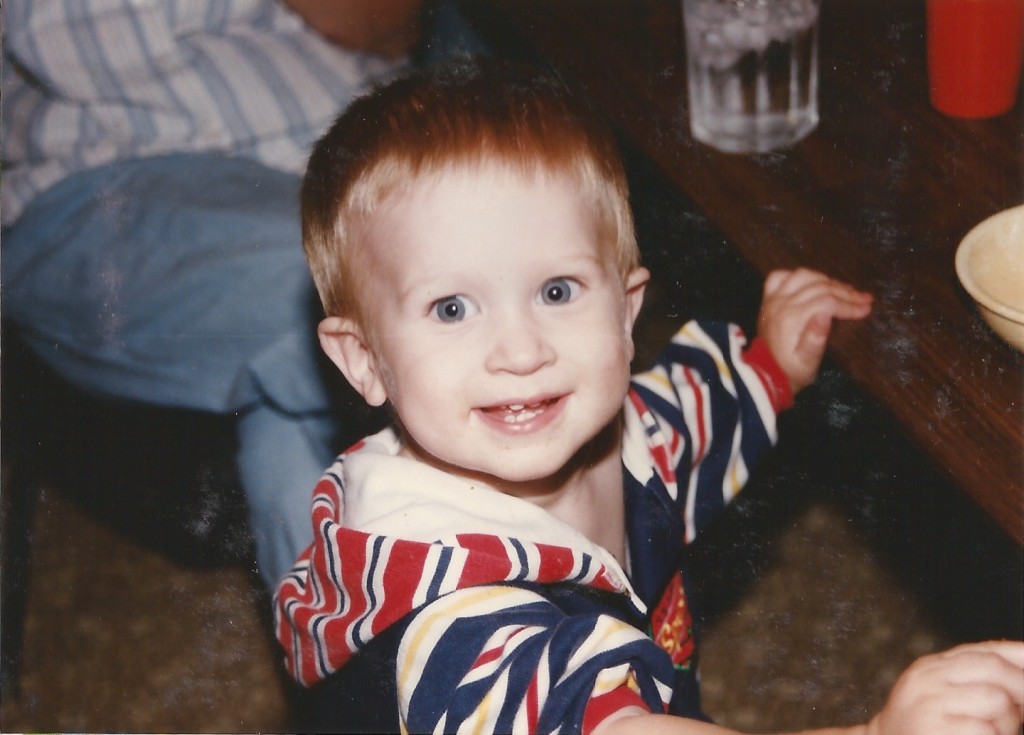 Now will you believe me when I tell you that all my babies were just this adorable? 
Here he is today: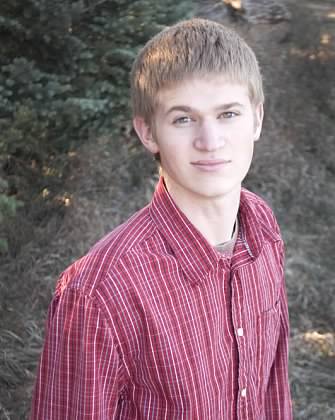 Hopefully Timothy won't have the time to check out my blog today, or else he'd be tres embarrassed about my making a fuss over him.  He's quiet.  And smart.  And he likes to climb things.  And he works very hard.  Did I mention that he's smart?  He can fix things. He's generous with his time.  He's a Godly young man, and I couldn't be prouder of him. Even if he falls in love with a lovely girl and wants to marry her and move away, we probably won't let him.  We'll build on another wing, that's what we'll do.  Like the Amish.
I like that idea.  Timothy is so clever, he could probably start on that wing right now (hint, hint).
I could go on and on . . . . and on . . . you understand. But I'll not embarrass him further.
Happy Birthday, Timothy. Snif.
6. I have a new gardening tool that I love, love, love. It's the awesome mason jar cap below.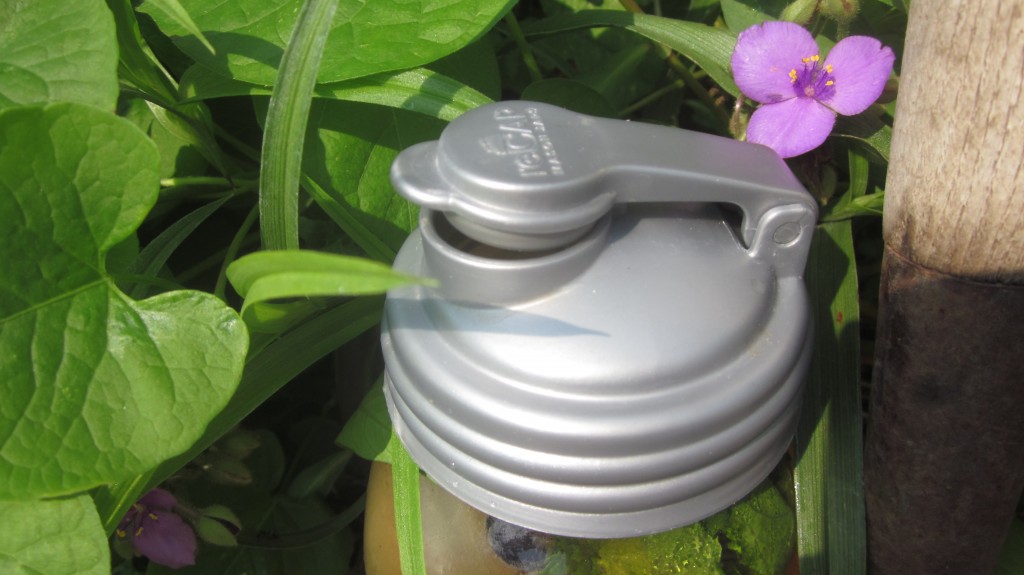 Here's what I do, before I head out to the garden in the morning:  I fill my jar with ice and water, or iced tea, or whatever I've decided I need, my miracle liquid energy elixir, and then I tote it to the garden with me. The lid keeps the bugs and the dirt out of the drink, and I stay hydrated . . . I don't have to run to the house for a drink, and I don't have to drink out of the hose, like a dog.
Or stand on somebody's camera, also dog-like.  Pshaw.
Here's another picture.  This wasn't staged at all. (cough)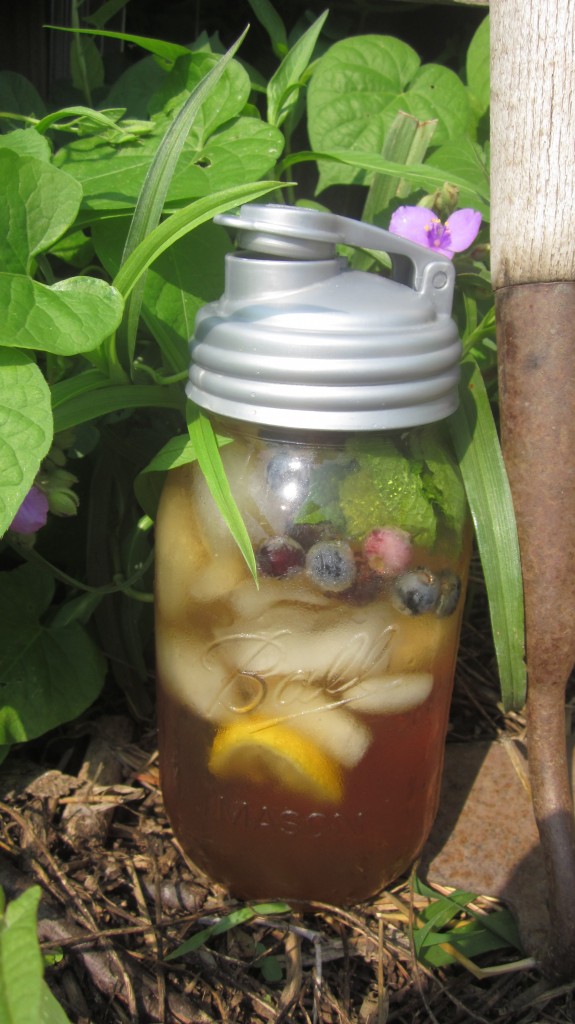 And yes, I do toss lemon slices and fruit and mint leaves in my drinks because I'm cool like that.  When I get to the bottom, I slurp up the fruit, which is by then icy cold.  Cool, eh?
Welp.  That's enough randomness for today. Let's see . . . I set out to write a blog post in 15 minutes . . . how long did it take me??  Hmm . . . 1 hour and 37 minutes. . . . oh well!  Better luck next time!