Some things that make me smile
There are days filled with learning and striving and pushing and working, and they are good days.  And then there are days when you need to pause and give thanks that your life is filled with so many people and things that can make you smile:  people you can love on and hug, who may even love you back and can make your heart feel good again.  Here are a few things that make me smile today:
1.  Here's our oldest son, Matthew, with his little boy-o Emmett Lee.  My grandson is only six weeks old and he's got a million dollar smile already!  Can you believe it? Every time I look at this picture, I just melt into a puddle on the floor.  My kids walk right past me, I am so melted and invisible, like a puddle of vanilla ice cream on the countertop.  "Where's Mom?"   I'm so grateful that God makes babies so adorable that just one look can restore your hope in the future.  God hasn't given up on us yet, clearly!
2.  Here's my other little dolly, Anya Genese, with her papa Andrew at the top of a slide. I'm so happy that I got to be there to watch this moment.  She was a bit scared at first up there–it was so high!–but she was in her strong daddy's arms, and then–then she caught sight of her beloved mama and she took a deep breath and grinned at her and was full of joy and bravery and everything was all right.  That's what a good mama can give to her children, Gentle Reader.  Doesn't that smile just melt your heart?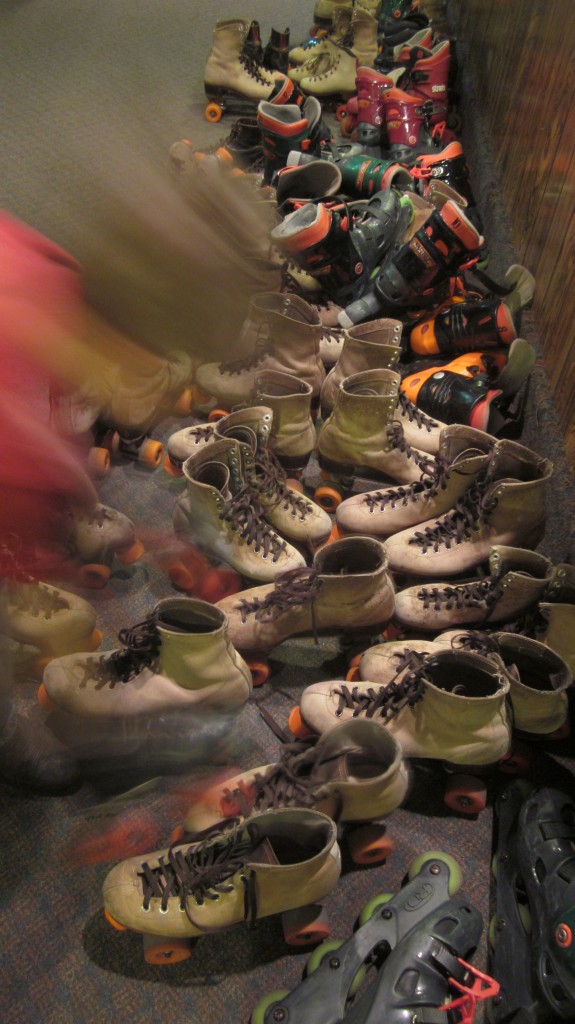 All . . . those . . . skates . . .
3.  One evening every month my kids go to a skating rink in Lincoln and enjoy skating with their home school friends.  I don't think the owners have changed a thing in that rink since the 70s, including their inventory of skates that are available for rental (pictured above).  I start grinning as soon as I step inside–the DJ's music blaring and the clack-clack-clack of the skates on the floor, and the laughter and high spirits of the kids that are skating is enough to put a smile on anybody's face–and I grin the entire time I'm there.  It's a magical place, to transport this middle-aged woman back in time, to my high school days when our church group used to go skating together at a similar rink.  It was all so precious . . . hoping that that special guy would ask you to do the "couple's skate" with him (actually that any guy would ask you to skate with him, even holding hands and all); trying to win at the limbo; inching along the wall at first and eventually feeling that thrill of skating fast, out in the middle of the floor with the other fast skaters.
4.  We went to "the city" yesterday (Lincoln), to run some life-or-death errands–that is, to buy Amalia a new pair of shoes for a formal she's going to next week.  While there, we stopped at our favorite crafts-and-whatnot store, Hobby Lobby.  It was like we'd never left our place in the country:  chickens, chickens, everywhere!  Apparently chickens are hot in decorating, right? Must be.
Little Mack was confused by this.  "But what are they for?"  he pestered me for answers.  I pointed out that some people liked to decorate their homes with chickens, kind of like art or something.  "Why would anybody want to decorate with chickens?" he mused.  "They're farm animals."
Then he saw the eggs.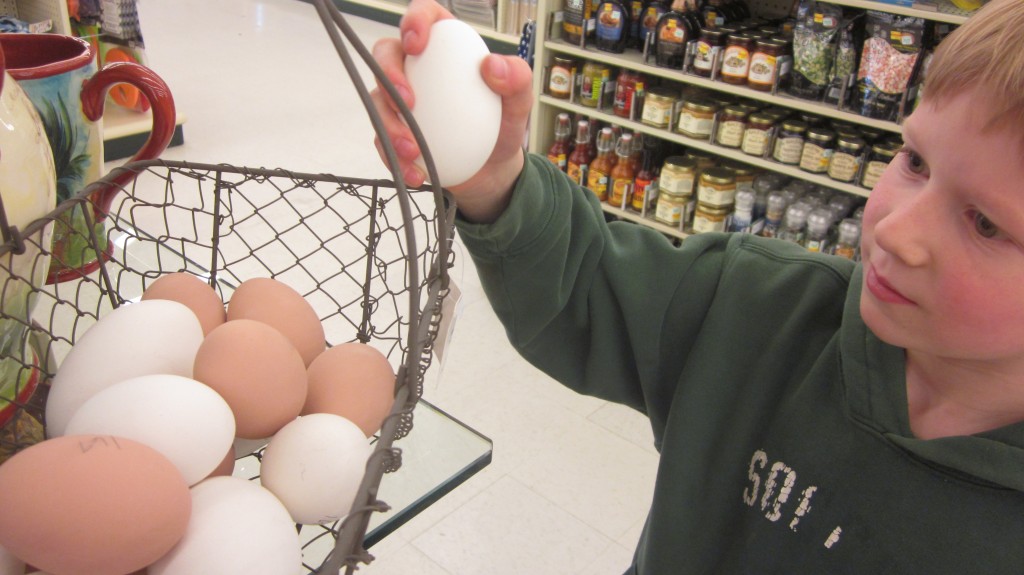 "Look, Mom, eggs! Strange–oh, Mom, look, they're not real."
EVEN MORE CONFUSING.  Eggs are to eat, right, why put fake ones in a basket for decoration? Tell me, Mom. My son thought this was very amusing.  And very perplexing.  Such a little farm boy.  I always suspected that we live under a rock.  Turns out, it's true. We live under a rock.
5.  Little Mack's two top front teeth have been crazy-loose for some time.  It drives me nuts, the way he lets them hang by a thread and plays with them, especially when I'm sitting at the table, trying to eat dinner.  He won't let me pull them. All my children have been this way.  They know that I actually enjoy pulling teeth (it's true!) so they don't really trust me.  Like perhaps once I've pulled the loose ones, I'll have a go at the perfectly secure ones?  C'mon, kids, I've got the pliars!  But anyway, Mack was having lots of fun with his snaggledy tooth, twisting it, flipping it up and down (this, during supper, and he sits next to me) and so forth, laughing, of course, the entire time, glancing at me to see how annoyed I was getting.  Snorting milk out of his nose.  Your kids probably have much better manners than this.  I hope so, anyway.
"Let me pull it—-please?" I asked, in my wheedlingest voice.  "No!  It'll hurt!"  He recoils from my maniacal gleam and shudders.  I leave him be, although it takes all my self-control to not just wrestle the little bugger to the ground and just yank that dangly little tooth out of his cheeky little mouth. I say this in the nicest possible way.
That night as I tucked him in, I could see that he was still playing with that silly tooth with his tongue. "Look, Mom," he said in the dimness of the room, "thsee how I can twisth ith!!"
I had a thought and a memory, which I then shared with him.  Straight-faced.
"Did you know that sometimes kids who go to bed with a really loose tooth sometimes actually swallow them during the night?"  I asked him, quite calmly.
This is a true fact, Gentle Reader, not just some lame story I made up to get him to let me pull his silly tooth.  I'm not that kind of mama.  You can probably look it up on your 'pooter, on that vast encyclopedia website, Wikipedia I think it's called.
He looked up at me in horror.  "What??!  Pull it, Mom, pull it!"
So I did.  I pulled it.  It popped right out, it was satisfying (sly smile) and the tooth fairy left a golden dollar during the night.  And only one snaggledy tooth left (sigh).  For now.
6.  I love my people.  My nutty, loving, creative, awesome group of family and friends that God has blessed me with.  I'm going to hold them all especially tightly on this day, as I keep in my prayers the poor innocents in Boston and those in Waco, Texas, too.
I hope, Gentle Reader, that you have plenty of folks in your life that you can turn to to hug and to hold and to turn your heart towards on a day filled with sadness for so many.