The best French rolling pins are made in . . . Nebraska!
I have a little story for you, gentle reader, before I launch into this post.
It's a travel story, of sorts. So, first: do you know where New Zealand is? I, frankly, didn't when Bryan was offered a month-long teaching gig there, several years ago. I had to look it up. It's basically on the other side of the world, which seemed a m a z i n g to this small town Nebraska girl. Poring over photos like this one:
The kids and I built a farmer's market business the summer before, working our proverbial tails off and saving every penny so we could earn enough money to tag along! It was an awesome experience. Such. A. Gift. Totally worth all those sweaty days out on the court house square, peddling artisan breads and fresh homemade donuts, heads of hoophouse-grown lettuce and heirloom tomatoes. (Here's the ebook that I wrote about the experience, if you're interested in attempting the same.)
I thought then (I still do!) that New Zealand, with its lush rich soils, beautiful vegetation, temperate climate, mountains, beaches, avocado and citrus trees in everybody's back yards, etc., etc., was about as close to heaven as it gets. Oh, the waterfalls, too. Bubbling mud pools. Green pastures dotted with sheep. Some of the best ice cream I've ever tasted. (Gosh, Bryan, when can we go back?)
Little Mack, however, was not impressed. He was four years old, utterly homesick and didn't care for the place at all. He just wanted to go home. His missed his Grandma and Grandpa. His dogs. Our place. We were there for nearly a month, and it must have been a very long month for the little kid. Everything there paled in comparison to the same thing we had in 'Abraska. Seafood? "We have better fish in 'Abraska." Mountains? "The mountains are higher in 'Abraska." The (gorgeous) beaches? "The beaches in 'Abraska are nicer."
It was more than a little embarrassing. But oh my, did the kind New Zealanders have fun with him! They adored his sober insistence that 'Abraska was, in every way, superior to New Zealand.
And that leads me, of course, to . . .
The best French rolling pins . . .
. . . come from my Dad's shop. In 'Abraska. He sells them to me, and I put them in my shop.
It's a . . . shall we say . . . symbiotic relationship. Dad keeps his hands and his head busy out in his shop, which keeps him off the streets and out of the bars. 🙂 I peddle his rolling pins, which makes me happy, gives me something classy to sell, and keeps me out of trouble myself!
A few things about the rolling pins that Dad makes:
My stock changes with the seasons, as Dad finds woods that he thinks would make nice pins. So if you have a particular wood in mind, please send me a note. I might be able to make a special request for you.
They last forever. Literally. If you give them the soupçon of care that they require. (The one that Dad gave me over a decade ago, that I use several times a week, looks better than ever!)
They are handmade, one at a time, by the congenial fellow pictured below (my Dad).
A few things about my Dad:
He worked as a pharmacist until he retired over twenty years ago.
He built himself a new workshop a few years ago, is still planting a vegetable garden every year, and plants trees. He is a forward-thinking fellow.
He cuts and splits wood for his fireplace and woodstove. (My mom does the stacking.)
He's 86 years old and spends time in his workshop nearly every day–turning pins, fixing things for friends, building special projects.
He used to make violins in his spare time, and also made conductor's batons. (They are being used now all over the world!)
He's a natural "fixer." If he sees something that is broken, his mind automatically begins to plan out how he's gonna fix it.
He is making peppernuts this week, from his own mama's recipe. 🙂
He makes the best French rolling pins.
I'm pretty fond of him. He's a terrific guy. And he makes beautiful things with his hands.
You, dear gentle reader, can get in on some of the things that he is currently making.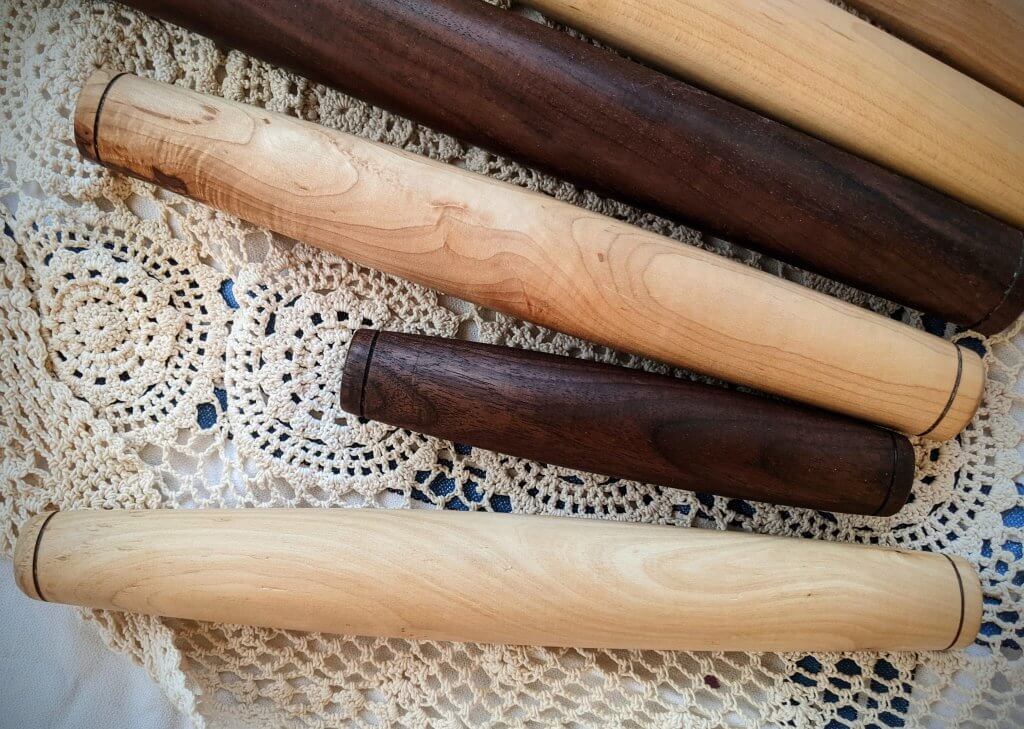 I have new rolling pins available right now in three sizes:
full-sized
the "Bitty" which is about 12″ long, and the perfect thing to grab to whack up a small batch of biscuit dough, a stack of tortillas, or a few cookies.
the "Teeny", about half the size of the Bitty and perfect for a small child's hands.
In the full-sized and Bitty, I have rolling pins in the following woods:
Walnut
Maple (what I use for everyday rolling purposes)
Cherry
Currently I only have the Teeny in walnut, but I would take special requests on that one.
To read more about any of these items, or to place an order, click here now!
Something new and so fun!
Dad loves to tackle a new challenge, and when I asked him about making a "Mommy and Me" set of rolling pins, he set right to work!
And look . . . how cute is this??
This is the perfect gift for a young mama with a little girl or boy who enjoys helping in the kitchen! I would have loved one of these when I had at least one little pushing a chair up to the counter next to me, and wanting to help!
A "Mommy and Me" set: a "Bitty" Maple rolling pin, packaged with an teeny child-sized pin, a perfect gift for a mother with a young child or two. (Both pins are also sold separately.)
Christmas can't come too soon for me this year! I simply can't wait. Do you feel the same way? I hope these sweet rolling pins will help you with your Christmas giving this year.
A quick reminder: I'm also selling a limited edition of our farm's small-batch herb mixes, and have a giveaway running right now, too. Click here to read all about them!
Can I ask a favor? If you have a friend or relation who might like to read this, would you share it with them? I'd appreciate it so much. And remember to click here to learn more, and to order!
Thanks again for popping in, for commenting below, and for sharing!
*hugs*