The Treasure we found in the Flair: a better rhubarb pie recipe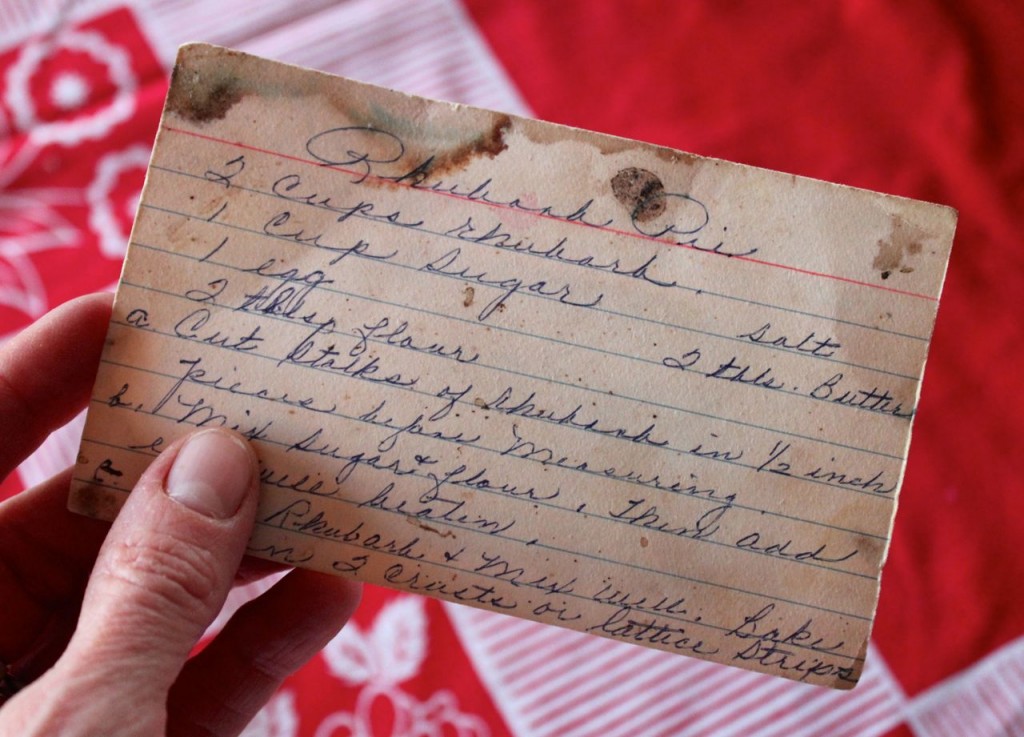 Treasure can be found in so many different forms. Sometimes it's a new friend or a financial windfall, other times it's an unexpected gift or just a perfect day. Last night for me, I received a phoned invitation to pick up a warm pie from my parent's house. That was my treasure of the day!
Sometimes treasure comes in the form of a new recipe for an old favorite food.
When Bryan and Reuben repaired my Flair stove and installed it into our new kitchen, they found treasure and saved it for me. They pulled an old, stained recipe card out of the bowels of the Flair stove. On one side, in tidy, old-fashioned handwriting, was a recipe for Rhubarb Pie. On the other side was a clipping from a newspaper, another recipe, this one for Rhubarb Cream Pie.
This discovery tickled me to no end. I will keep this card forever. It's a treasure to me. If you've read the story of my Flair stove, you know that it was a long emotional roller-coaster that did, actually (spoiler alert!) have a happy ending, in that the Flair stove is now beautifully installed in my new kitchen. And working. Though the kitchen isn't finished yet, it's getting closer. One of these days . . . One of these days, I'll title a blog post "Fait accompli!" It is finished! It's a Done Deal!
But not yet.
I made plans to try out both the recipes right away, to see if they were any better than the rhubarb pies that we make already. It wasn't something, I knew, that I would get to right away. It was in the back of my mind, at the end of my to-do-someday list, shoved to the back corners of my already-burdened brain. Then I told Mom about the recipe card, and she shared in my tickledness. "Get me the recipe and I'll make the pie this week!" she said. "I still have rhubarb in the freezer!"
Well, well. More treasure. A mom who wanted to make the pies for me. So I wasted no time in getting the recipe to my Mom, and she made the rhubarb pie on the front of the card, and–mercy me, guess what?--it was fabulous. Mom and I both have a new favorite rhubarb pie recipe! And Gentle Reader, because I like sharing things with you, you might, too. The difference between this recipe and other rhubarb pie recipes that I've made, mostly, is simply this: there is a handful of raisins baked into it. Have you ever heard of such a thing? I hadn't. Mom hadn't.
Now it's our favorite. Raisins in rhubarb pie: I wouldn't have come up with that myself, but now that I've tasted it, I am a devotee! Raisins in rhubarb pie for President, say I! (tying my hands behind my back to not make a snarky and timely political comment here——!!!)
Here's the recipe for you, darling reader. Let me know if you make it, and how you like it!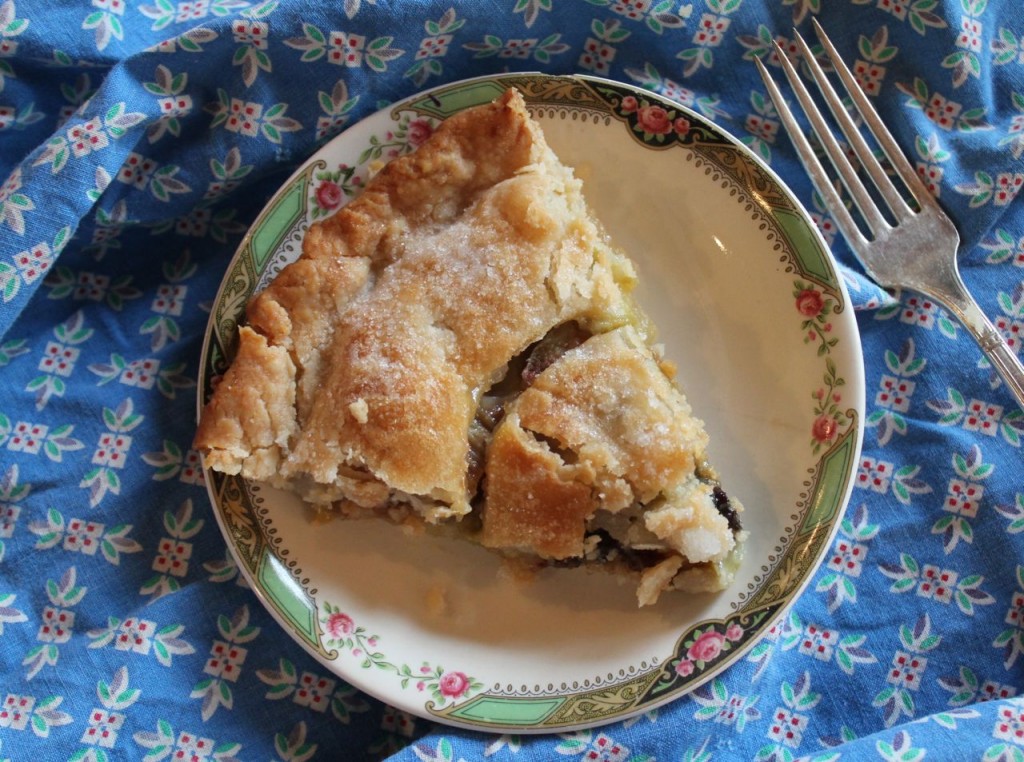 The Treasure we found in the Flair: a better rhubarb pie
Author:
Prep time:
Cook time:
Total time:
I wish I knew the name of the good lady who lost her Rhubarb Pie recipe in the Frigidaire Flair stove that we would eventually buy from a junk shop in the city. I love the stove; I love the recipe. Probably I'd have been good friends with the housewife who wrote down this recipe, too. 🙂
Ingredients
2 cups rhubarb, cut in 1/2″ pieces
1 cup sugar
1 egg
2 Tbs flour
pinch of salt
2 Tbs unsalted butter, cut into small pieces
1/2 cup raisins, cut in half
Enough pie pastry for two crusts
Instructions
Mix sugar and flour in a big bowl, then stir in rhubarb pieces.
Beat egg well, and then add to rhubarb mixture. Mix well.
Pour rhubarb mixture into pie pastry, and dot with butter pieces.
Sprinkle halved raisins on top.
Put on top pastry, crimp, slash, and brush milk on top. Sprinkle with sugar.
Bake in 400 degree oven for 45 minutes or until hot and bubbly, and golden brown.
Really terrific served hot, with a scoop of vanilla ice cream. Dandy served cold, too. Room-temperature it is still delicious.
Yummm, now don't you just feel like making pie?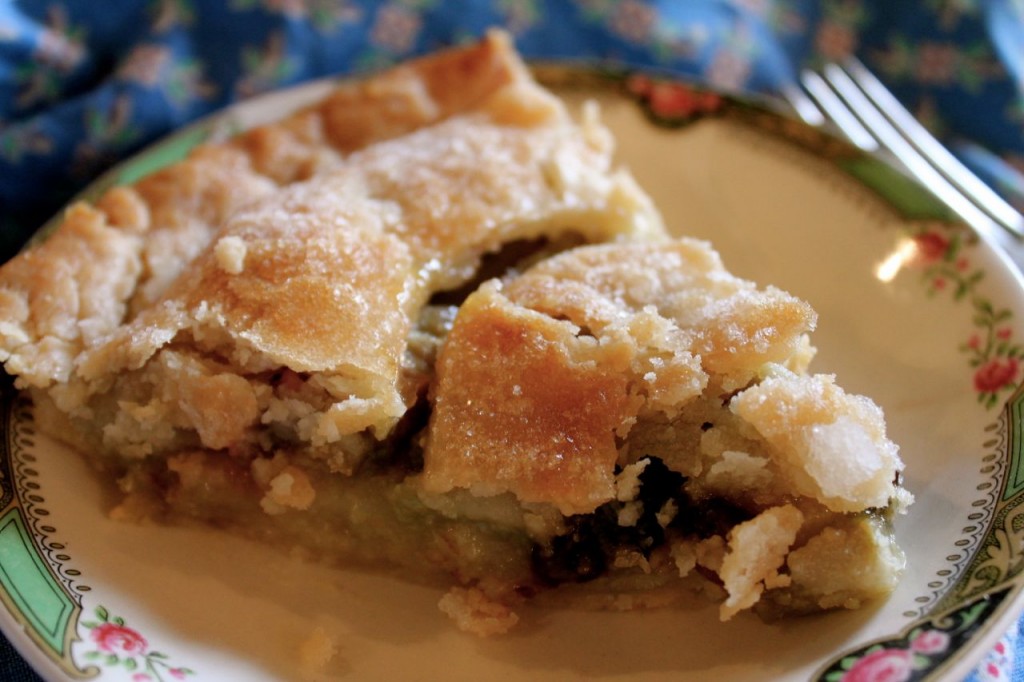 I sock away freezer bags full of sliced rhubarb every fall, and I only have one bag left–so I'm happy to see my rhubarb leaves pushing up out of the soil in my garden!
I'm going to write a blog post next week about my very favorite pastry recipe–stay tuned, or sign up for email updates, above, and/or sign up for my vomitingchicken.com Facebook page. You'll be in the proverbial know then, Gentle Reader. And that is a very sweet place to be. 🙂 And if I may be so bold to ask you to share this post with your friends and your family–through social media or email or whatever mode of sharing you like, I'd be so–so–so–grateful!
Thanks for popping by!
*hugs*