Waking up in Narnia . . . er, Ohio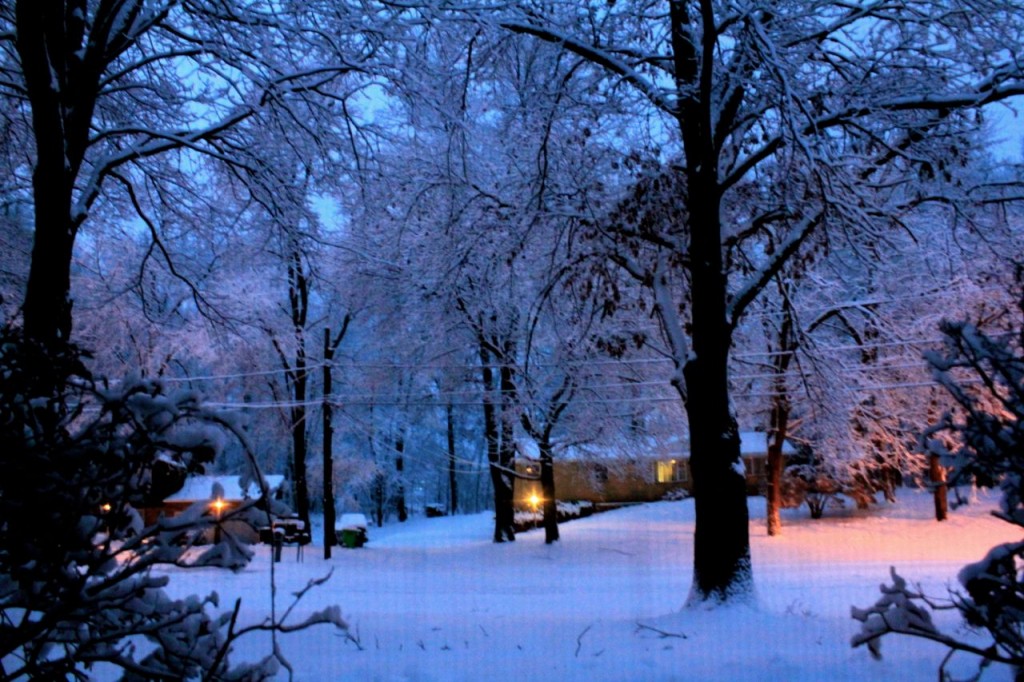 Waking up in Narnia, rather, er . . . that is to say Ohio, was the second-best possible start to the day yesterday. You know what the best possible start would have been, of course: to greet a new grandbaby. But, oh well. Babies make their own agenda, as this one is patently pointing out to us. 🙂
Day after blessed day.
I slipped out for a walk in this cozy neighborhood, and discovered a possible downside to the beautiful, expansive sloping lawns without sidewalks: no sidewalks! I puzzled for a few moments about where to take my walk. I couldn't trudge through the lawns, not on 6″ of very wet snow, and with unsuitable boots. The roads weren't cleared yet. One or two intrepid motorists had already driven through the streets, so I walked in the tracks that they had left, keeping my ears open for other cars behind me.
It was totally worth the risk.
What glorious, frosty beauty!
           Dust of Snow

The way a crow
Shook down on me
The dust of snow
From a hemlock tree

Has given my heart
A change of mood
And saved some part
Of a day I had rued.

–Robert Frost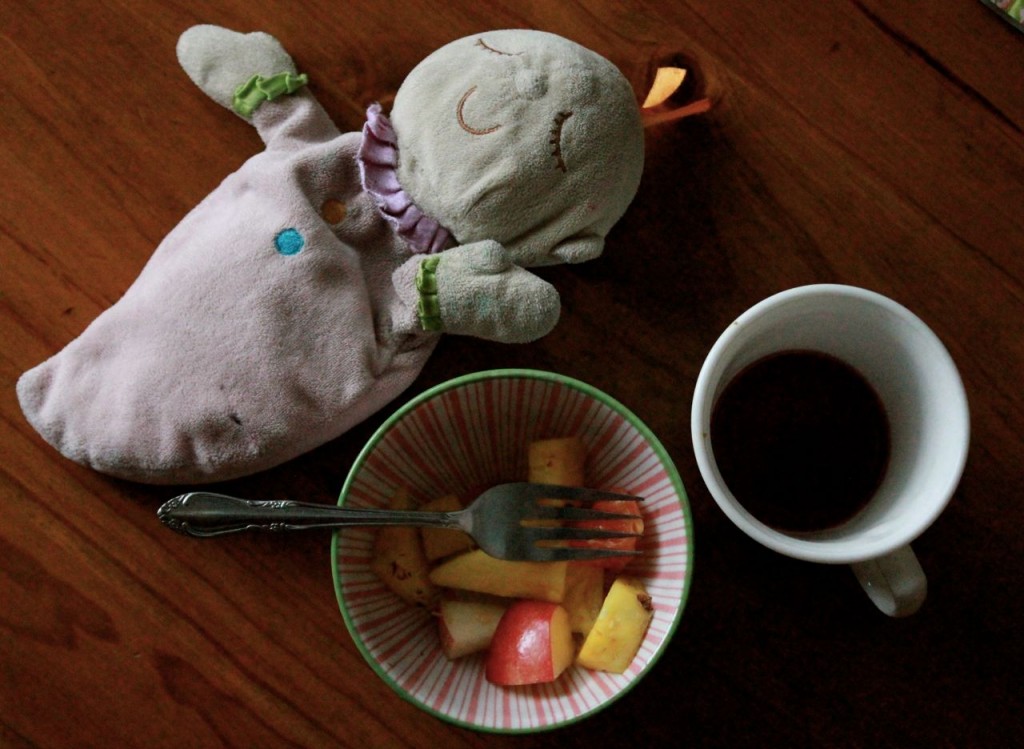 Back inside again, I find that it is snack time, with cherry tea and fruit salad for some of us. (We always have our favorite dolly with us when having a formal snack.)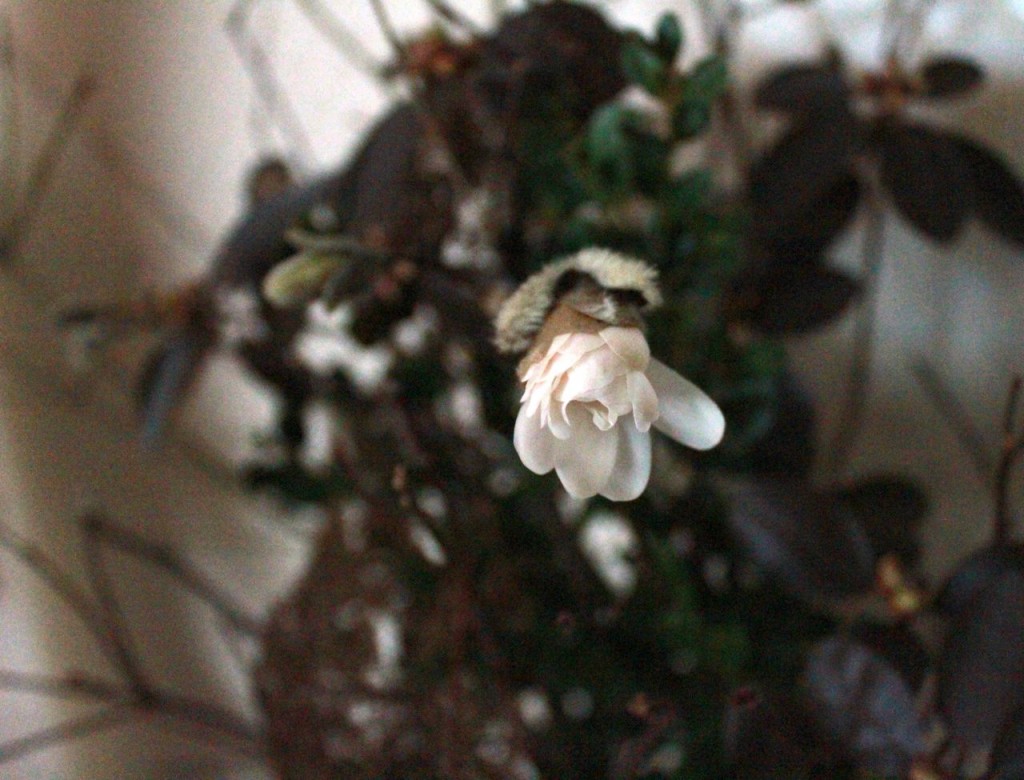 Another grandma in the house cut branches from bushes around the house and made a lovely bouquet, as is her particular wont. Now the branches have been forced from their winter sleep and are beginning to bloom.
We all are in amazement. It's that sort of day. We're ready for a baby. We wait. We are primed for emotion and delight, so our hearts thrill at everything possible. Including: playing outside in the snow.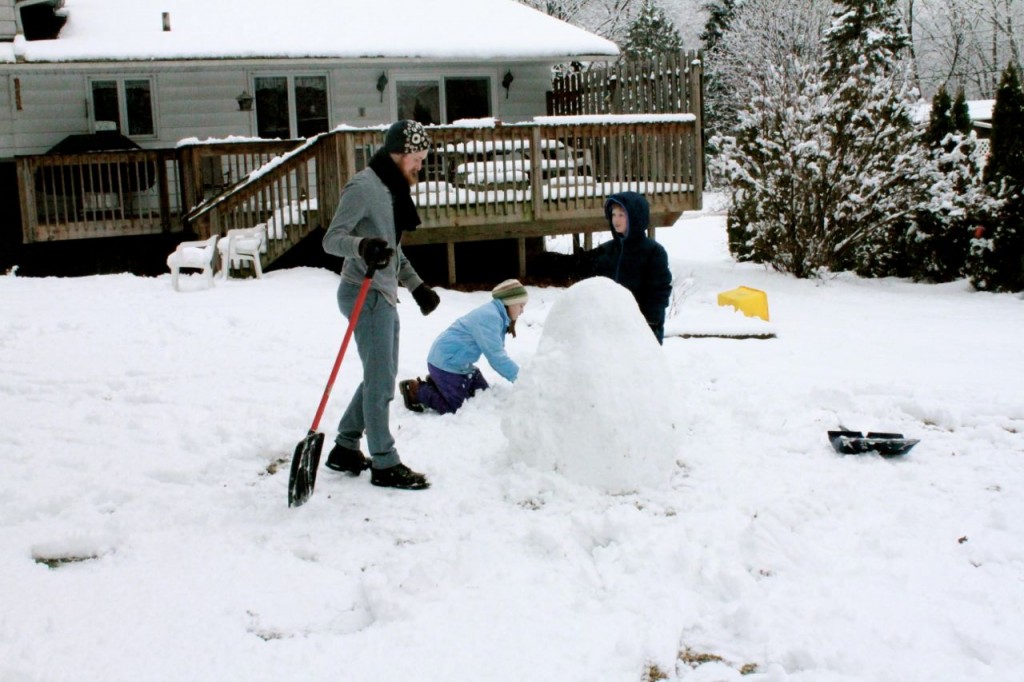 The day is warming up, the snow is melting, it's easy to pack. So we are outside playing in it. Some of us make a very large snow owl, amidst frequent and impromptu snowball fights.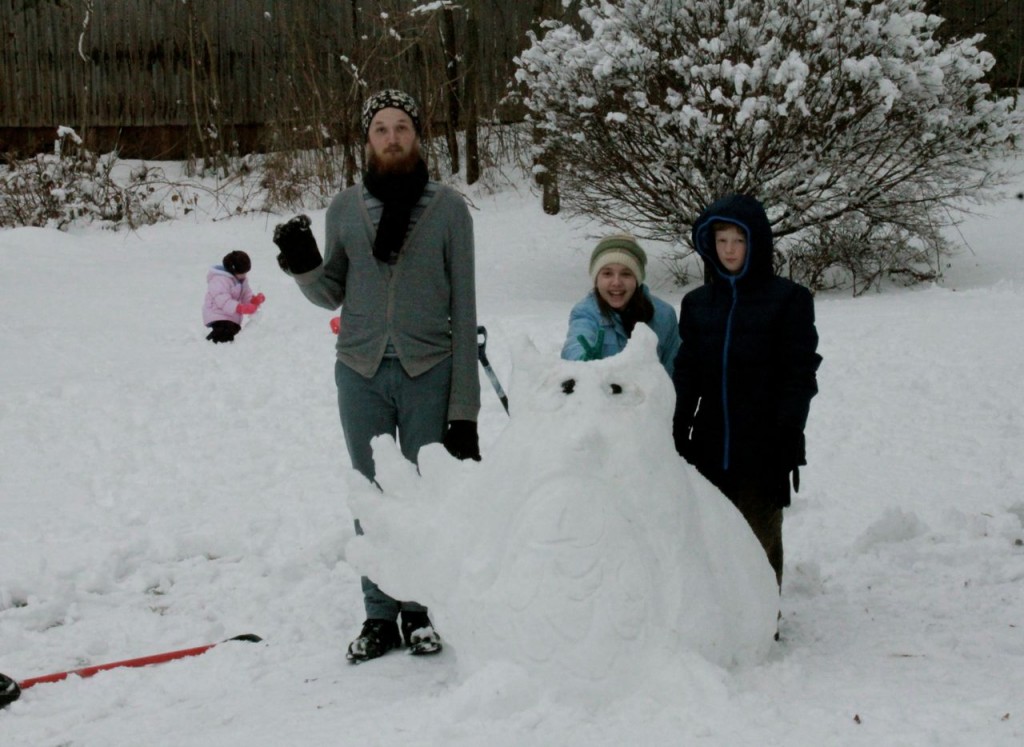 Some of us prefer to work alone on our own pursuits, that is, building a home for ourselves, and getting a bit too rosy in the process, which means that Papa will remind us that it's time to go inside, which will make us not pleased at all, at all, at all.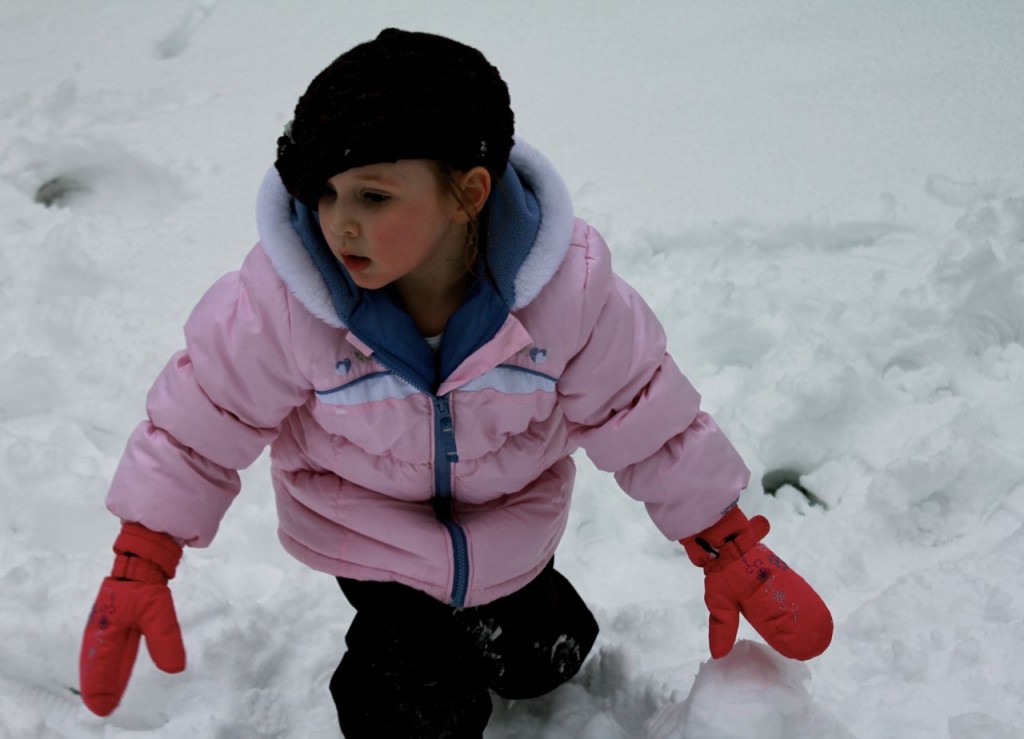 After a tiny yet intense ladylike screaming fit and being sent to our rooms for a measure of time, some of us emerge tearful yet composed, and pass out precious chocolate-covered strawberries to everybody whose ears might have been touched by our wails, as a conciliatory gesture.
We know that our Papa loves us, we say that we are sorry, and of course we are forgiven.
🙂
Papa builds us a tiny snowman on the deck, and he gazes in the glass door at us.
It mollifies us a little.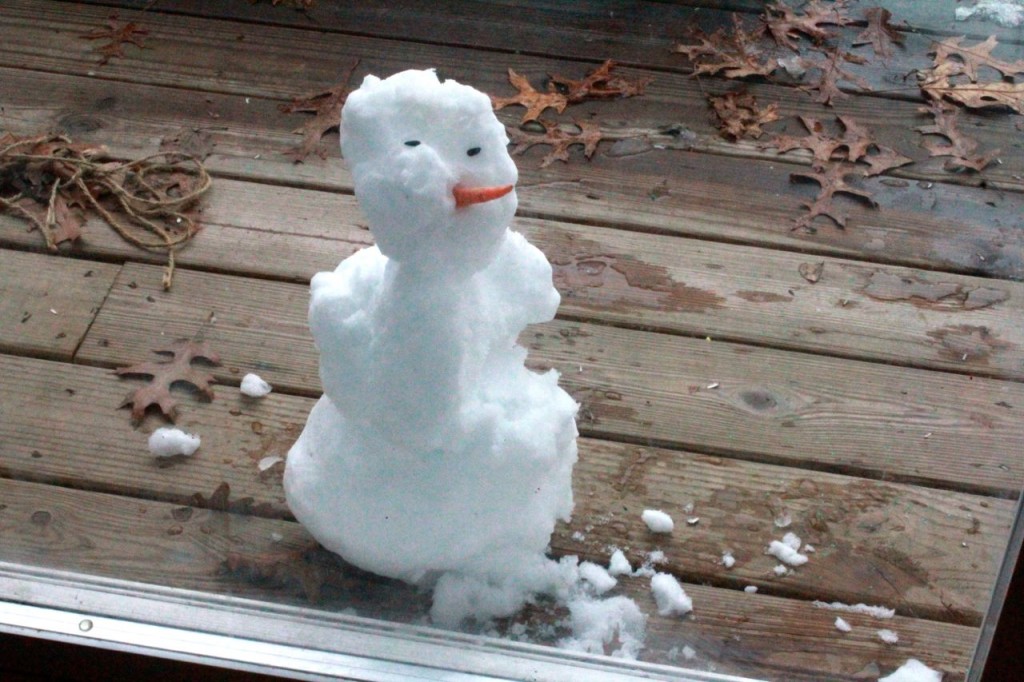 We do not wail when the little man begins to melt a half an hour later, and flops over on his side, losing his nose.
We have learned our lesson. And we are, after all, out of chocolate-covered strawberries.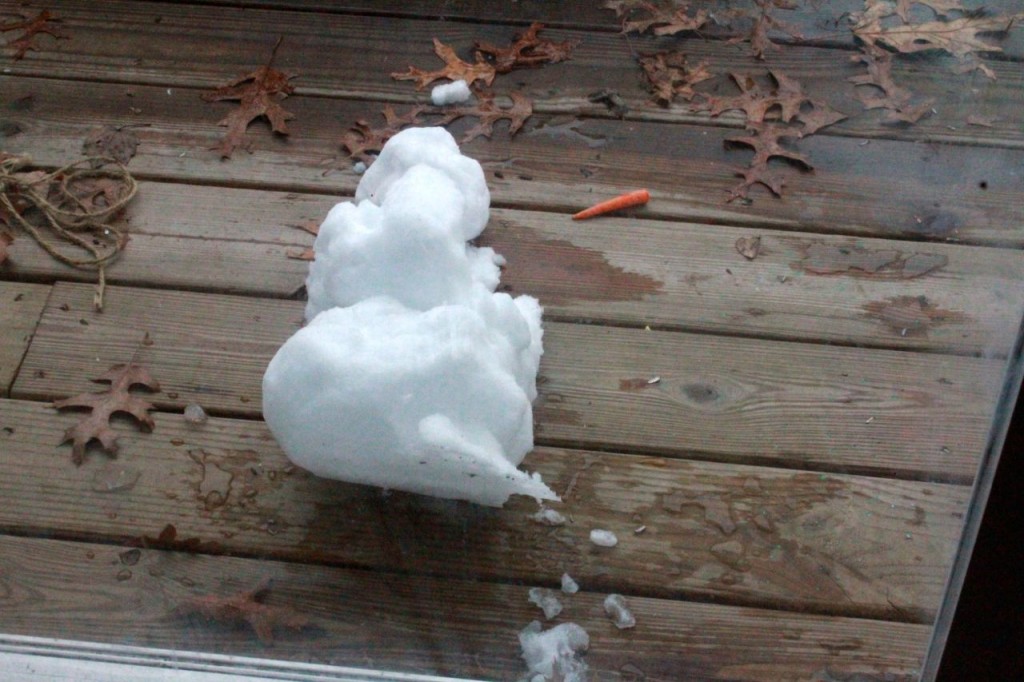 Tomorrow will be another day, after all, and Papa has promised us that Narnia will not disappear overnight. There'll be more playtime in the snow tomorrow.
And perhaps a new baby to hold, too.
🙂 🙂 🙂
(*hugs*)