"Water, water, everywhere, and how the boards did shrink."
Forgive me my preoccupation with water this week, Gentle Reader, but it has become a bit difficult to ignore. Drenching rains and out-of-the-banks waterways and giant holes opening up in the middle of roads are just not commonplace for our part of the world! I can count on one hand the number of 3″+ rains that we have had at our place since we moved here, fourteen years ago. Well, okay, maybe on two hands. But the point is, we don't very often get them. This year, it seems like every time there is a good chance of rain, we get three inches or more. A three-inch rain is a significant amount, because (unless the ground is very, very dry) it will fill up our little farm pond, which is a run-off pond for the fields around us.
Several three-inch rains in a week (unheard of until this year) will do this to our little farm pond: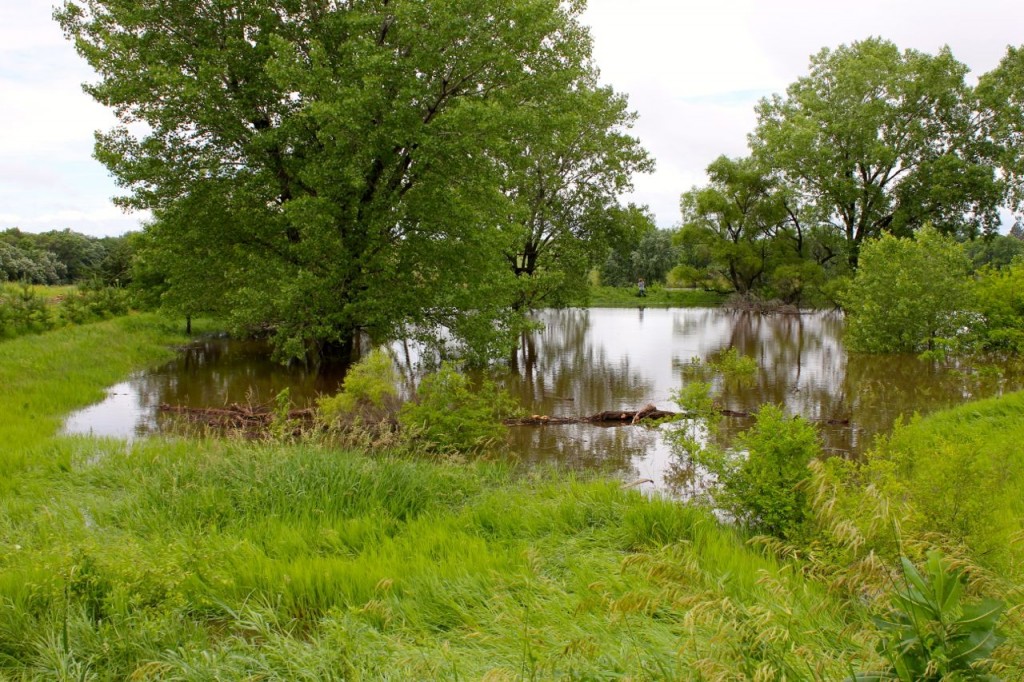 Can you see little Mack, standing on the far side? He is standing on the top of the dam, which is a few inches away from the water level.
Our pond has held its structure for nearly forty years. My dad says that if the water level goes above the dam, the pond will spill over the dam and our pond could completely wash away. No pond!
I never rarely doubt what my dad says. The thought of losing this lovely little pond really fills my heart with dread. That must seem silly to you. But it is a special spot on our place, and we enjoy it in so many ways. So we pray for a few dry, sunny days, and for the water level to go down before the next rain.
The fields around our place are so water-logged that any rain that falls on them just runs off, straight to our pond. That's really not how it's supposed to work, you know. The fields are supposed to drink deeply, and then when they can't drink any more, they shed the rest, which trickles down to our pond. Gushing straight to our pond is not really the idea.
We lost our telephone line (and thus, internet) for several days because this happened:
The creek that runs under this bridge swelled to massive proportions, and started washing away the road next to the bridge.
But that's nothing. Right around the corner from us, this happened:
I know there is damage all over the place, so it'll take awhile before the road crews fix all these problems. And of course, the words that are on everybody's lips: it could always be worse.
And it is a comfort that everybody in our area is basically in the same boat (harhar, sorry, I couldn't resist).
At the end of the day yesterday, I puzzled over why I got so little done. Then I remembered: I had spent time in the morning hauling dry hay to the chicken yard, the dog's pen, and the meat chicks' tractor, so they'd all have a dry place to hang out. Also I had spent at least an hour trying to get a siphon going from the pond (my dad suggested that even a little trickle running out of the pond might avert its going over the dam), to no avail. I had slogged about in my rain boots all day and had soaked three sweatshirts (must–get–a–raincoat!) and had biked around with little Mack, checking out the scary holes in the roads. All while the rain was falling. My hair and skin have never been softer!
But hey, it's not all scary and foreboding around here.
Check out this interesting development:
We have turtles! You remember the dainty, adorable Herman, whom we discovered in our pond in the early days of this wet spring. Turns out–he has a mama and papa in our pond, too (or at the very least some buddies).
Okay. So that's why I didn't accomplish much. But today, there are cherries to pick, because there is an upside to all this rain: it's a fantastic cherry year! But the cherries do not pick and pit themselves, of course.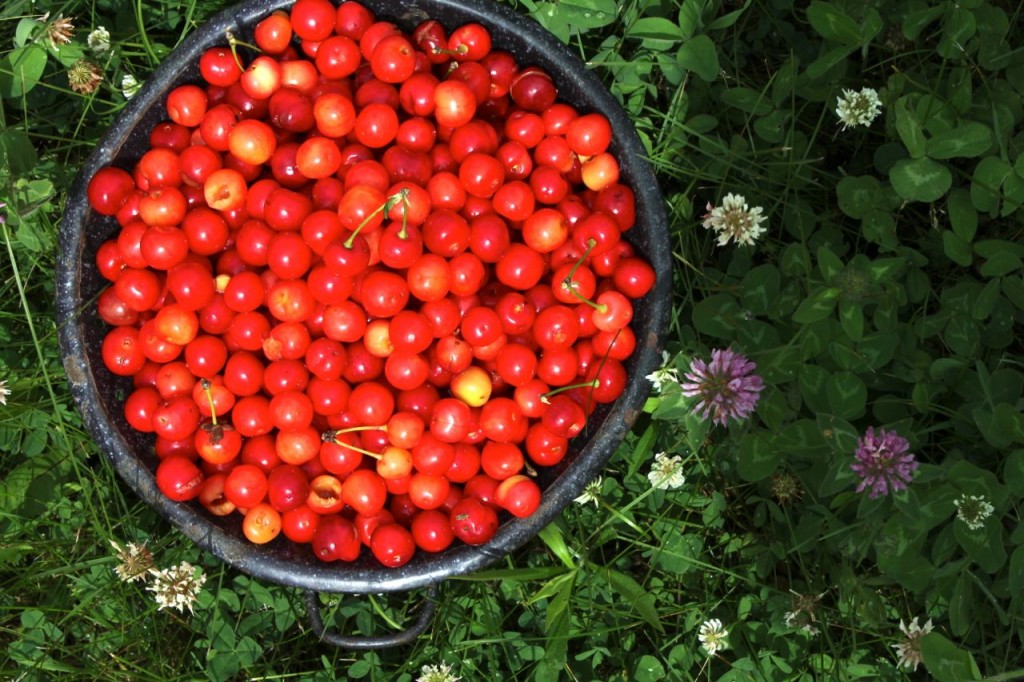 So yes, we've probably had enough rain for now, Lord. Or in other words, "Uncle!"
We all do agree–unanimously–if it weren't for the fear of losing the pond entirely, we'd love it if it were always this big. 🙂
I re-read the poem "The Rime of the Ancient Mariner" by Samuel Taylor Coleridge and I love it so that I want to share it with you. But it's very long. Ole' Samuel was as long-winded with his pen as yours truly. 😉 Have you ever wondered where this passage came from? (Read the whole story and poem here.)
Water, water, every where,
And all the boards did shrink;
Water, water, every where,
Nor any drop to drink.
I especially like this passage:
He prayeth best, who loveth best
All things both great and small;
For the dear God who loveth us,
He made and loveth all.
Have a terrific day, Gentle Reader, stay dry and safe and count your blessings in any case! There are always, always blessings to be thankful for, even in the midst of flooding, or whatever.
*hugs*