What Marguerite has Wrought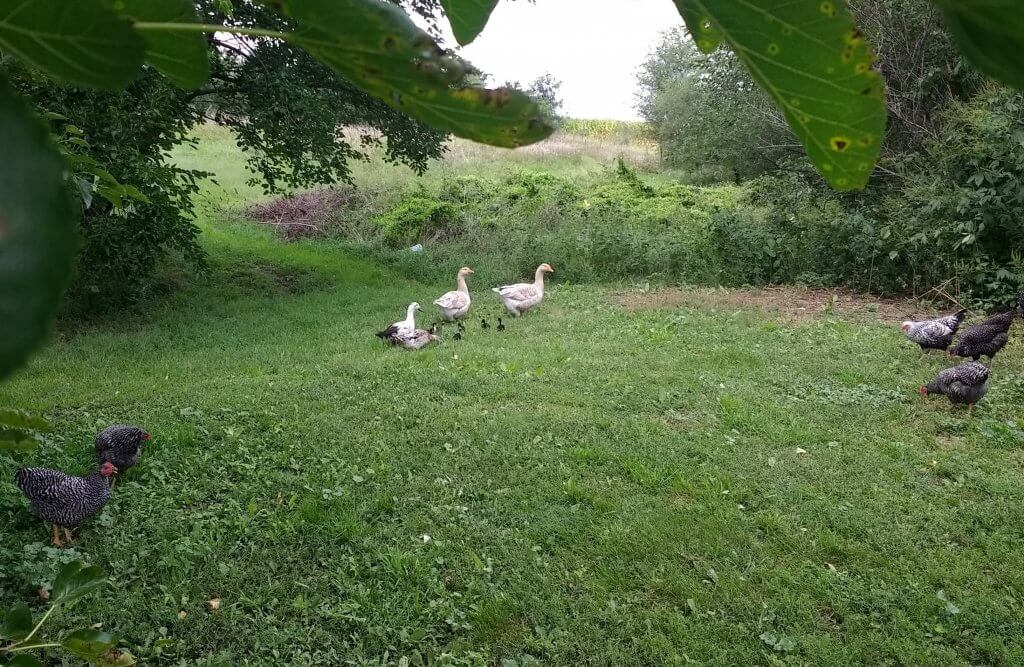 This is one of my favorite types of posts to write. This is one of my favorite types of events to report! What type of event? This one: when a critter at our place shows up with young ones, and we totally didn't see it coming.
That precise moment of discovery fills my heart with delight, no matter what kind of day/week/season I'm in the middle of.
Other things in life might seem difficult, overwhelming, and scary . . . but God shows me with the unexpected arrival of new fresh life that life is good, after all. That there is every reason to hope and believe for the best. That He is watching over us with mercy and kindness and that He does know exactly what we need to bolster flagging spirits.
So here's how it happened. 🙂
A couple days ago, I was slogging about first thing in the morning, doing the outside chores. It was one of those days. Grey, overcast, yet hot already, though it was early morning. I was brooding on a few worrisome "what ifs" and I was trying not to cry as I slogged through my chore routine.
I walked the dogs, fed them, and filled their water bucket. Then I turned toward the cats with dishes of their breakfasts, trying not to stumble over Merry, who gets under my feet, always begging, begging, begging for an "eggggg. eggggg."  I broke an egg over each dish, watching for a minute as the cats dug in, purring.
Then I walked out tiredly to the chicken yard, carrying a bucket of scraps from the kitchen.  I opened the coop's little back door and watched the stream of hens and roosters as they hurried out, one by one. I took some time to dump and replenish their water buckets, and scatter plentiful amounts of feed and veg scraps. My feathered friends fussed about, grabbing beakfuls of breakfast, as they also kept one eye (apiece) on the farm woman stumping about quietly in their midst. As I waited for the water bins to fill, I watched them (as is my wont), a little morosely (as befitting my mood) eat their breakfast.
Some folks watch the news, first thing. I watch my chickens.
I finally let some discouraged tears fall. Nobody was out there to notice, anyway. Except for a few dozen chickens, a couple of geese and a duck: Percy, my drake, was out in the yard. Gosh. I realized suddenly that his mate, Marguerite, was missing. Uh-oh. Where was she? She was usually out there first at breakfast time. This wasn't good.
I turned off the hose, and moved the big rock that I keep against the front door of my coop (against the predators), feeling guilty because I hadn't been in there for a few days (guilt because I have a hen in there who keeps trying to sit on eggs, but she hasn't been successful yet in hatching any, and it takes daily maintenance to make sure she's on her original nest.)
I opened the door and wended my way in, avoiding a cobweb that was hanging in the doorway. The coop was empty except for the persistent Nelly, who was sitting on her nest (the correct one, thank goodness), and–ah, there you are–Marguerite, our duck.
This pretty duck, a birthday present for me in May, had been making nests and sitting on eggs all summer, and then abandoning the same nests and la-dee-dahing around the farm with her mate Sir Percy, to the point where I had given up entirely on the notion of ducklings. Not every critter is cut out for the monotony of motherhood, eh? It takes real commitment. Fortitude. Patience. And the willingness to accept a certain amount of boredom at times, and to hang in there for the LONG HAUL.
As I walked across to peek at the eggs underneath Nelly, I glanced at Marguerite, who was huddled underneath the roosting bars in the corner of the coop, bent over with her bill close to the floor, engaged in earnest conversation with . . . six newly-hatched ducklings . . .??!
I stopped in my tracks. My mouth dropped open in astonishment, and I laughed. My heart was filled with joy. Thank you, God.
It has been a difficult summer here, in many respects. The super hot temperatures started very early in the season, and it has also been punishingly humid. For some reason that I haven't figured out yet, my hoop house–usually my happy place, you know!–has been full of biting flies since the beginning of the summer, which really bites (hehe). I bit off more than I can chew (too much?), farming-wise (though that's never a surprise). There are family issues that have been hard. Disappointments and hard things in other areas, too. So, surprise ducklings: yes, yes, and yes. And yes and yes and yes (there are six of them).
We badly need these ducklings at our place. I've said it before, I'm sure: there's nothing on earth as winsome as this: Mama duck showing tiny replicas of herself around the chicken yard for the first time. Papa watching from a polite distance, but not interfering. The little ones–only a day old, if that!–immediately pushing their little bills (no bigger than the nail on my little finger!) into a tiny puddle, and paddling their crepe-thin webby feet into it.
I've raised baby ducks before, also baby geese, and of course baby chickens. And yes, baby humans. Lots of all of them. It's a fun activity; it's not hard to do. (Well, the last one is tricky.) Nothing beats watching a mama raise her own babies. It is an exquisitely lovely thing. And there's no endless peeping or cheeping from the young ones, as there is when I raise a batch of chickens or ducklings en masse.
Their needs are met. They have no reason to fuss for a thing. When you raise a batch of baby chicks or ducklings yourself, there is constant chatter–peeping, cheeping, occasionally a loud and intense kerfluffle when one will get scared, or hurt, or hungry. Not so when Mama is raising her own babies. I rarely hear a sound from these ducklings, and when I do, it's soft and conversational, not frantic or frightened.
The young lady goose sisters–Hyacinth and Petunia–watched all this new activity with intense interest, and then Petunia very gently stepped forward and scooted her bill underneath one of the ducklings to push it closer to its mama "Stay close to your mama, dear." Both geese–now acting as attentive aunties–stayed very close to the new little family for the entire day. Alert. Watching.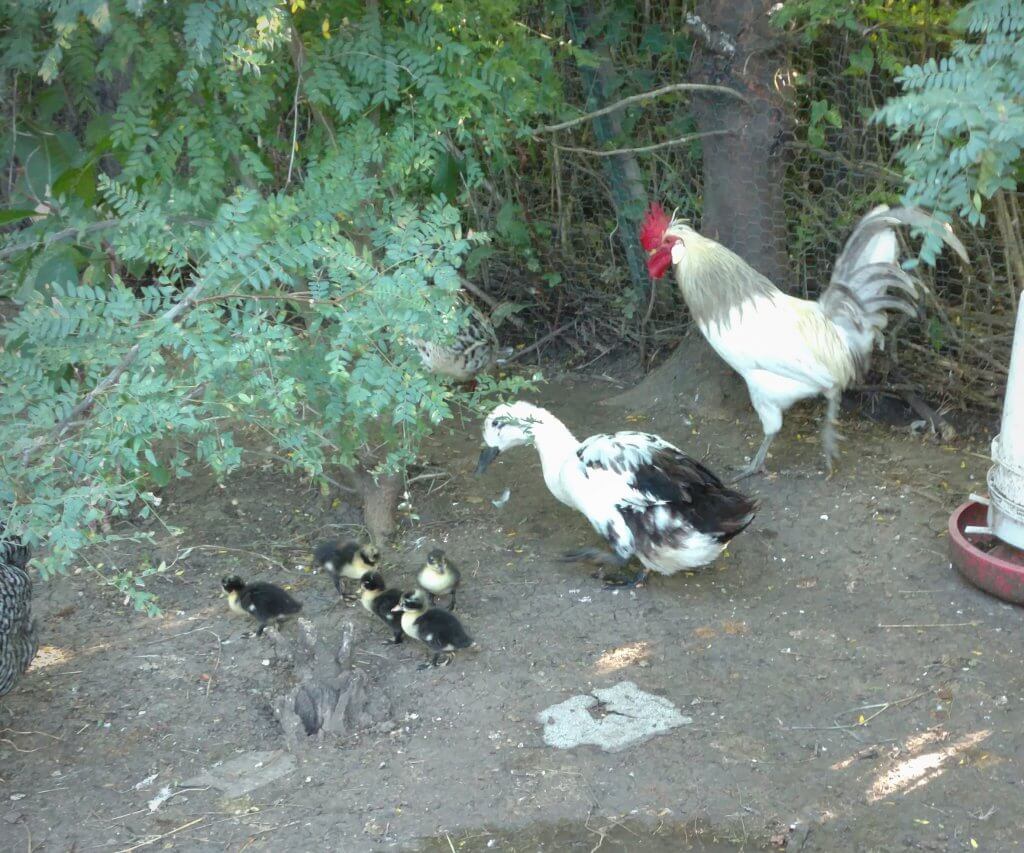 My other auntie goose, Lucy, sadly perished earlier this summer. I can't help but feel a little sad that she's not here to participate in the lives of these ducklings. She was a very involved auntie, always adopting critters who needed some nurturing support, in the chicken yard of course, but elsewhere, also. When our old Australian Shepherd, Bea, became old and blind and deaf and had to be kept on a rope for her own safety, Lucy used to go sit next to her during the day, just to pass the time. When we raised a couple of piglets a couple of years ago, likewise, she spent many afternoons sitting with them in the shade. She was quite a goose.
I used to keep the ducks and geese in another house and yard, across on the other side of our farm. But for safety's sake (that house is not as secure as our chicken coop), I've started keeping my waterfowl with my chooks. I wondered what it would be like to have these new ducklings in a noisy, rooster-heavy (always) flock of chickens and a couple of geese, and a couple of ducks all living together in our shabby little chicken coop. Would they all get along? Would the roosters pick on the new ones?
But no. The little ones have merged into the woof and warp of the flock as if they've always been there. They stick very close to their mama, and the other bigger birds watch their steps when they are near them. Everybody seems to respect the new little family, and to be curious and interested in this new life, so unexpected, yet so welcome.
This following event gripped my heart: A few days later, we were out for the evening and when we got home, it was dark. Mack and I hurried out to the chicken yard with flashlights, worried (just a little) for the precious new ones. There stood mama Marguerite, in the middle of the yard, with her ducklings clustered close to her, as if she wasn't sure what to do next. All the rest of the flock was safely in the coop. We both gently started to coax her closer to the coop. She started quacking at her babies to follow. In an instant, both auntie geese and papa Percy came barreling out of the coop, down the ramp into the darkness toward us, to see what was the matter! To come to the aid of mama and babies if need be!
I can only imagine the concern of all these waterfowl earlier in the evening, as the sun was settling down below the horizon, and as Mama Marguerite tried to coax the little ones to follow her up the ramp. Perhaps they weren't getting the message in following her. Worries. Anxiousness. A little stress, as the sun set and the shadows got longer and longer.
"Please, children, do what Mama says. You are more precious to me than I can say. Follow me up the ramp now, and be safe. Let me take care of you. Don't take unnecessary risks out here in the world. If anything happened to you, I'd not endure." I know this feeling so well. SO. WELL.
I'm pretty sure that's what she was saying to them, though it sounded like "Quack, quack, quack, quaaaaack."
Mack and I lifted them into the little door, one by one, and then the drake and the geese, satisfied, quietly followed.
Just as little children can lift the spirits of the sad and bolster the energy of the tired, these little ducklings can cheer a sad old farm lady up like nobody's business.
You understand, don't you, gentle reader?
Thank you so much for popping in today. My subscription box–missing for a few weeks–is back on my home page, if you wanna subscribe to this nonsense. 🙂 And please do come back. I have some more happy news from our place that I will announce very soon!
*hugs*