Wondrously tasty and surprisingly addicting: Amalia's Hot Salads!
Consider the dilemma of my adorable daughter Amalia. Due to her confounding problem of chronic daily headaches, she agreed some months ago to go on a very restrictive diet —the Autoimmune Protocol Diet–which cuts out all grains, nuts, eggs, milk, sugars and more. Theoretically it's supposed to heal the immune system and gut mucosa, so if you have an autoimmune disease or condition, this is something you might try. Autoimmune diseases are on the rise, not surprisingly *sigh*.
Basically, Amalia is limited to eating meat, most veg, and fruits. Good fats. Lots of herbs, organ meats, and fermented foods. At our place, the freezer is nearly always well-stocked with locally grown beef and chicken, and we eat lots of fruit and veg, most of it which we grow ourselves, tra-la–so this is not a difficult thing to do, but some days it's not much fun. It's not particularly fun to eat a hamburger patty with leftover sweet potatoes for breakfast, for example, when the family is enjoying waffles with brown sugar and cream. It's not so fun to eat a bowl of last night's stir-fried vegetables while the family is eating pizza from Pizza Kitchen. Or to eat a bowl of apple slices while everybody else is eating ice cream and cake.
I've tried to limit these insensitive and egregious sins against Amalia's feelings and palate, and the entire family–for the most part–has also been eating the AIP diet, with the exception of homemade bread now and then. (Hey. I make bread. It's what I do.)
Amalia has been determined to stay on this diet for ten weeks, to her credit, to see if it will help her headache problem. If it doesn't, she has lost nothing. If it does, she will have gained a great deal, of course.
Which brings me, strangely enough, to the annual and euphoric putting-in-my-garden season. 🙂 When the weather warms up enough that I can actually tippy-toe out to my garden every morning and plant and mulch and weed with the wild desire that has been building since last fall when I tucked last year's garden in for the winter, our daily routine changes to revolve around the garden work. 🙂 (I'm The Mom.)
Here's our routine this time of year, as it has been for (*cough*) decades now, and possibly contributes to the fact that my grown-up children are all enthusiastic foodies and gardeners (so, Mack and Amalia: I'm doin' you guys a favor!). I make a fairly detailed garden to-do list the night before, lying down to bed with happy thoughts of growing things dancing in my tired head. In the morning, the kids and I discuss the goals for the day and I parcel out jobs and responsibilities. Some days it works best if they both work outside with me. And others, maybe Amalia will do the housework that is screaming (howling, oiy!) to be done, while Mack helps me in the garden.
He's great at fetching things. And holding things. And keeping me entertained with his imagination and conversation. 🙂 And climbing up where I don't want to climb. And when you have a hoop house to plant in, climbing is always an option. 🙂
In any case, we work hard for the morning, and then we meet together around 1:00 or 1:30 for a late lunch. By then I am tired, happy, and spent. Still, I'm not willing to call it a day, oh no, not by far. I'd be content to sit down with the kids to a quick peanut butter sammage and apple slices, refill my water jar, and head back out to conquer yet another garden bed or two. Except for one thing.
Amalia's AIP diet doesn't allow for peanut butter or bread. And it kind of breaks my heart to see Amalia's big eyes, asking "okay, so you're having a sammage, but what should I eat for lunch?" So most days, Amalia's jobs in the morning include making lunch. It takes more effort to make an AIP-approved lunch than to grab a quick sammage, after all, and she doesn't resent being inside as much as I do, so it's a good fit. 🙂
So that's the round-about story of how we came to enjoy our latest food crush: Hot Salads!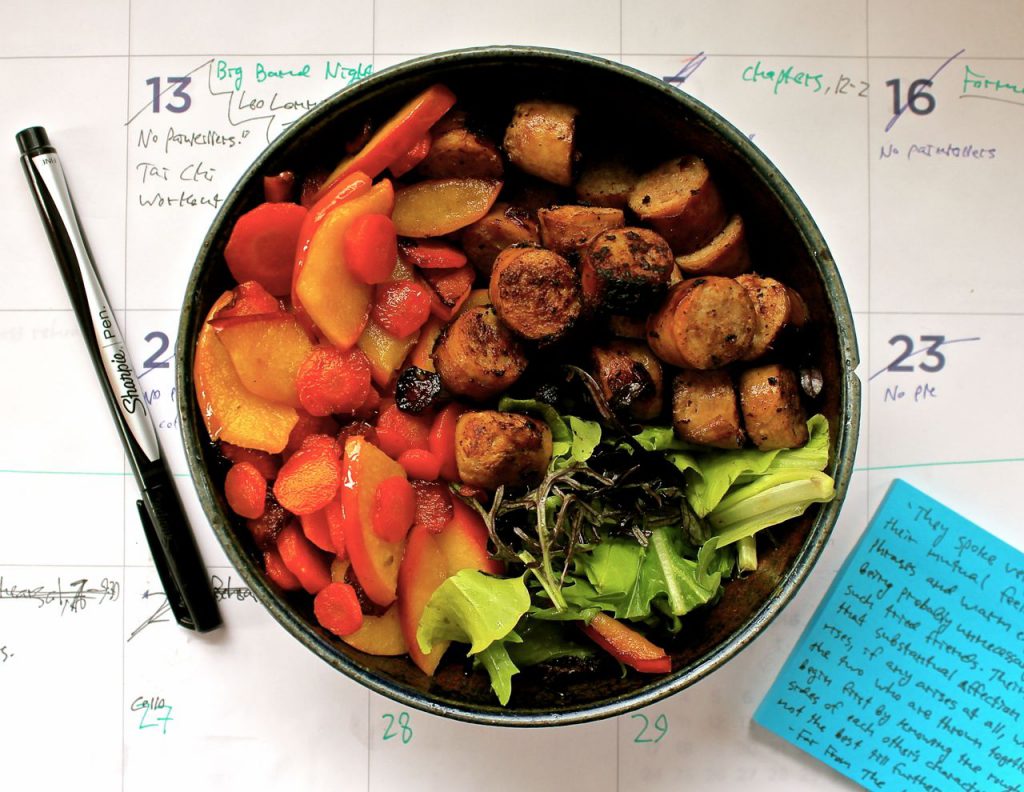 I have a bed in my hoop house full of the most beautiful and delightful lettuces and greens that you could ever imagine, due to an indulgent garden friend who gave me plugs of these gourmet greens a couple of months ago. It is such pretty stuff that Amalia and I have joked about using it in wedding bouquets. It's not only really pretty but it's also delicious and fresh, natch'. So the first day that my daughter made  her Hot Salad lunch discovery, she rang the lunch bell and also bellowed out to me: "Bring in some greens!"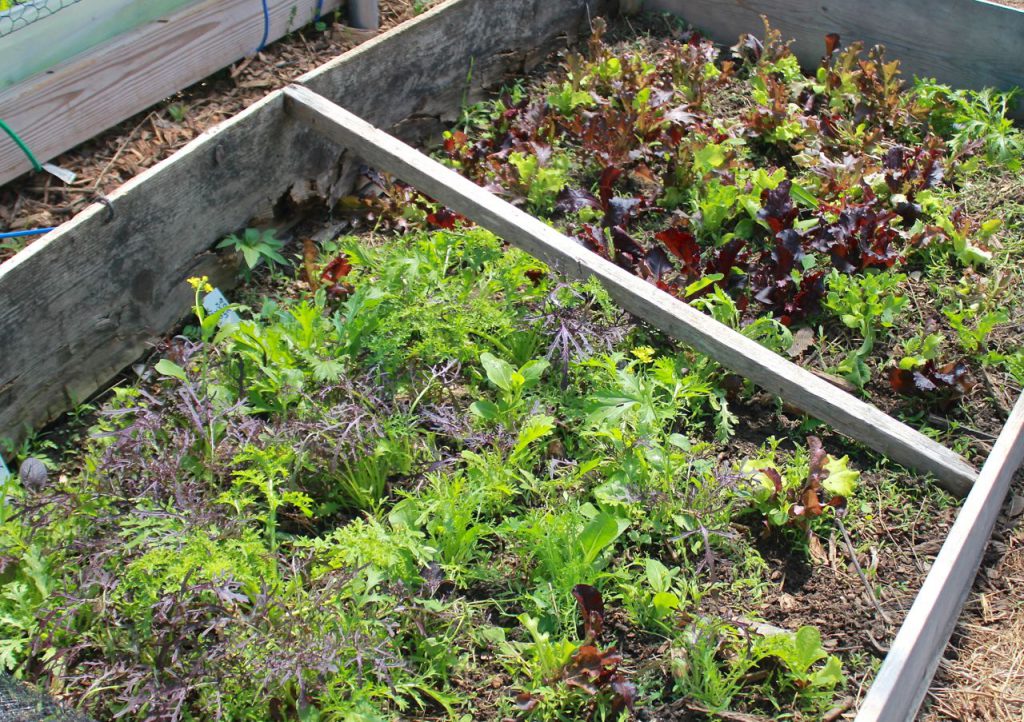 I dutifully grabbed a few handfuls of greens, and headed for the house. I smelled sausages. And sauteed apples. Mmmm. Amalia took the greens from my hands and gave them a quick wash, and then tore them into pieces, into a big bowl she had waiting.
By–the–way—! If you don't have a garden bed full of cut-and-come-again greens, by all means, plant one today. I keep one similar to this one in my garden or hoop house most months of the year. Lettuce is nice, but something a little tougher–like this mix of colorful mustard greens is nice, too, or even baby kale and/or collards–are great, and actually might do a bit better as the weather heats up. Lettuce doesn't usually do so well in the garden, once it gets punishingly hot outside. You can harvest a handful or two of this stuff all summer long! It's awesome. And it just keeps growing back.
Amalia handed me a bowl full of the washed greens, and–with her eyes shining–instructed me on what to do next. And now I'm sharing this wondrously tasty new dish with you. Hot Salads. Their time has come. This is their grand unveiling. 🙂 To wit.
(After this lengthy build-up, are you:
thoroughly bored, or–
fascinated and ready to learn more??)
Prepare yourselves. Once you launch these Hot Salads onto your friends and families, you'll get requests for them all the time. Amalia certainly does! Here we go.
Four Basic Ingredients:
Meat for sauteeing–we have used turkey sausage links, spicy brats, homemade turkey sausage patties, and chicken breasts so far.
Favorite veg and/or fruit for stir-frying: our favorites are chopped apples and carrots, sauteed together in olive oil, and sprinkled with cinnamon (just a pinch) and salt. Onions and garlic are always good, too, natch'.
Fresh greens and any other fresh veg that you might want to toss in (cauliflower, sliced cucumbers, and chopped celery are all great additions).
Good olive oil and fresh lemon slices, and any other fresh or dried herbs you'd like to add.
As you might imagine, these salads are quite tailor-able, i.e., you can make them pretty much any way you like them. The important thing is to have the mix of cold ingredients–the greens and fresh veg–with the sizzling hot ones–the sauteed veg and the meat.
So for those of you who prefer to read the recipe on how we did it rather than winging it your own lovely selves, I've written down one of our recipes for you. And please–if you have a nanosecond, and if you love me even just a fraction of how much I love you–share this post with your friends, if you think it looks like something they would like (and who wouldn't like this?). It means the world to me when you do this. *dimpling*
By the way, the recipe as it is written is AIP-friendly. I'd add freshly-ground pepper to it if you aren't on the AIP regimen. 🙂 And maybe a dusting of Parmesan cheese.
Wondrously tasty and surprisingly addicting: Amalia's Hot Salads!
Recipe Type
:
main dish salads
Author:
Prep time:
Cook time:
Total time:
It's new! It's scrumptious! It's what's for dinner—and lunch–and possibly, even, breakfast! Hot Salads!
Ingredients
1 pound chicken breast, cut into bite-sized pieces and sprinkled with dried herbs
olive oil
lemon, cut up into wedges
3 apples, cored and diced (leave skins on)
3 large carrots, peeled and sliced
big handful of fresh flat-leaf parsley or your favorite herb crush of the week, chopped
cinnamon and salt
cucumber, sliced
any other fresh veg you like, cut into bite-sized pieces
1 pound fresh lettuces, bitter greens, baby greens, etc., washed and torn into bite-sized pieces
Instructions
First prepare all the veg: wash and spin the greens, wash, peel and chop the fresh veg. Cut your lemon up into wedges. Set all aside.
Then: saute your meat in a heavy skillet, with olive oil, stirring often to prevent sticking. When cooked through and a bit crusty on the edges, liberally salt and season with herbs and cover, keeping hot (we cover ours with foil and a soft dishtowel, and place into a warmed oven.)
Next, using the same skillet, add another swish of olive oil and saute your chosen veg and/or fruit (in this case we used chopped carrots and apples, and then added just a whisper of cinnamon) until barely soft, then season.
To serve: Make a nest of greens in the bottom of your bowl (use more than you think: it will smash down a bit with the heavier ingredients on top), add the fresh veg, the sizzlingly hot meat, and the hot sauteed veg. Add your seasonings on top–we sprinkle with dried herbs, freshly-ground salt, and chopped fresh herbs. Squeeze a lemon wedge on top of the whole thing, add a glug of extra-virgin olive oil, and you're good to go. Dig in. Dive in. Grin happily at the deliciousness. Share my post. All good things. 😉
Thanks, guys. Now go out and conquer the day!
*hugs*