YES you CAN make artisan bread in 5 minutes: here's how!
 Keep a batch or two of this basic artisan bread dough (or "bucket dough") in your 'fridge and you'll always be ready to make scrumptious artisan bread in 5 minutes (or so) plus baking time. Here's how.
A Brief Bread Backstory
My intrepid mother, my daughters and I used to sell breads and other baked goods at a local farmer's market. (In fact, I wrote an ebook about it. Check it out here.)
We started out small with one table and a few baked offerings–pies, sweet bars, quick breads, donuts, and my homemade breads. Within a few weeks, hands and wrists aching from all the kneading that traditional yeast breads require, I switched over to this 5-minute artisan bread (or "bucket dough") method.
I never looked back.
We bought a couple more tables, as our business grew quickly and so did our ability to make lots of baked goods quickly.
Switching from traditional kneaded yeast breads like this crunchy 9-grain loaf to baking primarily with the 5-minute artisan bread method made all the difference in the world in how many loaves of bread I could make very quickly.
And it was excellent bread. It lacked for nothing.
Many years later
Eventually we retired from farmer's markets, but I can still put hot bread on the table in very little time, as long as I keep a bucket or two of dough in my 'fridge. It's my super power. (One of them.)
It's a super power that anybody can learn though, gentle reader, thus today I am sharing this power with you.
If you've been dreaming about making hot artisan bread, or possibly you've heard of Jeff Hertzberg and Zoë François's excellent book, The New Artisan Bread in 5 Minutes a Day, and maybe you'd like a Reader's Digest version of how to make it, you've come to the right place.
I'll put in a plug for that book, since you mentioned it. 🙂 My own copy is dog-eared and sticky-noted and, well, just plain sticky. This cookbook is full of great recipes for everything from rustic peasant loaf to chocolate-filled brioches, all made with this super-simple bucket dough method.
You probably really oughta just add it to your cookbook library, too. (I have affiliate links in this post, which means, of course, that if you click through and order something, I'll get a small commission at no extra cost to you, which is nice for both of us. My entire affiliate disclosure is here.)
Now are you ready to try your hand at 5-minute artisan bread? 
If you've never made bread before and are intimidated by the whole process, this post is for you. If you're a seasoned bread maker and want to try something new, fun, and easy, this is also for you.
You really CAN make artisan bread in 5 minutes.

Okay. Let's do this thing.
How to make artisan bread in 5 minutes
I took some liberties and changed the original method a little. You can pop over to the Artisan Bread in 5 website–it's excellent--for lots of great recipes and videos, too.
First, gather a few pieces of equipment
A one-gallon ice cream bucket with a lid, or a lidded bowl about the same size
Danish whisk
Pizza stone
A cookie sheet*
Parchment paper
a small pan that will hold a cup of water, and that fits in the bottom of your oven
A sharp knife or a bread lame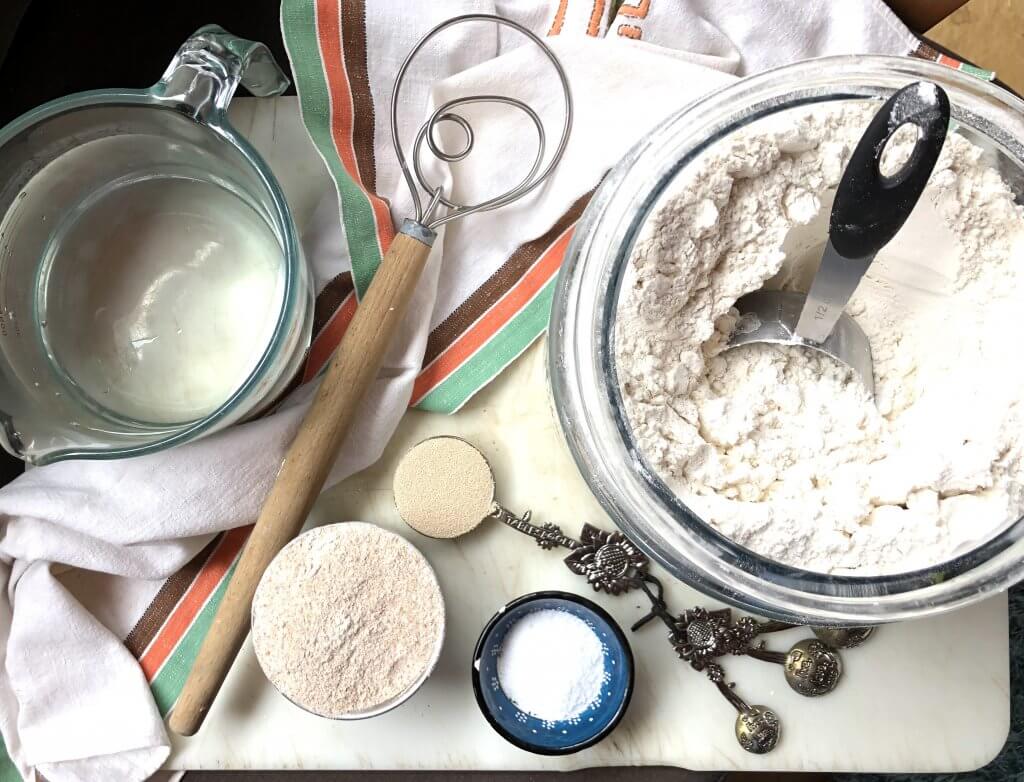 Second, assemble a few ingredients
very warm water
granulated yeast
kosher salt
whole wheat flour
unbleached flour
a handful of cornmeal
That's it! *cymbal crash* Are you not amazed?  Are you not ready to do this thing?  So little equipment + so few ingredients = bread that anybody can make. Even me. Even you!
Third, mix up the bucket dough
Stir yeast and salt into the warm water
Add the flours
Stir, stir, stir, until incorporated
Prop lid on top (but leave it ajar).
Let sit for 2 hours or until the dough rises to the top of the bucket.
Sock into the refrigerator for a few hours, preferably overnight.
Tip: If you're in a big hurry, you can use the dough after the initial rise, but it will be floppy and wet. It's much easier to use after it has spent the night in the refrigerator.
Fourth, shape your loaves
Now comes the fun part.
Ease your dough out onto a floured board and cut it into four equal portions. Remember: no need to knead! (Save those lovely hands for soothing fevered brows, or playing a Mozart sonata on your grand piano in the next room. Don't knead.)
Dust a parchment-lined cookie sheet (without edges) with cornmeal.
Quickly shape four loaves, sprinkling the dough with additional flour if it sticks to your hands. Smooth the dough on the top and pinch together the dough on the bottom of the ball, until a compact ball forms. Place the balls on the cornmeal.
Let rise for 40 minutes.
After 20 minutes, place the pizza stone into your oven, and preheat to 425°.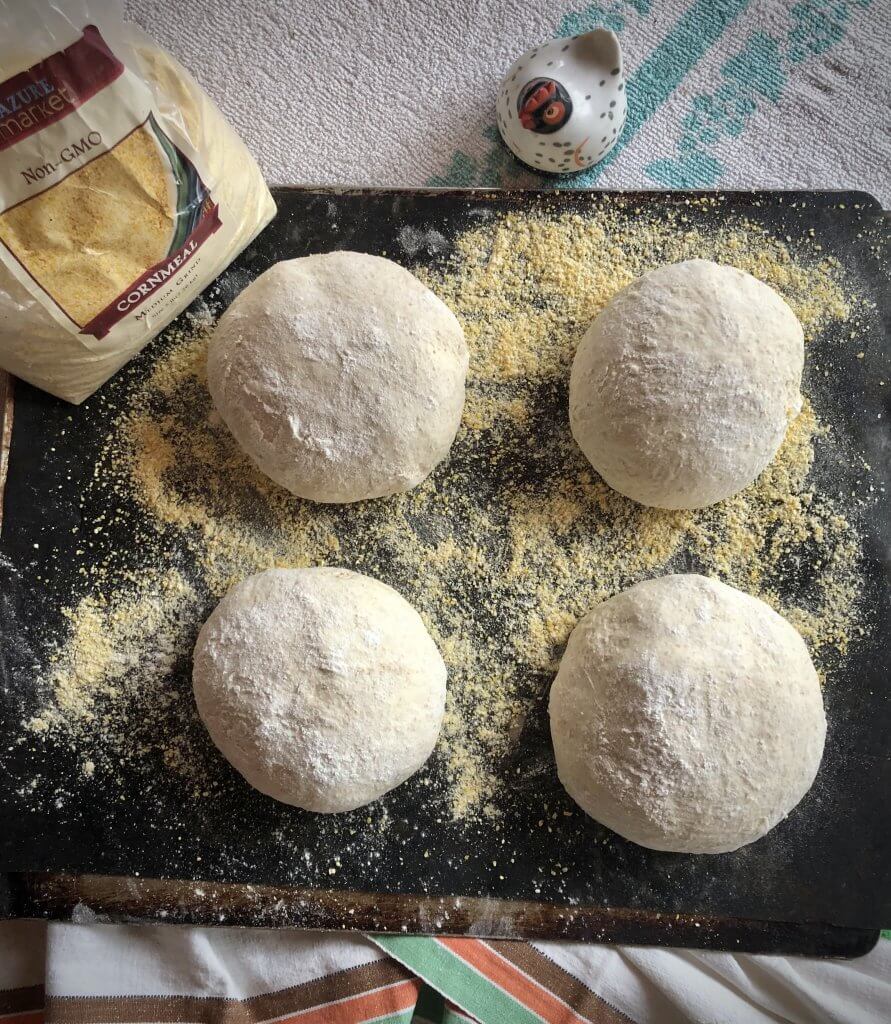 Pro tip on the shaping of the loaves
Here's a video made by Zoë François on how to shape, or "gluten cloak" this generally very wet dough. It's worth a quick watch if you have questions about it. In my opinion, it's the only tricky part of this process.
Fifth, bake your bread
When your 40 minute timer goes off, dust the loaves with flour and make a couple slashes across each loaf (the design is yours to choose!) with a very sharp knife, or a bread lame.
Pour one cup of water into a small pan (I use a very small bread pan) and slide it into the bottom of the oven.
Slide the loaves onto the parchment paper directlyonto the baking stone, removing the cookie sheet carefully. Don't put the cookie sheet away yet, though!
Bake for 20-25 minutes, or until golden and the bottom of the loaves is golden and firm too.
Pull out your bread by inserting the cookie sheet underneath the parchment paper and slide the loaves on wire racks to cool. We usually sacrifice one loaf to eat hot, with soft butter! You can't beat it! (And I say "sacrifice" because slicing hot bread usually mashes it to some extent.) (But it's worth it!)
Pro tips from somebody who has made thousands of these loaves of bread (me)
The very hot temperature and the panful of water in the bottom of your oven makes a steamy sauna for your bread loaves that will make the nicest, crackliest crust that you can imagine.
I don't wash the bucket out; as soon as I dump the dough out, I take the approximately 1.5 minutes' time to mix up a new batch of dough. Easy-peasy, efficient, and above all: SMART!
Once the bread has fully cooled, you can store it in a plastic bag, though my guess is it won't last that long. If you want to gift a warm loaf, place it in a paper bag, not plastic.
Soft butter, homemade jelly, honey, and peanut butter are all excellent toppings for this chewy, dense artisan bread. It also makes wonderful grilled cheese sandwiches.
If you want to make larger loaves, simply cut the dough into fewer chunks.
You don't have to dust the parchment paper with cornmeal. You can also use whole wheat flour, rolled oats, sesame seeds, or anything else you take a fancy to.
Yes, you can add other ingredients to this recipe
You can substitute cup-for-cup any flours for flours in this recipe, though I've found that keeping at least some of the all-purpose, or unbleached flour makes a better texture. You can also add 1/4 to 1/2 cup of non-flour ingredients, including chopped olives, nuts, seeds, shredded cheese, oats, and more. Experiment! It's fun and you'll undoubtedly find a new favorite recipe.
Einkorn flour
wheat germ
rye flour + caraway seeds
wheat bran
rolled oats
sunflower seeds
toasted walnuts or pecans
a mix of seeds and nuts
chopped olives
sun-dried tomatoes
molasses + cocoa powder
shredded cheese
chopped herbs
sesame seeds
poppy seeds
You've done it.
You've made artisan bread with just a few minutes of effort. I highly recommend that you pop over to the website I mentioned above and enjoy a bit of time familiarizing yourself with the "bucket bread" method.  It's a great website, with helpful links and hints for buying equipment, lots of recipe variations, and updates on the books that they have available. I have several of them.
Here's the recipe in a handy, printable format!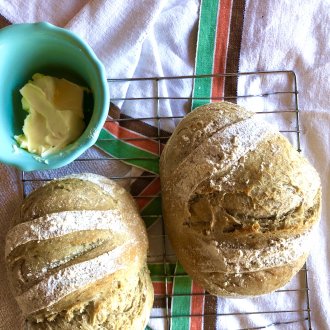 Light whole wheat artisan bread
Yes, you CAN make scrumptious loaves of artisan bread in 5 minutes . . . with just a little prep before. Here's how!
Ingredients
1-1.5

Tb

kosher salt

1-1.5

Tb

yeast

3

cups

very warm water

1

cup

white whole wheat flour

5.5

cups

unbleached or all-purpose flour

2

Tb

cornmeal
Instructions
Use a Danish whisk to mix yeast, salt and water in a plastic 1-gallon bucket or similar-sized food container or bowl.

Prop lid on top of bucket, but don't close it all the way.

Let dough rise until it reaches the top of the bucket, approximately 2 hours.

Put dough into the refrigerator for 2 hours, covered, or overnight if possible.

Shape dough into four loaves on a sheet of parchment paper and let rise for 40 minutes.

Preheat oven to 425 degrees, and place a pizza stone on the lowest rack of the oven, and one cup of water into small pan onto the floor of the oven.

Slide the loaves, parchment paper and all, into the oven, onto the pizza stone.

Bake for 20 to 25 minutes, until golden brown on top and firm, golden bottoms.

Cool on wire racks. Then enjoy!
Shop this post:
Don't think of it as an expense, but an investment. You're investing in a happier, healthier home and family when you learn how to bake your own bread. Here are the supplies I use to make my artisan bread in 5 minutes per day (affiliate link, obs).
1. Bread-maker's lame, for beautiful slashing
2. A pizza stone that fits your oven
3. A Danish whisk (these used to be rare and pricey, but they are much cheaper now and easier to find)
4. Food-grade buckets (one gallon or larger) with lids, if you can't find ice cream buckets that size.
5. Bulk yeast is much cheaper* than buying it in the little envelopes. (This is the brand I prefer.)
6. A good cookie sheet without edges, for ease of sliding.
7. Re-usable parchment paper (lasts for years and years)
8. My chicken timer (invaluable!)
9. A bench scraper (to cut the dough and clean up afterwards)
10. Good kosher salt (this is my favorite and if you use my link and special code at checkout (saltychicken) you'll get a 15% discount!)
But wait, there's more . . .  a few helpful links:
Pin it to remember it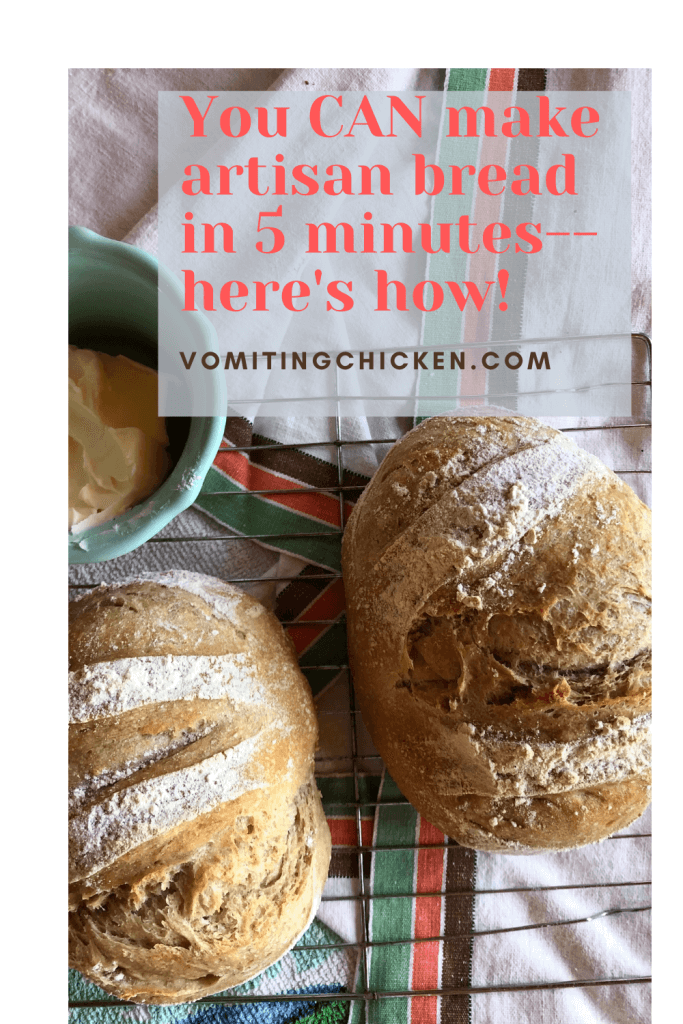 Thanks bunches for popping in, gentle reader, and for reading to the very end. Well done!
Questions? Comments? Concerns? Observations? Please avail yourself to the comment section below. And if this post helped you in any way, may I ask you the favor of sharing it with a friend or relation?
Humble thanks!
*hugs*