Aronia berry smoothie: lunch fit for a prince
I just love fall. I want to marry fall. It is so rich, so changeable, so full of delights, I just can't get enough of it.
Truly.
But Mom, you are crazy, you were just raving about how much you loved summer and how you didn't want it to end  . . . just . . . yesterday, I think . . . You wanted to marry summer last week.

I love summer, too (cough). I never am ready for it to end. I am a Daughter of Summer. But I've adjusted, okay? Whoever said that I'm good at making lemons into lemonade was spot on. Spot. On.
So you're saying that fall is a lemon? Why would you want to marry a lemon? Why, Mom, why?

No. Fall is a peach. Now. Let's talk about lunch. Want a smoothie again today, my prince?
I guess. But I feel like arguing with you, first. Then lunch.
You always feel like arguing, and I never do. Hmm. Oh. No . . . I'm running out of words . . . You know that every person on earth wakes up with a finite amount of words in the morning to use, and when they get to the end of their allotted words for the day, they just go mute? Then they have to go and lie quietly in their bedroom and take a long nap. And somebody else has to wash the dishes for them.
That's not true. Mommm . . .
Yes, it's true. Just the other day—mmm–aaahh . . . . *silence, gaping mouth, eyebrows raised, surprise*
Awww, Mom—-*rolling of eyes*–running off in the other direction–

Now. To the matters at hand. I have been delighted at how much my family is enjoying the aronia berries that we've been picking and putting in the freezer. I wrote about them here, along with a dandy recipe for aronia berry scones.
Our appreciation for, and enjoyment of, aronia berries has not waned, Gentle Reader. They are a pretty nifty, and underutilized, berry. I saw this on Facebook the other day: a photo that somebody had posted, a long row of aronia berry bushes, probably knee-high, and just loaded with clumps of berries. The person posting asked "Can anybody tell me what these are? They are growing in our windbreak."
Gasp.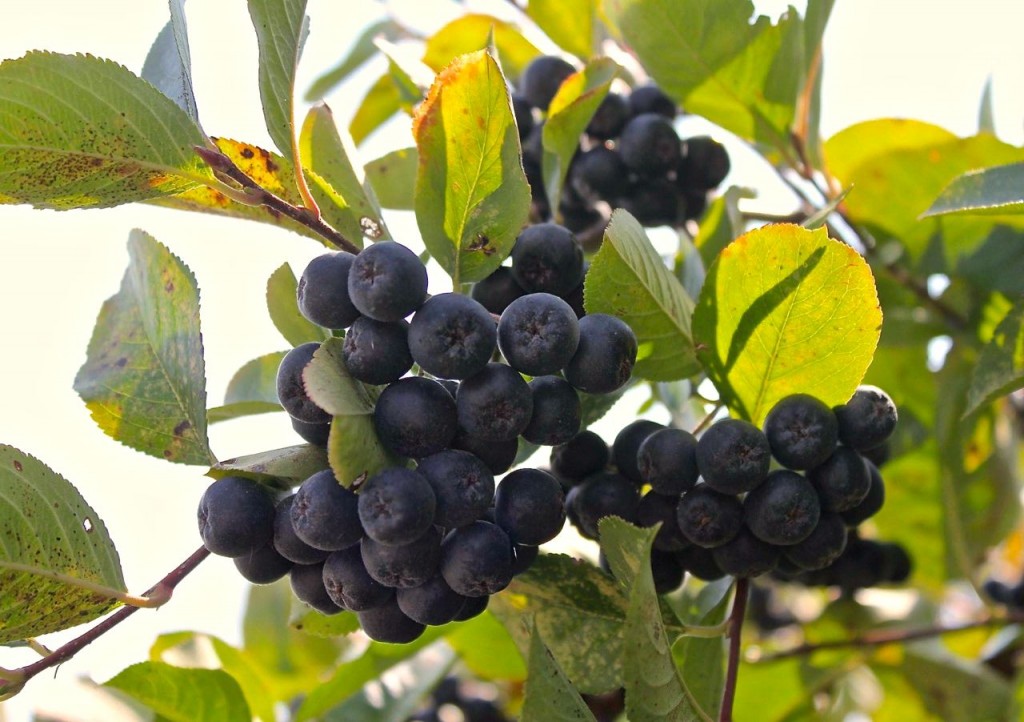 Aronia berries aren't sweet like blueberries, or tangy like raspberries: they are tasty, but also a bit bitter. So it has come as a nice surprise to me that little Mack actually asks for an aronia berry smoothie for lunch, nearly every day. I know that having a bucket of vanilla ice cream in the freezer doesn't hurt matters any (Please, Mom, just one scoop on the top?) but even with that indulgent addition, I'm pretty happy to be getting these super-nutritious berries into the stomachs of my kiddos.
I set out to create the perfect aronia berry smoothie recipe, and now that I've made over a half-dozen smoothies in the past week or two, I've come to the realization that you really can't go wrong. I'll share my current favorite recipe with you, however, to get you started. If you have some aronia berries in your freezer to use, hooray! If not, you can substitute blueberries. Or any favorite berry that you have on hand, really.
You can't beat the color of an aronia berry smoothie, however.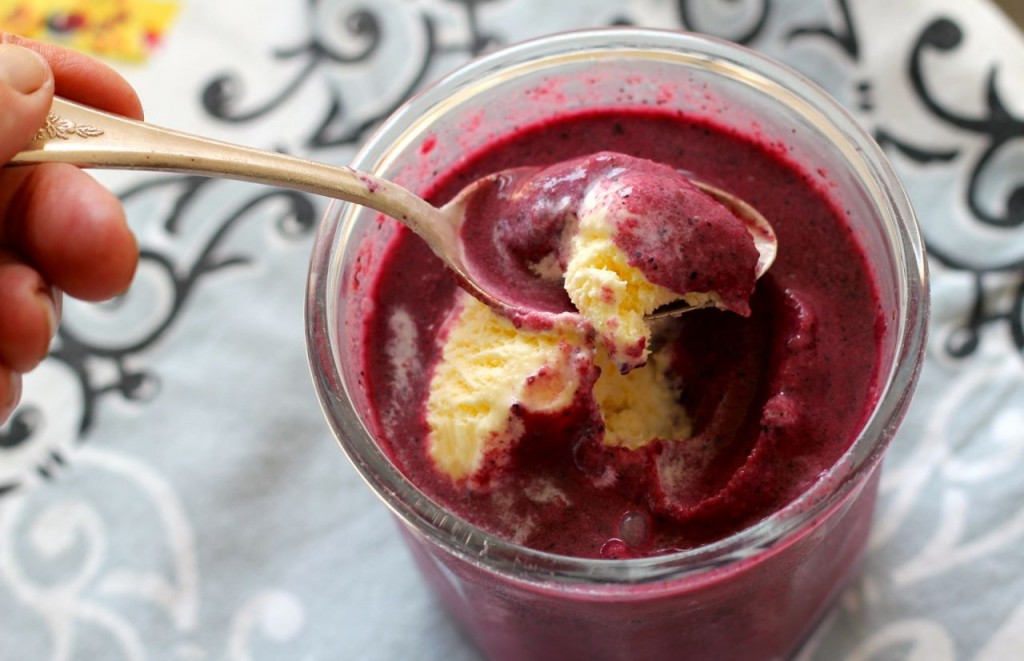 Here's my current favorite recipe, and this will make enough tangy, icy, creamy smoothies for 4 people, including one rather spoiled prince.

Aronia berry smoothie: lunch of princes
Author:
Amy from vomitingchicken.com
Aronia berries make the prettiest smoothies! And they are just packed with antioxidants and other goodies so your body will thank you for all this goodness!
Ingredients
2 Tb chia seeds, soaked in ½ cup water for 15 minutes
1 or 2 frozen bananas
1 cup frozen aronia berries
1 cup plain Greek yogurt (or kefir)
1-2 Tb raw honey (or a couple drops of stevia)
1 cup milk (or coconut milk)
1-2 Tb coconut cream (optional, but it imparts a lovely creaminess)
1 cup (or more) ice cubes
enough water to make it pourable
scoop of ice cream or dollop of whipped cream (optional)
Instructions
Put all the ingredients into your blender, and blend. Add water as necessary to help the blender do its job. Taste. Add more ice and honey if necessary.
Top with a dollop of whipped cream or ice cream, if the spirit moves you. 🙂
Consume immediately, if not sooner. 🙂 Enjoy!

There ya go! One nice thing about little Mack's newfound love of aronia berries, is that he will help pick the berries, and I think we might have one more picking left.

Oh, hey, if you noticed in the recipe above the addition of coconut cream, it's also known as coconut butter, and it's a great way to get healthy fats into your diet. It makes a smoothie very creamy and rich, and it's great in a lot of other recipes, too. I buy mine from Tropical Traditions, the same company that I buy my coconut oil from. And it's on sale this week. Check it out by clicking here:

I guess we'd better get at that last picking! Have a great day, Gentle Reader. Slow down a bit. Take a nap. Be good to yourself and to your dear ones.

*hugs*