National Pie Day: Cranberry Pie and an NFL player in my living room
Oh, I love National Pie Day, don't you? Wait! Don't tell me that you didn't know that National Pie Day is held on January 23 every year? That it's this Friday, as a matter of fact. I'm sharing my favorite pie recipe (currently!) a bit early, so if you'd like to make pie to share on National Pie Day–this Friday, in fact–you'll be prepared with this fabulous new recipe.
Also I'm going to tell you about having a NFL football player in my living room this weekend, eating (you guessed it!) pie.
Which to share first? Okay, okay–football player first, and then pie.
My daughter Bethie is engaged to a sweet fella from Hawaii, who has a rather large family back home. His brother John came to visit him for a couple of weeks, and we had the privilege of spending most of Sunday with these three. John is a linebacker for the Jacksonville Jaguars. You know that I'm not much of a football fan. Well, after meeting John, I might just have to become one. At least I will be following the Jaguars, since John is my new BFF.
We made homemade ramen for dinner (not the packeted kind, and I will be sharing this recipe with you  next week, because it was fabulous! and not difficult at all to make, and it gave Amalia and me the excuse to investigate an Asian market in the city, and to buy some cunning new bowls–but more about that later) and it was a hit. (And some Asian soup spoons.)
My mom dropped in on us during a gerbil emergency (don't ask) the night before, and after it was resolved, she asked me what I was going to do that evening. "Make pie for tomorrow," said I. I believe my shoulders probably shlumped just the merest bit. Unintentionally, you understand. It had been a busy day. I had the scoop shovel out, you know, cleaning house, and also I was making broth and tripping over our little cat that is suddenly in heat and quite irritatingly obvious about it, 🙁 and then there was the aforementioned gerbil emergency to deal with. Yikes.
"Oh Amy," she said, pity in her eyes, (or was that quiet sorrow over her daught's ineptitude?) "Why tonight?" she asked. I explained that we would be at church in the morning, and that the pies were for after-lunch dessert, and the, you know, gerbil emergency took more time than I reckoned . . . well, actually I didn't reckon on the gerbil emergency at all . . .
Side, mother-related note: This is why I love my mother: well, one of the many, many reasons I love my mother. . . I'm sure that when Mom glanced about, she could spot that the house wasn't ready for company yet (it never is, *heavy, heavy sigh*). It was past suppertime, but I hadn't started thinking about supper yet, either. It was around 6:30 when she asked me what my evening plans were, and her eyebrows lifted just the slightest bit, as if the thought of making pie in the evening is not something that she has ever contemplated.
Although I know, from experience, that it is. "Sure," I said, "I want pie to serve tomorrow after lunch, so I'm going to make a couple of pies. After I make supper, of course!" 🙂 I tried to appear cheerful and capable, although actually I was bone-tired and wanting nothing more than to sit down and watch Gilligan's Island (yep, that tired) with little Mack. Mom paused, no doubt imagining me still up at midnight, weeping over a pie crust that is not perfect and cursing my dumb luck and my sorry lack of pie-making gifts. "I'll make you a couple of pies," she said, with a barely discernible sigh. "Apple or rhubarb?"
There's another reason I love my mother. Also. Her pies (that she is so generous with) are, like, a million times better than mine. Mine are good. Hers are . . . . perfect. Or practically so.
So, quite Mom-like, Mom made three pies: banana cream (with meringue on top), apple, and rhubarb, and she brought them over the next afternoon. She brought Dad, too, since Dad actually does follow football, and he wanted to meet the NFL football player who was sitting in my living room. (Also she needed help carrying all those pies.) (Just joking, Dad!)
And that's also why I'm not jealous (not a bit) that Mom got her picture taken with John and I didn't.
Not bitter. Not a bit of it, ya'all.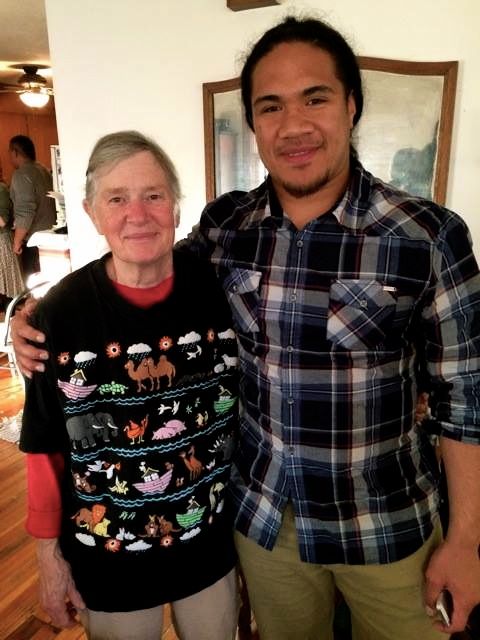 Who knew that a professional football player could be so absolutely fun to be with, though I shouldn't have been surprised, since I'm crazy about his brother, my soon-to-be son-in-law Saia, the love of my daught Bethie's life. I kept asking John if he didn't want to go outside and toss the pigskin around, and he just laughed. He taught little Mack some pretty fancy marble-playing skills (watch out!) and he and Saia told story after story of their growing-up years. It was pretty awesome.
But back to pie. Now that I've told you that Mom's pies are better than mine (but you already knew that, right?) my credibility as a pie maker might be just slightly tarnished, but oh well. 🙂 If you love a pie with a bit of tartness: think sour cherry, or rhubarb, or gooseberry, you'll love this cranberry pie with pecan crumble topping. I started with a recipe from smitten kitchen, and then I tweaked it a bit. You know. We pie makers do like to tweak our recipes, that is, when we're not hanging out with NFL football players and watching them eat our pie, right, Mom?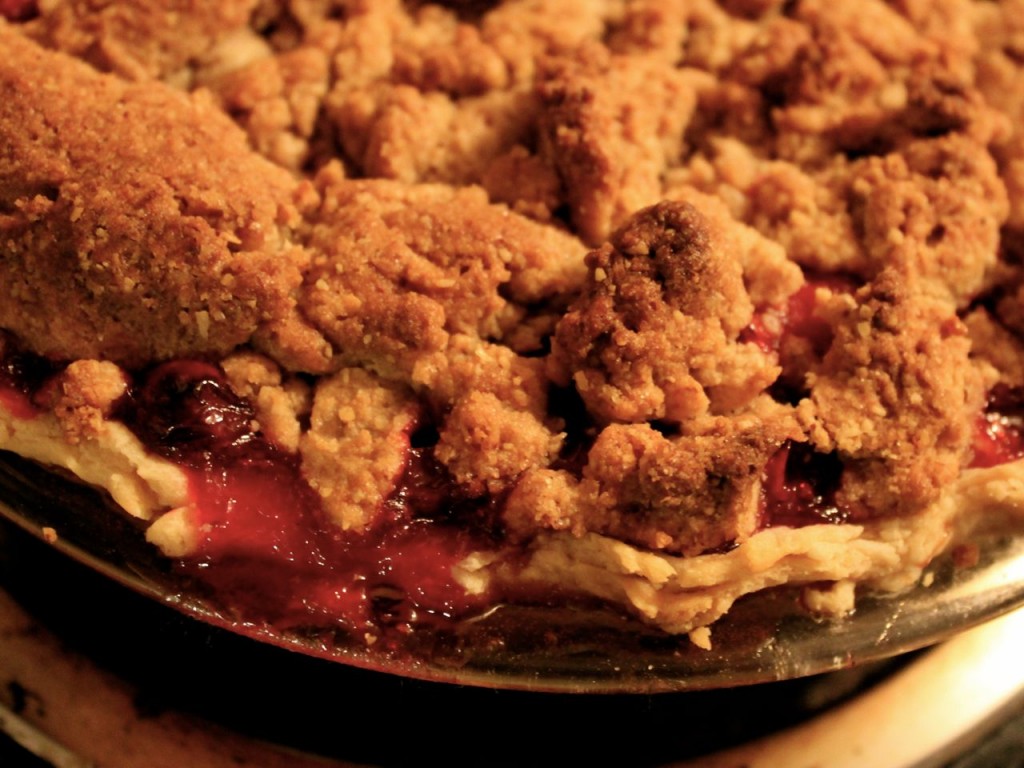 I made this pie for Thanksgiving, as a matter of fact, and there were so many pies that day that my pie didn't get eaten, not entirely, at least. I didn't mind this in the least, in fact I was secretly delighted. There were several pieces left, which I surreptitiously covered and scooted to a very private place indeed, and they made splendid breakfast fare for days afterwards. 🙂 With a bit of whipped cream or ice cream balanced sweetly on the side. Yummm. . . .
Mom tweaks, too. All the time. Oftentimes she tweaks pie recipes late into the night. Dad can attest to this.
Pecan Crumbled Cranberry Pie
Author:
Prep time:
Cook time:
Total time:
I adapted a recipe from Smitten Kitchen to make this pie. It is currently MY VERY FAVORITE pie recipe, and that says a lot!
Ingredients
4 1/2 cups fresh or frozen cranberries (from 1 1/2 12-ounce bags)
1 cup granulated sugar, plus 1 to 2 more tablespoons, if desired, to taste
A few gratings of orange zest
A few gratings of fresh ginger (yes!)
A pinch of salt
1 tablespoon cornstarch
Streusel
2/3 cup rolled oats
1/2 cup all-purpose flour
1/3 cup granulated sugar
1/3 cup light or dark brown sugar
1/2 teaspoon ground cinnamon
1/4 teaspoon ground ginger
1/4 teaspoon sea salt
3/4 cup pecans, toasted if you have the time (make the time, Gentle Reader, make the time)
6 tablespoons unsalted butter, melted and cooled
Instructions
Preheat oven to 375.
Roll out your favorite pastry into a pie plate and poke several times with a fork. Crimp edges.
Make the filling: Combine all filling ingredients (no need to defrost frozen cranberries) in a saucepan over medium heat. After about 5 minutes, berries will begin to leak juices.
Cook, stirring for 5 minutes more until filling is loose.
If desired, you can lightly crush the mixture once or twice with a potato masher, but try to leave most berries intact.
Transfer filling to a bowl to let it cool for 5 to 10 minutes while you make the crumble topping.
Make the topping: If using whole oats, grind them in a blender or food processor.
Add pecans and coarsely grind them too.
Add remaining ingredients except the butter, pulsing a few times to combine.
Add butter, pulsing until crumbles form. Sprinkle topping over cranberry filling.
Bake pie for 45 to 50 minutes, until juices are bubbling enough that they splash a bit onto the crumb topping. If pie browns too quickly, cover top with a piece of foil for remaining baking time.
Transfer to a wire rack to cool a bit before serving showered with powdered sugar and alongside whipped cream or vanilla ice cream.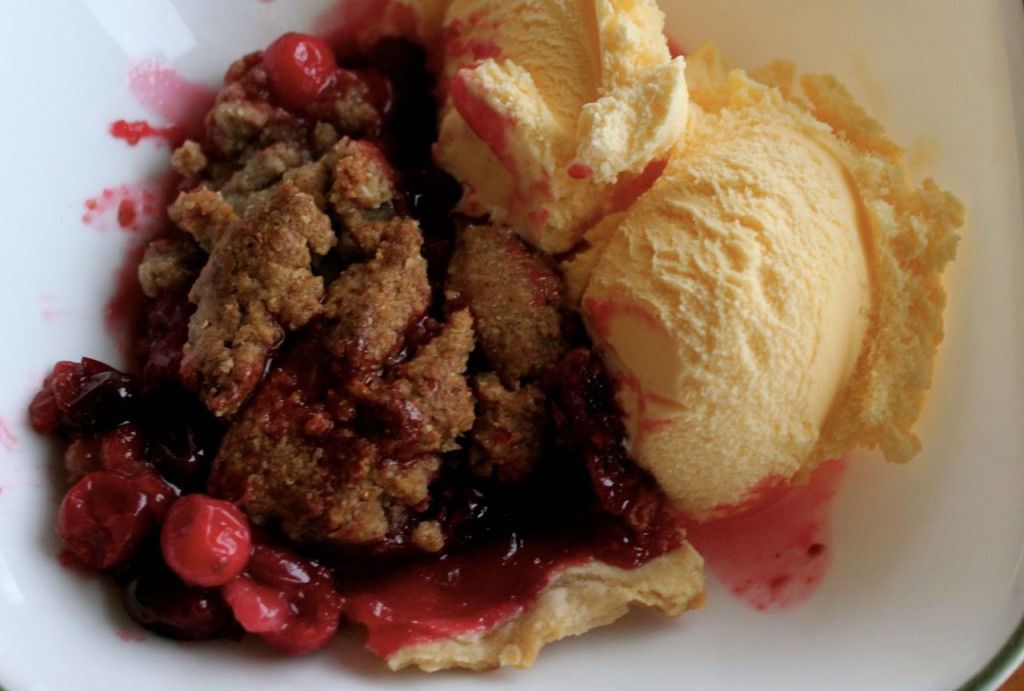 By the way, if you don't have a favorite pie pastry recipe, you can use mine, which is here.
Here are oodles of ideas of other ways to celebrate National Pie Day (hint: they all involve pie), just in case you're at a loss, which I very much doubt.