5MBM: Peanut Butter and Honey Oatmeal Extraordinaire
It has been awhile since I've written a 5-minute breakfast post, but I happened upon a great idea last week that just fits into this series so well. If you remember, my goal with this series was to come up with excellent breakfast ideas that can be made by our 8-year-old little Mack, in approximately 5 minutes.
A tall order, but certainly not impossible for such a smart little guy.
Our morning schedule works thus: I wake up the kiddos, who struggle out of bed with varying degrees of success, and fall upon their chores with varying degrees of enthusiasm. Amalia is charge of tackling Mount Never-Rest–the laundry pile–and Mack cleans the bathroom, feeds his gerbils, and makes breakfast. This is after they both make their beds. Meanwhile, I head outside to do the critter chores, which can easily take me 20 minutes or so.
The expectation is that all chores will be done–including breakfast prepared–by the time I get back inside, and everybody is ready for school at that time. Sometimes this works really well. Sometimes it doesn't.
Little Mack is on his own in the breakfast kitchen. I decided early on in this routine that it was better for all of us if I laid out breakfast fixings and instructions, rather than leave breakfast entirely up to little him. I won't chink away at his integrity by telling stories about um . . . nonexistent unremarkable breakfasts, I'll just stay mum in this regard.
But suffice it to say: an 8-year-old needs a little help in this area. At least, my 8-year-old does. 🙁
Enter my 5 Minute Breakfast Mission. Every time I get an idea for a new breakfast that Mack can make in 5 minutes (or so), I take note of it. I'm not talking about cold cereal or poptarts, either, Gentle Reader. I'm talking about crispy eggs on toast, pecan pancakes, and a charcuterie tray = health-building and morale-boosting ways to start the day. Furthermore, they sound complex but they aren't. Mack is learning how to cook breakfasts like a pro, and we all get decent breakfasts out of the deal.
Score!
Some lovely, Godly young woman, some day, (I'm already praying for this sweet soul) will thank me for this.
Here's the latest. I'm a staunch defender of good oatmeal. It's filling, it's packed with fiber, it's simple to make, it's hot and can be particularly tasty with any number (any number!) of toppings. Today we're making hot oatmeal with the additions of peanut butter and honey. I tried this on a lark one day, because I felt like oatmeal, but I always feel better with a bit of protein in my breakfast. Enter the peanut butter.
And, my goodness–guess what? Oatmeal with peanut butter and honey mixed in: do you know what it tastes like? Oatmeal-peanut butter cookies! No kidding! So you're gonna have to try it.
It's delicious. My warning: once you've elevated your oatmeal bar like this, you'll never be able to eat plain ole' oatmeal again. Don't say I didn't warn you.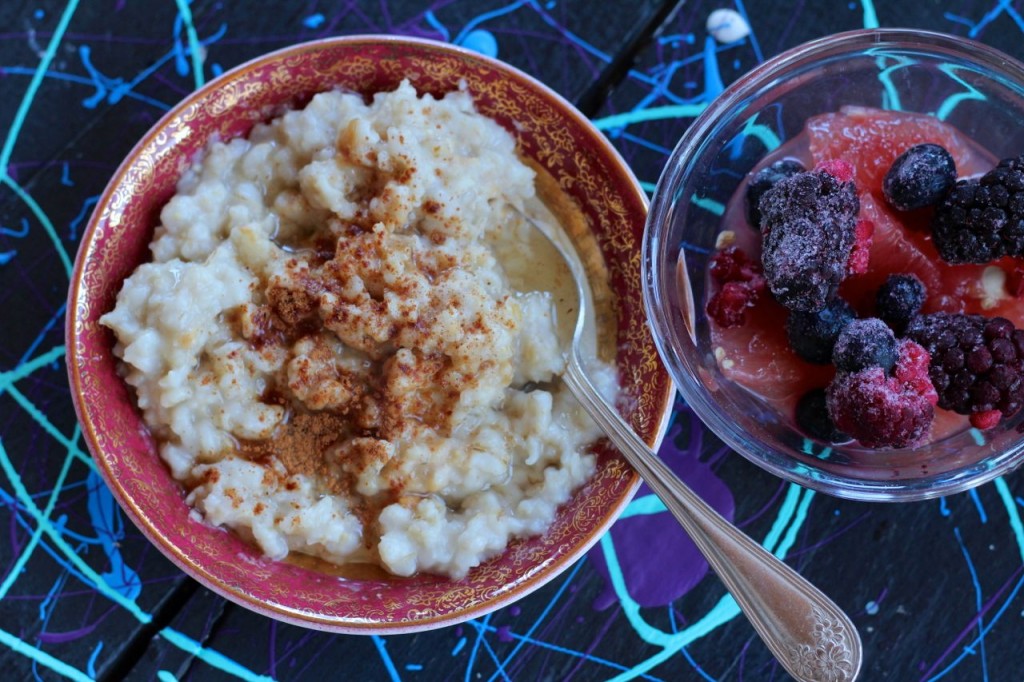 Here's the recipe:
5-Minute Breakfast: Peanut Butter and Honey Oatmeal Extraordinaire!
Recipe Type
:
5-minute-breakfasts
Author:
Prep time:
Cook time:
Total time:
Adding peanut butter to oatmeal is so surprisingly delicious, I'm surprised we've never done it before! A drizzle of honey and a sprinkle of cinnamon just adds to the delight.
Ingredients
2 cups old-fashioned oats
4 cups water
pinch of salt
2 tsp peanut butter (per serving)
1 tsp honey and sprinkle of cinnamon (per serving)
chocolate chips, raisins (optional) and milk or half-and-half
Instructions
First, make your oatmeal: bring 4 cups of water to a boil, and stir in oats and salt.
Lower heat to a simmer, cover, and simmer for 3 or 4 minutes, stirring once or twice.
To one serving, stir in peanut butter and drizzle honey and sprinkle cinnamon over the top.
A splash of milk or half-and-half or even (*gasp*) cream does not go amiss.
Other nice additions: chocolate chips and/or raisins!
I could eat this every day. Hey Mack—let's have oatmeal for breakfast!!
Hey you, if you sometimes need a bit of help with breakfast ideas, you may want to check out some of my other 5 Minute Breakfast Missions, too!