7 New Pepper Varieties from this year's garden that I love to the moon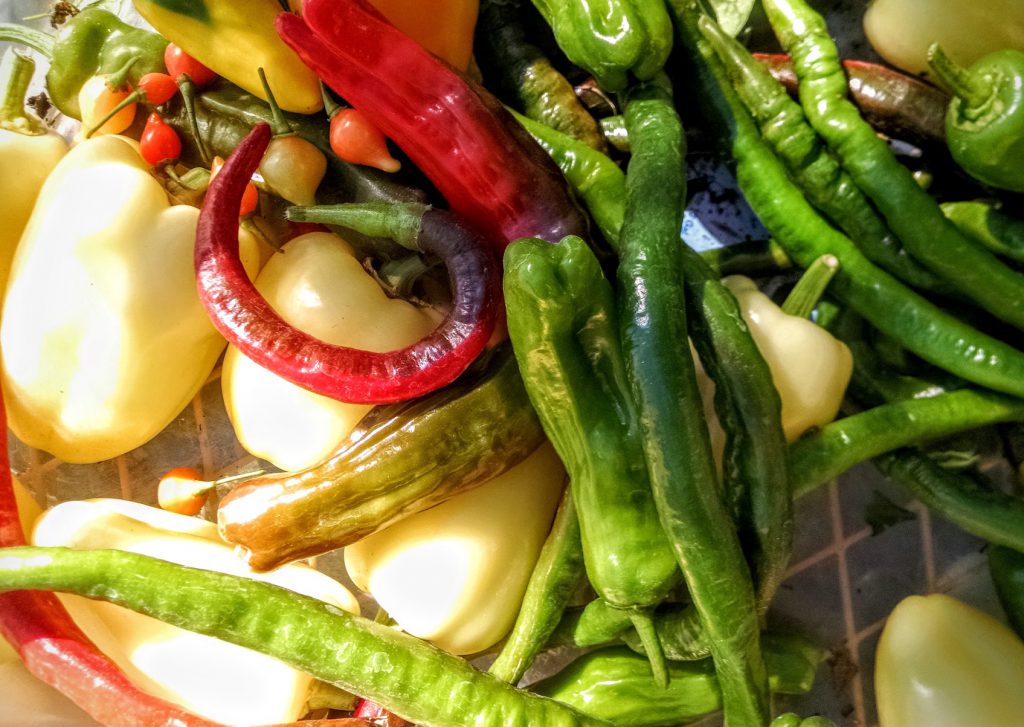 . . . and back again!

It's commonly known, of course, how much I love to grow heirloom tomatoes, even to a nutty obsessive degree (some might say). I looooove all those colors and flavors and shapes and whatnot. I've been learning from a very patient local garden expert for the past couple of summers, and Gene loves to grow a crazy number of peppers just as much as I love to grow a similarly insane number of heirloom tomatoes. Last summer when he mentioned how many types of peppers that he grew, I was taken aback, but only for a moment. I realized that I was in the presence of a true kindred spirit, and concurrently, I wondered what the big deal was. About peppers. A pepper is a pepper, eh?: I mean, there are big ones and little ones and sweet ones and hot ones . . . but still . . . they're only peppers, right??
It's not like you can make killer soup or salsa from them, eh?
But then. Everything changed when Gene actually gave me a few dozen (!!) plants that he didn't have room for, varieties, of course, that I'd never heard of. Such fanciful names—Blushing Beauty–Tequila Sunrise!–Orange Blush–Mariachi?–Shishito–! I was mildly curious about what I'd do with all these peppers, if they actually produced well, but I'm okay with excess. Plus: I hate to make too big of an issue of something as tedious as planning (*cough*) so I wasn't really concerned. I'd figure out something to do with them, when the time came.
I ordered seeds (from here) for a few peppers that caught my fancy, too: Chocolate Beauty–Biquinho–Jimmy Nardello–and so on. So I was in the pepper business, it seemed.
I made a bit of room for pepper plants in my hoop house, and some in my outside garden. Peppers don't take up a lot of space (especially compared to heirloom tomatoes) so why not plant a hundred of them? 'Cause that's what I did. I texted Gene the day I planted my pepper plants, after I had stood back and counted them. "Is it crazy to plant over 100 pepper plants?" I asked him, all while considering wryly who I was asking. He texted me back: "Why, no. I've got about that many planted, too."
Gentle Reader. After a couple months of harvesting, enjoying, eating and selling all these peppers, I can say honestly that I am now a convert to the big wide world of pepper adoration. I love, love, love growing peppers. I savor having such a beautiful variety to use in my meals. I love learning how to use each one. I have them in my hoop house and in my garden, and in both places they are doing very well and producing enough for me to sell heaps, and eat plenty, too. They don't seem to be bothered by bugs.
My wimpy method of staking them is not satisfactory, however (I drove stakes down every 6 to 8 pepper plants and strung twine between them. It worked well for the shorter peppers, but not for the taller ones.) Next year I'll do better. I do have a plan for that. 😉
I am now a grow-peppers-in-great-quantities convert. I belong to that club: the I Love Growing Peppers Club. And I believe it's a lifetime membership, kind of like the membership in the I Love Growing Heirloom Tomatoes Club. I'm a joiner, folks.
One of my gentle readers, Tina by name, asked me if I'd write a post at the end of the summer addressing my favorite pepper varieties, so this post was written with this sweet young lady in mind. (A fun thing about being a blogger: Tina lives not too far from me, and she came to my spring plant sale and so I got to meet her and find out that she's just as nice in person as she is in her comments.)
So . . . without further ado . . ("Further Ado," I'm convinced, should have been my middle name!) here are my very favorite pepper varieties from this year's garden. In no particular order.
Biquinho
These tiny open-pollinated land-race peppers, originally from Brazil (I've been spelling the name of them incorrectly all the blessed summer long, but I think I finally remember how to spell it, since Gene has patiently corrected me approximately 62.5 times) require a lot of patience–the plants stay tiny for sooo long–but they are worth the wait. If you plant them for next year's garden, be aware that they have a long season before they set fruit–at least 100 days! That's as long as it takes for a large watermelon to be ready to pick! They need to be planted inside even earlier than your other peppers. They rate very very high in the cuteness meter (which carries a lot of weight for me!). Keep in mind that I am just now picking my first crop, though, and it's very close to frost (potentially) here in the Midwest.
Warning to the Wise Gentle Reader: the first time one of these little cuties turned from pale green to orange, I plucked it and popped it into my mouth. How hot, after all, could it be? It was so little and so darling! Shiny and sweet and colorful, right? Almost like a piece of candy!
Alas. My mouth was on fire for much of the rest of the morning. These babies do pack some heat! They are also smoky-flavored. The reviews you find online will say "fruity and smokey, with a bit of heat." Don't you believe it! I'd say "dangerously hot for its size, with a bit of smokey fruitiness. Which is hard to taste because of the scorching nature of your tongue. But delicious. And really, really hot." (There's probably a reason nobody has ever hired me to write seed catalog copy.)
Biquinhos are great to toss in with pickles, barbecues, any spicy dish (I plan to toss them into my chili this fall). They really have a lot of flavor, for those of you who haven't burned off your taste buds eating even hotter peppers! *raising hand*
p.s. I plan to dig up a couple of the smallest biquinho pepper plants in my garden (I do have a couple that are covered with buds but are not fruiting yet, and are still very small) and transplant them into big pots to move to a sunny window inside the house for the winter time. These plants would also make a very pretty patio ornamental plant.
Oh, by the way, I got nearly all the seeds for the peppers I planted this year from Baker Creek Heirloom Seeds.
Gene purchased pepper seeds from Johnny's Selected Seeds and Franchi Seeds of Italy.
Chocolate Beauty
These peppers are real stunners! As you know, I'm selling specialty veg to area chefs this summer, and I've sold bushels of peppers, but every single one of these huge burgundy peppers I've picked jealously, guarded all the way to the house, and then (promptly!) sliced it up and eaten it. They are very special. They are flat-out gorgeous (obviously!), thick-walled, very sweet, and with a rich almost-smoky flavor. I just love them. (I'll grow more next year, and hopefully a few will make it to the kitchens of my favorite chefs).
I don't have an individual portrait of this beautiful pepper currently, because I only have two plants (not enough!) and I, er, I mean we eat the peppers as soon as I pick them! But as soon as I actually make it with the camera out to the garden at the right time, I'll take a picture and get it in here (you'll have to come back!). Meanwhile, this photo is a fairly good one.
Antohi Romani
Have you spotted a trend yet, Gentle Reader, that pretty carries a lot of weight with me? This pepper is another sweet one that is so stunning. It starts out this lovely cream color, but then as it matures and sweetens, it slowly turns the prettiest orange.
(again *whistling* missing a photo . . . for now!)
Here's what I like to do with these pretty sweeties: Cut off the tops, split them in half and remove the seeds, place them on the grill (or on a baking sheet if you're–sadly–inside), sprinkle them with feta cheese and your choice of fresh herbs (French tarragon and thyme are wonderful!), and broil or grill them until the cheese begins to bubble and get golden on the edges. Pull them off the heat and eat them! Yum! (How easy is that??)

These peppers are heavy producers, which is exactly what you want. We can't get enough of them! And (word to the wise pepper seller) they sell very well, too. 🙂
Joe's Long Cayenne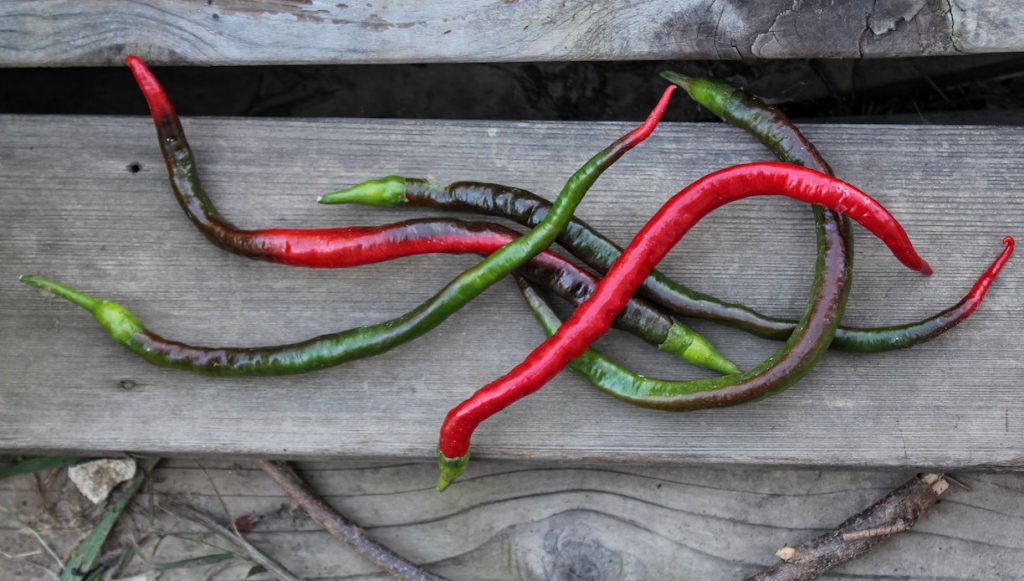 I always put a few spicy peppers into my pepper patch, because a. homemade hot sauce!, b. salsa, natch' c. because they are beautiful and fun to grow, d. homemade chili pepper seasoning. e. So many reasons!
These cayennes are outstanding! As you can see in this picture, they are very long, after all, and they produce like crazy. I also enjoy the fanciful shapes they twist and twine themselves into. See how fun gardening can be?
Oh, yeah.
Italian peppers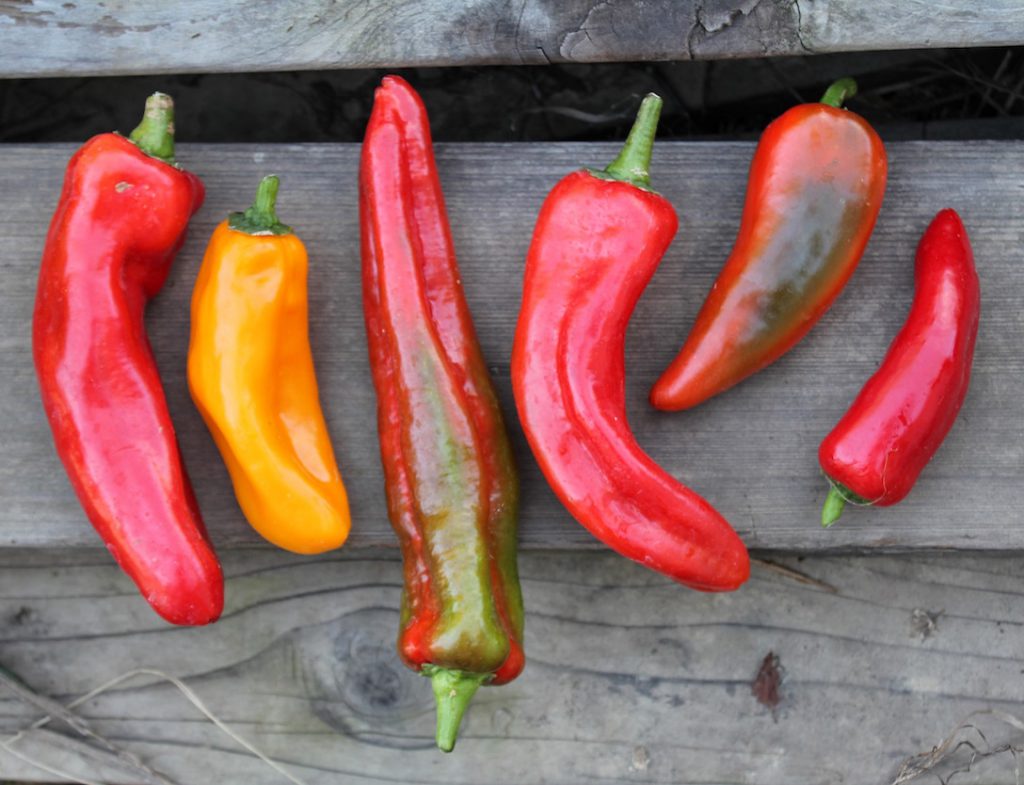 Here's another fun pepper crop that I am enjoying, thanks to Gene: Italian peppers! You can grow all sizes–and I'm learning how to use them. They are terrific grilled, stuffed, sauteed, and of course they score very high on the beauty scale. These were some of the earliest peppers that turned color in my garden, too. Early is good, folks, especially when you're trying to sell produce. The varieties that Gene shared with me that I liked especially well: Cornito Rosso and Cornito Giallo. You can buy seeds for lots of Italian peppers here.
Shishitos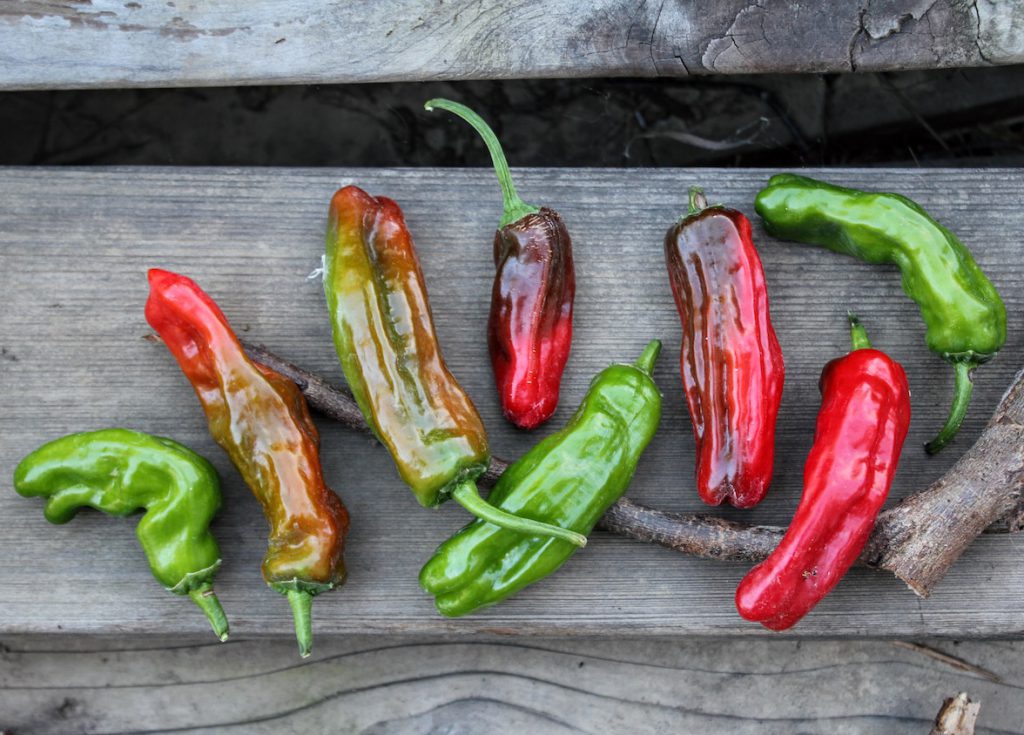 Am I the last person in this star system to become acquainted with shishito peppers? It seems that they are very trendy. Moreover, it seems that they've been very trendy for some time. I looked online for a recipe on how to prepare them and found this one that mentioned that the shishito was the "biggest new veg of the year!" I was patting myself on the back for actually growing the "best new bite" of the year, contrary to my usual living-under-a-rockness. . . but then. I noticed that the post was from 2013. That's about right. I'm at least three years behind. But never mind. Now that I know what they are, they'll be in my garden until I'm too old to remember to put them in.
Hopefully that'll be never.
By the way: if you have these in your garden, or are fortunate enough to run across some at your local farmer's market, this is all you have to do to make a delicious side-dish with them (or an entire meal, as I did one night). Rinse your shishitos. Toss a Tablespoon or so of good olive oil in a heavy skillet and toss the peppers in. Sauté them slowly over medium heat (don't rush it, it will take a good 15 minutes), stirring often, fending the wildly-hungry folks around you away from them, until they have charred areas and have collapsed. Sprinkle them with sea salt and dish 'em up.
Don't burn your mouth!
Yum, yum, yum. How have I been able to sell these? They are so tasty.
Lilac Bell Pepper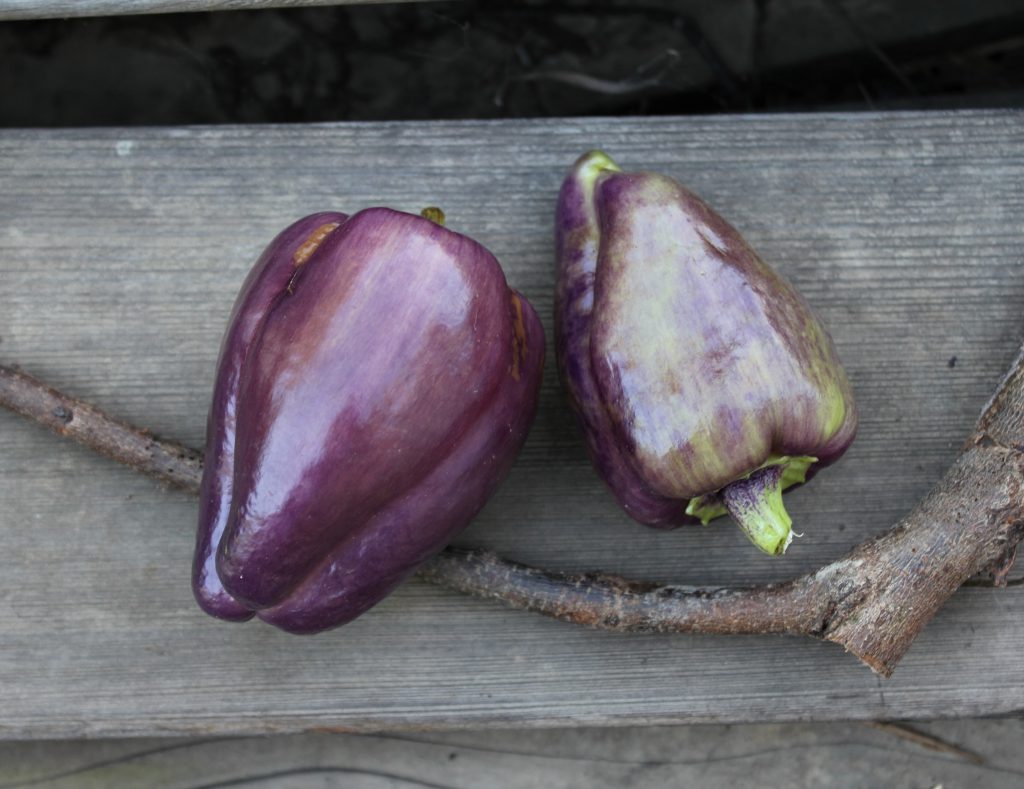 These gorgeous lavender peppers are something special (as you can see!). The plants produce smallish sweet bells like crazy, and the peppers are a delight to the senses: they turn from green, to lavender streaked, to solid lavender and they are sweet and juicy.
I love to slice these up on a crudité platter. You won't find these lovelies in the local store, Gentle Reader. Maybe you can find a few at a farmer's market, but more likely you'll have to grow your own. 🙂
You can buy the seed here.
Purple Jalapeno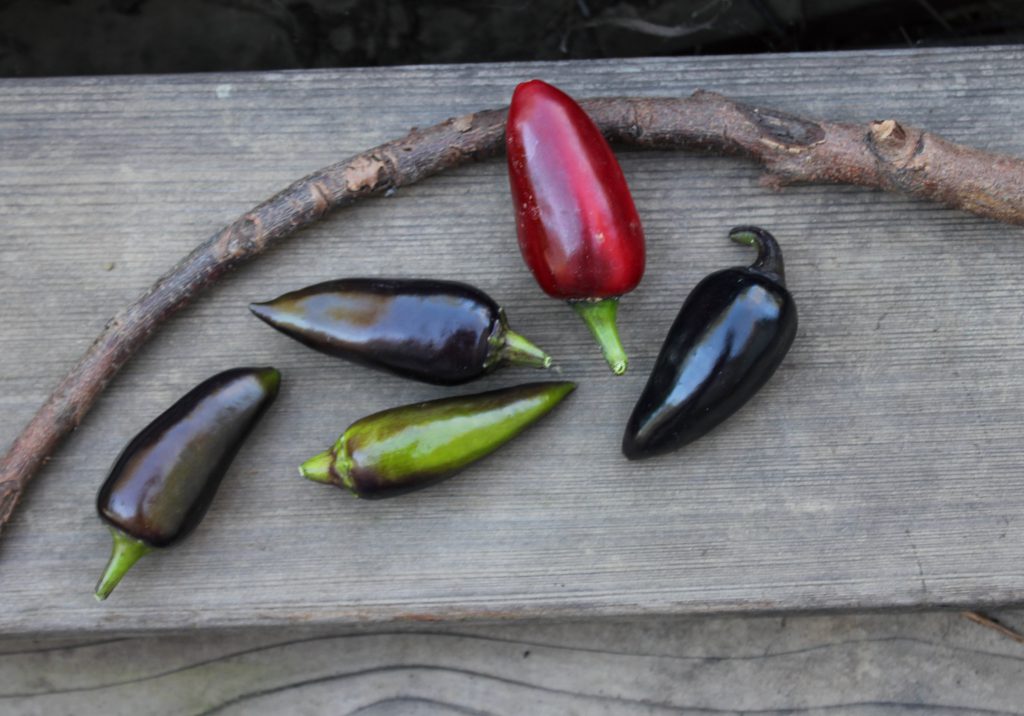 I always plant several jalapeno pepper plants in my garden, for making chili and salsa and jalapeno poppers! But I do like to try out new types of jalapenos. This one is a winner. Most jalapeno plants produce heavily, and this one is no exception. And the purple fruits that turn to red when completely ripe are beautiful in the garden. Strong, vigorous plants too, and you can get the seeds here.
C'est Fin
I have enjoyed sharing these new (to me!) favorites with you! Aaaaand what about you? Did you grow any peppers (or any other veg, for that matter) that happened to be an especial delight this year? I'd love to hear about them in the comments. Don't be shy! Let's pool our garden experiences this year. I love to hear from you!
*hugs*
Save
Save
Save
Save
Save
Save
Save
Save
Save
Save
Save