Heirloom tomatoes in my garden: this year's favorites, so far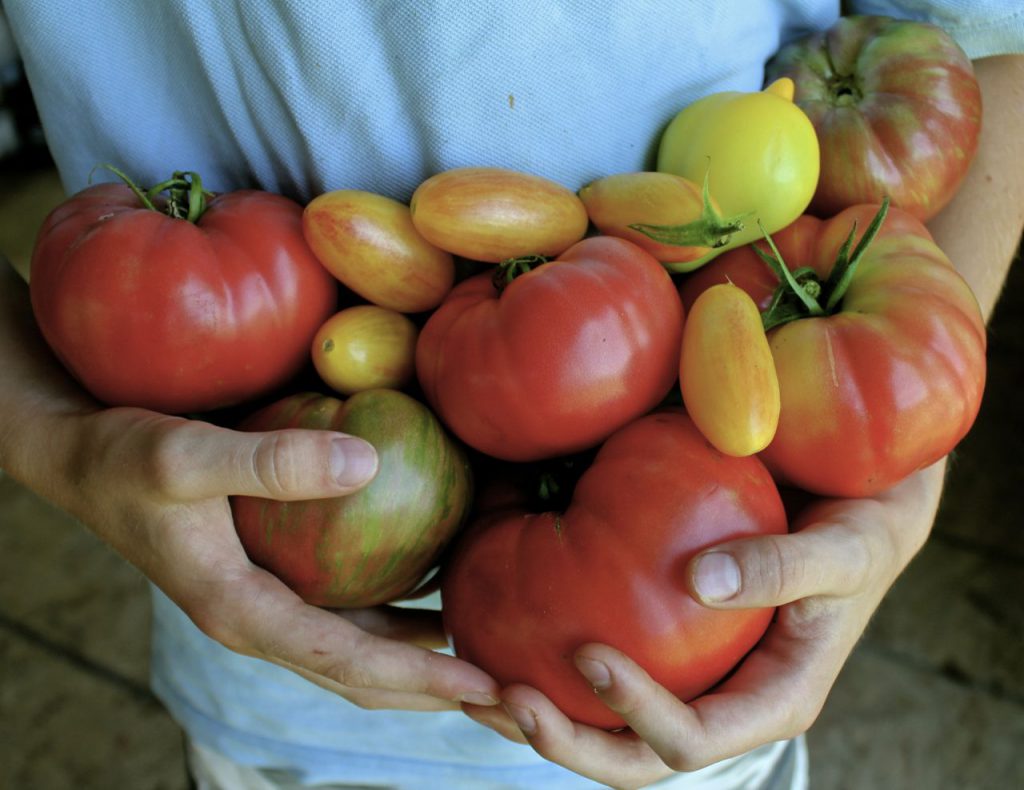 I love to grow heirloom tomatoes.
(Newsflash!)
I pore over seed catalogs with great interest, from Thanksgiving-time on (or whenever they come in the mail) and order seeds as early as possible (sometimes a special variety will sell out, and then I have to wait an entire year to try to get them again). Some, admittedly, are prettier than they are tasty.
Here's a strange-but-true fact: nobody at our house eats raw tomatoes but me. Yup. Bryan, Amalia and Mack will admire my beautiful tomatoes, but they will not eat them unless I cook them down into a sauce. Or a salsa. Or a soup.
—I know, I know—I think, actually, they are aliens from another planet, the planet "You Don't Know What You're Missing." I remind them that if they just try a bite now and then, that eventually they will love them as much as I do.
They turn away and quietly say (and I quote): "poo."
I remember how my mom got us kids interested in eating raw tomato slices: she would slice a big red tomato in thick slices, and then sprinkle white sugar–a very thick coat of it!–on top of them. We didn't love these, but having an enthusiastically healthy sweet tooth, every one of us, (sweet teeth?) we'd eat them, just for the sugar. Eventually we liked the tomatoes, too. For the record, all my grown-up kids do like fresh tomatoes (in varying degrees) and actually put out quite a bit of effort themselves to grow gardens inwhich tomatoes play a starring role. So.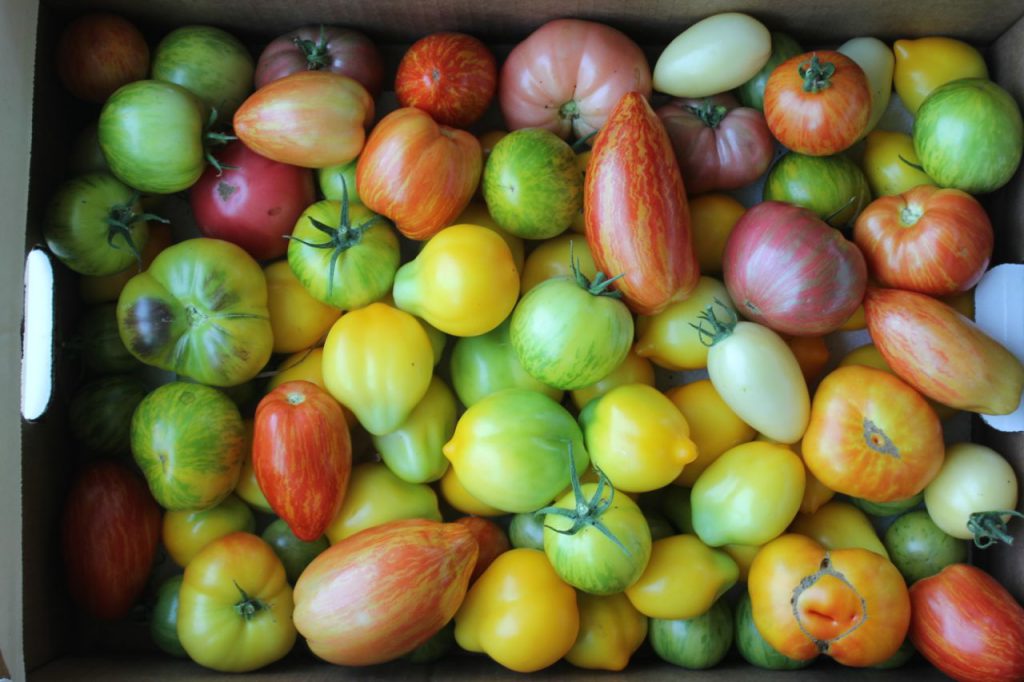 There's that. I have written a couple of other reviews on various heirloom tomato varieties, if you are interested:
I haven't changed my mind on any of these favorites, and still grow most of them in my garden too.
A Discouraging Word (or two)

I've been hit with herbicide drift three times at least this summer. Possibly, four. So when I go to the dentist the next time and he looks up from my nubbins of molars and asks "what's bothering you, Amy? You've ground your teeth down to nothing. I'm going to have to fit you for dentures, young lady!" I will grind out (ironically) the two words "herbicide drift."
My dentist is a gardener, and we regularly chat (ignoring the denture charts and teeth-whitening commercials playing on the office t.v.) about raising tomatoes, potatoes, blueberry bushes, and the like. When I explain why I no longer have molars, he will nod sympathetically. He will understand. And he will recommend that I get fitted for a night guard, but wait–I won't need one, what with the dentures he's going to order for me. I can just slip those babies out of my mouth and into the glass full of denture cleaner on the nightstand at bedtime, and grind my bare gums like mad, over the latest incident of herbicide drift. (I'm joking about the dentures, not so much about the angst herbicide drift has caused me this year.)
There is a lot of misinformation and downright ignorance over this present-day curse (and it is a curse), and so I'm righting this wrong by writing a post on it, which I'll publish as soon as I finish it.
So come back for that, ya-hear!?
And now, back to the subject at hand: my favorites this year in the heirloom tomato patch.
I hoped to sell cherry tomatoes to upscale restaurants in the area, so mostly I planted them in my hoop house, since I can get them in earlier and they are more protected from the wild vagaries of Nebraska weather whims and tantrums. It worked: I'm selling nearly every tomato I can pick from this protected space. They are very pretty, indeed. Next year I have even bigger plans, but they are secret (shhh!) at this point.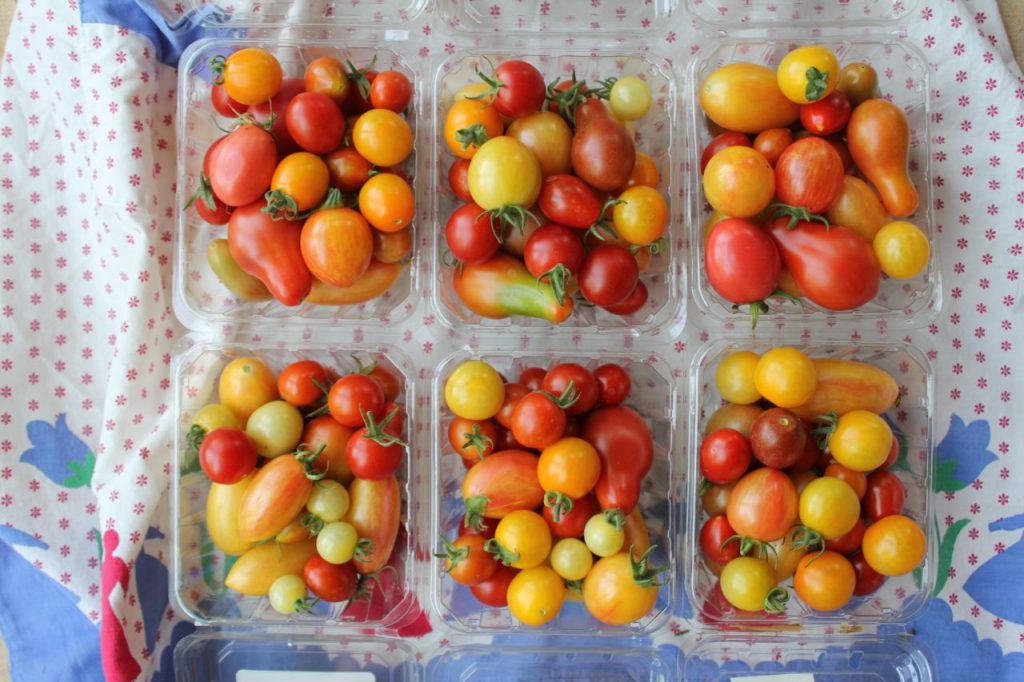 See, you really are going to have to come back, gentle readers.
I bought seed from Baker Creek Heirloom Seeds, for nearly all my tomato plants this year. There are other great catalogs out there, of course, but Baker Creek has an astonishing number of varieties of tomatoes, and their catalog is absolutely, droolingly, unbelievably lovely. They actually publish two, and the big one is worthy of prominent coffee-table placement.
Word to the wise gentle reader: Something I noticed this year, too, at least: the seed count on their envelopes is almost always waaay off. For example, it'll say "number of seeds: 25 minimum," and there'll be at least 100 seeds in the envelope. Baker Creek is located in Missouri, and I can only attribute this to Midwestern generosity, or, possibly, inattention to detail.
(In any case, let's not tell them about this discrepancy, shall we? We can share our extry seeds with each other!)
Okey dokey, Amy-of-the-rambling-posts, we came here to see some information about your favorite tomatoes this year, and you've written about everything (so far) except for the kitchen sink.
To this, I reply, unapologetically: "poo."
Okay, now I'm ready, but with a slight disclaimer: the day that I determined to finish this post was the day after I had shipped all my tomatoes off to the restaurants, so I didn't have many to photograph. So if a photograph is missing, click on the link that is provided and you can see what they look like. I will get photos in here eventually, when my plants have produced another batch.
Orange Strawberry
Now this is a beautiful and unusual tomato.
It's a gorgeous yellow-orange color when ripe, and has an unusual oxheart or strawberry shape. In my garden, too, it has been a very nice heavy producer. It was the first big tomato I picked from my hoop house, and the first one I picked weighed nearly 2 lbs! It is meaty and is lower-acid, though it still (a plus) tastes like a tomato.
Black Cherry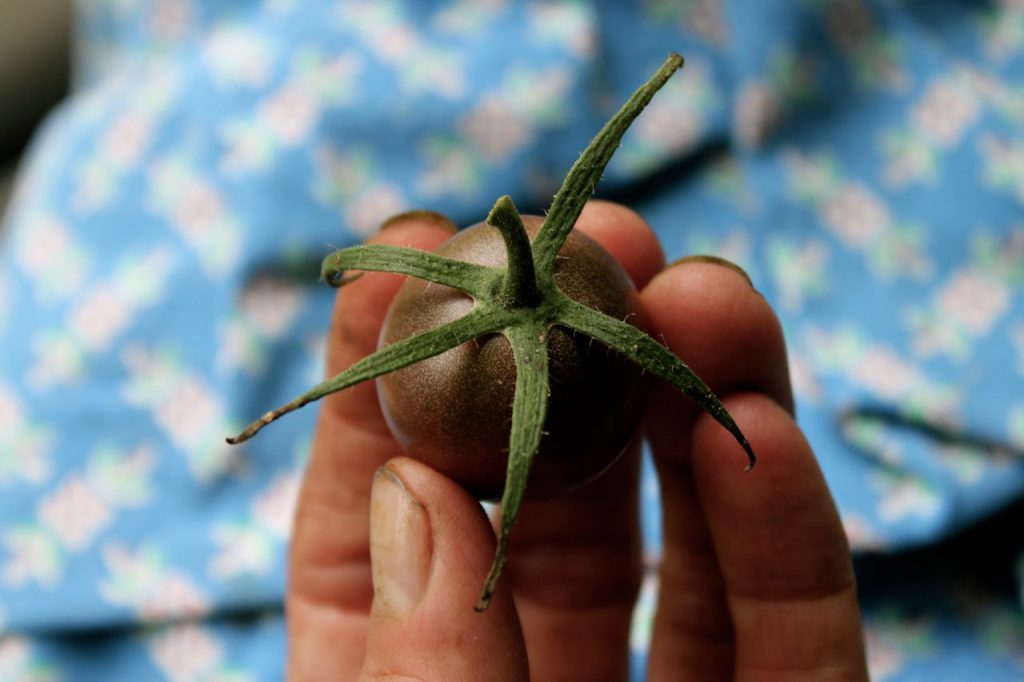 Is it silly to love a cherry tomato because of its whimsical stem and flower end? Well, yes, I suppose it would be. (Who would do that?) But is it silly to love a tomato because it is beautiful, very productive, has a rich dark taste that the darker tomatoes share, AND has a whimsical stem and flower end to boot? Maybe not. These are definitely some of my favorite cherry tomatoes, for taste and looks.
 Blush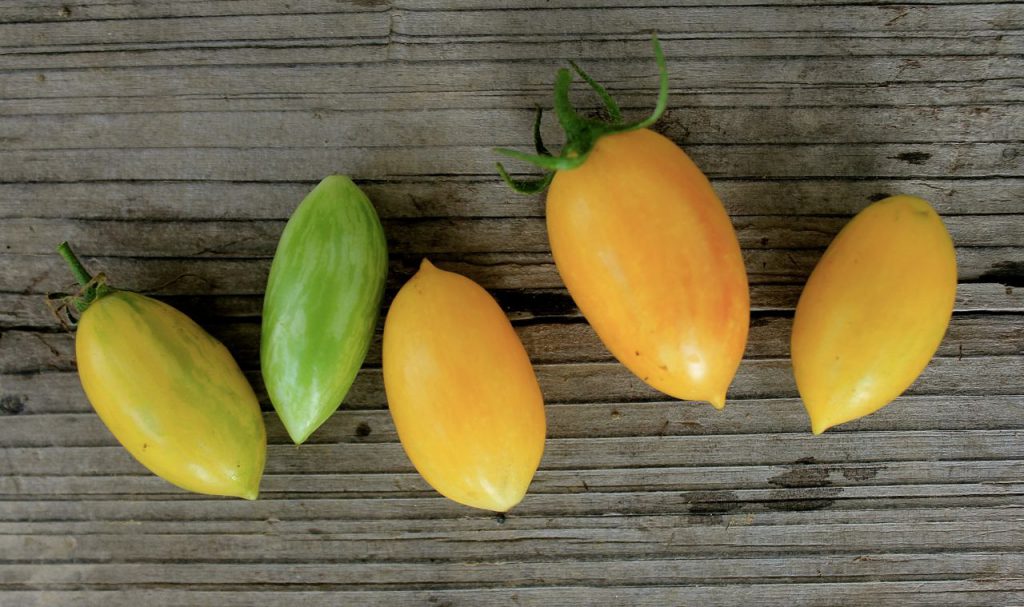 I couldn't wait to grow these tomatoes! They are an ancestor of the Bumble Bee series, which is one of my favorites, so I already figured I'd love them, and I do. They are sweet and tasty, and the skin has that iridescence of the Bumble Bees. One downside: the plants (so far this summer) in my hoop house are not vigorous. I think their days are numbered. I don't know if it's 2,4d or wilt or the extreme heat that we've had this summer, but they don't look good. I'm am still pulling for them, though!
I planted several Blush plants in my hoop house, and a couple in my outside garden too, and every one of them struggled with the 2,4d drift this year, so they must be more than usually susceptible to damage from it. I have been so disappointed about this! I have a friend who actually bought a Blush plant from me early this spring at my plant sale, and her plant is doing great. But all of mine look like they are dying. I'll definitely grow them again, though, and hope for a better growing season with less herbicide drift.
Black Krim
I suppose I'm the last one to arrive at the "Black Krim is Awesome!" parade. I planted just one plant, in my hoop house, and it has produced like crazy, doesn't seem to be prone to cracking (a plus, especially if you want to sell tomatoes) and is a great-tasting, juicy, dark tomato. It's just a winner in all the categories that I can think of.
Pink Berkeley Tie-Dye
Again, I planted just a couple of these plants in my hoop house, and they have produced very well. And they are bee–uu–tiful, for those of you who care about such things. These tomatoes have a dark, sweet flavor, in fact, I think one of the best-tasting tomatoes I've ever eaten. They are also very juicy. A winner from the breeder Brad Gates of Wild Boar Farms.
The Bumblebee Series: Pink, Sunset, and Purple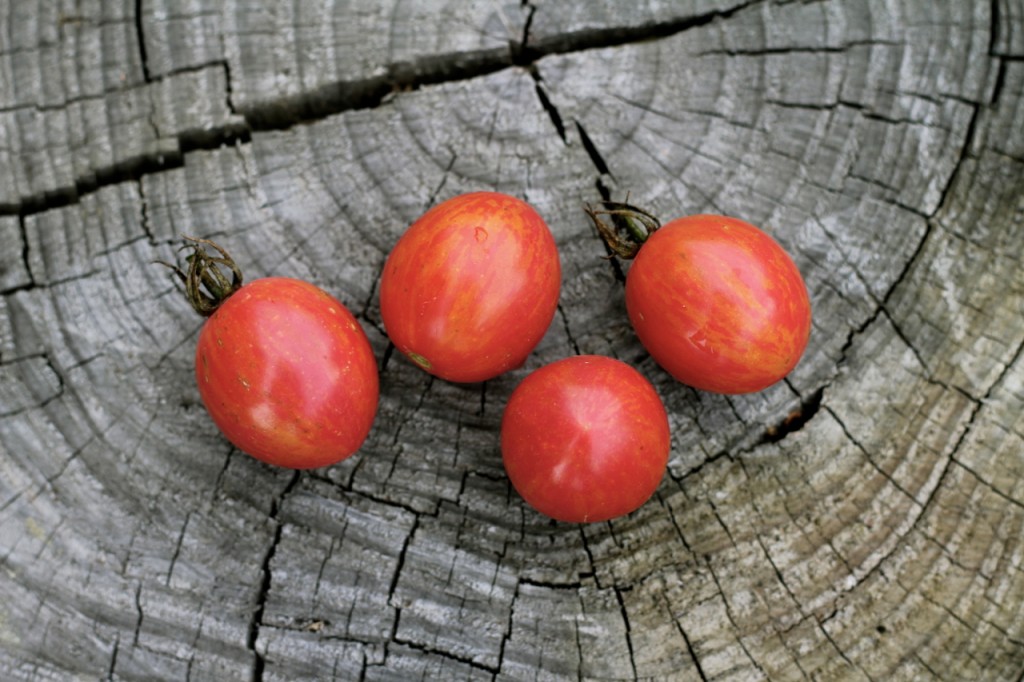 I love, love, love the Pink Bumblebee cherry tomato, which I included in a previous year's "favorites" list. So I was thrilled when I saw Bumblebee ancestors this year: Sunrise and Purple. The iridescent skin on these tomatoes is so unique, and they taste wonderful, too, just a little tangy and very sweet. The swirly colors are outside and inside. The picture above shows the Pink Bumblebee. The sunrise is yellow and pink striped, and the purple is (um) purple and red striped. They are all stunning and delicious. I can't get enough of them, and will plant more next year.
White Cherry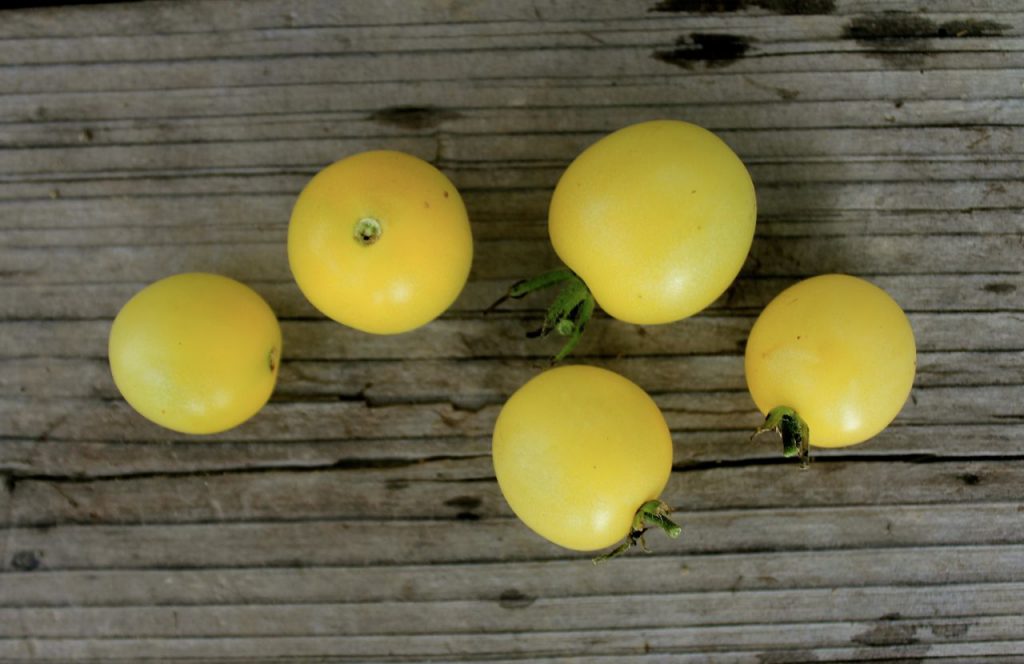 A lot of white or yellow tomatoes, I've found, are quite bland in flavor. Not so the white cherry. It's a heavy producer so far in my garden, and the tomatoes have a nice tanginess to them which I find missing in many of the pale tomatoes. I love them!
So there you go. Those are all my favorite tomatoes from this year's garden, so far at least. I would LOVE to hear about your new favorites–or your old, tried-and-true ones, too–in the comments below. Thanks for coming by today!
Happy gardening, and–
*hugs*!
Save
Save
Save
Save
Save
Save
Save
Save
Save
Save