The Salsa Recipe that ruined everything.
This is it. This is the salsa recipe that ruined everything. My life, you see, used to be so simple, where salsa was concerned.
I used to buy a big jug of salsa from Sam's Club every month or two, and it would last a long time in the 'fridge. Months. Years, possibly. We'd use it when we ate nachos, tacos, and the like. We'd eat it (occasionally) with our scrambled eggs. No biggie if we ran out. Nobody seemed to notice. Occasionally, we'd pour a bit into a bowl and dip tortilla chips in it. It was tasty, but nothing earth-shaking. *yawn*
Then. I learned how to grow heirloom tomatoes, and I started growing more and more of them. My life changed. I canned the tomatoes that we didn't eat, but soon I had more than we could use in canned form, so I started looking for other ways to use up my tomato surplus. I tried some of my sister-in-law Paula's homemade salsa one day, and it was so delicious that I begged her for the recipe. Paula respondswelltoaheadlock   is a generous lady, and she handed it over 😉 and I started making my own.
And it ruined everything. Now I can't buy salsa any longer. You know, Gentle Reader, how many types of salsa there are in the store? Many. Many, many, many types of salsa. Lots of tantalizing combinations. Pineapple-mango. Sweet and spicy. Habanero sweet onion. Bacon lizard. And the like. You realize, of course, how much simpler my life would be if I could just go to the store and buy salsa, like a normal person, when we run out. But no. That wouldn't do, now that my family has tasted this salsa. It's so good and so fresh and so full of flavors, and it is just addicting. Once you've tasted it, nothing else will do.
One of the first years that I put up a very big quantity of this salsa (like, 100 quarts) all the kids were still home, and Matthew and Andrew were growing teenagers, and we'd go through a quart jar in just a day or two. Every day or two. During our school morning, I'd announce that it was time for history (during which I'd settle into the living room with all the kids and read aloud to them from our current history books, and they'd take notes and eat snacks. Mostly, eat snacks.) and the boys would drag out a jar of salsa from the 'fridge, and a bag of tortilla chips (and woe to the mama who forgot to buy tortilla chips that week! Woe, woe!) and fill a bowl with each. I would watch them with envy, being able to eat all those chips and still stay lean as they were. The notable thing about that fall and winter was that I don't remember us getting sick at all. I don't remember the usual flu or colds going through the household, and I've always believed that it was because of the copious amounts of salsa that we ate.
Think of it. Garden-grown onions, garlic, peppers, herbs, and of course heirloom tomatoes, picked when they are ripe, and then cooked into a delicious sauce. What could be better for you? Probably nothing. Garlic and onions are so packed with antioxidants and cancer-fighting properties, and did you know that tomatoes are even better for you (actually, the cancer-preventing substance lycopene) if you cook them for a time? It's true.
To be fair, occasionally (like last year!) I didn't put up enough of this stuff to last us all winter, or I just gave away too many jars of it, and we ran out. Then we did buy salsa, but it just sat in the 'fridge, largely uneaten, because it's not Mom's homemade salsa. Friends actually come out to our house, with money (of all things!) in their hands, wanting to buy a jar of this stuff. It is just that good.
And now that I've explained why it ruined everything, you really need to try it for yourself, don't you think? Don't you want to ruin everything, too? 😉 And by the way, if you have to buy the onions or peppers, or if you can only find the regular red hybrid tomatoes at the market to make it with, don't despair. I'm sure it'll be quite delicious, just the same.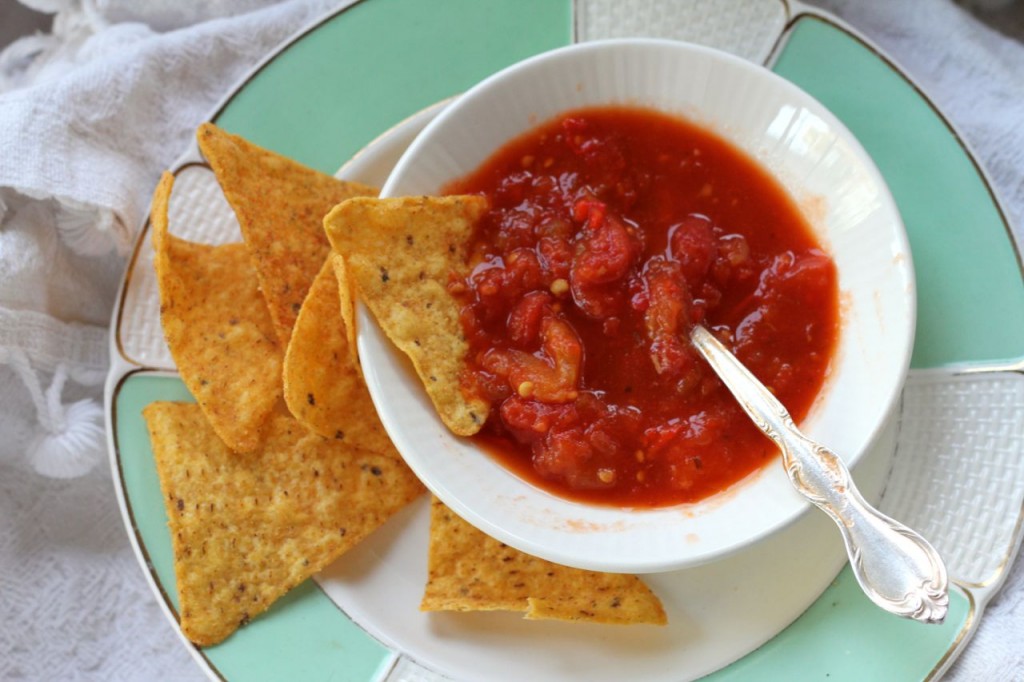 The Salsa that will ruin everything.
Recipe Type
:
fresh tomato salsa
Author:
Prep time:
Cook time:
Total time:
You can vary the ingredients in this salsa, as in—chili peppers instead of jalapenos, or cilantro instead of cumin, but keep all the proportions the same, if you plan to can it.
Ingredients
32 cups chopped tomatoes (chop them into a colander, sitting on a big bowl, and allow to drain for 15 minutes or so, before putting into the pot. This will make a thicker sauce.)
8 cups chopped onion
1/2 cup chopped jalapenos (leave seeds in, if you want heat!)
8 cups chopped bell peppers, varying colors
4 cups white vinegar
1/2 cup pickling salt
12 cloves of garlic, smashed and diced
1-2 T cumin
juice from 2 limes
4 small cans tomato paste
Instructions
First, skin and chop and drain (see note above) tomatoes.
Chop peppers, garlic, onions, and add them with all other ingredients to very large stock pot (use one with a thick bottom, or you'll risk scorching it and ruining the entire batch).
Bring to boil. Lower heat and simmer for about 2 hours, occasionally stirring, making sure that it's not sticking on the bottom of the pot.
Meanwhile, bring a canning pot of water to boil and wash jars in hot water (I use the dishwasher for this). Put lids in a pan of water to simmer, and get rings ready.
Transfer hot salsa to hot jars, leaving 1/2″ headspace, apply lids and rings and process in boiling water bath for 20 minutes.
Remove from water bath and listen for the "ping!" that ensures your jars are sealed. Refrigerate and use any salsa in jars that don't seal.
Now that I've finished this post, I think it's time for a snack . . .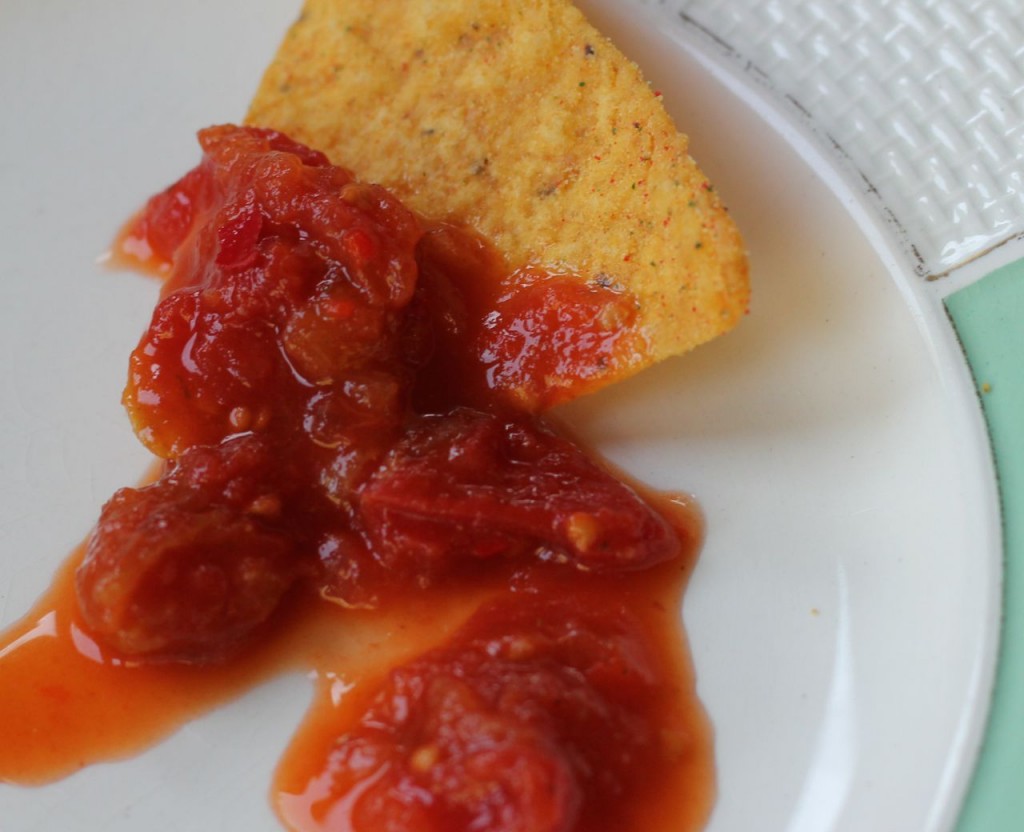 By the way. I'm linking with The Prairie Homestead and the Home Matters Linky party today. Come join me!