A note about raising boys
Little Mack used to insist on a particular type of story every night before bedtime.  "Tell me a story, Mama, about when we were all little kids!"
By that, he meant when Bryan and I were little kids, and all our other kids were little, also—of course not possible, at least not until they figure out time-travel–but an unusual and thought-provoking scenario.  It tickled me to begin with, imagining myself as a little girl, charging around with my own children as little kids, along with my grown-up sons and their wives.  And he would also push and ask me to include Grandpa and Grandma as little kids, too, and maybe even a few aunts and uncles, if time permitted.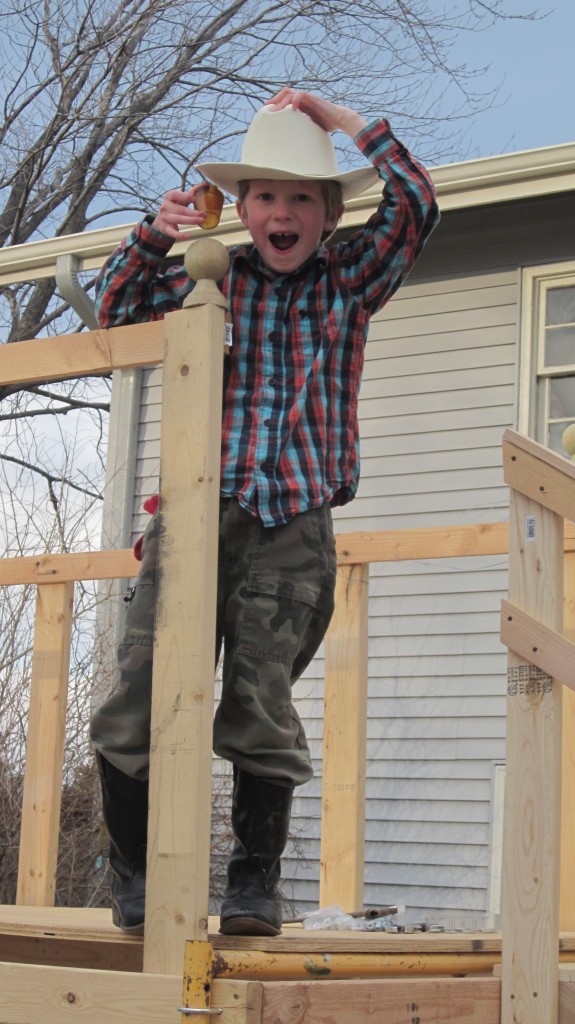 This boy. I love him so much.  He melts my heart over and over and over again.
This was our bedtime routine every night.
I would start: "Once upon a time . . . when Daddy and I were little kids, and you and Matthew and Andrew and Bethie and Timothy and Amalia were little kids, too—"
"And when Rachel and Sonia were little kids," Malachi would interrupt.
"Yes, of course—Rachel and Sonia, too . . ."

"Also–when Grandma and Grandpa were little kids," he'd prompt.
"Yes, Grandma and Grandpa. . ."
"And when Uncle Matt and Aunt Paula were little kids. . ."
Well, you get the idea. These introductions were murderously long, especially when you're at the end of a long day and really,  really longing to just drop into bed. I'm the mother of six, after all, and a gentlewoman farmer with scads of critters to care for, and a penchant for trying to do too much.
It's a tired life I lead, Gentle Reader.
But anyway, the stage would be set and all of us, as little kids, would get into some sort of adventure in the story series–of which Malachi never would tire, by the way. I followed the usual story curve, with introductory material, then rising tension, then a conflict of some sort.
This is how it went:
"So we were all little kids—and we woke up one morning and we were all robots!"\
"Cool! What color was I?"  Mack pushes for details.
"Um, you were, let's see—gray."
"What color was Grandma–I mean, as a robot?"
"Ah—dark blue, I think. With maroon trim."
 "Trim?? What is 'trim'? And what color was my—trim?"
*Sigh* I would bring up trim. So then we would segue into a brief discussion on robot trim. Which I had just invented, by the way. I am certainly the victim of my own creative mind, in many ways. But let's please not get unnecessarily narcissistic here. After all:
"We actually enjoyed being robots, but we did wonder if we would ever be ordinary people again. And then the phone rang, and a mysterious voice said that we must go to a warehouse on Mars, if we ever wanted to be humans again."
"What color was Bethie, again?"
"Ah, teal, I think. With silver undertones. So anyway, we got on our rocket—"
"'Undertones' . . . what . . . WHOA! We had a ROCKET!?"
 "Well, of course we had a rocket, but listen now, here's the scary part—we then went to the warehouse on Mars, but it was very very quiet, and pitch black inside! But then! A deep, mysterious voice rang out from the back of the cavernous, cobwebbed space—"

And here's the funny thing that occurred every time I would arrive at the conflict in the story.  Every night.  No matter what the action or setting, Malachi would utter, in his husky, tough-guy voice:
"And then I pulled out my GUN!" 
I find the manly-boyish protective impulse kicking in to my little boy's nature so touching, and so sweetly endearing. I waited for this moment in the story every night, and it never failed to tug at my heart.  It is so much a part of him, so much of what makes him a boy.
When our older boys were little, I was determined not to raise (I'm sorry, boys, but at least I came to my senses) noisy, boisterous, "violent-natured" boys, so I determined that there would be no gunplay in our (quiet, serene, peaceful) home. I feel like a fool about this now that I understand boys better, but I was young, stupid, and an unwitting victim of the feminist biases in our culture.  I admit it, I was duped.
So naturally, the boys would surreptitiously fashion guns out of their Legos, out of sticks from the yard, out of their oatmeal cookies, out of anything, and quietly shoot each other while I wasn't looking. (Their guns were equipped with silencers.) Anybody who has raised boys will nod their heads knowingly at this. You've heard it a million times, the time-worn cliche: "Boys will be boys."
Do we really want boys to be girls? If a robber steals into our home during the night, or a mountain lion leaps out at us while on a walk in the woods (both scenarios, thankfully, not likely, but still–!) I don't want my boys to run and hide, or to duck behind their mum. I want them to stand bravely and to be equipped to protect me and their sisters!
Not (I can feel that I'm raising ire, here) that girls cannot defend themselves. When I go for runs on our country road, I try to remember to carry mace against the occasional wild dog or mountain lion (well, we've seen tracks, and I have had encounters with strange dogs before, too) and I do know how to shoot a gun, and how to throw a brick. If there's one available. But I'm perfectly okay with allowing my boys to be the heroes, if the situation arises.
I don't try to quell Malachi's forceful impulses to protect me and his sister, as long as he doesn't actually turn the imaginary weapons on us. I cheer him on, instead, and make a mental note to have him spend some time learning about gun safety, and how to handle a knife and how to learn to work hard to provide, some day, for his future family. These things are so important for our young boys to learn. Not to mention how to be kind. Generous. Helpful. Godly. Wise. Good. Like his papa.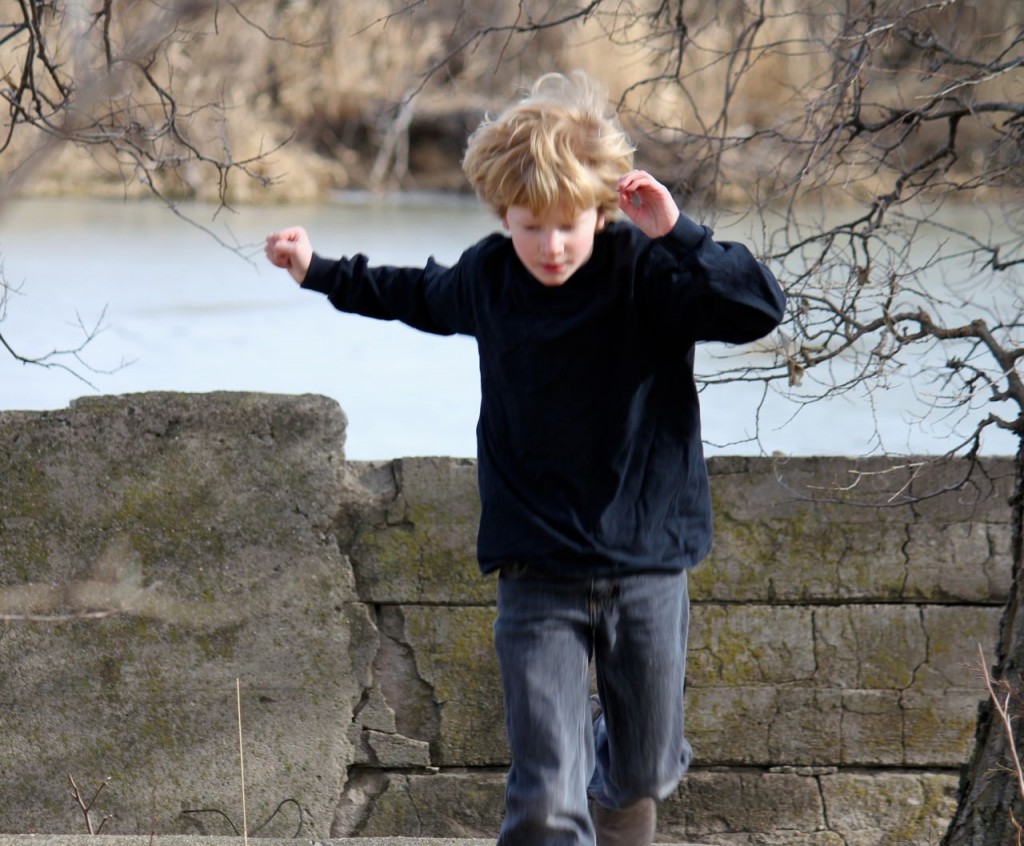 How to wash dishes. Change a baby's diaper. Scoop the walks. Haul wood, and balance the checkbook. There are so many things that our boys need to learn, and so many time-wasting distractions that are vying for their attentions.
My story:  "So we were all on an airplane, going to Egypt to look at the pyramids, when–all of a sudden! The weather changed and it was horribly windy and stormy and very dark outside!!
Little Mack: "And then I pulled out my GUN!"
My story: "We were all fluffy, silky bunnies, and we were hopping through the garden, and we saw some delicious radishes!  But then Mr. McGregor appeared, and in his hand was a pitchfork–"
Mack: "And then I pulled out my GUN!"
Me: "We were driving shiny, state-of-the-art, super-fast cars, all of us, even though we were just little kids, but then our tires all blew out, all at once, and we started swerving all over the road. ."
 Mack: "And then I pulled out my GUN!"
I have much more to say about raising boys, having raised three and being still in the trenches of raising two more.  Boys have a lot going against them these days, but I do think it's still possible to raise smart, respectful, honorable young men.
But that's a longer post, and for another day! 🙂