I take a lot of photos. I have this cool little point-and-shoot camera, you see, that fits into my pocket. And my purse. And the palm of my hand. And my handy tool apron. It fits everywhere.  Sometimes somebody else will take my little handy camera and go wild with it, too, and I have all these pictures that somebody else took (surprise, Mom!) on my memory card.
I can sit down in a dull moment and look through the pictures on my camera, just like I'm looking through a photo diary.  I can relive some sweet memories.  Take this photo, for example:
Our daughter Bethie has gone and done a Very Brave Thing, Indeed. She has flown all the way to Hawaii to visit her boyfriend and his family.  This after spending the summer working as an electrician's apprentice at the local community college.  I'm quite sure that I never would have had the nerve to do these things, myself.  But it's a grand adventure to her, and she's seeing a part of the world that she has never seen before. With her fella.  I can't wait to hear all about it when she gets back home.
And then there's this one:
Here's my adorable granddaughter Anya, in one of those pictures that I didn't know was on my camera.  Amalia was wrapping gifts for a birthday party and playing with her niece, at the same time.  You can see from Anya's grin that they were having a wonderful time.
The other evening, little Mack and I were doing the chicken chores together.  I like to soak the chickens' breakfast grain in water the night before I feed it to them (there's less waste, because the grain is softer from the night's soaking–try it sometime!) and we were shutting them into the coop for the night.
"I see that there are oshlots up in the tree, there," little Mack observed, pointing up into a pin oak tree that is near the coop.  I looked at him.  "What?"  I asked.  "Oshlots," he said. "There are two oshlots up in that tree," he repeated.  "Want me to shake them down?"
I looked up and saw that a couple of the younger pullets had flown up into the tree for the night.  "Oshlots?  Do you mean 'pullets'?"  Mack laughed.  "Is that what they're called?  I thought they were oshlots."  This made me laugh. We both laughed. A new word was born.
Oshlots.  Ever since, of course, we only call them Oshlots.  Such a funny word.
Our family is fairly famous for holding on to new words that somebody makes up, usually a small child.  A tape measure is a "feefee."  The basement is called the "beent."  One's head is a "beezer."  And now a pullet is an "Oshlot."  Forever. And a day. It is so.
Here's my dolly Anya again (do you blame me? She is so photogenic.), next to a sidewalk painting that she and her papa made.  Her mama is a smart lady, and discovered sidewalk paints, thus moving much of the creative mess that Anya is so good at, outside. And the colors are so rich and vibrant, too! Anya's papa ruined much of the furniture in the house he grew up in, because at about this age he started drawing on it with permanent markers. Quietly. Secretly.
This was not condoned by me, by the way. It just happened. He'd find a marker. He'd quietly move around in the back of the couch.  When the back was covered, he'd start on the cushions, which he'd turn over when he was finished, to keep his artwork a secret (until Mama lifted up a cushion to search for something—aaaaagggghhh!!). Also (when the backs of the couches, and the bottoms of all the cushions were filled up) much of the wallpaper and many of the walls. Also a hot light bulb or two. But that's another story. He's a working artist now, so I think all that free expression was probably worth it.
But I think he still owes me at least one ugly orange couch.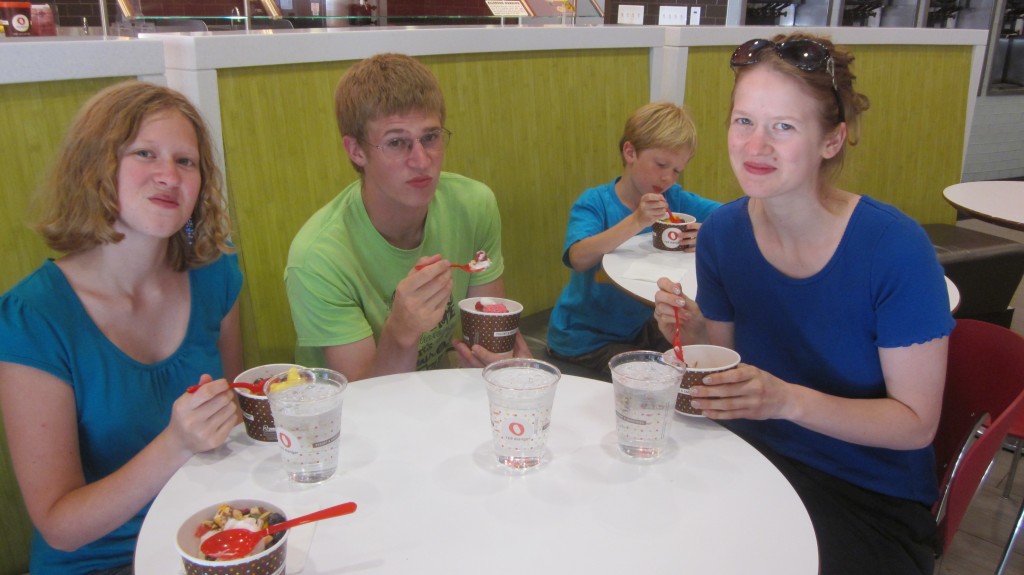 I took the kiddos out for frozen yogurt on Bethie's birthday, and we noticed that we were all wearing blue shirts, except for Timothy who wore green. In this photo, little Mack really couldn't be bothered, he was enjoying his sundae so much.  I'm not surprised. He really heaped the toppings on. These kinds of places were just made for my little man.  A big bowl of frozen yogurt and then all these sweets to heap on the top? Hooray!
Right after we celebrated Bethie's birthday with frozen yogurt sundaes, we drove to the airport and picked up Bryan from his flight from Alabama, where he teaches at a college there a few times a year, and Grandma and Grandpa, who had been out to Wyoming to visit my brother Matt and his wife Paula.  It made me feel like the Country Mouse, to be in the airport, watching their airplanes touch down.  They were all so tired and so happy to be home.
I'm really happy they are all home, too!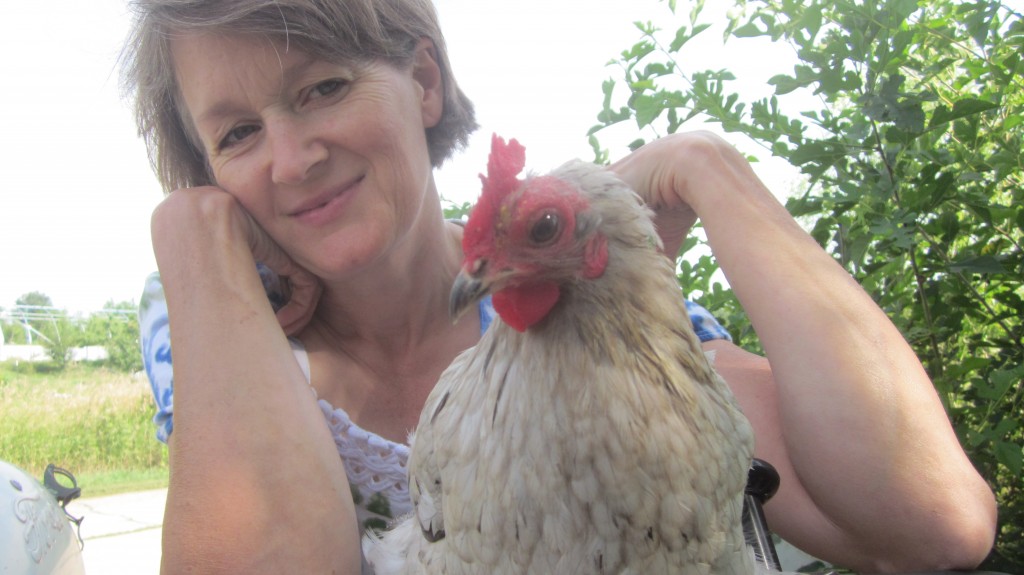 Oh! One more thing . . . I have a new Facebook page, and you can find it right here.
I'm gonna have some fun over there, I can tell you, so if you'd like to be there when it happens, please "like" the page. When I get to 100 likes, I'll probably have a party.  So be prepared!
That's all for now. Thanks, as always, Gentle Reader, for reading.  You mean a lot to me!