Good enough for company: glazed cranberry lemon biscuits!
You know the scenario, I'm sure. You've got overnight company coming, and you want to serve them something special for breakfast. Yet, you also want to be able to sit down and enjoy spending time with them, too.
Without the apron. With your hair unmussed and your make-up on and a casual "I-could-sit-here-with-you-all-day" leisurely air.  You don't want to be fussing all over the place, checking on the souffle, grumping over the pot of gruel, squeezing the oranges for breakfast juice, while they sit waiting and ill at ease. So awkward.
Here's the question: what's a busy yet conscientious homemaker to do, in these situations?  Well, guess what? I have the answer, for a special and yet very easy breakfast, anyway.   Take a gander.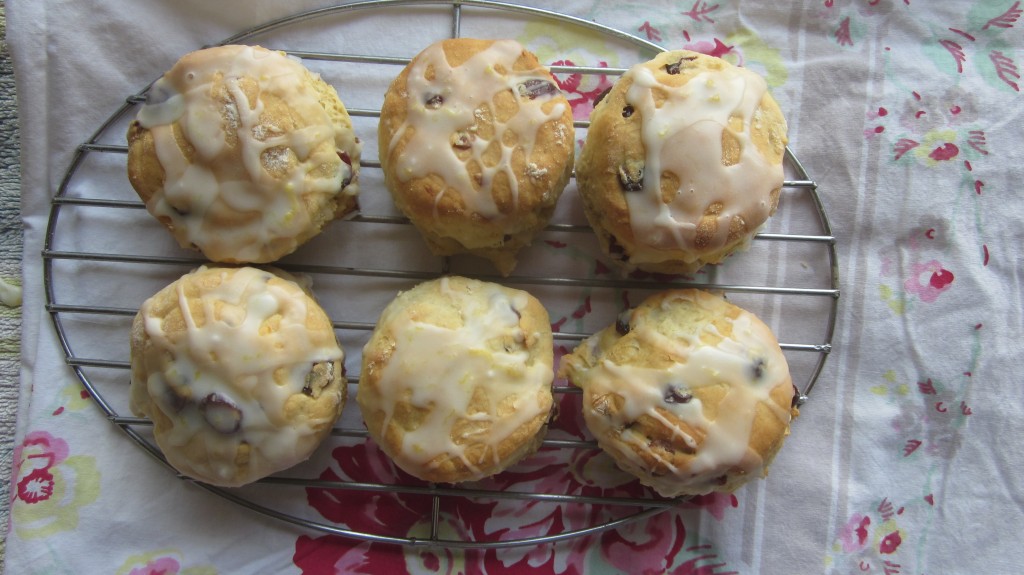 These special company biscuits are moist and flaky, chock-full of dried cranberries, lightly iced with a lemon icing, and (incredibly) very very quick and easy to make.
And even better: everybody loves them. They're best hot out of the oven, split open and with a pat of good butter melting down into them, but they're pretty decent the next day, cold and smeared with jam, too.  You know what?  You probably need to make some, too.
Results of your making these will be: your special company will love you and rave about what a wonderful cook you are, and you'll be happy and relaxed and therefore will get some sweet visiting time in with them, too.  Add a quick egg scramble and a big bowl of fruit, some good coffee and you'll be in their book–forever–of Best Places To Stay, subtitled "Killer Breakfasts."
And you want to be in that book, don't you?
Furthermore, they'll want this recipe, and you'll then have an opportunity to share my website with them, which I'm sure you've just been aching to do. I'd appreciate it, and you'd have that warm fuzzy feeling that you've just done me a good turn.
So what are we waiting for? Here's the recipe, adapted from an old Better Homes and Gardens Cookbook, you know, the old white and red checkered one. I have a very old copy with grease-stained and flour-spattered pages, and I use it often and still love it.
Glazed cranberry lemon biscuits
Author:
Prep time:
Cook time:
Total time:
Serve with scrambled eggs, a big bowl of fruit, some good hot coffee, and you'll have a breakfast that your special company will love!
Ingredients
2 cups all-purpose flour
2 cups white whole wheat flour
2 Tb sugar
4 tsp baking powder
2 tsp finely shredded lemon peel
1/2 tsp salt
1/2 tsp baking soda
1 cup butter, softened
1 cup dried cranberries
1.5 cups buttermilk
1 recipe lemon glaze (mix 1.5 cups powdered sugar, 2 tsp finely shredded lemon peel, and enough fresh lemon juice (1 to 2 Tb) to make a nice glaze. Yum.
Instructions
Preheat oven to 450F. Stir together flour, sugar, baking powder, lemon peel, salt, and baking soda. Cut in butter with pastry blender until mixture resembles coarse crumbs. Add dried fruit and toss. Make a well in the center, and add buttermilk all at once. Use a fork and stir just until moistened.
Turn dough out onto a lightly floured surface. Knead dough by folding and gently pressing it for 10 to 12 strokes or until dough is almost smooth. Pat or lightly roll dough until it's about 3/4 inch thick. Cut with floured biscuit cutter, rerolling scraps as necessary to use every last bit! (It's permissible and downright necessary to snack on the dried cranberries that fall into the bottom of the bowl. So there.)
Place dough circles 1 inch apart on an ungreased baking sheet. Bake about 10 minutes or until golden. Remove from baking sheet onto a wire rack; cool for a few minutes, and then drizzle with lemon glaze. Don't even try to wait until they're cool to eat them. They're best eaten hot, split open and with a bit of butter melted inside!
There you go, Gentle Reader! Enjoy your company, and try not to get a big head over these biscuits. (It won't be easy, mind.)