Secret Ingredient to make the Best Crispy (cornmeal) Waffles! (*whoops!*)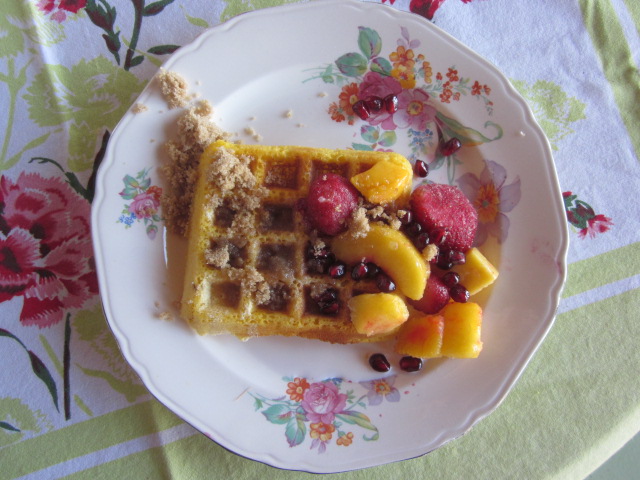 Waffle Night.
My family loves it! If we haven't had waffles in a good while, my daughter Amalia will offer to make them, knowing that if I get a night off from being head cook, I'll agree to nearly anything. It's not hard to agree to having hot waffles with fruit and sausages served to me as if I'm a queen. A lucky queen who is served waffles with a secret ingredient that really does make them irresistible.
And, you know, every Queen I've ever known personally (ahem) enjoys some exceptional waffles for breakfast, too. Every inmate of our home enjoys hot breakfasts, and some crispy-edged waffles, served hot with berries, brown sugar and cream . . . oh my! . . . well, hot breakfasts just don't get much better than that.
And you. You, my lucky Gentle Reader, get the secret from me completely free of charge because I love you and appreciate your popping in week after week, to follow what's going on in this little corner of the interwebs.
First, my favorite old cookbook tells so many stories
I'll start with a few pictures of this old cookbook of mine, first, because I love it and I like to share things I love with you, gentle reader.
I'm attached to this cookbook for many reasons:
My Aunt Maria drew the pictures that decorate it, which show my cousins and my little Swedish grandma, and I think that's cool.
Some of my Grandma's recipes are in here.
The best cookbooks are the ones where church ladies all shared their very best, tried-and-true recipes, right?? And this is one of those.
My Mom's favorite recipes come from this cookbook.
I always loved to look at these drawings when I was a little girl, and was sorely tempted to color them in. I never did, though, I'm not sure why. I still want to. 🙂
I own several of these church cookbooks in my collection, and it always tickles me to read through them. You know that these church ladies pulled out their favorite recipes to add to the collection. Most of them look very special and unique. Lots of Norwegians and Swedish ladies contributed to this one.
Look! A recipe for "Dansk Sirupskager"!
Where else but in these old church cookbooks can you find recipes for the foods from the "old country"?
The Recipe with the secret ingredient
Here's the recipe, after all that, and I hope you enjoy these waffles as much as we do! We usually serve them with a smear of soft butter, a generous sprinkling of brown sugar, a sprinkling of cinnamon, and a dollop or two of cream, but of course you can put whatever you like on them (even some Dansk Sirupskager, if you choose).
Crispy Cornmeal Waffles!
Author:
Prep time:
Cook time:
Total time:
So you've guessed it by now–cornmeal is what makes these waffles so yummy! I also will use white whole wheat flour, and we sprinkle a smattering of seeds on them as they are baking.
Ingredients
1 cup flour–unbleached or white whole wheat
3 tsps. baking powder
1 tsp. salt
2 tbsp. sugar
1 cup cornmeal
2 eggs
1 1/3 cup milk
1/4 cup melted butter
seed mixture (optional) sesame seeds, sunflower seeds, crushed walnuts, pumpkin seeds, etc.
Instructions
Mix dry ingredients together. Add melted butter, milk, eggs. Beat with electric mixer until batter is smooth. Do not overbeat. Pour on hot greased waffle iron, and (if desired) sprinkle seed mixture on top. Bake until golden brown. Serve with brown sugar and cream, or syrup, or whatever pleases you!
There it is! Waffle-night, anybody?
Pin it for later!