Andrew's project "The Book of Coloring 2" Kickstarter & Giveaway!
(By the by, this post may contain affiliate links, which in turn may lead to a small commission to my blog, though it will cost you nary a penny to click on them. Thank you for your gracious support, and for clicking and using them, making my continued blogging activities possible. And have a good day. By the way.)
Hi friends!
I want to share something very exciting with you today! Actually, two things.
Thing One: Our son Andrew, a graphic designer and game creator, is pushing another project out into the world, via a Kickstarter campaign. His newest project is entitled: "The Book of Coloring 2: Attack on Sky City 5″. It's a stand-alone project and also a companion project to his first Book of Coloring.
Thing Two: Andrew is sponsoring a giveaway of a gift package of two hard copies of his first Book of Coloring, and 5 digital copies, to one lucky reader! So read on, and learn how to enter this giveaway, and how you can support Andrew's Kickstarter, as well, if you take a notion to.
The Book of Coloring, if you aren't familiar with it, is a coloring book that can be taken apart when finished, and assembled on the wall in a million different ways. It's amazing. But that's not all it is. It's an excuse to sit down–by yourself or with your dearies, or with old or new friends–and do something creative and fun together. (Blogger's note: I did an interview with Andrew, aka AndHeDrew, several years ago when he was doing a Kickstarter for the first Book of Coloring. You can read more about Andrew and his projects in my interview. And bonus: you'll learn about the infamous Orange Couch*.)
(Not to make a big fuss about it, but I do believe that there is only one place in the vast interwebs where you can read this story.)
Here's a really cool thing, too: The Book of Coloring 2, when taken apart, will fit seamlessly together with the first Book of Coloring. (Andrew! What a brilliant idea!) When all the pieces are hung together on the wall, they can make a massive piece of original art! (How cool is that?) Or you can hang them as a beautiful border. So many neat things you can do with these beautiful pieces when they are finished.
(*Oh, Andrew, I'm sorry. I wasn't going to mention that poor Orange Couch, ever again. My sincere apologies. Hmm. If only I could remember how to work the d e l e t e button, but . . no. Know what? Now that I think of it . . . my computer is so old, it doesn't even have a delete button! BUMMER. Yup. I can see now that it's a pre-delete-button model.)
Soo….in this era when we are all beginning to realize how pervasive and potentially destructive to healthy relationships the multitudinous screens in our lives are, and since many of us are wising up to this, and are seeking ways to set up boundaries and regain our BLESSED MINDS and relationships (oops, did I just yell? I might have struck a chord here–!) there is this: holding a crayon, or a marker, or a colored pencil in one hand, and a child, or a husband, or a group of friends, working on a project together, and looking at each other, and talking and laughing, is JUST WHAT'S NEEDED. To regain our balance. Our sanity. Ourselves.
Do you agree, gentle reader?
Andrew says it so much better than I. I've watched his Kickstarter video (below) several times, because this kid has got a lot of wisdom for his young years. Though he is my own child. Imagine! It's a miracle.
When he was a tiny tot with a big fat black marker in his hand, I couldn't keep up with his wild creativity (as displayed on the backs of the furniture, on his pants, on the walls–on the blessed wallpaper, gentle reader!) and these days (now that he lives in his own house and has blessed me with two–and at the end of this month, it'll be three!!–wildly creative young'uns) his creativity is purely a delight to me. (Because I don't have to scrape the wallpaper off.) (joking, Andrew!/not joking)
That's my kid. He's making the world a better–a more beautiful–place. I can't ask for much more than that.

(p.s. I'm in the video! Or at least part of me is.)
So, please, dear gentle reader: if you're interested in reclaiming family/friend time, nurturing relationships, and doing something creative together, do yourself a favor and watch this video that Andrew made, and learn more about his Kickstarter for the Book of Coloring 2: Attack on Sky City 5. <———click here to check it out!
I'm sure he'd love your support, and if you have a few dollars you want to pitch in to help make this project happen, it would be icing on the cake.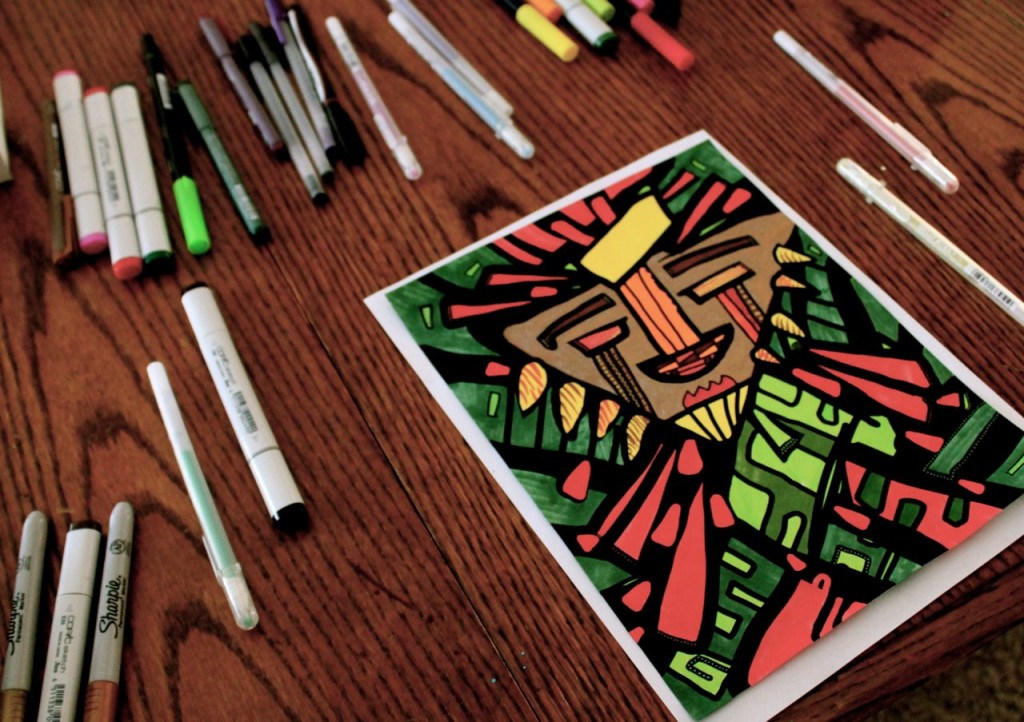 If you're interested in ordering copies of his first Book of Coloring, or are interested in his other projects, you can check them out here. (pro tip: Great Christmas gifts for anybody with a face!)
oooh! Ooh!
I just had a thought . . . (Dad, feel the ground rumble?) Order a bundle of these coloring books, wrap them up with a nice set of colored pencils . . ta-da! Gift ideas for your creative dearies, no charge!
(These are my f a v o r i t e s…*hint* Bryan…..)
And if you'd like to enter the giveaway for two hard copies of the first Book of Coloring (one for you, one for a gift!) and 5 digital copies, please enter Andrew's giveaway today!
Thanks for checking in, dear friend.
Oh! I nearly forgot: To enter the giveaway, simply:
SHARE this post with your friends (any way you like: on the socials, via email, etc.)
LEAVE A COMMENT below, telling me two things: a. how you shared it, and b. who you'd give the Book of Coloring to, if (hopefully when!) you win the three copies.
We will draw a winner the evening of Saturday, December 21st and will notify the winner henceforth. The winner will have 48 hours to respond back!
Good luck, everybody!
*hugs*
p.s. I'm a little cray-cray to run two giveaways at once, but I'm doing it! Check out the link below to enter my giveaway of a dandy gift package of tins of fresh herb mixes grown right here in Nebraska!
Coon Creek Herbs: behind the scenes & surprise package *giveaway*!